For centuries, women have made their mark on the art world. As artists they have pushed boundaries and overcome societal prejudice in their pursuit of their craft; as collectors and philanthropists they have built and contributed to some of the world's most important collections.
Without them there would be no Whitney Museum, one of the foremost collections of 20th-century American art, founded by Gertrude Vanderbilt Whitney, herself an accomplished sculptor who studied under Auguste Rodin.
The bohemian collector, Peggy Guggenheim, lived by her motto to buy a picture a day and her passion for Surrealist, Cubist and abstract art saw her bring female artists including Frido Kahlo, Louise Bourgeois and Leonora Carrington to the public eye.
Other notable female patrons of the art world included the three female founders of MoMa – Abby Rockefeller, Lillie Bliss, Mary Quinn – collectively known as the indomitable ladies whose belief in the worth of the Impressionist and Post-Impressionist eras shaped the institution that we know today.
Closer to home, the spinster Davies sisters were denied the education they craved but turned their cultural appreciation into a magnificent assemblage including the most important Impressionist collection outside of Paris, that they bequeathed to the Museum of Wales.
As artists they have pushed boundaries and overcome societal prejudice in their pursuit of their craft
These, along with other influential women in the art world, will be discussed in an online talk about The Women Who Made Museums which takes place on Thursday 9 September at 1400 BST. To book a complimentary place, visit tefaf.com.
With the art world springing back into life TEFAF Online – the digital fair of The European Fine Art Foundation and universally acknowledged to be the world's greatest cross collecting fair – will present some of the most important works by female artists.
To pick out a handful of highlights is an almost impossible task, but if you only see five works at this year's TEFAF Online, I urge you to view these:
Germaine Richier, La Sauterelle, Moyenne, 1945
Galerie de la Béraudière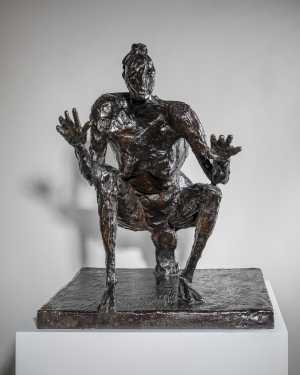 Germaine Richier is considered to be one of the greatest female sculptors. Her work was deeply influenced by the second world war after which it took on an anthropomorphic turn. A contemporary and friend of Giacometti, the human body remained a central theme throughout her life, taking on an allegoric and fantastic dimension as shown in this work, which reveals a dramatic dimension of existentialist nature. This masterpiece brought sculpture toward an unprecedented expressive and baroque naturalism.
Claude Lalanne, Bouche brooch, 1970
Didier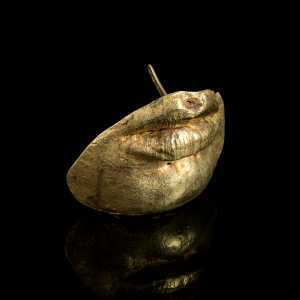 Claude (Claudine) Lalanne died in 2019 leaving an extraordinary legacy of surreal sculptures and decorative arts. She created a serene style inspired by nature in her jewellery design, taking inspiration from her own garden. One of her great admirers was Yves Saint Laurent, whose "Empreintes" collection in 1969 took inspiration from Lalanne's work. She famously cast St Laurent's mouth in gilt bronze with his lips at the centrepiece.
Faye Toogood, Roly Poly Chair/ Moon, 2016
Friedman Benda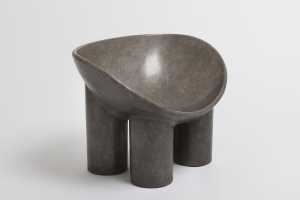 London based Toogood is one of the world's most influential living designers and a prominent female figure in the contemporary design arena. Working in a diverse range of disciplines from sculpture to furniture and fashion, Toogood often reinterprets and reinvents classical tropes. Her career is marked out by the discrete Assemblages, each of which conjures a compact world of interrelated ideas, forms and materials. For this work, part of Assemblage 5, Toogood was inspired by a visit to Henri Matisse's Chapelle du Rosaire de Vence, exploring the ancient animist notions of the elements of water, earth and moon.
Marina Abramović, Seven Deaths Series, The Snake, 2020/2021
Lisson Gallery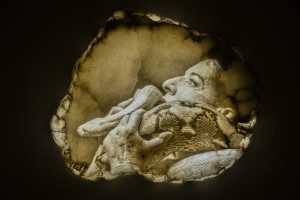 Marina Abramovic is one of the most important conceptual and performance artists in the world. As a philanthropist, writer and filmmaker, she has explored body, endurance and feminist art, delving into bodily limits and the possibilities of the mind. Her alabaster series Seven Deaths is the culmination of a lifelong passion for the talented and tragic figure of the singer, Maria Callas (1923-1977), where Abramović places herself in the protagonist's role for a series of tragic theatrical self portraits. In The Snake, Abramović illustrates in alabaster a grisly demise at the hands of a serpent, using the translucent materiality of her medium to great effect by illuminating the depiction from behind.
Yayoi Kusama, Pumpkin, 1990
Galerie Von Vertes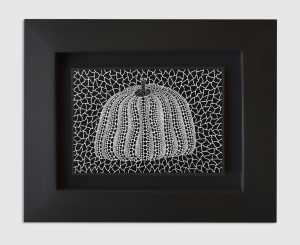 Yayoi Kusama has been painting pumpkins throughout her career in all shapes, sizes and colours. Painting to forget, painting to remember, painting to create and painting to obliterate. The pumpkin is being employed simultaneously by the artist as allegory and self-portrait. In the 1970s and 1980s she started creating pumpkins again because of their humorous, compact and amusing forms. Covered in polka dots and hypnotising patterns the pumpkins belong to the artist's most popular and coveted works.
For the seasoned collector, few dates in the diary matter more than TEFAF when the world's most celebrated art dealers showcase the very finest works to a discerning global clientele. Traditionally held in Maastricht and New York annually, the shift to its second online fair has opened up the experience to a wider international audience. Each of TEFAF's exhibitors will present three interconnected works and alongside the exhibition will run an engaging and diverting programme of talks. TEFAF Online 2021 runs from 9-13 September. To register and for more information visit tefaf.com