"I would've been happy just with the book!" grins Gavin Bond. "But I've got the book, Claridge's and Hamiltons, all happening at once. It's a lot."
But then this is what happens when you're one of the most successful photographers in the business and you decide you want to showcase the pictures you took backstage at catwalk shows in the 1990s, the golden age of the supermodel. (Hello, Kate. What's up, Naomi?) Everyone wants a piece.
So there's the book, Being There: the legacy of a decade spent backstage, capturing hundreds of the most famous and beautiful people in the world as they went about their work and play.
"They're still some of my greatest pictures," says Bond. "It's the simplicity in them. Everyone says to me, 'oh, when are you bringing out a book?' People expect this sort of Gavin Bond, Hollywood, celebrity book. And what's really exciting for me is the first proper book that I've done, and the first major exhibition that I've done, is the first pictures I've ever took, pretty much. That's really special."
The exhibition is at Hamiltons Gallery – "there was only one gallery that I really wanted because it made sense for the pictures, [which are] all black and white, fine art, everything's printed in the darkroom. It's all very Hamiltons-esque. But then I've got all these polaroids, scrapbooks – I needed somehow to showcase that work as well."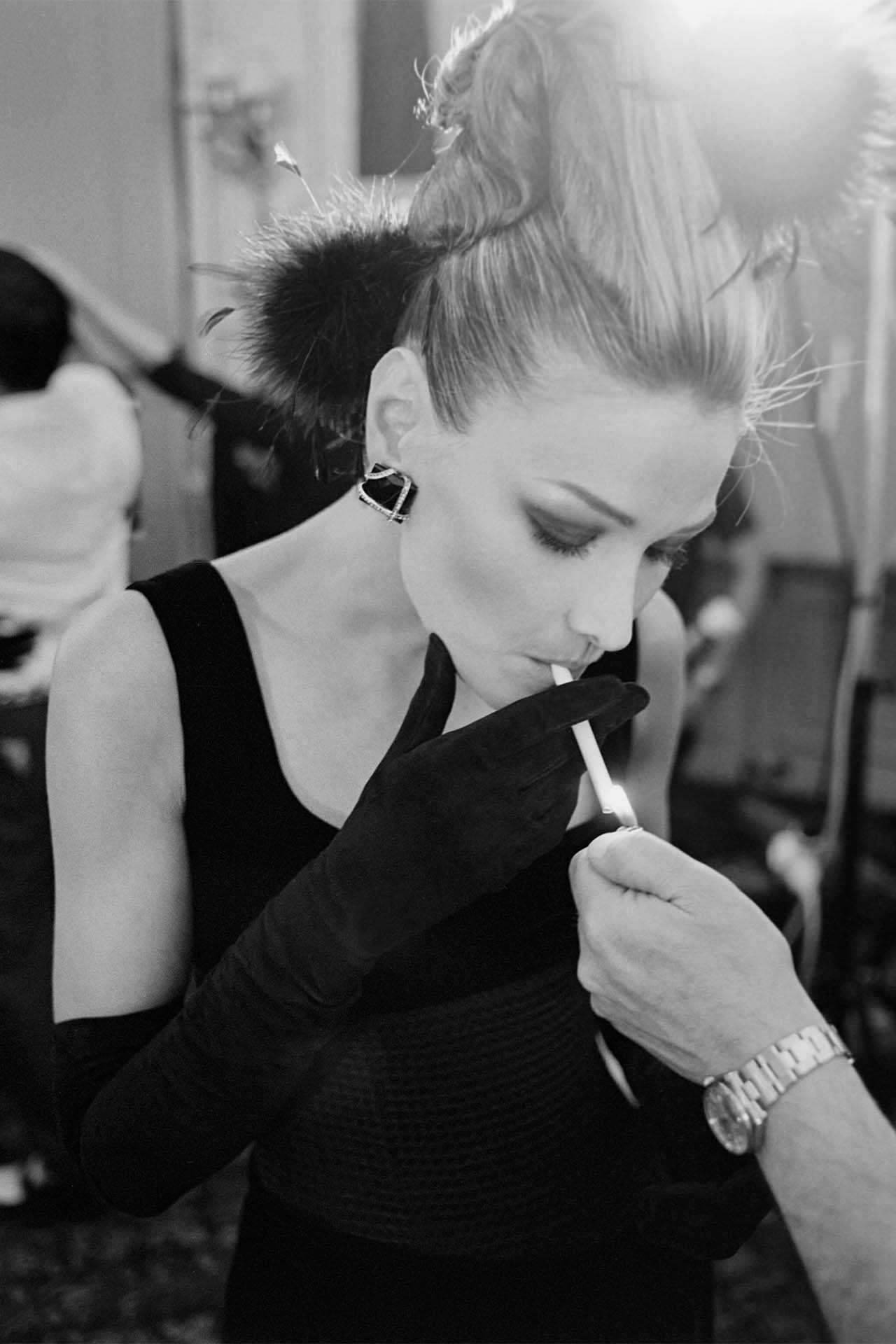 Enter Claridge's ArtSpace, just five minutes' walk from Hamiltons. Here you will find the more colourful, irreverent photos from Bond's archive. (Also included in the book.) If Hamiltons is exemplified by a monochrome Carla Bruni lighting a cigarette, Claridge's is a redheaded Kristen McMenamy in an emerald dress, swigging from a bottle of Moët.
And appropriately enough, both the Hamiltons and Claridge's shows are sponsored by Moët & Chandon. As Bond observes, "In a lot of the pictures, the girls are drinking champagne, and the champagne they're drinking is Moet." Now there's the type of publicity a brand can't buy.
Bond is a big name in the industry – I remember my editor's excitement when he reached out to us last year, offering to shoot the actor Cosmo Jarvis. He's sharp, personable, loquacious – all the qualities required for the successful fashion photographer. However I'm slightly taken aback when he answers the Zoom call from what appears to be a broom cupboard. The aesthetic is less Met Gala, more hostage video. Ten thousand pounds or the photographer gets it.
No fret. Apparently the broom cupboard is actually a fire escape in the bowels of Claridge's – builders having commandeered the ArtSpace. (One later disturbs our call.) "It's all coming together," says Bond. "No sleep. But we'll get there."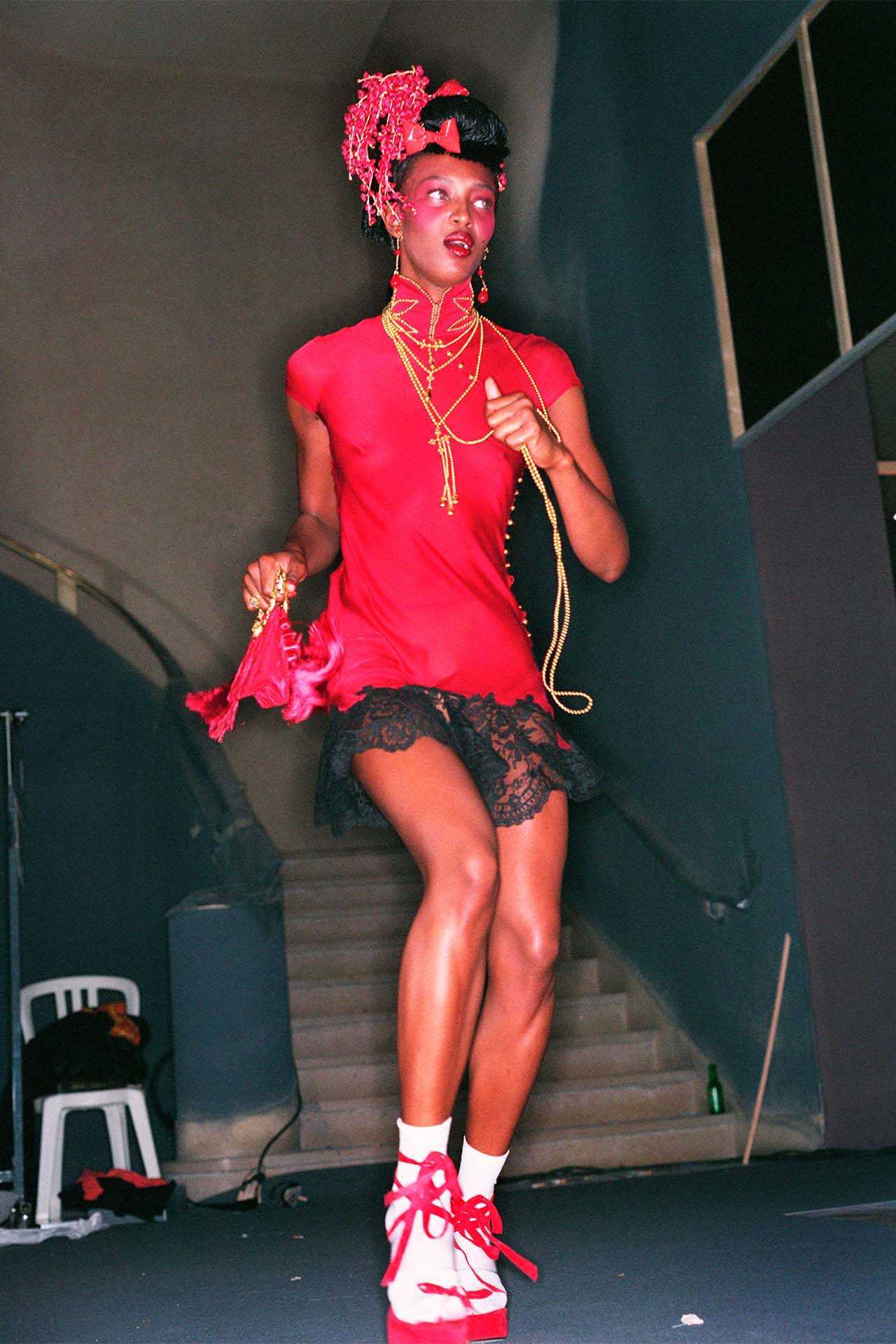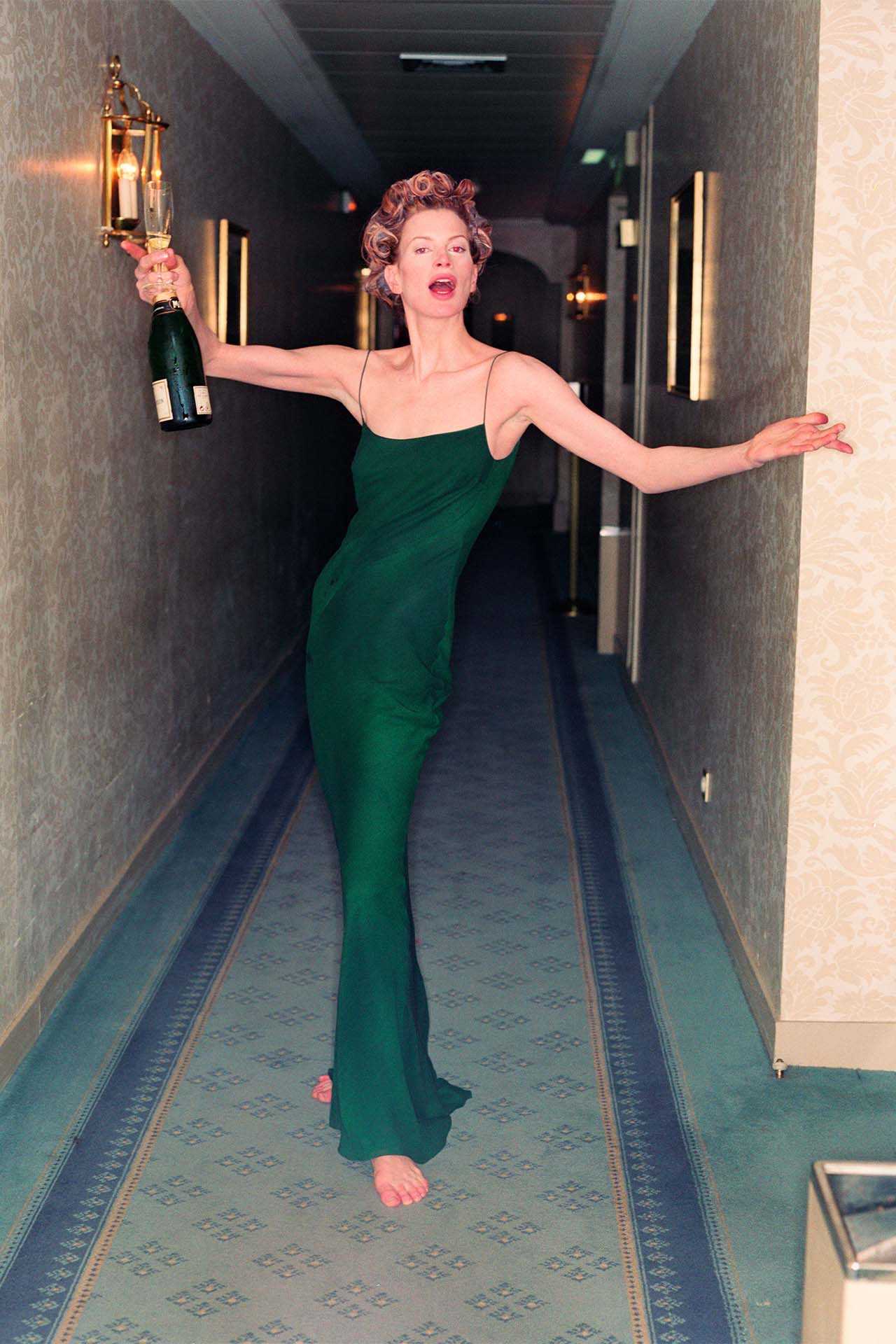 Howe did he get here? He studied fashion design and graphics at St Martins in the late 1980s. Towards the end of his degree, a friend got him backstage at a Vivienne Westwood show. He took some photos, the Times published a few, and Westwood invited him back. "The second time around, I was there with Vivienne so I was more accepted by the girls. I went in like a typical student – with all these scrapbooks and little polaroids." It didn't hurt that the 22-year-old Bond was a similar age to the models he was shooting.
"The girls were very accepting. When you look at the images, everyone feels very comfortable. It was the time of ultimate glamour. It was the time George Michael was singing. It was the perfect storm. It was that time when Naomi fell over on those shoes for Vivienne Westwood. It was Gianni Versace."
The time has passed. Several designers captured in the book are dead – Versace, Karl Lagerfeld, Alexander McQueen. Moreover smartphones have hugely stifled, if not outright extinguished, the joyous lack of inhibition that suffuses the pages of Being There. The models pose and laugh and cavort as though nobody's watching. They are simultaneously creatures of otherworldly beauty and 20-something girls on a night out.
"You'd go out, you'd have an amazing time, but no-one had phones, there was no social media. No one was worried. I had a camera here and there, when it felt comfortable, but people let their guard down and had a good time because they weren't worried about everything being documented and put out in the world. It was a really special time."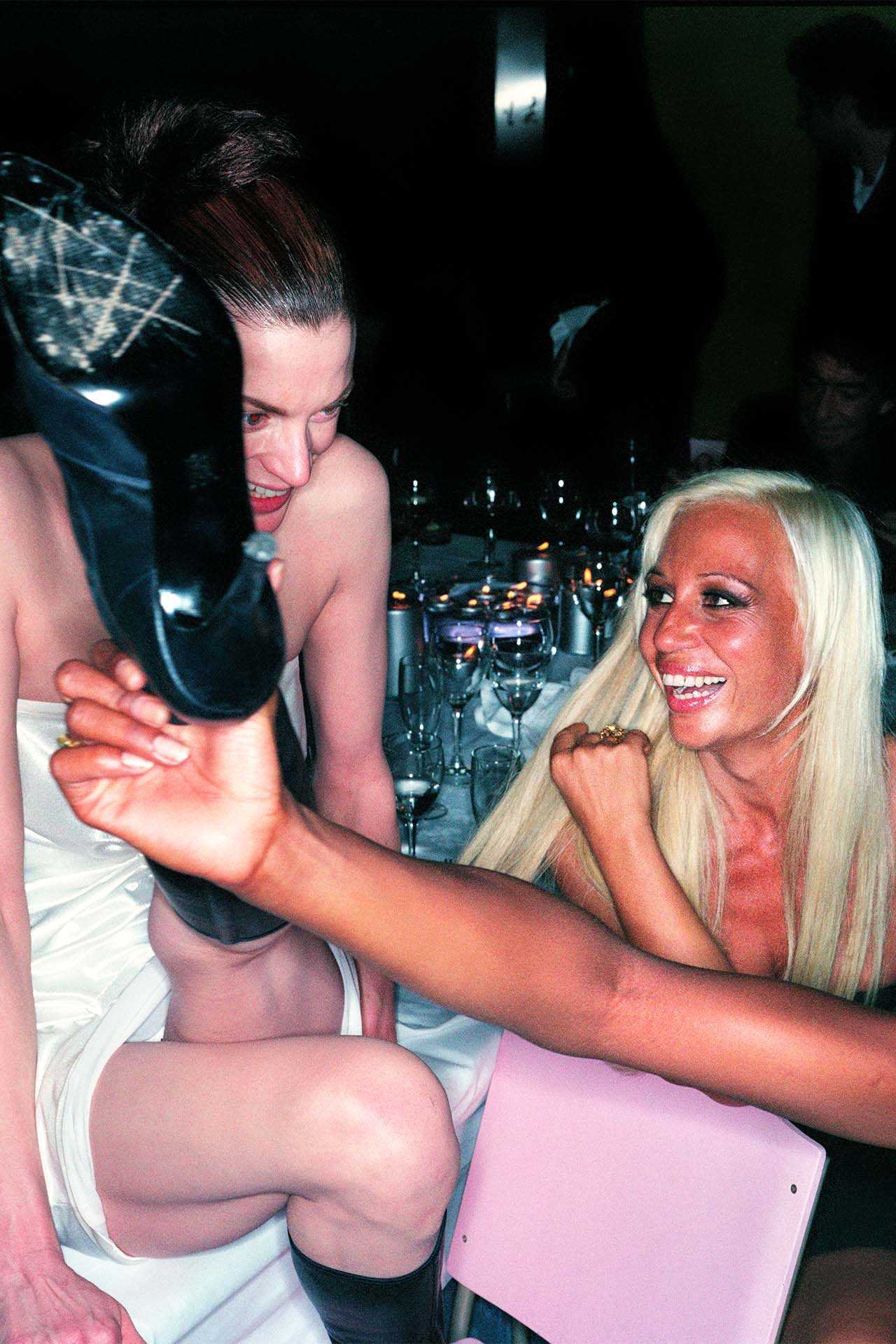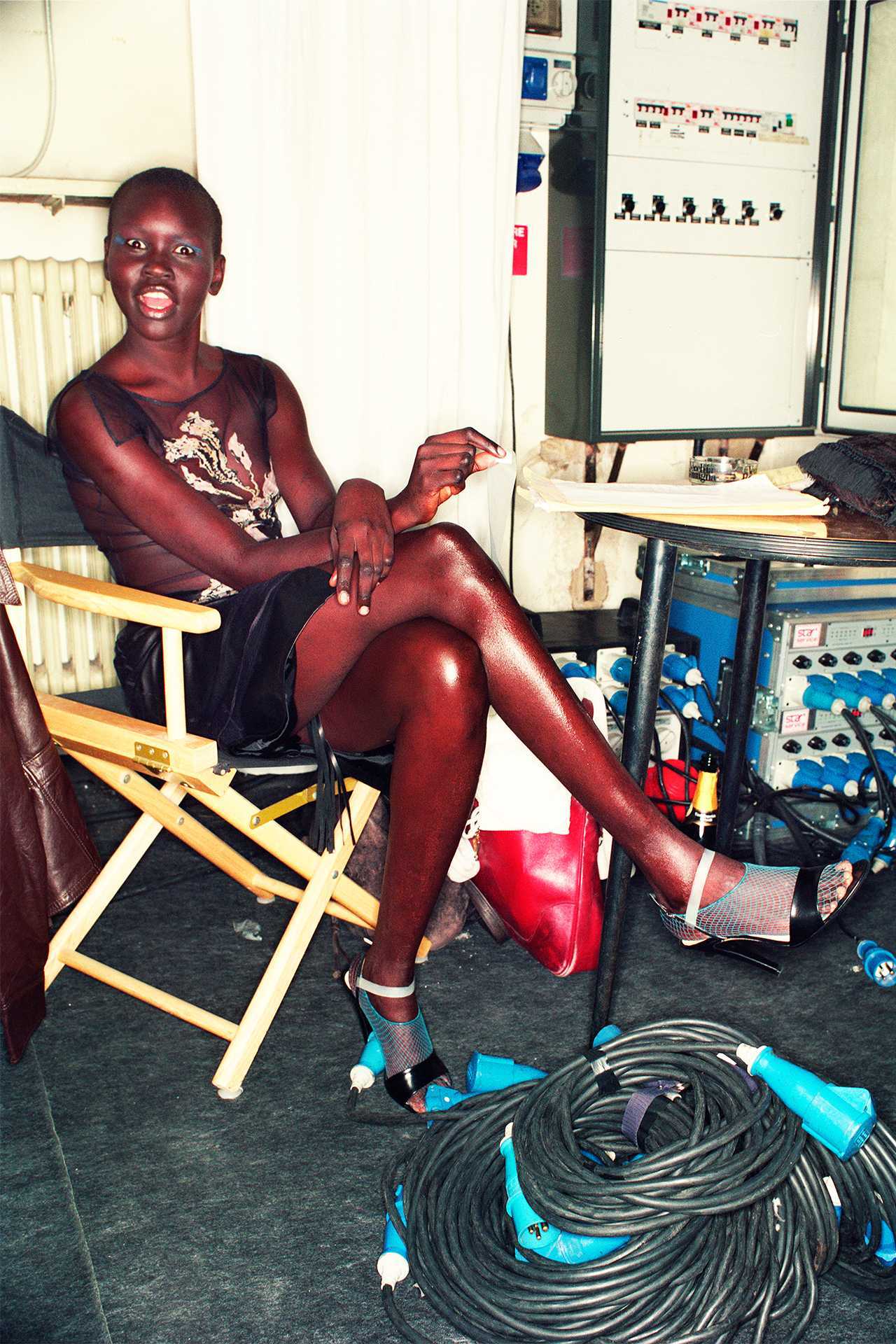 Bond speaks more than a little nostalgically of "the glamour, the fantasy" of that era. "And there wasn't really any photographers backstage. There wasn't social media. Most of the photographers were interested in the beauty, the hair, the makeup and all that. When the models got changed, they kicked most of them out but I was fortunate enough to be allowed to stay.
"You had such a great spirit back then – Vivienne shows and John [Galliano]'s shows in particular. Everyone had such fun. I remember John's shows, the girls would all turn up, get ready, and in the middle of it he'd call in McDonald's for everyone. All the girls would just sit on the ground, chowing down on Big Macs and fries, drinking champagne!"
Who was his favourite model to shoot? "Christy Turlington," he replies without hesitation. "That's why she's on the cover of my book!" (She also supplies the forward.)
And the favourite there that he's been? The legendary Cafe Society show from Vivienne Westwood – the second show Bond ever covered, way back in 1993. "That's the one where Kate is waddling around in that micro-mini; you've probably seen images of her licking the Magnum ice cream. It was a traditional catwalk: it was couches and carpet, the girls walking in and out of this room smoking cigarettes, eating ice cream. It broke the boundaries of what a catwalk show is."
It was a truly wonderful decade. Unlike Gavin Bond, you mightn't have been lucky enough to be there – but the book and these two shows are easily the next best thing.
Being There will run at Hamiltons Gallery from 15 September - 29 October 2022. Get the book here