In his latest series, 'pop expressionist' Philipp Humm has chosen Faust as a narrative device to express his understanding of how many successful men are driven by their darker sides.
Faust was a figure from folklore dating back to the twelfth century – a man who sold his soul to the devil. It has been revisited time and time again by Marlowe, Goethe, and Delacroix – and even the film Rosemary's Baby and the song Bohemian Rhapsody were based on this tale.
Today, popular culture abounds with so many Faustian types, it's clear why Humm was drawn to this figure to express what has shaped-up as a rather toxic male narrative.
Humm was once CEO for Vodafone Europe and latterly CEO of T-Mobile USA. He has a grasp on the times and a window into modern-day morality of some of our leaders. He's painted what he knows.
No detail in his work is accidental. Humm started painting Faust in 2016, a couple of years before the Me Too movement had gathered pace, so his expression of and insight into a certain kind and toxic masculinity chimes with recent history.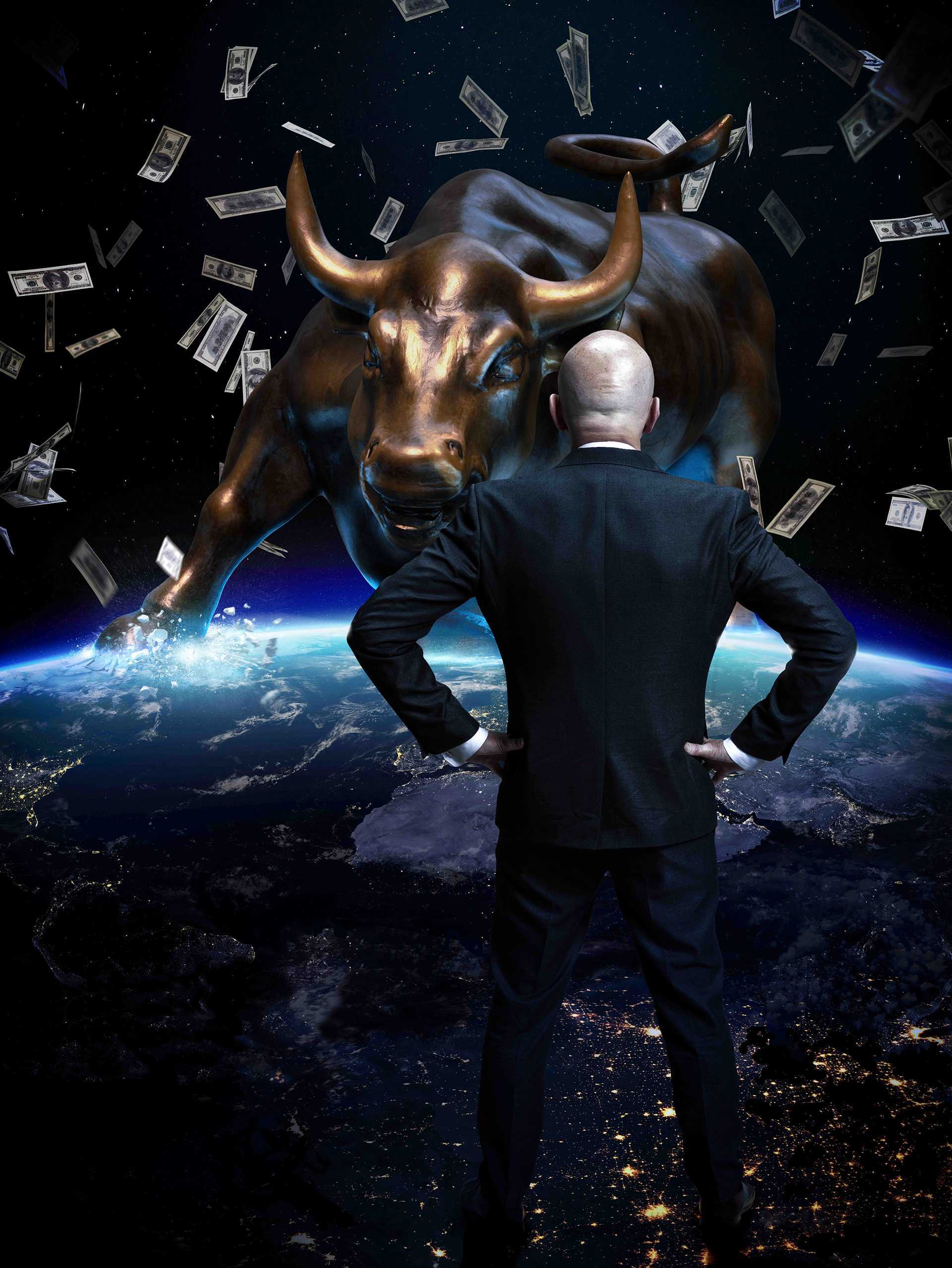 Humm himself clearly thinks that Harvey Weinstein makes an excellent Faust. In his 2019 film, The Last Faust starring Steven Berkoff, Faust's company is called Winestone inc (the English translation of the German name "Weinstein").
In November 2019, Humm added to his oeuvre with The Last Faust, a theatrical feature-length art film. "Faust in the first part of the story acts more like a Weinstein than a Steve Jobs", explains Humm. "He uses his position of power to seduce a 14-year-old girl and then ditches her."
Mark Zuckerberg, Larry Page and Steve Jobs also epitomise the Faustian trope. Steve Jobs reached the pinnacle of the industry and technology - but the words on his deathbed were filled with regret. "At this moment, lying on the bed, sick and remembering all my life, I realise that all my recognition and wealth that I have is meaningless in the face of imminent death. […] You can hire someone to drive a car for you, make money for you — but you can not rent someone to carry the disease for you."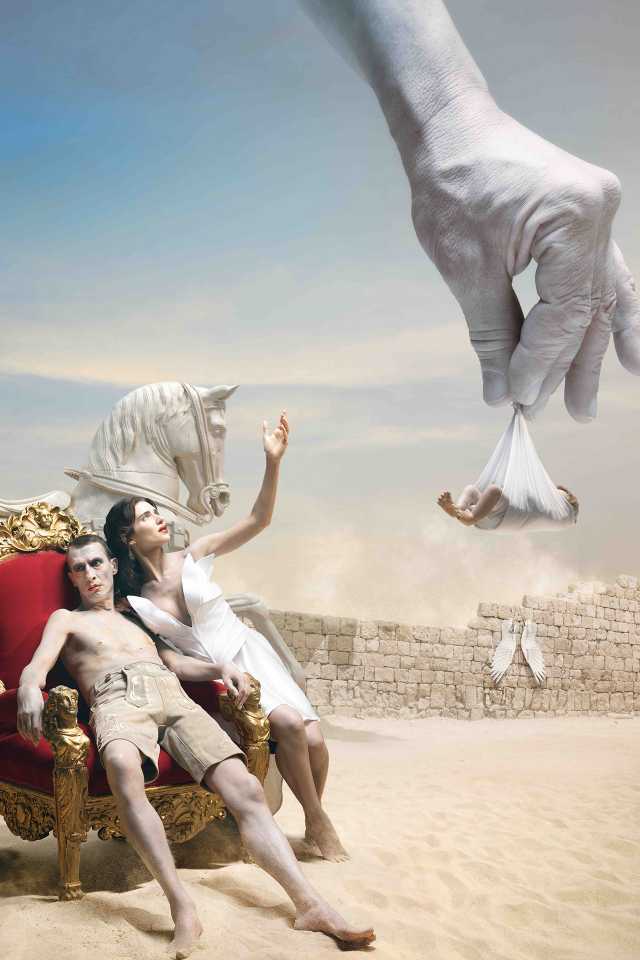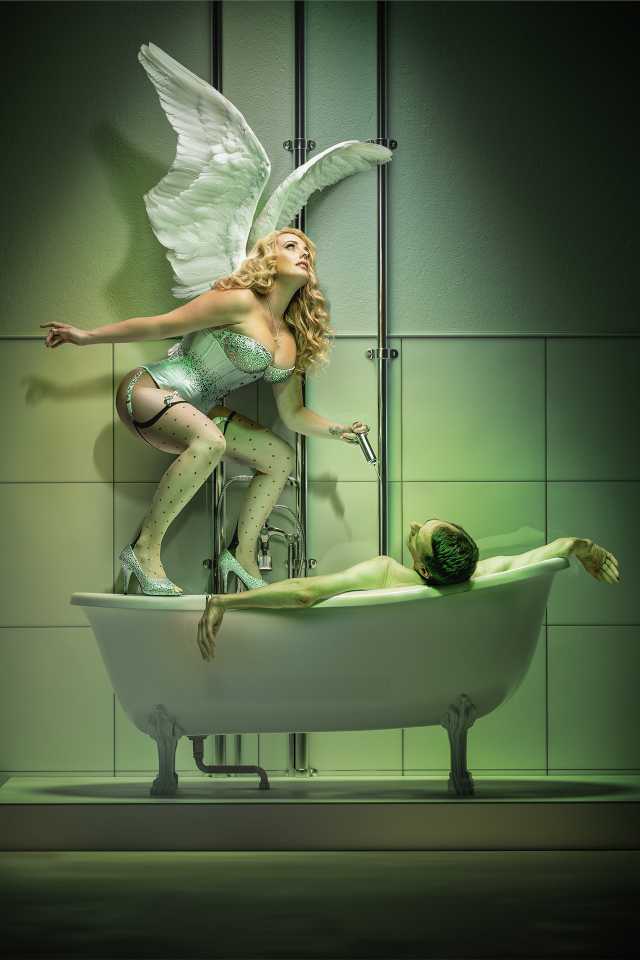 One of Humm's oil paintings will be shown at START depicting Mephisto (the devil), clad in the dark blue suit of a hedge fund manager falling off a falling bull, a symbol for the unleashed financial markets heading for a major crash. [Picture, top]
Mephisto helps the emperor restore state finances by introducing paper money and printing lots of it. Humm points out that this is what central banks and governments are doing today and is called MMT (modern monetary theory). Humm suggests that this can only end badly. In Faust, it leads to state bankruptcy and war. The question begs, where will it lead us in real life with inflation levels rising?
Like with Hogarth or Grayson Perry, narrative is key to his work, which is allegorical and nuanced. Like Perry, Humm doesn't stick to one particular medium but excels at it whether painting, pencil drawing, charcoal, sculpture, film and fine art photography.
Humm's observations power the narrative on corruption, love, power, fame, artificial intelligence through to contemporary references such as Harvey Weinstein, monetary policy and Silicon Valley.
He is an excellent chronicler of contemporary life, drawing us in with wit, fear and anger. I think his insight into modern life, his understanding of the workings of corporations, big business, finance, technology have all been cleverly woven into the work.
The artist is in conversation with art history and its storytelling and social commentary. Dali, Paula De Rego, Litchentein and other 20th Century artists have influenced the man and the work, but the vision and the story is very much his own.
See Philipp Humm's Faust at Start Air Fair, Saatchi Gallery, Duke of York HQ, King's Road, Chelsea SW4, 13-17 October, startartfair.com / philipphumm.art. START was created by David Ciclitira and his wife Serenella as a platform within the art world to help promote emerging and established artists from all over the world.