JetHQ specialises in making aircraft transactions easier for business owners worldwide, bringing extensive aviation experience and real-time industry analysis to each transaction.
It's like a private aviation matchmaker: using wide-reaching resources to match sellers with qualified buyers all across the globe.
As Walter Stark, VP of Sales for JetHQ puts it: "The company was founded on the belief that the most valuable asset in aviation is trust.
"We strive to not simply acquire and sell aircraft for our clients but build lasting relationships."
We caught up with Mr Stark to find out more…
What makes JetHQ stand apart from the competition?
If you were starting a team today to make aircraft deals easier around the globe, you would follow the blueprint set by JetHQ Founder Garett Jerde. He brought together industry veterans and a team of aviation experts and sales professionals to make transactions better for both buyers and sellers.
We have dedicated professionals who have spent decades navigating the aviation marketplace.
Throughout the world – including Asia, Europe, the Middle East and the Americas – JetHQ has the qualified and trusted sales professionals and experts to get planes from one territory to another, and to overcome registration concerns and unforeseen obstacles.
JetHQ's on-the-ground experts know the local culture, speak the language and can navigate complex regulations and find the right buyers.
We provide a level of service and information to customers in the preowned market that one would expect from buying new from OEMs.
Our team can handle almost any aircraft request, offering services beyond simple brokerage. We assist customers with inspections, fleet planning, acceptance and delivery, and can take in aircraft on trade to add to our inventory.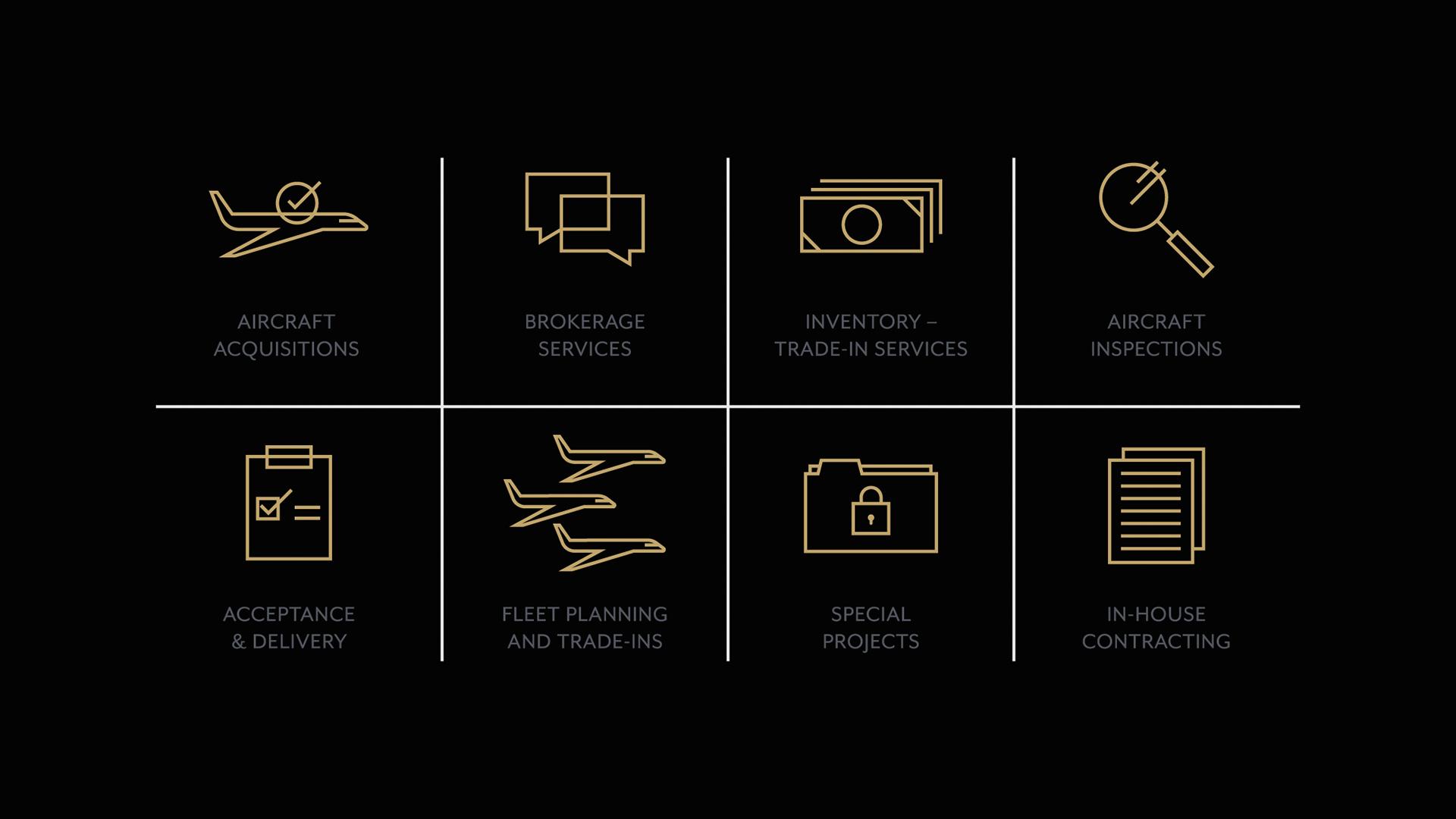 How has business been since Covid?
It has been good. We're seeing some people enter the private aviation market for the first time owing to health and safety concerns. Airlines and regulation have made traveling difficult.
Other customers have had shifting needs for their fleet, which means they have been moving up to larger aircraft, or looking at ways to maximise their investment in selling aircraft. Our ability to reach global customers for their current aircraft is an advantage they're seeking.
You seem to have been expanding this year – which areas are showing the most growth?
We're seeing greater interest throughout the world, which is why we enhanced our divisions in Asia – specifically in India – and Dubai in the Middle East.
We've also had a significant uptick in Mexico, the home of the third-highest registration of corporate aircraft worldwide, and Latin America in general.
Talk us through how the CARES act if benefiting those companies which buy private aircraft?
The CARES Act allows businesses and organisations to realise significant tax relief, freeing up cash for other priorities. It has restored taxpayers' ability to deduct current year tax losses against income from a prior tax year.
This is called net-operating loss carryback (NOLCB) and can create an immediate tax refund.
The NOLCB can be carried back up to five years ago to realise full advantage of the plan. That's beneficial on a couple of fronts. Not only does it give businesses a greater range of tax returns to counter, it also offers the opportunity to qualify the net-operating loss to the higher 35% corporate tax rate that was effective before the 2017 Tax Cuts and Jobs Act reduced it to 21%.
Purchasing an aircraft in 2020 can be an economic boon for businesses. With 100% bonus depreciation in effect right now, a company could convert the entire purchase price into eliminating current and older taxes, creating a quick tax refund that increases cash liquidity and flexibility.
Here's an example: a business buys a $5M business jet in 2020. With an estimated $1M in 2020 business income wiped out, the new CARES Act allows $4M of NOLCB to be carried back as far as 2015. In that year, the $4M would be applied to up to that same amount of business income. With the 35% tax rate in effect that year, that results in an immediate $1.4M refund. If that year's income is less than the NOLCB, it can be used in 2016 to 2019 years instead, until it's fully applied.
Purchasing an aircraft in 2020 can be an economic boon for businesses
What are the differences between owning a single-engine piston and a twin turboprop aircraft?
When weighing up the advantages and disadvantages of twin engine versus single engine turbo-prop aircraft, most operators will think of safety first. Having the redundancy of a second engine means that in the case of an emergency where one engine fails and the aircraft has enough altitude, the second engine will provide the pilot with the ability to navigate to an emergency landing location. Aircraft with twin engines also generally have more backup components such as twin starter generators which provide additional safety in the event of failure.
There are also performance and operating cost differences between single engine and twin engine turbo-props. In general, twin engine aircraft allow for faster speeds, and faster pickup, while single engine aircraft have the advantage of lower operating costs, owing to maintenance and fuel consumption for only one engine.
Tell us about your personal professional background?
I have been fortunate to have worked most of my career in the aerospace sector spanning aircraft manufacturing, business jet operations, aircraft management and regional airports holding senior management positions with world class industry leaders such Gulfstream Aerospace, Bombardier Aerospace, Pilatus Aircraft and TAG Aviation.
Additionally I have acted as strategic adviser and seed capital investor to a number of innovative start-ups including an aero maintenance software company and Europe's first commercial seaplane operator.
What's the most common misconception you're faced with?
That private jets are only for the rich and famous.
In fact, most of the time business aviation is precisely that, a business tool, not only for government officials and business leaders but also specialists, engineers and sales teams who need the flexibility to visit multiple countries and sites in the most efficient way possible.
Most of the time business aviation is precisely that, a business tool
You have a Special Projects arm to the business. What's the most challenging situation the company has dealt with?
Recently, it's been transporting aircraft from one place in the world to another, during the era of COVID restrictions. Countries and regions are struggling to maintain regular governmental activities right now, so navigating the regulations to move or get proper registration for aircraft has been a challenge. Fortunately, we have an excellent group of professionals who are on-site to handle the details.
What feature would you add to a private jet if you could?
For a long time the costs of on-board wi-fi have been exorbitant but now there are new products and services being introduced, so I would add an ultra low-cost system that delivers inflight SMS and Email utilising Bluetooth Smart technology and Iridium.
Rohit Kapur, President JetHQ Asia, flew helicopters in the Indian Army. Do you have a pilot's licence? What's been your most exciting trip?
Yes, I'm a private pilot and a Fellow of the Royal Aeronautical Society. I've flown on ferry flights in an immersion suit from the UK to the tip of South America, and then to New Caledonia in the South Pacific.
What's next for the business?
We're optimistic for further growth in the preowned sector, as more companies and individuals re-evaluate their travel needs and look to private aviation solutions. It is increasingly clear this group of individuals need a more dependable answer than commercial flight to maintain business agility and safety.
While there are buyers seeking bargains in their purchase options, we've probably seen the low point for available inventory prices. The market is healthy enough to avoid sales that don't fully appreciate the asset value of aircraft.
See more at jethq.com