Randox Health, the leading UK diagnostics company is continuing its clinic expansion in the capital, opening its new Canary Wharf clinic on 11th April 2023.
This will be London's ninth Randox Health clinic, bringing the world's most advanced and personalised Health Programme directly to the consumer. Canary Wharf is the latest in a national roll-out programme of 20 Randox Health clinics, with many more planned.
Randox's High Street investment in personalised healthcare and diagnostic testing follows the company's success in delivering 25 million Covid-19 PCR tests during the pandemic emergency.
As well as its condition-specific tests, Randox clinics also offer a new range of comprehensive diagnostic programmes, including the 'EveryMan' and 'EveryWoman' 12-month programmes. These enable up to 150 data points linked to key health areas to be measured during each visit with a personalised health plan summarising results provided. Repeat tests will be arranged six months after the initial test, included in the testing programme prices, which start at £295 per person.
Its growing network of clinics provide easy access for millions to a new Randox range of diagnostic tests, including for fertility, vitamin deficiencies, hormone imbalances, allergies and key health concerns including heart, liver and kidney conditions. These tests are available from £49 and will increase the accessibility of real, affordable and preventative healthcare through Randox's innovative combination of technology and science.
To complement its range of preventative health programmes Randox Health have partnered with Reviv, to launch an exclusive range of IV therapies and booster shots designed to give clients the vitamins, nutrients, and minerals their body needs to improve hydration, energy levels, immunity and the appearance of skin, hair, and nails.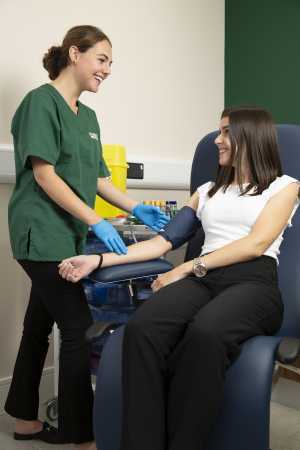 With more than 40 years of diagnostic experience, Randox is globally recognised as being at the forefront of diagnostic capability.
David Ferguson, Chief Operating Officer of Randox Health said: "Randox believes that in harnessing the capabilities of innovative diagnostics we can help the shift away from the traditional model of sickness management to a new era of truly preventative healthcare.
"Having a regular review of personalised health data is vital to understanding and maintaining good health. Access to regular health screening will allow clients to actively take control of their health to prevent or delay disease.
"This will benefit individuals and society by improving patient outcomes and considerably reducing the burden on our vital and hard-pressed clinical services."
Stuart Fyfe, Managing Director Retail Leasing at Canary Wharf Group says, "As our retail offering continues to evolve and grow, making fast and reliable healthcare testing available to our workers, residents, and visitors is a fantastic addition to our health and wellbeing offer. Randox's, the UK's largest healthcare diagnostics company, in-demand service at Canary Wharf will be really popular."
Prebooking at Randox Health Canary Wharf is now available on the Randox Health website. Location: Randox Health – Canary Wharf, Street Level 0, Cabot Place, Canary Wharf, London, E14 4QT