Frank Smith had the opportunity of a lifetime and no train ticket. The 15-year-old had secured an interview at Matchroom Sport by repeatedly emailing the company's charismatic young managing director Eddie Hearn.
Give me a job! Frank messaged Eddie, week after week. If you don't, I'll go somewhere else.
Honestly, mate? Hearn replied. You should probably go somewhere else.
But Frank persisted and eventually Hearn invited him to the Matchroom offices in Brentwood, a mere half an hour journey on the train. Frank arrived at Chelmsford Station bright and breezy, only to discover he had forgotten his wallet. Younger readers might be shrugging – so, was his phone dead or something? – but back in 2008, no wallet meant no ticket. Which meant no interview. Frank started to cry.
Desperate, he approached another commuter, a 40-ish businessman en route to Liverpool Street and the City. As Smith later recalls: "I've gone up to someone at Chelmsford train station and begged them for 15 quid!"
The stranger took pity on the kid and covered his fare: an act of altruism that might not have changed the future of British boxing, but certainly changed the future of one of British boxing's most influential figures. Frank caught his train, secured the work experience, and 13 years later is CEO of Matchroom Boxing and a director of Matchroom Sport. And he presumably has mobile payment on his phone.
His Chelmsford benefactor refused to share their contact details. If this anecdote stirs any memories, please get in touch – he'd love to pay you back. An optimistic appeal, perhaps, but as Smith notes: "I'm not sure there's that many people that give kids money in train stations."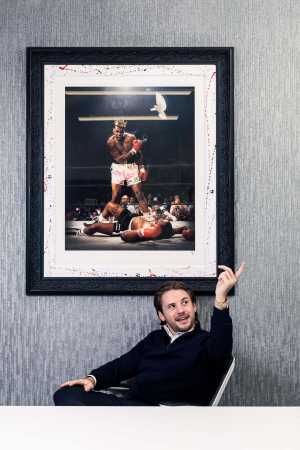 "I didn't know that!" chuckles Hearn when I bring up the wallet fiasco. "He wouldn't have a job. We need to find that stranger! Frank's on a lot of money now so that stranger deserves a few quid."
His first impressions of Frank? "Just a cheeky little kid, really. He reminded me a little bit of me." As with many kids, the cheek was often a front. "He was really shy. He was very shy when I met him – obviously, he was 15. But he was quite shy for those first three years. He's become very assured now. He knows he's a fantastic operator."
Although I speak to Hearn over the phone – he's in Gibraltar for Dillian Whyte's rematch against Alexander Povetkin, the latest example of Matchroom's creative approach to the restrictions imposed by Covid – the interview and photoshoot with Smith takes place a couple of weeks earlier.
The location is Mascalls, the sprawling Brentwood estate that was once the Hearn family home and now serves as the global headquarters of Matchroom Sport. (The New York office is halfway up One World Trade Center.)
They're probably thinking, what a dickhead! Who does he think he is?
Already the most storied address in British boxing, Mascalls briefly became its premier venue with last summer's Fight Camp, four consecutive weekends of action staged in the back garden. Needless to say, the Mascalls back garden isn't like your back garden. For one thing, it has a helipad.
"Just a helipad," deadpans Smith. "We ran out of money for the helicopter."
And the alpacas in the adjacent field? A birthday present from Eddie to his father Barry, the man who built the empire. What do you get the septuagenarian who has everything? Alpacas, apparently. I'd have suggested Smith pose with one but fortunately I'm not in charge of our shoots.
He's good company, Frank Smith: smart, cheerful, and never short of a droll one-liner, often at his own expense. "This will launch my modelling career," he says, leaning against the stable gate as the photographer snaps away. "Although I feel like a nightclub bouncer right now."
Later, we take some pictures in front of the main house, attracting curious glances from the staff within. "They're probably thinking, what a dickhead! Who does he think he is?" Smith grins, perhaps anticipating the stick that will later come his way, perhaps luxuriating a little in the moment: the tea boy done good.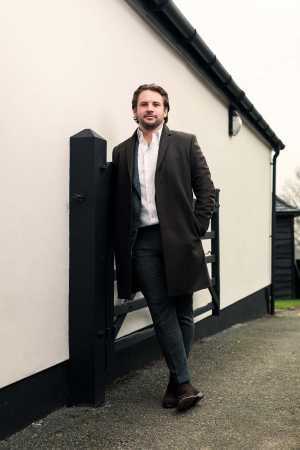 Crossing the Mascalls car park, we encounter a silver Rolls-Royce Wraith, EH on its number plate, and emerging from within a familiar figure clad in designer sportswear.
"Alright!" calls out Eddie Hearn, grin visible from behind his mask. "Why the hell are you putting him in Square Mile?"
He knows the answer. He tells me the answer over the phone a fortnight later. Smith is the man destined to become The Man. Today's consigliere is tomorrow's Don. "Frank is the master of putting things in motion and delivering," says Hearn. "In time, his skills of selling and presenting at press conferences and being the face will come. That's the natural journey. I'm not going to work in boxing forever."
The succession plan is already in place: Eddie will succeed Barry as the chairman of Matchroom Sport and Frank will succeed Eddie as the head of Matchroom Boxing. Running the show, says Hearn, "not just from an operational standpoint, which he does now, but from a promotional standpoint, from a sales standpoint. He will be completely responsible for that business."
Smith is a more relaxed character than his friend and mentor: comfortable in the world without being so obviously desperate to conquer it. "We're quite different people," agrees Smith, once we have retired to a secluded office, his modelling career back on hold. "I haven't got his strengths. He is the best salesman out there. I'm very good at the backend and trying to keep things on the straight and make everything run smoothly."
They met at a Christmas party in Romford Greyhound Stadium: Smith, then 14, was selling raffle tickets to raise money for a hospital charity.
"I saw a Bentley outside. Someone said, 'That's Eddie Hearn's. That guy over there.' I said, 'That tight bastard gave me twenty quid!' Went back over to him. Asked him for more money. He gave me fifty quid and then I wouldn't leave him alone the whole night."
He joined the company straight out of school, his remit "teas, coffees, pizzas. Whatever anyone wanted." He put out advertising boards on golf courses. He cold-called random companies, trying to sell them hospitality tickets to the darts. He helped out at Leyton Orient – Barry was club chairman – and annoyed everyone by wearing the mascot's costume, prancing around the office dressed as Theo the red wyvern. (It's a type of dragon.) He distributed leaflets outside Romford and Liverpool Street stations.
"Anything there was, I'd do. I think mainly because I was too young to get arrested at that point."
Yet 16 isn't too young to get sacked. There was a poker event in Kent; Frank stayed up until three in the morning, watching the cards. Unplugged the phone because some joker kept ringing the hotel room. (It was actually the wake-up call.) He arrived at the studio in utter disgrace, an hour and a half behind schedule. Later that day, a grim-faced Hearn dropped a letter in his lap.
Smith shared it on Twitter a couple of years ago: "I was appalled to hear this morning that you were over an hour late for filming after staying up to all hours last night at the hotel. I put my neck on the line to give you this chance and your behaviour has shown a total lack of respect to me and the company. Please accept this letter as a final warning."
Tweet
The letter had the intended effect on its recipient: "I opened it and I broke down crying."
Distraught, he phoned his mum and got another bollocking off her. "My mum killed me for it. She wasn't happy. 'You've got this opportunity that no one else would get and you've fucked it up!'"
Lessons were duly learned and Smith hasn't been late since. "Still got the final warning, though."
Every teenager oversleeps; most are handed detention rather than a written warning from the boss. What did Frank's mates think of his precocious move into the world of employment?
"I didn't really have many mates at school," says Smith, sounding more amused than anguished. "I had mates but I was probably a little bit bullied at school. They used to call me 'Fat Boy Frank.' Now it doesn't bother me, but back then it did."
He doesn't talk to one person from his schooldays. "Because I focus so much on work, I don't need many friends. That may be sad but I enjoy what I do and I enjoy the people I do it with. I've got four or five mates now, mostly through work, and that works for me."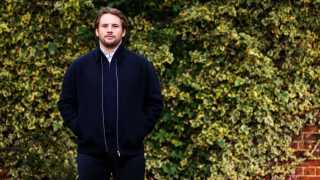 The resurgence of Matchroom Boxing is a remarkable story, one that began a decade ago with Audley Harrison's risible challenge of David Haye, sparked into life during 2012's 'War of the Roses' bout between Kell Brook and Matthew Hatton, and appeared to reach a crescendo at Wembley Stadium when Carl Froch knocked out George Groves in front of 80,000 people – except then a young heavyweight named Anthony Joshua emerged to redefine the commercial possibilities of the sport.
Smith was there from the start. In 2011, there were only three of them working on the boxing: Smith, Hearn, and John Wischhusen, a veteran of the game from Barry's days. Smith sold international TV rights, brokering deals at an age most of his peers were skipping seminars. Hearn speaks effusively of the sacrifices made by his young prodigy, while noting the job had its perks. Twenty years old, "you weren't going down the Wetherspoons in Romford. You were going to LA for a week to stage a major event."
The Matchroom youth policy is a strong one: several of the company's major players joined as teenagers and ascended through the ranks. Great for fostering an inclusive, familial dynamic, but making the step up can be daunting. As Hearn says: "When you enter a business as a 15-year-old, to many people you're just that kid. You're little Frank." It's a struggle Hearn knows well: "When I was coming through, I was always Barry Hearn's son. And when Frank was coming through, he was always the young kid at Matchroom."
He cites the 2017 fight between Joshua and Wladimir Klitschko as the moment Smith stepped up to the plate: "wearing better suits, walking around with a bit more authority… He hasn't got a big ego in the slightest, but you want to be respected. You want to be powerful. You want to be able to make key decisions, you want people to acknowledge your ability. And he did that over time. He's earned everything he's got."
To date, Smith's proudest achievement is Joshua's 2019 rematch against Andy Ruiz, a quite literally groundbreaking endeavour that required the construction of an entire stadium and more than a dozen visits to Saudi Arabia to prepare for the event. Yet the months of meticulous preparation were nearly ruined at the last moment, an unexpected thunderstorm jeopardising the biggest fight of the year on the very day it was meant to take place.
"It was about four o'clock in the afternoon," says Smith. "There was thunder and lighting about ten miles away. If it came within five miles we wouldn't have been able to open the doors. We'd have had to evacuate the stadium. In all the trips I'd done it had never rained, and this week it was hammering down with rain." 
Incidentally, the telling of this story offers a notable contrast between Smith and Hearn. The latter would live it with you: italicising every other word – "it had never rained, and this week it was hammering down!" – his eyes alight with joyous disbelief, grin never leaving his face. Smith serves it up straight, zero emotional garnish except a slight amusement over best-laid plans and all that. I imagine he was more stressed at the time. Perhaps not: he's nothing if not equanimous, the ice to Hearn's fire.
I ask Smith what Matchroom would have done had the fight been called off? He shrugs. "Probably delayed it a week."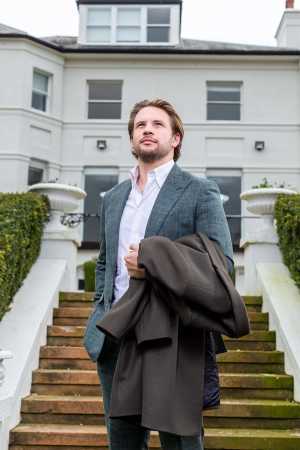 As well as the Hearns, Smith has close ties to another great family of British boxing: his girlfriend is Emily Eubank, daughter of Chris, sister of Chris Junior. Emily, petite, formidable, arrives midway through the shoot, waves hello, and then goes off for a cup of tea.
They met… "I'll get the date wrong," grins Smith. "I'll have to check it. It was 2016, I think…"
"Twenty fifteen!" calls a voice from the adjacent office. "Twenty fifteen," says Smith. "October 2015. There you go."
Eubank Jr was fighting on a Matchroom card. Smith was introduced to Emily backstage. "'This is Frank. Anything you need, just ask him.' She thought I was the tea boy because she made me do everything, but I fancied her so I thought I'll run around and do whatever she wants."
He approached her in the hotel bar after the fight. Worked the charm. "We went to the casino that night. She wouldn't let me gamble."
He's nice, he's funny. What do you want me to say?
We invite Emily to give her version of the meet cute. "I just wasn't interested," she says. "Not like that! I didn't think you were interested like that!"
She soon found otherwise. "He tried to kiss me twice that night. I swerved so hard! It must have been quite embarrassing. But then we saw each other after that and the rest is history."
What qualities made her fall for Frank? "You're asking the wrong girl!" She laughs. "I'm not gonna sit here and blow smoke up his arse. No, he's nice, he's funny. What do you want me to say?"
"I told you, she's tough," says Smith. "She keeps me firmly grounded."
"He's a good egg," said Emily, fondly.
Eubank Senior calls Frank 'son'. "Now I'm part of the family. It took me a while to get in the good books, but I think I'm there."
"Getting there. You've just gotta marry me."
"He wants me to marry her."
That would be some wedding. Smith nods. "I think we might do it on pay-per-view."
Somebody pokes their head round the office door: Smith has a video conference with the Gibraltar tourist board to finalise the logistics for the upcoming fight. Outside, Hearn is pulling up in his Rolls. It's time to go back to work.
"I've spent more time with Eddie over the years than my family," says Smith. "I'm like an adopted little brother. We go at each other every now and then, but he doesn't employ me to sit here and go, 'yes, I agree.' We've got a good relationship and it works quite well."
'Quite well' is an understatement that would never pass Eddie's lips, but he certainly shares the sentiment. "Whilst by blood, I can't say he's a Hearn, I feel like he's a family member in many respects."
He describes Smith's opportunities as "endless… I don't see Frank as someone who's just going to be head of boxing. I expect Frank to be my right-hand man till I walk off into the sunset."
And where does Smith see himself in ten years? "A beach in Bali putting out sunbeds."
He grins, laconic to the last. "No, I love working. I enjoy putting everything into it. I want to make a success of myself; I want people to go, 'you know what? He's very good.' Money's great: don't get me wrong, everyone wants to make money. But I think that's a by-product of putting in effort and working toward something."
He's 28 now: Hearn's age the night a cheeky teenager upsold him some raffle tickets at Romford Greyhound Stadium. What advice would Smith offer to the young Franks of the world? Those kids with ambition and drive who perhaps have yet to find their outlet, their passion.
"Don't feel like you should be judged by everything that happens in school. There's so much pressure on you to do well at school and it all builds up to this one moment. But that isn't how life works. As long as you can give your all, as long as you can say 'I tried my best and I put everything into it', then you'll do well in life."
Words to live by. He certainly does. 
For all upcoming fights, see Matchroom Boxing