Dave Allen landed the punch that may yet change his life early on a July evening at London's O2 Arena. The punch was an overhand right, and it landed on the chin of Allen's heavily favoured opponent Nick Webb. It didn't stagger Webb, it slumped him; through the ropes and out for the count. The crowd duly went berserk. The most beloved man in British boxing had finally found his mojo.
Boy, did he need to. The previous month in Paris, Allen had suffered a 10th-round stoppage against 2016 Olympic gold medalist Tony Yoka. Overweight and painfully outclassed – he took the bout on three weeks' notice – the loss to Yoka was Allen's fourth in 19 fights: Dave from Doncaster looked in danger of becoming a novelty act. Feed him to a prospect on the undercard of a PPV; rinse and repeat until the public tired of his antics, or his record became unsellable. It's a road travelled by many a journeyman boxer, and the shadows lengthen with every stumbling step; except Allen, as always, decided to go his own way.
Six weeks later, our boy was back in action, inflicting a first-round KO on rotund German Samir Nebo. The fight was a non-event, the opponent pushing 40, but to hear the crowd celebrate you'd think their hero had dispatched a prime Mike Tyson. Chants of "There's only one Dave Allen!" rang round the Newcastle arena.
"If you gave me that moment again or a million pound, I'd take that moment again," reflects Allen. "The adulation of the people, you know? Sat here now, thinking about it, it makes me emotional. You know the moments you can't buy in life? That was one of them. That was a moment that only sport can create."
If you follow British boxing, you'll probably know the Dave Allen story. You'll know about the Webb knockout, the Babestation visit, the Twitter musings on everything from his next fight to 'Would You Rather' questions that would make a schoolboy blush. You'll also know about the weight issues, the gambling addiction, the depression, the attempted suicide – all of which Allen continues to discuss openly, partly so that his experiences might help others, partly because openess is Allen's only setting. For better or worse, he is incapable of being anyone but himself.
(You're still thinking about the Babestation visit, aren't you? We'll get there.)
"I'm just a little boy from Doncaster."
"He's just a nice bloke," says journalist Martin Theobold. Theobald has known Allen for several years – "I love him to bits," he says, and he's far from alone. "A lot of boxers, you can see like a simmering aggression in them, it's not far from the surface. But with Dave you don't see that at all. He's just that nice bloke all the time, whether he's pissing about playing table tennis or you get him on the phone for an hour or so, he's no different in any of those scenarios. There's no anger to him, seemingly. It's really rare that you find that within boxing."
On the week of Allen vs Webb, Theobald was recording a live show of the New Age Boxing podcast. As the evening wound down, a late arrival entered the Courtyard Theatre and strolled onstage. Dave Allen, ladies and gentlemen. "People reacted as if David Beckham had walked in the room," recalls Theobald. "He's just so popular. Two nights after that, he's fighting Nick Webb, and he turns up at our live show at about 11 o'clock at night, takes his top off and sits there answering questions. Two nights before the biggest fight of his career."
Whereas the average boxer must earn a following through, you know, winning boxing matches, Allen found his on social media. It's just one idiosyncrasy of a unique career. Consider, for example, Allen's 16–4–2 record in an era which fetishises the '0' like none before it. Or his willingness to share a ring with anybody – as well as Yoka, past Allen opponents include leading British heavyweight Dillian Whyte and the much-avoided Cuban Luis Ortiz. Or his physique, often more Homer Simpson than Anthony Joshua.
Allen once referred to himself as "a fat nobody from Doncaster who happens to have boxed on Sky one time… and looked pretty shit doing so." The remark neatly encapsulates both his man-of-the-people appeal and the frustrations of a career often more dedicated to Nando's than the gym. "I am a lazy person. When I get in the gym, nobody trains harder than me – it's getting to the gym... And that's a) because sometimes I just feel, 'I don't want to train today'; and b) because I think I can beat anybody when I'm not fit. In my head I can beat anyone. I thought I could beat Luis Ortiz when I was 19 stone. Crazy."
I'm not bothered how I've done it, I've done it. I'm here now
Recently, the penny seems to have dropped. The Dave Allen I meet in March couldn't be described as 'sculpted' but the gut has receded, the fat is hardening into muscle. You could smash a baseball bat on those shoulders. He looks like what he is: a big, tough man, a fighter. And then his face breaks open into that trademark grin, and you wonder if such an evidently gentle soul could hurt a fly, let alone the strapping, snarling giants who dominate the heavyweight division.
I spoke to Allen ahead of his fight against the former WBA champion Lucas Browne, easily the biggest of his career. For once, the mainstay of many a Matchroom undercard will walk out as the headline act; a development nobody can quite believe, not promoter Eddie Hearn – "I don't know how we got here," he tells me at the press conference, "but here we are," nor Allen himself.
"To be who I am and what I am – I'm just a little boy from Doncaster. To go to London, to the O2, to fight a former world heavyweight champion, it's insane really. People can say, 'oh, you've done it due to your popularity' – I'm not bothered how I've done it, I've done it. I'm here now."
On the day of our interview, 'here' was a boxing gym in Sheffield. Allen will later film a video skit with WWE legend Mick Foley, don various costumes, including a pair of customised 'White Rhino' pants and little else. "Bonjour, ladies!" he grins, pointing to the camera. He's in his element, acting the jester with his childhood hero, wallowing in yet another unexpected delight offered up by a life that could so easily have turned out very different.
"My mum said, 'I don't think boxing's for you.'"
Dave Allen found boxing in the nick of time. He was 16, had no idea what to do with himself. The plan had been sixth form college: mess around, chase girls, "waste another two years of my life", but poor grades put paid to that. He didn't want to work in a warehouse but when you're a Doncaster lad with three GCSEs the world isn't exactly your oyster.
Some friends were going to a local amateur boxing club. Dave went along. Stayed there for a month, then plucked up the courage to speak to his dad, a former professional boxer. "I was scared to tell him, cos I was scared he would laugh at me. He came and watched me and said, 'yeah, there's a little something there.'"
Allen Senior took his son to Sheffield, and the gym of celebrated trainer Brendan Ingle. Dave would travel down five days a week. His mum paid for his bus pass. "That's how I started really – off my own back, cos I didn't want a job. I didn't want to be 16, going in a warehouse for the next 60 years."
Aged 18, Allen made his amateur debut against Ivan 'Hopey' Price. "It was the worst experience of my life, it was terrible. Brendan Ingle was there, Kell Brook was there – a lot of famous fighters were there. It was packed out. My dad was there. I won but it was terrible. I think I won 2-1 on points – there were three clean punches landed in the whole fight! I was just grabbing and holding on; I was scared to death, I was really scared.
"I left the ring and my mum said, 'I don't think boxing's for you. I think you need to pack it in now, go and get a job.' My dad, to be fair, said, 'I understand, it's hard, that was your first fight, you'll come back.' I boxed the same kid again three months later and I stopped him in the first round."
As an amateur, Allen won the national boys' championship and the Yorkshire ABAs. However his dedication was already starting to waver. After dropping a close decision against two-time ABA champion Simon Barclay, Allen decided to try his luck in the professional ranks. His amateur career lasted a whole ten fights.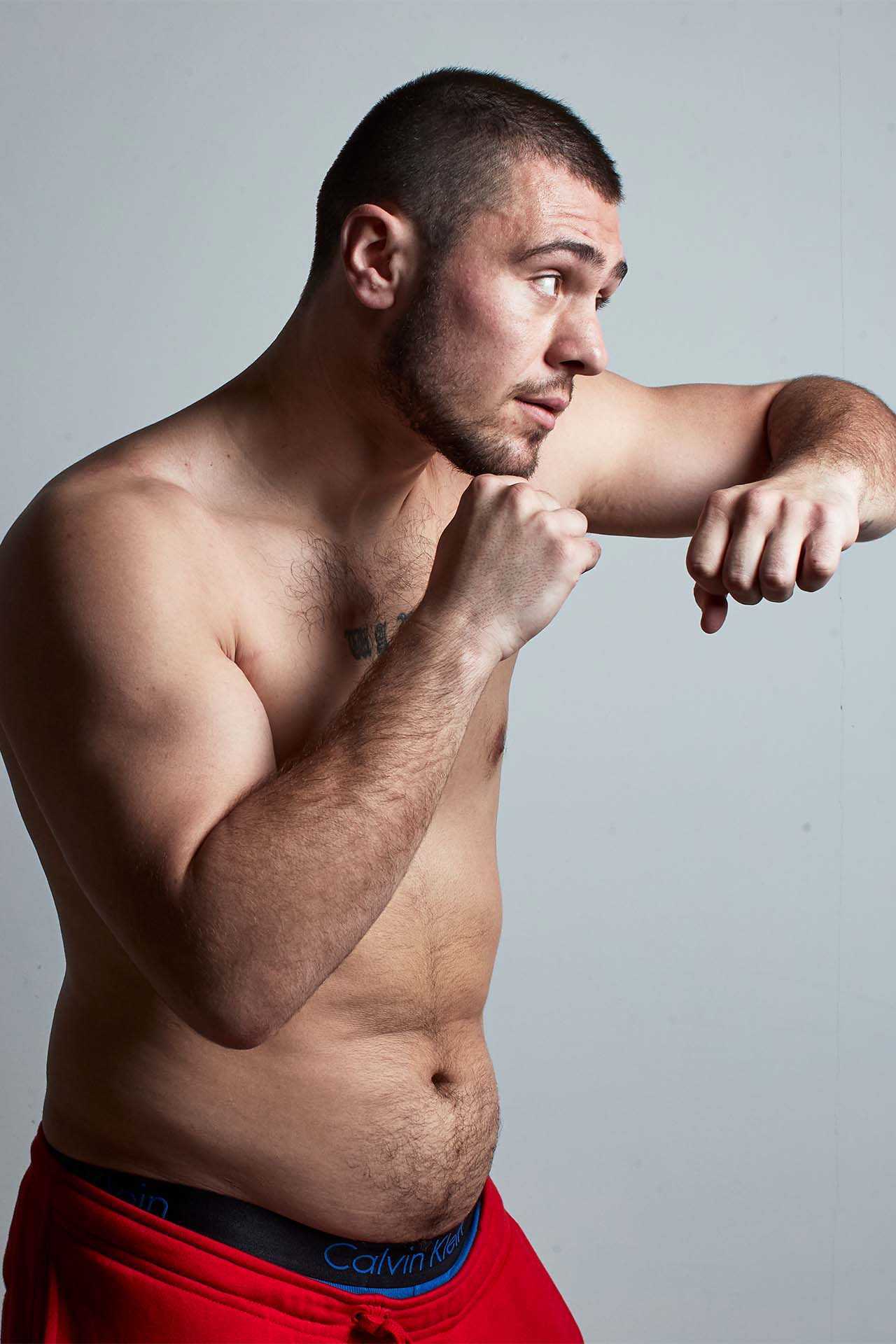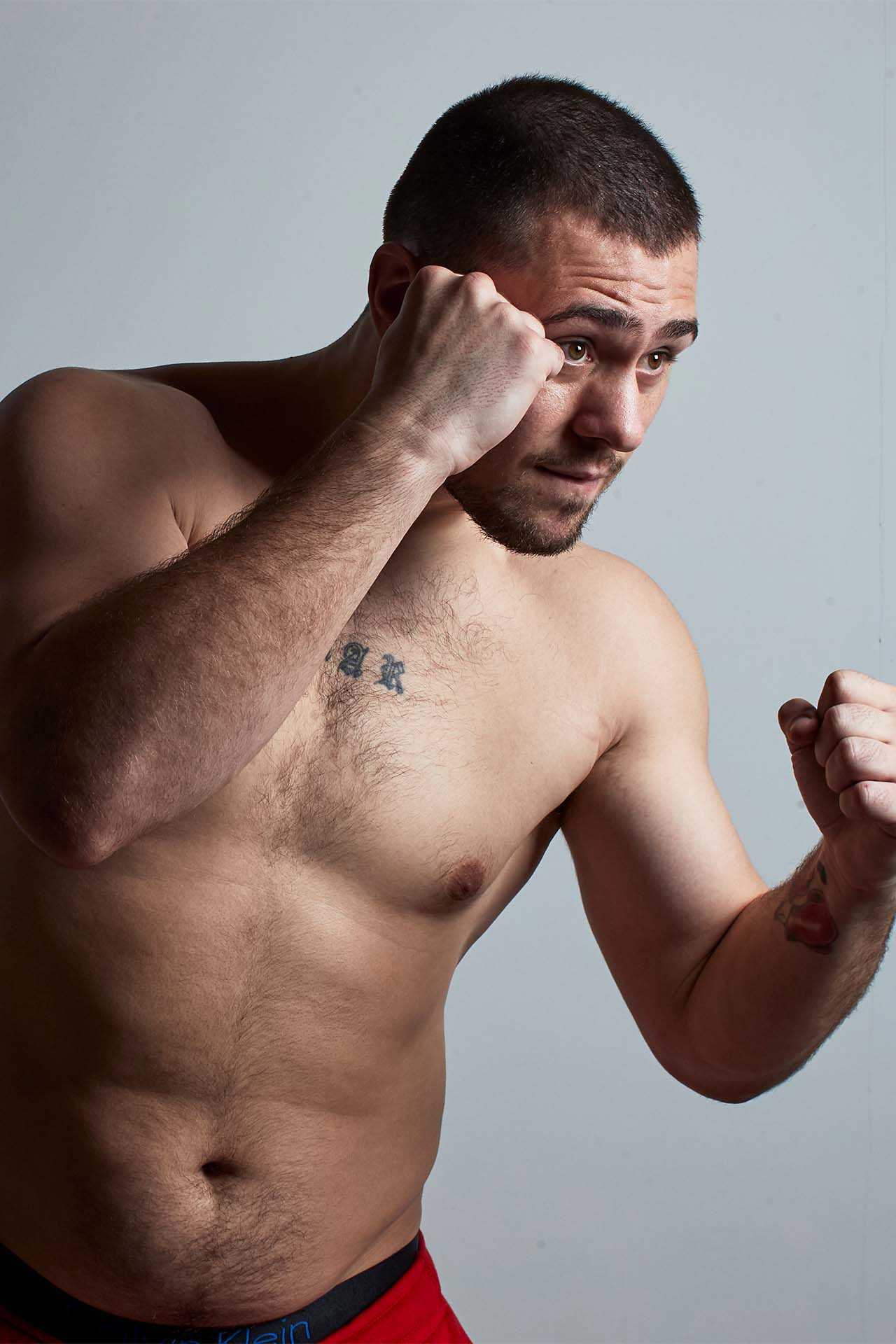 Life as a pro proved even more turbulent. Allen drew his sixth fight with Plamen Nikolov, a Bulgarian whose sole claim to posterity is drawing with Dave Allen. Then a contract dispute resulted in an 15-month break from boxing and another crack at college. "I ended up getting a job as a supply teacher, I don't know how. I think I talked my way into it, I talk my way into a lot of things. I was a supply teacher for about six months, then a teaching assistant at a school for problem kids for nine months. I was getting assaulted every day, I got stabbed in the hand with a pen knife. It was horrific, it was awful."
On his return to boxing, Allen didn't hang around. He made his Sky debut against Jason Gavern in a stinker of a bout, one which Gavern frequently attempted to turn into a wrestling match. An incensed Allen described audience perception of the action as "what the fuck is this fat lump doing, smashing the other fat lump in the head?"
His 11th fight was against Whyte, his 12th against Ortiz. He lost both handily but never went down; defeat came via decision (Whyte) and seventh round TKO. He'd proved his toughness, yet his role was more akin to human punchbag than live contender. He went into both fights believing he could win; yet he also had an eye toward his future development, accepting boxing lessons in every sense. Most pressingly of all, he needed the money.
Allen began gambling aged eight. He remembers the first horses he bet on: Dato Star and Top Seed. "I used to sit on me dad's knee. He'd be picking bets out, and I'd be picking them out at the same time. He'd finish with the Racing Post, he'd pass it to me. You're talking like maybe a pound, one pound fifty every Saturday. It just snowballed, and as I got older I had a little bit more money. I found online gambling. Then at one point I lost every penny I have."
These losses led to a failed suicide attempt in 2015. It should have been the ultimate wake-up call. A year later, Allen spent the day of the Dillian Whyte fight betting thousands on the horses. "I went into the arena, knowing full well that most of the money I was getting wasn't going to be mine after the fight. I boxed Luis Ortiz in a similar situation. I needed the money. I knew it would help my career but I did need the money as well."
"Some people can't punch – I just have a funny week every now and again."
Although Allen fought on Matchroom cards, he wasn't a Matchroom fighter. "He had no money, he had no prospects, he had no future," says Eddie Hearn. "At that level, boxing is just about getting paid. You've got to look after yourself but that's the brutal truth. If you're what Dave Allen was, there's no prospect."
For Allen, says Hearn, the Ortiz fight "was the worst decision he probably ever made." However even bad decision can produce good outcomes. Hearn was impressed by Allen's spirit, charmed by his personality; and so British boxing's biggest promoter decided to take on its most wayward son. "I thought, you deserve a break, mate. And that's when we started helping him, and it's gone on from there. Ups and downs."

Those downs came within the ring – twice losing the Commonwealth title to Lenroy Thomas, a career nadir – and beyond it. If gambling debts forced Allen to battle monsters at short notice, depression often sabotaged preparation for his more winnable fights. The challenge, he says, is the training camp, "putting together a ten-week period of my life when I'm not going to go off the rails and go mental. I am a bit crazy – there are times when I will go completely off the rails.
"I've seen many people, many specialists, psychiatrists, and they said you're not really a threat to anybody else, you're just a threat to yourself. Putting a ten-week camp together is very hard. The other week I never trained – I never left the house for four or five days. Just cos I was down. For no apparent reason whatsoever, but that's life, innit? Many of us feel the same way.
"It's very frustrating, but as I get older I understand more, I can deal with it, and it only kept me out of the gym for four or five days – and luckily it was nine weeks away from the fight. I know what I am, and I deal with it. It didn't hamper my preparation this time, but it has in the past. That's not an excuse, that's just me being me. Some people can't punch, some people aren't strong, some people can't take a punch – I just have a funny week every now and again."
I don't want to be like this for the rest of my life. Beating Lucas Browne is phase one of Operation Live A Normal Life After Boxing
Tweet
In the UK, suicide remains the single biggest killer of men under 45. The British Boxing Board of Control website states: "Professional boxers are at increased risk of developing a mental health problem due to dealing with a number of challenges including the risk of injury, making weight, negotiating contracts, public scrutiny and media pressures, juggling dual careers and dealing with retirement along with the challenges of everyday life."
The stereotypical boxer is the ultimate 'alpha male': strong and silent, not feeling pain but inflicting it. This stereotype is changing, thanks to the likes of Tyson Fury, Johnny Nelson, Frank Bruno, Leon McKenzie and all the fighting men who have shared intensely personal stories of struggles past and ongoing. Nelson recently offered this advice on talkSport: "As a guy who boxed for a living, as a guy who was supposed to be a hard case for a living – talk. You're not weak if you talk."
There is also the unavoidable ebb and flow of the boxer's existence: weeks of training and hype and pent-up aggression, crescendoing in one night, sometimes one punch – and then, win or lose, it's over, and you wake up the next morning with nothing to do except nurse your wounds and yearn for the lost buzz of yesterday, more potent than any drug.
"It's usually after the fights that's the problem," says Allen. "The big rush, the walking out in front of thousands, the adulation, the attention I guess as well. Everything, all of it! As a human being, that's what you crave – all them things. And when fight week's gone, the couple of days after you're just flat as a pancake. That's what I struggle with the most. Most boxers, when they retire, that's when they hit their problems as well – because it's all gone. That realisation that everything's just gone."
Retirement worries him "massively" – but he has a plan. He knows what must be achieved between now and then. "For me to be happy and healthy when I retire from boxing, I need to be in a position where I can be comfortable financially; so I can have that stability in my life, so I'm not in a position where I have to do anything I don't want to do.
You've gotta have goals in life, I believe. They've gotta be attainable, they've gotta be short term
"I don't want to be like this for the rest of my life. And I know when I'm comfortable and I've got a bit a stability and routine, I'm alright. Beating Lucas Browne is phase one of Operation Live A Normal Life After Boxing." He grins. "That's how I see things now – I look at everything backwards."
He preaches the importance of a stable lifestyle. "People always say to me, 'What do you do when you're struggling?' Routine is key. Now my training is very regimented. I go training at 6am, I go training 12pm, I go training 6-6.30pm. I have to be there, my food has to be at certain times. I know what I've got to do. I haven't got time to be worrying, I haven't got time for my brain to be going on meltdown thinking about other things.
"You've gotta have goals in life, I believe. They've gotta be attainable, they've gotta be short term. You've gotta be striving for something. I can't see anything else except the Lucas Browne fight. That's what I'm striving for. The average man who's working nine to five? You wanna lose a stone, you strive on that."
It's not the most complicated advice – but therein lies his appeal. That ability to connect. As Hearn observes, "Dave's quite a simple guy. I don't mean that in terms of his intelligence, I'm talking his life. He can simplify mental health a lot better than other people can. He can break it down, perhaps better than a psychologist or a Cambridge graduate. He can talk to the people about his experiences and that goes a long way."
"I'm a gay icon? I like that."
The relationship between social media use and mental health is widely agreed to be a negative one. However, as well as a means to build his profile, Allen uses Twitter as a release from the drudgery of training camp. "It helps keep him sane," says Theobald. "It keeps him away from some of the troubles he's had in the past. If he's at a training camp and he's away from home for five nights a week, there's a very big risk that if he doesn't sit on Twitter and talk to people then he's out getting himself in trouble."
Social media led to the visit to the Babestation studios, a much-celebrated chapter in the Dave Allen legend. "Sent some Tweets saying I was a big fan. Girls invited me down." Naturally he documented the visit; a tweet from the days announces, "I'm going to Babestation and I'm fucking buzzing. I have dreamt of this day since I was 12, want to thank my parents for having Sky TV and going to bed early and enabling me to have this dream."
Purists doubtless scoffed, but the story was covered by multiple outlets – 'White Rhino Horn' went the Sun headline – and offered exposure most boxers of Allen's standing can only dream of. Ditto the weigh-in for his fight against David Howe: Allen stuffed a sock down his pants, and photos of the resulting bulge went viral, even being published on the hugely influential gossip site TMZ. 'Boxer Dave Allen: My Junk Is A Real Knockout.'
I'm happy to help, and I'm happy to speak to anybody
The sock made him a gay icon in South America. He smiles when I bring this up. "I'm not the worst looking fellow in the world but I wouldn't say I was a supermodel either. It's all in the sock! Doesn't fill me with much joy because if it was for me looks I'd be much happier, but you gotta take what you can get. I'm a gay icon? I like that. Doesn't worry me at all."
He's also experienced the dark side of social media. The abuse after losing to Lenroy Thomas for the Commonwealth title. The tweet 'I'll give you odds of 1-4 on Dave Allen killing himself before he's 35 years old.' An image from The Shawshank Redemption of a man hanging himself, with the message, 'This will be you.' It's hard to offend Allen but nobody could shrug off such vileness, especially when their loved ones might see it.
"They've got to be very unhappy people," says Allen of the trolls. "And they'd only have to message me and apologise and say, 'I need some help', and I'd happily do that, but I don't foresee that happening… I'm happy to help, and I'm happy to speak to anybody, because I love it, you know? Ninety-nine percent of the time I'm happy and open – but the other one percent of the time I'm locked in me house on me own."
"I can live with not being good enough. I wouldn't be able to live with myself not knowing"
For two rounds at the O2, Lucas Browne outboxed Dave Allen. Tension built within the arena. A hulking specimen, covered in tattoos, throwing punches with bad intentions, Browne certainly looked the part of the fairytale ogre. Yet ogres are there to be slain. In round three, Allen landed a vicious body shot that crumpled Browne to the canvas. He didn't beat the count; and another chapter had been written. Mick Foley tweeted his congratulations; as did Babestation; as did pop star and fellow Doncaster lad Louis Tomlinson, whose friendship with Allen dates back to their schooldays. The Dave Allen fanbase is nothing if not diverse.
He claims to have two goals: to win the British title, and to box for the world "cos I can retire somewhere nice and hot then." Perhaps Allen looks at everything backwards due to the rare trajectory of his career – the profile coming before the achievements. "I'm a million pound and a major title away from everything that any fighter wants out of boxing. I've walked out into full arenas of people singing my name. I've been on box office, pay-per-view, I've been on Sky, done all the media stuff. I've done everything really in a successful career apart from the money and the belts!"
What would be his ideal fight? "Joshua," he says immediately. "Always wanted it. Put my name forward many times. Sparred 500 rounds with him. We spar all the time. And I always knew, I said, 'I'll beat you one day.' People will look now and say, 'that's the most ridiculous thing I've ever heard.' But you know what? That's the one fight since I first sparred him that I thought, 'I can beat you.'" And if he can't? "Even if Joshua chinned me in 30 seconds, giving myself the opportunity to would suffice."
Like any good promoter, Hearn knows the value of narrative, and Allen has no shortage of that particular commodity. "He jokes, I'm three wins away from Anthony Joshua – he's probably right! But those three wins ain't gonna come easy."
Only two wins now. Can Allen get there? The Browne fight showed his determination to give himself the best possible chance. The prospect of defeat doesn't phase him: he's lost before, he'll almost certainly lose again. But should he cheat himself as in the past – shirk training, turn up overweight, climb through the ropes as anything other than the best Dave Allen that he can possibly be – that would be unforgivable.
"I can live with not being good enough. But I wouldn't be able to live with myself not knowing. I need to be able to sit down with myself at 50 years old and say, 'you know what, you achieved everything you wanted to achieve.' And even if I didn't I can say, 'you know what, it was your fault.'
I guess the people love me. That's all I've wanted
"If it's my fault I can live with it. I can't live with someone else running my life and them getting it wrong for me. I don't live my life that way. People will say, 'You're a very strange man', and I say, 'Yeah, I know I am, I'm very, very strange,' but you know what, I can live with it, and I'm content with making my own mistakes. I'm not going to let anyone else ruin my life by making the mistake for me."
He wants to be out of the sport by 30, his faculties intact, his future secure. Get married, raise a family. Get off social media. Grow fat and happy. He talks excitedly of climbing the property ladder, spending his money on houses, not horses. "It's that stability. I've got stability in life. It might be a three-bed, but for a three-bed to be my own means more than living in a mansion."
He has no shortage of ambitions beyond boxing. He wants to help the homeless – "in Doncaster, it's terrible" – he wants to help people struggling with mental health. Dave Allen the philanthropist – and plenty else besides. There's so much to do in life once you give yourself the chance to pursue it all. "A bit of me would love to be a PE teacher. A little bit of me would love to be a policeman. A little bit of me wants to be a fireman... I want to get involved in bits of everything. I want to make enough money where I can sit there and say, 'I'm gonna do this today, this tomorrow, and I can do it.'"
However his career unfolds, whether he becomes heavyweight world champion (imagine!) or never wins another fight, Allen has already achieved something more meaningful than any belt or cheque. "I guess the people love me. That's all I've wanted – I want you to love me, I want him to love me. I want everyone to say, 'Dave Allen's a nice boy. I like him.'"