Whether it's Eddie Redmayne at the Oscars or Snoop Dogg at a Malibu pool party, Duke + Dexter has firmly made a name for itself with the A-list crowd. Indeed, everyone from Ryan Reynolds to Justin Timberlake can be seen in rocking a pair of the brand's latest shoes.
Duke + Dexter challenges the expectations of what a British shoe is expected to be – striking a balance between progressive fashion and familiar charm.
Although the brand first made its mark with playful alternatives to the dress loafer, then followed it up with some fashion-forward boot styles, it's now setting its targets on a more mainstream playing field: sneakers.
Not one to do things by halves, Duke + Dexter have enlisted the help of two more of its celebrity clientele with its new collection. The somewhat unlikely combination of former F1 world champion Jenson Button and daredevil free-skiing prodigy Jon Olsson have been enrolled to promote the new Hiker Low sneaker range.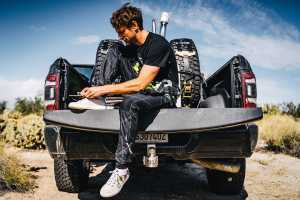 Built to last from Italian water-resistant suede, these sneakers feature internal leather padding for all day comfort, hiker-inspired eyelets for quick, sturdy fastening and even a carabiner clip for safe and easy storage while on the move.
Crafted in England, the new Duke + Dexter Hiker Low sneakers are the most adventurous offering from the brand yet. 
The new line also helps raise awareness for men's health, with 10% of all sales being donated to Orchid, a charity fighting testicular cancer, and Calm, a national charity aimed at supporting men's mental health.
Duke + Dexter Drake off-white hiker low, £180. See more at dukeanddexter.com