The 2021 Formula 1 championship will be remembered as one of the greatest ever duels in modern day motor sport. Regardless of your allegiance, the gripping contest between seven-time world champion Lewis Hamilton and 24-year-old champion-in-wait Max Verstappen delivered 22 blockbuster races that left even the most partial spectator glued to their screen, hungry to see the next round of breathless action between the sport's most talented stars.
Never before had Formula 1 sewn such a deep division among two sets of fans, where its protagonists grew from merely elite racing drivers to combatants in a blood sport that refused to end when the chequered flag fell.
As our heroes traded lap times, team principals Toto Wolff and Christian Horner butted heads – often with F1 race director Michael Masi playing reluctant intermediary – that would add yet more fuel to a fire that was already threatening to spiral out of control. They became leaders of a not-so-civil war between the contrasting ideologies of the Mercedes juggernaut and Red Bull's rebellion, whipping their supporters into a frenzy that ultimately descended from reasoned debate to childish name-calling as rival fans apportioned blame on social media to 'Lulu' and 'Crashtappen' for their perceived wrongdoings at the previous race weekend.
And then came Saudi Arabia.
In their most intense exchange of the whole season, Verstappen was instructed over the team radio to concede track position to Hamilton having been adjudged by the stewards to have gained an unfair advantage several laps earlier. As the Red Bull driver made his way up one of the Jeddah Corniche Circuit's straights, he braked unexpectedly causing Hamilton to hit the back of his car, with the aghast Brit accusing Verstappen of 'brake testing' him. After the high-speed crash at Silverstone that saw Verstappen hit the wall at 180mph and the coming together at Monza that left the Red Bull running over the top of Hamilton's Mercedes, it was this moment that would prove the final straw for Wolff.
The television coverage quickly shifts from the race to Hamilton's garage where we see the Mercedes team principal furiously slam his headset into the desk in a moment of sheer unbridled frustration. In the years to come, it will no doubt prove to be one of many iconic images from a deeply absorbing season.
More than six months later, Wolff can wryly smile when he's shown a video of the headphone incident: "In a way we are control freaks. Sometimes I feel like a football coach: there's a point where there's nothing more you can do and you have to leave it to the players on the pitch to get the job done. That's why when you're there you have those reactions. Sometimes you need to push the pressure release valve," Toto Wolff, mic in hand at a small gathering with watchmaking partners IWC in London, is fittingly mechanical in his appraisal of the moment where the 2021 season finally bubbled over.
"We knew we had to win every race in order to win the world championship, so when Max brake tested Lewis and it looked like we'd lost a front wing, I couldn't believe that he'd just done that. That's where that reaction came from. I calmed down and went to put the headphones back on when I realised there was only one earpiece still hanging together, everything else was still on the table!"
As I later learn during my conversation with Wolff, such honesty and self-deprecating humour is far more typical of arguably the most successful team boss in Formula 1 history than one moment of blind fury. He's highly analytical, carefully considered in response to my line of questioning and, above all, fiercely loyal to his team and drivers. Notably, the Austrian has much more in common with the various titans of industry I have interviewed than the sportsmen with which he shares the pinnacle of motorsport.
It's this last fact that singles Wolff out as an oddity among his fellow team principals. As 30% shareholder in Mercedes-AMG Petronas Formula 1 team and with a private net worth of approximately £438m, according to Forbes, it's no surprise that Red Bull boss Horner disparagingly refers to his counterpart as a "money man". But Wolff's experience as a successful investor and entrepreneur is integral to the DNA of his Mercedes team.
Sometimes I feel like a football coach: there's a point where there's nothing more you can do and you have to leave it to the players on the pitch to get the job done
Mercedes F1 is run like any other good business: looking after its stakeholders as much as its shareholders, unifying behind one cause to aid the greater good. Success is simply one of the byproducts, as Wolff explained: "There are many [team principals] now in our sport that are just one-trick ponies that run teams very well, there's no two ways about it, but I think you need to have an ulterior focus in what you do. I believe that you can only do well when you're able to put your own role, your own team, and the sport into the perspective of the wider world.
"I think that my 20-year background in finance has helped me to not only develop myself but also shape the team into the commercial operation that it is today. But I'm still learning. I'm 49 plus one, and I wonder where that trajectory takes me in the future."
It's a humbling and somewhat fearsome thought to consider the Wolff who's steered Mercedes to such heights may have room for growth, but it's indicative of a team that is not prepared to rest on their laurels – far from the perceived complacency some of Mercedes' detractors like to direct towards their rival.
Standing at 6ft4 with a shock of dark hair, Wolff is quite literally head and shoulders above most of the paddock – a fact that contributed to curtailing his own youthful ambitions of making it in the sport – while his strong Austrian accent, not far from the iconic baritone of fellow countryman Arnold Schwarzenegger, mark the Mercedes boss as one of the most distinctive figures in all of Formula 1. His journey to the sport might be more circuitous than his peers, but it would be wrong to assume that Wolff has no racing pedigree; in fact, that couldn't be further from the truth.
In his own words, "There was not a lot of inspiring stuff around my early childhood." Born to Austrian and Polish parents, his father died while he was a teenager, leaving the family "without the financial means" of some of his fellow students at the respected Lycée Francais school in Vienna. A young Wolff discovered motor racing at the age of 17 when he went to watch a friend compete at Germany's Nürburgring circuit. It was a lightbulb moment for the Austrian who soon after begged his mother to pay for racing school lessons in exchange for his next ten birthday and Christmas presents (kids, eh?), as well as selling his own car to buy a Seat Ibiza to use in the Seat Ibiza Cup.
A bout in the Austrian and German Formula Ford championships would follow, as well as time working as a driving instructor at the old Spielberg racetrack in Austria (ironically, now known as the Red Bull Ring). He even won the 24 Hours Nürburgring in his category in 1994. But soon Wolff was confronted with the harsh reality of his chosen vocation. His main sponsors had just pulled out of motorsport, he was too tall and likely not good enough to make it in Formula 1, and he was barely making ends meet as it was: "I lacked the go-karting [experience], the possibilities and the testing, because there was not enough funds. This was the moment where I thought 'I am not going to make it to the top in that sport'," Wolff said in an interview with Mercedes in 2018.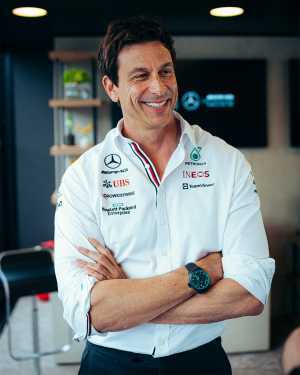 Sebastian Kawka for Mercedes-Benz Grand Prix ltd.
He swallowed his pride and enrolled in the Vienna University of Economics, before swiftly dropping out to tackle an internship at an investment bank in Warsaw; like a true racing driver, real-world experience trumping what one can learn in a classroom. He swiftly rose up the ranks, climbed into a sales management role for Austrian steel company Koloman Handler AG, and then founded his first company at the age of just 24 acting as an agent for Koloman.
The next life juncture occurred during a sabbatical in San Francisco at the dawn of the dot com bubble. "Back in the mid-to-late 90s, the internet came out and I was in the US for a month or two, and it caught my interest, Netscape, America Online," he told Mercedes.
"I went back to Europe and started to invest tiny little money or shares for consultancy into these technical companies. And some of them did pretty well."
What started as small investments grew into venture capital firm Marchfifteen in 1998 and later Marchsixteen in 2004, both of which he founded with compatriot and friend Rene Berger. The two businesses focussed on internet, software and technology investments – if you're wondering what "pretty well" means in the mind of Wolff, the firm saw sizeable return on its investment in Austrian content delivery software provider UCP when it sold to American group Amdocs in 2006 for $275 million – but it wasn't long before the magnetic pull of motorsport drew the Austrian back into its clutches.
Under Wolff's stewardship, Marchsixteen acquired 49% of German manufacturer HWA – responsible for the building and racing of Mercedes cars in the German Touring Car Championship (DTM), as well as producing key components of Formula 3 engines. Wolff became a director of the company and soon after steered it onto the Frankfurt stock exchange in 2007. The greatest return on his investment however? It was through HWA that he would meet and later marry DTM driver Susie Stoddart.
Wolff had been keeping a close watch on Formula 1, with an eye to investment, for some time and the Great Recession between 2007 and 2009 finally presented the Austrian with an opening. He acquired a 16% stake in Williams Racing through his latest venture Nextmarch, and in doing so gained a seat on the F1 team's board of directors, before assuming the role as executive director in 2012.
By now Wolff was a recognisable name in motor sport, not least for his racing acumen but his understanding of running profitable commercial operations within the sector. It was this detail that ultimately drew the attention of the bigwigs at Mercedes HQ.
The German car giant was looking for more than just a team principal, but a co-owner: someone as invested in the company as the Formula 1 team itself. As it happened, Wolff wouldn't have it any other way: "I wouldn't do it without being a co-shareholder because I'm an entrepreneur, that's how I function. I need to be able to develop the value of the company," he told Forbes' Christian Sylt.
Wolff joined in 2013 alongside legendary racing driver and entrepreneur Niki Lauda, taking 30% and 10% shares in Mercedes-AMG Petronas respectively, and with the recent acquisition of Lewis Hamilton from McLaren the year before (a decision largely credited to Lauda's involvement), the team had everything in place to make an indelible mark on Formula 1. Having won eight constructor's championships and eight world drivers' championships since then, you could say they've delivered on their promise.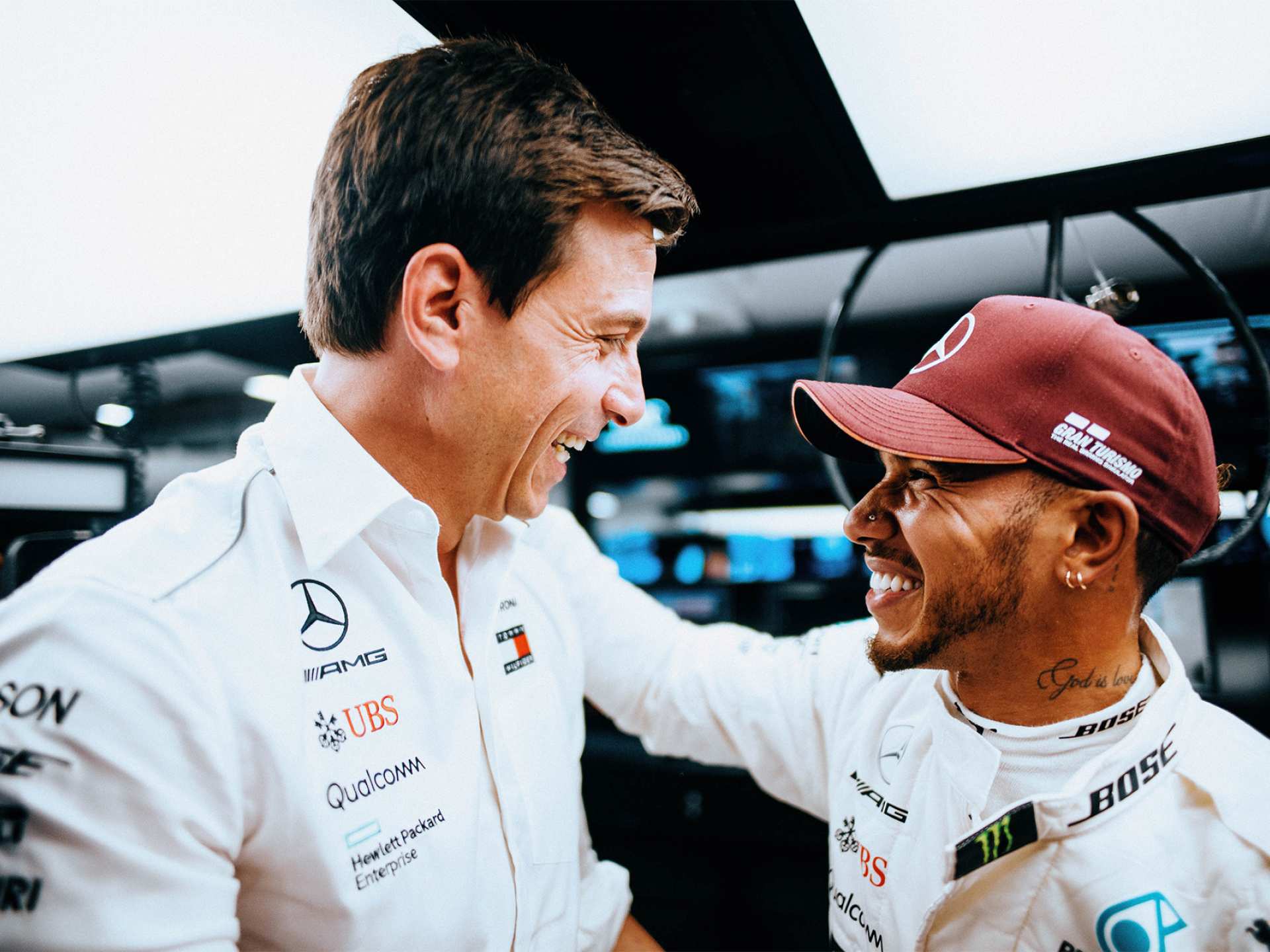 Back in the current day, it's time to address the sizable elephant in the room. It was only fitting that the eventual 2021 championship winner would be decided on quite literally the last lap of the season in a plot twist that perhaps even M Night Shyamalan would describe as 'going a bit too far'. But there's little use in dwelling on safety car regulations and the controversial decisions of the since-removed race director.
The prescient point is how to move forward: "I think Hamilton should have had an eighth world title last year, everybody knows that, but now we need to make a car that puts him in the position of going for that eighth title and that is fundamentally my responsibility. But that's good. I'm in control of that situation," Wolff tells me.
Which brings us onto the rather curious case of the 2022 Formula 1 season. This year saw the introduction of a drastic set of regulation changes designed to level the playing field and encourage much more competitive racing. Without getting too lost in the specifics, the 2022 F1 car has a drastically different aerodynamic package to previous iterations, with the focus being placed on combating the effects of 'dirty air' that occurs when following a leading car too closely.
I think Hamilton should have had an eighth world title, everybody knows that
Research has shown that the latest generation car, with the aerodynamic emphasis now placed on the phenomenon known as 'ground effect' (the car's shape pushing the vehicle into track to create greater downforce) experienced a loss of downforce in dirty air of just 4% at 20 metres, rising to 18% at 10 metres, in comparison to last year's model which experienced 35% and 47% respectively. (Thank you to formula1.com's editor Greg Stuart for help deciphering the data.)
What does all this mean? In theory, much closer, competitive racing. The reality? Ohhh boy, a lot of uncomfortable racing drivers. It's true that we have seen a lot more overtaking than ever before, with some marvellous close-quarters racing at Silverstone and the Red Bull Ring the obvious standouts, but the problems of porpoising and bouncing have reared their ugly heads causing complete carnage to the performance of almost every constructor on the grid to some degree.
Porpoising is, of course, nothing to do with dolphins but the bouncing up and down of a Formula 1 car caused by an increase, then a sudden decrease of downforce – usually when the bottom of the car hits the ground due to the natural lumps and bumps of the road. So severe is the phenomenon that drivers have been complaining about back pain after races, illustrated by the rather uncomfortable images of Lewis Hamilton himself gingerly extricating himself from his car at Baku in June. He told reporters afterwards:
"I can't express the pain that you experience, particularly on the straight here. At the end, you're just praying for it to end."
The trouble for the FIA, the sport's governing body, is that the bouncing isn't affecting each constructor equally. Mercedes took a unique approach to the new 2022 regulations and the gamble has simply failed to pay off, with their W13 car suffering the worst case of porpoising on the grid.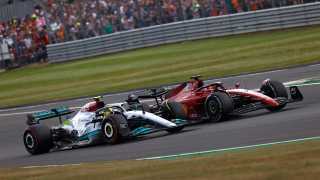 LAT Images for Mercedes-Benz Grand Prix Ltd
During our chat, I asked Wolff if he thinks Mercedes got their calculations wrong and if the engineers were seeing something different in the wind tunnel data? To the team boss's eternal credit, he is perfectly upfront in his response: "You could say it [the porpoising] is systematic if it was all teams that had gotten it wrong, but it isn't. We are behind Red Bull and Ferrari, which means they have gotten it more right, or less wrong, than us and therefore it's all back down to physics: why have we expected these cars to run so low?
"We generate a lot of downforce in the tunnel running them low, obviously with the ground effect, but in reality you can't run them that low because you hit the ground. This means that we need to redevelop the cars, which others haven't needed to do because they never had the car there, and that is an engineering exercise that by now we understand. But, you're absolutely right, the correlation wasn't there, it was something where maybe others have lucked out, maybe they knew from the past, but with us it was something that we discovered on track."
The result is Mercedes remain winless through 11 races of the 2022 season, with just a smattering of podiums between Hamilton and impressive newcomer George Russell; by the team's own impossibly high standards, it's a long way short of their best.
For Hamilton especially it's been an immensely frustrating start to a season where he must have been desperate to respond to the heartache of 2021. Unfortunately, without the car underneath him, he's been left in automotive limbo and currently 19 points adrift of teammate Russell in the drivers' standings (after the Austrian Grand Prix) – something his biggest critics have used as a stick to beat him with. Wolff's response has been to publicly apologise to the driver on more than one occasion over the team radio, a quite unprecedented event.
The Mercedes boss explained: "I need to protect him, because people have started to hit out at him, which is not right. It's complete nonsense: he's the greatest driver of all-time. The car is just sub par. George has sometimes struggled a bit less because he's maybe used to driving difficult cars at the back of the grid, but Lewis was unlucky on many occasions. He could have scored another two podiums and then the pendulum would have swung. So, it [the apology] is to make sure that everybody comprehends that the car is not performing, and not that the driver is at fault."
For the impartial observer, it's compelling watching the dominant force in the sport struggling to find their A-game, not least because it's the first time in almost a decade that we've found Mercedes in such a position. Can the best in this era find their way back to the front of the grid? It's a challenge that Wolff is relishing rather than languishing over.
"I don't think it's challenging in a way because I've had much harder times in all of my life, not particularly in Formula 1, but this is actually within my comfort zone. I would say that I'm enjoying getting it wrong at the moment, because it's the basis for long-term future success, I believe. We have had eight consecutive world championships that hasn't been done in any other sport. And I think I know why," he tells me.
"All these facets have come together to make things more challenging at the moment, but at the end of the day it comes down to physics, and we got the physics wrong. We're still the same group of people with the same ambition, energy, tools, funding. Maybe we need to tweak here and there, because psychology plays an important role, but I believe this team has all it needs to be successful, but with no sense of entitlement. I want this to be a blip and not a longer-term phase of not being able to compete at the front."
I want to be able to look back and say, 'We did it the right way, and we were successful'
The target going forward will no doubt be shortening the 122-point gap between themselves and constructors' championship leaders Red Bull, but recent signs show an encouraging uptick in pace.
I meet Wolff on the eve of the Silverstone Grand Prix in July. Three days later, Hamilton's Mercedes thrilled the British crowd with easily his most impressive performance of the season. His sizzling race pace in the middle stages of the Grand Prix threatened to derail the dual-pronged Ferrari attack of Carlos Sainz and Charles Leclerc. Were it not for a timely safety car, there's every chance that Hamilton could have stood atop the Silverstone podium for the ninth time in his career.
Did Wolff know improvement was on the horizon? It's difficult to say. "I don't think this [car] concept is going to be miraculously one second ahead of everybody at the end of the season, but I think we can deem ourselves successful if we have caught up," he said. "Fundamentally, the field is going to come back together with diminishing returns – in this business that's always been the case – so it's going to be a three-way fight or maybe more teams vying for victory by the end of the season."
It's a salivating prospect for all Formula 1 fans, especially as Red Bull and Ferrari have thrillingly (but uncontestedly) traded blows for all of the races so far.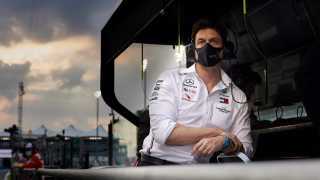 Wolff reveals to me that he spends his spare time with his nose in psychological studies and scientific papers, no doubt with the intention of gleaning resources he can employ at Mercedes. It reminds me of one of his biggest decisions as Mercedes boss, when he dramatically swapped the mechanics of Nico Rosberg and Lewis Hamilton on the eve of the 2016 Formula 1 season – an incredibly bold move, some might say.
Not so, if you believe Wolff: "We didn't swap everyone exactly, but the principal mechanics were swapped. We realised that the two sides of the garage were getting quite rattled and too competitive within their own structure, so we wanted to make sure that there was not too much ganging up against the other side of the garage. Everybody is on the same team, everybody is being paid by the same company, and therefore it was important to show that you're not Team Nico Rosberg or Team Lewis Hamilton, you're Team Mercedes. Without wanting to harm either of the drivers, we just decided that we needed to make a point here."
For a team boss who maintains he never takes risks – "I always try to judge the worst case outcome. If I can cope with the worst case, I am prepared to move forward," – it's a fascinating insight into a team culture that runs far beyond winning at all costs.
During my 2021 interview with McLaren driver Daniel Ricciardo, the Australian fan favourite revealed that during his tenure at Red Bull he had "Helmut Marko breathing down my neck all the time," in an effort to extract maximum performance from the car. Fail to meet the grade? You'll be discarded, as both Pierre Gasly and Alex Albon learned the hard way. It's a curious tonal shift from the ethos you'll find at the heart of Mercedes. No doubt Wolff and the team's standards are no less exacting, but the means of getting there are vastly different.
Karma exists… I'm not looking at one race or one season, I'm looking at ten or twenty years
It's a lesson Wolff has learnt the hard way during his tenure in Formula 1: "I don't know if it gives us an edge over the other constructors because we are all different in our approach. The sport is, after all, an entertainment product and the 'win at all costs' mentality is something that I would have endorsed a couple of years ago. That's very much the American way of just crush the opposition, whatever it takes. Today, I still want to win, but I want to win in the right way. I have values and a mindset that I want to stand for in the team. I believe in humility, in honesty, integrity and transparency. These are ingredients that are important in the long term." Hmm. Toto, are you talking about anyone in particular here?
"You may have someone that wins but doesn't win in the right way, but that's not going to last. And… karma exists. I'm not looking at one race or one season, I'm looking at ten or twenty years. My perspective is long term because I'm a co-owner of the team. My time will not end with my employment contract, so that allows me to look beyond my 'shelf life' of the next decade. I want to be able to look back and say, 'We did it the right way, and we were successful'."
Rudyard Kipling could have been writing about Wolff himself when he said: "For the strength of the Pack is the Wolf, and the strength of the Wolf is the Pack." It might be up for debate whether Toto Wolff is indeed the greatest team boss in Formula 1 history – no doubt his detractors will claim he inherited a team capable of winning the lot without his stewardship – but there's no doubt that Wolff has left his own tangible mark on the Mercedes-AMG Petronas team he co-owns. What does he hope for his future? Unsurprisingly, it involves winning races.
"I take real pleasure in working with our people and continuing to thrive, to win races, to be in the hunt, and continuing to develop a high-performance sports team and organisation. That never ends. It's the journey that counts – the rest goes onto Wikipedia, which nobody reads anyway."