You know the adage "Nice guys finish last"? Forget about it. Daniel Ricciardo isn't just the exception to the rule, he's proof the rule never existed. The Perth-born racer with the movie star smile is one of the most popular figures in Formula One: he's funny, a bit of a goofball with his friends, disarmingly charming even when fraternising with the enemy (or the press), and gives racing the kind of star quality some of its more straight-laced drivers lack. In other words, he's an advertising executive's dream – and probably your mum's as well.
But he's also devastatingly fast. His driving style is typified by high-octane lunging manoeuvres and audacious braking under pressure. Don't let the pearly whites fool you, Ricciardo is a cold-blooded killer.
He's nicknamed The Honey Badger – all cute and cuddly, until he's pushed into a corner – but, to me, he's a Road Runner: a driver with bucket loads of cunning, and exactly zero shits to give. Meep meep, motherfucker, eat my dust. Bet you didn't think Mr Nice Guy had it in him.
"There's an album that I used to listen to growing up – it's called 'Killing With A Smile', and I feel that's me. Yes, I've got the smile, but I love to… well, I won't say I love to kill, but I certainly love to hunt." While I can't say I'm au fait with the work of Australian metalcore band Parkway Drive, I'm much more familiar with the quick-to-laugh Ricciardo talking to me on Zoom from his Monaco apartment. What you see on TV is what you get: he's the guy flipping the bird to the cameras on race day but, perhaps more importantly, the same driver whose natural instinct has led to an impressive seven race wins and 31 podiums in his career to date.
We're speaking in the build up to one of the more intriguing Formula One seasons in recent memory. Mercedes, piloted by multiple world champion Lewis Hamilton, has been the singular force in the sport for the past seven seasons, but this year's field represents the stiffest challenge to the German constructor's dominance.
Don't let the pearly whites fool you, Daniel Ricciardo is a cold-blooded killer
Red Bull's razor-sharp Max Verstappen appears the most likely heir to the crown as he chases down the record of youngest world champion of all-time. Is this the year the prince of Dutch motorsport becomes king? But there are jokers throughout the deck, ready and waiting to spoil the Mercedes and Red Bull party: Japanese wunderkind Yuki Tsunoda debuts in the AlphaTauri, former champions Sebastian Vettel and Fernando Alonso come into the season with a point to prove, Ferrari has its youngest driver line-up in history hungry to bite back after a shocking 2020, and Mick Schumacher begins his quest to return the family name to the F1 podium.
It's a year of staggering depth – it's not every season we see four world champions, and ten race winners duke it out for top honours – and Ricciardo is right there in the middle of it: "The competition is always what drives me; it's like even having a new teammate, Lando [Norris], another young kid, more in that Max Verstappen mode, it's another challenge for me and it's like, 'Yes, bring it on.' Now I'm in my thirties naturally you get people questioning, 'OK. Is he still in his prime or is he past it?' That's why I like game day."
The chance to square off against the very best is an opportunity that Ricciardo clearly relishes – and having announced a multi-year deal to join McLaren in May last year, he might have the car underneath him to bloody the nose of even the fastest opponents on the grid.
Under the stewardship of charismatic CEO Zak Brown and team principal Andreas Seidl, McLaren has reversed a worrying decline that saw the team fall from regulars at the front row of the grid to also-rans in the midfield. Such is the fickleness of motorsport, McLaren's 182 grand prix victories, 12 drivers' titles and eight constructors' crowns counted for little in keeping them competitive on track. Fail to innovate or run out cash? You're behind the eight ball, my friend.
But last season was the first to bear fruit in the Brown era, with a quick and consistent car taking McLaren to a P3 finish in the constructors championship – their best placing since 2012, when both Lewis Hamilton and Jenson Button were still sitting in the cockpit.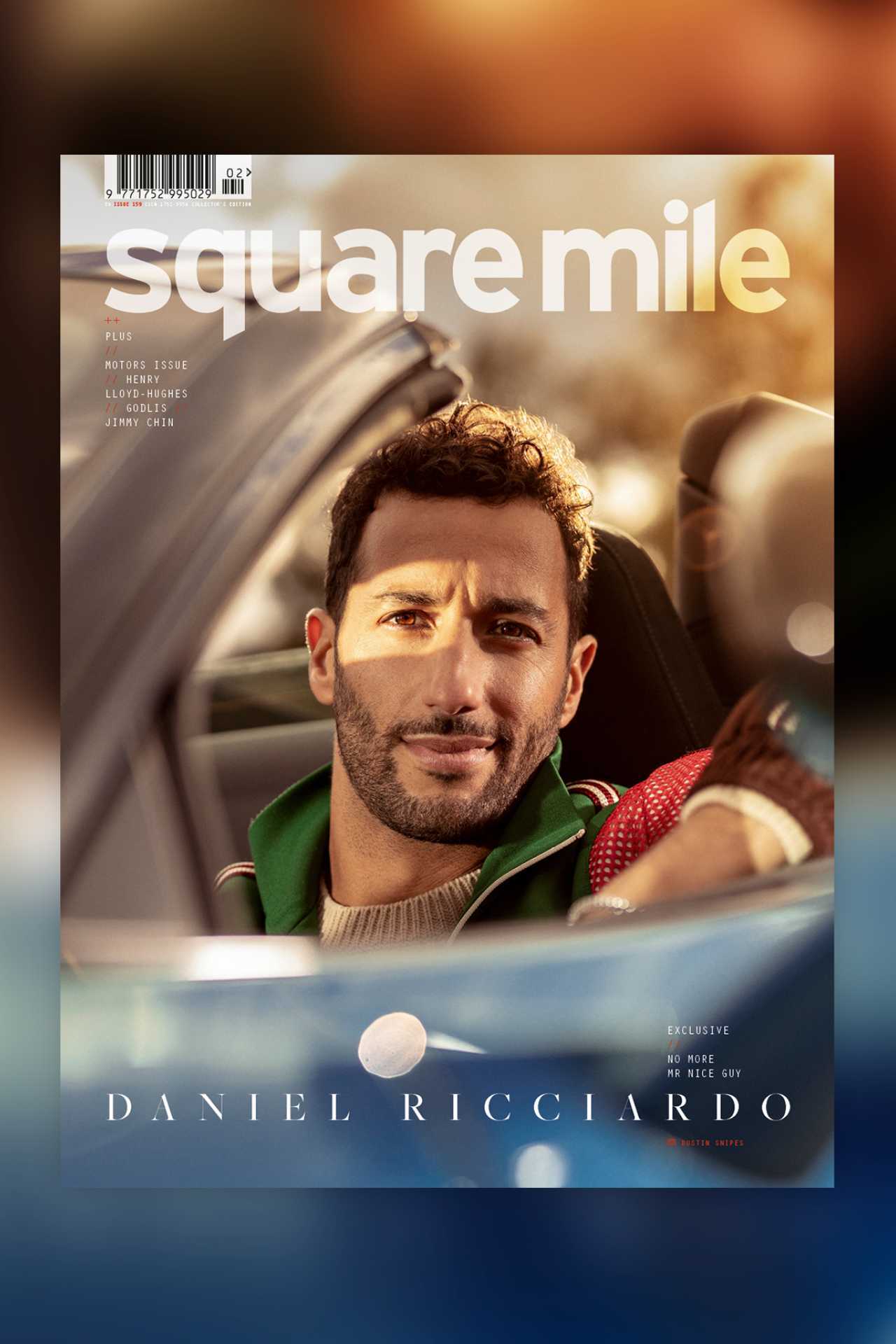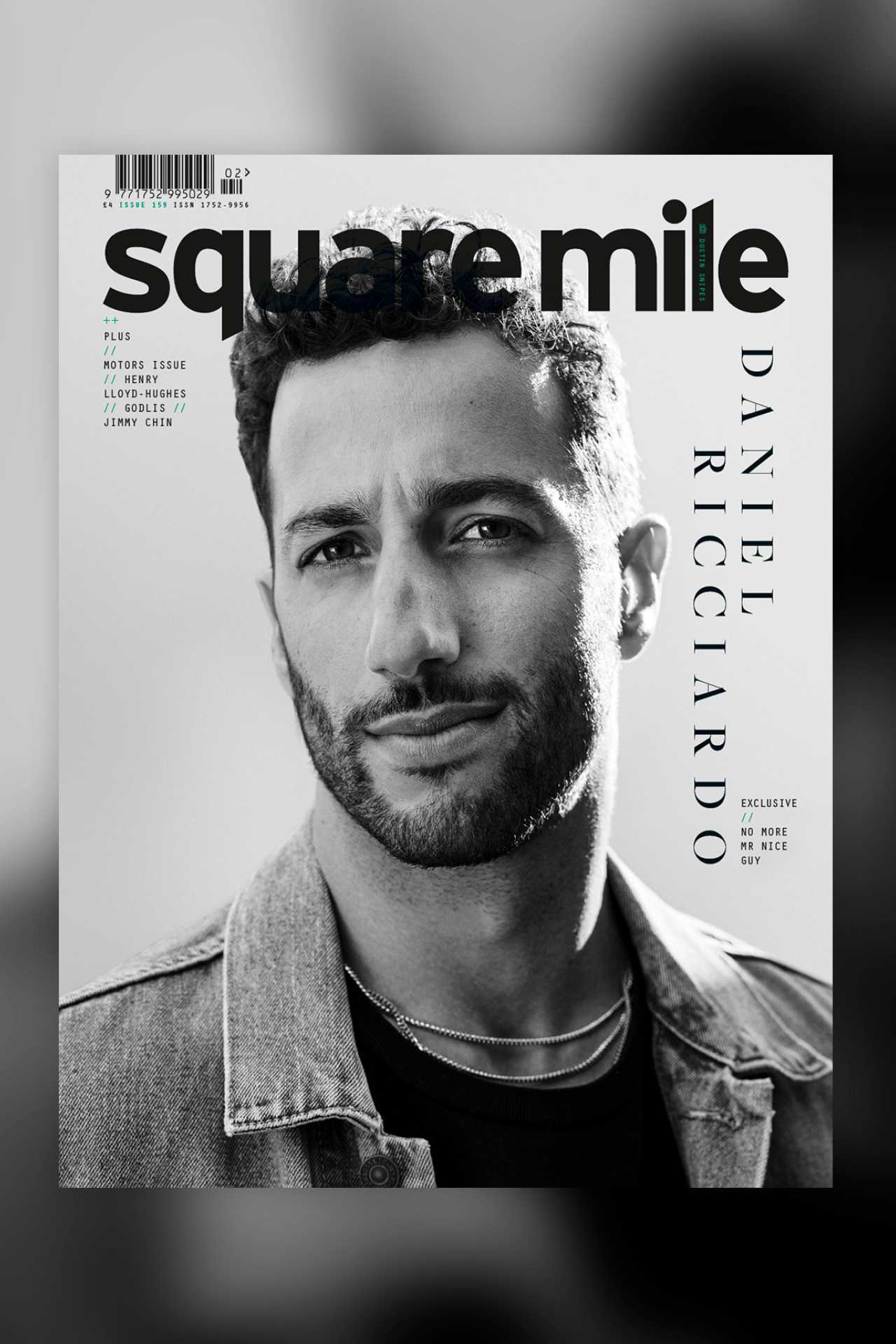 It's perhaps too early in the cycle to be talking about McLaren winning their first championship since 1998, or indeed Ricciardo dethroning Mercedes and Hamilton, but the boss has made it clear that he expects progress to continue in the season ahead: "We're relentless in our pursuit to climb up the grid," Brown told the Evening Standard in March.
"We're trying to catch the fastest car. I think a more accurate measure of where we are is qualifying performance, time and race pace against the fastest car. We want to close that gap."
And that's where Ricciardo comes in. He's been on a bumpy ride since making the decision to leave Red Bull at the end of the 2018/19 season (more on that later), but if his subsequent two-year tenure at Renault has taught us anything it's that his driving prowess, his ability to squeeze those extra few tenths of a second out of the car, is as good as anyone's on the grid.
A string of reliability issues, engine problems, and a good old bout of bad luck put paid to any chances of a smooth transition in his first year at the French team, but he returned to the podium twice last season to carry all-important form into the next chapter of his career.
Hell hath no fury like a team principal scorned, judging by the comments of Renault's Cyril Abiteboul on the latest season of Netflix's Drive To Survive: "I've done my best in not being hurt, in not making it personal… Daniel leaving me." Yikes. But for sure it's a bitter blow for a team that itself is undergoing a revival – rebranding as Alpine for the 2021/22 season – and whom in Ricciardo they were adamant of future success.
But at 31 years of age, and having dedicated much of his life to ascending the ranks of motorsport, you can't blame Ricciardo for playing the percentages. "There were a few sleepless nights," the veteran driver admits when explaining the decision, "But I can't afford to chance any more seasons."
Return of the Mac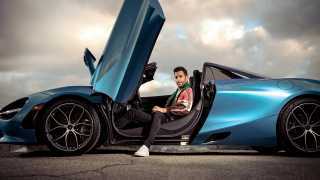 If winning the world championship is the end goal, sometimes you have to be ruthless on your way to the top. There's no doubt that McLaren is the most progressive constructor in the paddock right now – and it shows, Ricciardo says: "Momentum isn't just a feeling, it's also visual. You see it when you walk into the McLaren Technology Centre, there's people with a spring in their step, there's happiness and an energy around the workplace. That's momentum."
It's no surprise that employees at the MTC are feeling rather pleased with themselves. Two weeks after our interview, Ricciardo is putting the brand-new MCL35M through its paces at the Bahrain International Circuit.
With just three days allotted for testing before the new season begins, it's an intense period in which to make a constructor's winter developments stick: no one wins a championship on the first day of testing, but plenty have been lost. McLaren came through with flying colours.
Formula One correspondent Will Buxton described the car as "Bulletproof in testing. The McLaren ticked every box, got every job done with no major issues, no major complaints. They were quick, they were effective, they were reliable. It's about as perfect a test as you could hope for."
It's a momentous achievement for the whole team. Ricciardo has stepped into a car that has undergone a barrage of aerodynamic and chassis developments since last season, each of which has been designed to integrate the brand-new Mercedes-AMG power unit as homogeneously as possible. It's early days, of course, but McLaren's gamble looks to have paid off.
It can just be a total mind fuck if you think too hard about it, so just focus on yourself
Here's Buxton again: "What's astonishing here, for me, is that they had the most work to do over the winter. They're the only team that changed engine suppliers, spending all of their tokens getting that Mercedes power unit into the MCL35M. But what was really smart about McLaren is they were looking towards this year way earlier in 2020. That nose is a 2021-specific nose, but that's a token spend, so to get around it, they'd already raced it last year on their 2020 car meaning they didn't have to spend a token on it – it was just a carry over from 2020 into 2021."
Without going into too much detail about Formula One's 2021 token system – designed to regulate spending and narrow the gap between the top and bottom of the grid – think of each constructor as having to manage its car developments in the same way that you tinker with your Fantasy Premier League team on a Saturday. You have a set amount to spend, and it's up to you to make the most of what you've got.
In the case of Formula One, each team has two tokens they can spend on either one major upgrade, or two smaller evolutions. But McLaren have been switched-on to the new regulations for a while, and as such savvily worked around the rules by introducing its 2021-specific nose at the back end of the 2020 season (when car development was less regulated).
The ambition of the British constructor is there for all to see – and having played the development game so well, it would come as no shock if McLaren were to win a Grand Prix on merit this year. Either way, these are hugely encouraging steps towards being the championship-potential team we've always expected of McLaren.
Time will tell just how competitive the team will be across the length of the season, but one thing is for certain, Ricciardo isn't getting ahead of himself: "A lot of the time, what car a team has at testing can sometimes be very different to what they bring to the first race. And that's just because they've got parts in the wind tunnel that maybe aren't ready in time for testing, but then are ready for the race. Even if you're a few tenths off in testing, maybe you've found that before the first race, or vice versa," Ricciardo says. "Basically, it can just be a total mind fuck if you think too hard about it, therefore, just focus on yourself."
Speaking of mind fucks, surely changing teams with only a handful of days to acclimate yourself with a new car is a little challenging to say the least? The answer is yes and no – getting up to speed isn't the issue, pushing the car to the limits of its capabilities is another thing entirely. "I think probably the best way to put it is, I've been doing it long enough that I could jump in probably any car on the grid and get up to speed within, call it, 10 laps or 20 laps. But there's a difference between driving fast and getting that extra tenth out of the car," Ricciardo explains.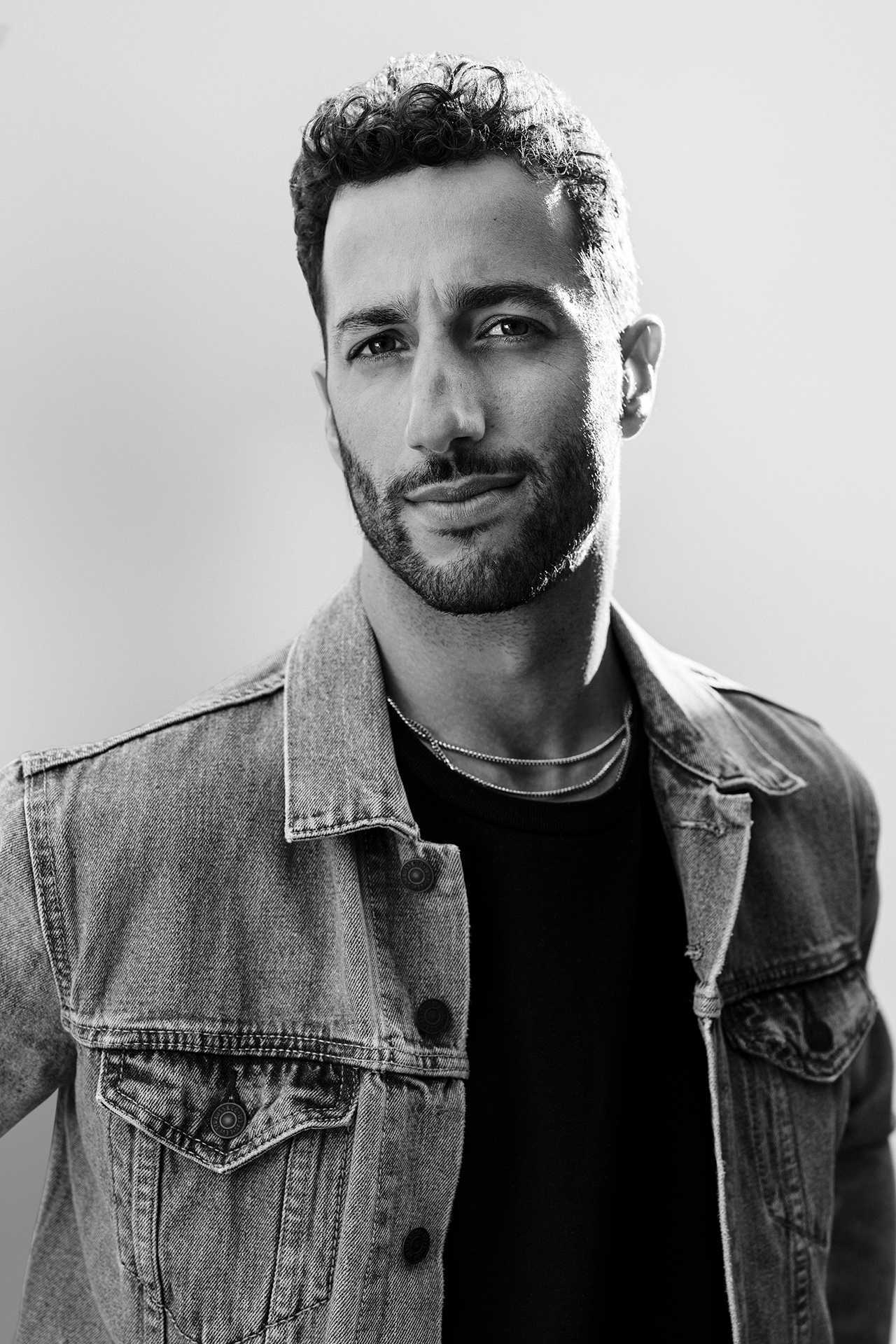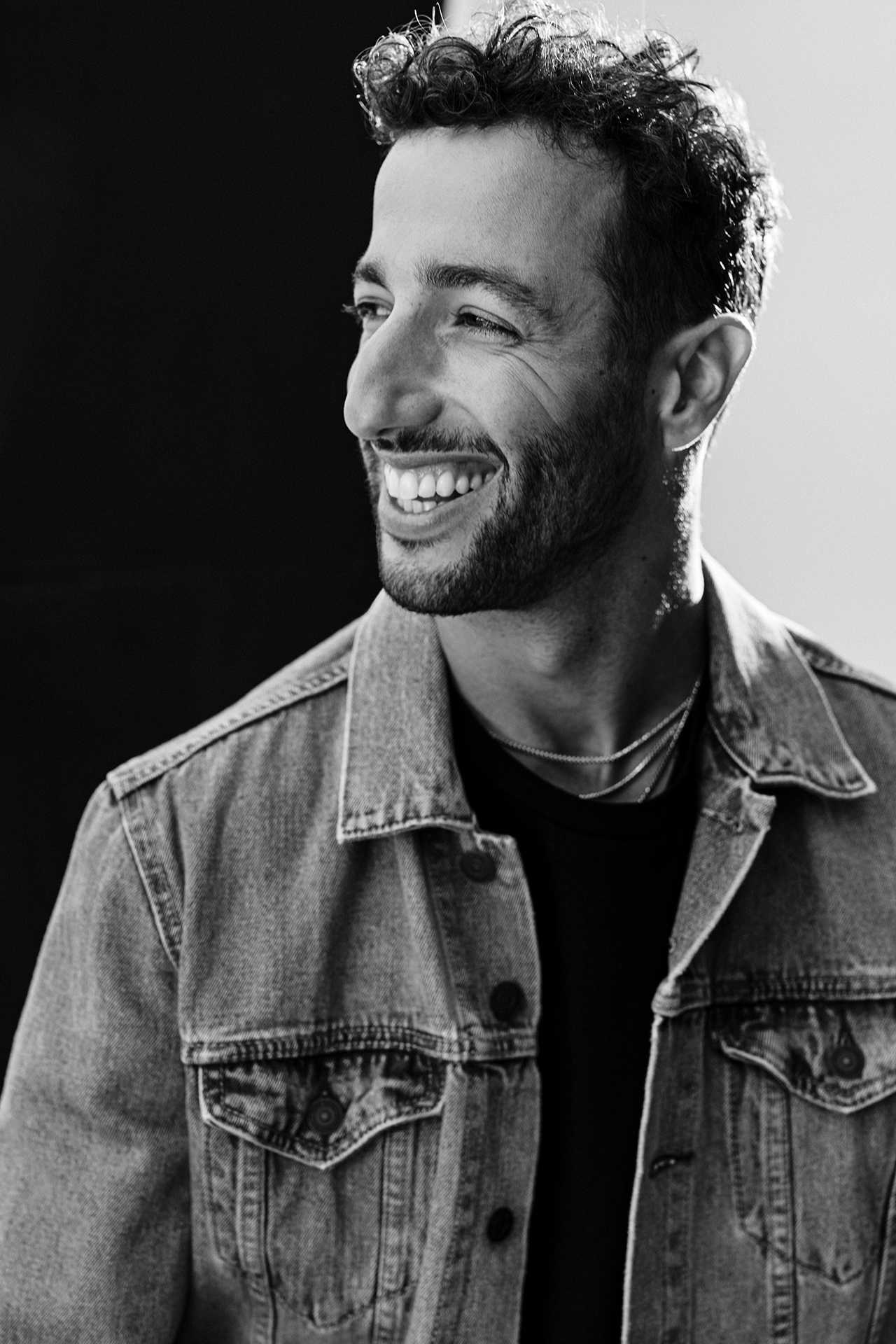 While the onus is on the Australian to make that transition as smooth as possible once the visor goes down, understanding the rest of the team dynamics – a new band of race engineers to get close to, new strategies to understand, new sponsor obligations and communications – that's a process that requires adjustment, regardless of how talented you are as a driver.
"So that's where driving isn't everything and why normally with a new team, it takes time to perfect it. I think I'll be good come race one, but will I be perfect in that environment yet? The plan is to be, but the truth is I probably won't be." I ask the Aussie if testing is like the first day back at school after the holidays: some kids have had a growth spurt, some have a full beard, others have changed their rear diffusers. Do you already have your eye on who has come back from the off-season looking sharp?
"I wouldn't even say you've got one eye on the competition, you've got like half an eye open. But, really, that's out of your control. Particularly this year, we've only got three days and that's shared between two drivers. I've got one and a half days for me to get up to speed and also try to give the team as much info as I can give them about where we need to improve because no car is ever perfect. You just have to use all your energy – focused on yourself and the team – and give yourself the best chance come race one."
And what of race one. Just two days before we went to press on this issue of square mile, Ricciardo smoothly navigated the perils of qualifying – outgunning his teammate, Lando Norris – and drove a tidy race in the Bahrain Grand Prix ultimately finishing seventh. As the Aussie predicted, he wasn't quite up to the race speed of Norris (who finished an excellent fourth, proof if it were needed that the MCL35M will offer its fair share of opportunities this year) but a no-frills, professional drive is a strong foundation on which to build. On this evidence, Hamilton and Verstappen may well duke out the drivers championship alone, but the private battle for supremacy between Ricciardo and Norris is likely to carry its own intrigue.
Once I was able to show that I could still be this fun guy, but when the helmet comes down, I'll do what it takes: that was the moment I earned the paddock's respect
Suffice it to say, when I tell you Ricciardo has slipped into the McLaren like a well-worn glove – "Ricciardo looks like he has been at the team forever," Buxton agrees – it's no mean feat. But the driver shrugs off the suggestion he's doing anything out of the ordinary. He may as well be stepping into a rent-a-car.
"I guess I've been doing it long enough now that I'm probably more, what's the word? Numb, to all the changes around me. But in saying that, yes, it does always feel weird, like, even the first few laps in the car, you always, kind of, question, 'Am I going to be scared or is this going to feel OK?" And you wonder if, I don't know, being detached from the sport for a few months, if that creates something weird, but normally after a few laps, it all feels normal again."
It must be a strange feeling to be normalised to the experience of a Formula One car. For mere mortals, the notion of travelling at a top speed of 233mph, experiencing 5g while braking and up to 6g while cornering, is scarcely imaginable.
For those among us who love golf or football, you can appreciate how difficult it is to flush a driver 300 yards or bend one into the top corner with defenders charging at you, but there's no frame of reference to Formula One. How do you explain to someone who has never driven more than 70mph (we're all law-abiding citizens, right?) that racing drivers have a split second to find the optimum brake point: miss your mark and, bam, you're in the wall, a moment too soon, and the driver behind is going to overtake. The stakes are high and the margins are tiny; we don't have a Scooby Doo.
"Yeah, that's the coolness of the sport in a way, but also the downside where no one can really relate. So it makes our job feel even more special that, you know, we're only a few that can drive these missiles," Ricciardo agrees.
"But then trying to get the appreciation or the understanding of why we need to be physically prepared – the margins between success and failure… no one can relate. Everyone can run on a football field for 90 minutes and comprehend, yes, that's hard, you need to be really fit and all that, but driving in F1? It's hard to explain."
Of course, Ricciardo's responsibilities extend well beyond his time behind the wheel or in the gym. Recently, the Australian ace has partnered with PartyPoker in a campaign aimed at promoting responsible gambling behaviours, with the first step being playing strictly at safe UK casinos. Entain entertainment group (which owns and operates PartyPoker and PartyCasino) is one of the main sponsors of the McLaren racing team.
Survival of the fittest
Football fans might not appreciate Ricciardo diminishing the intricacies of their sport, but it's true to say that Formula One has suffered from something of an image problem of late. Why should we care about this highly profligate, environmentally insensitive circus that parades around the world like a life-size Scalextric set?
Gone are the days where the pursuit of motoring excellence is at the pinnacle of human achievement – we have cars that drive themselves and robots wandering around Mars these days – and while a red Prancing Horse and a speeding Silver Arrow might feature in the starry-eyed dreams of boy racers across the globe, the general public's fascination with Formula One has diminished to the point of near-redundancy.
Or at least, it had until Netflix's camera crews rolled into the paddock. Since taking over the running of the sport from Bernie Ecclestone in 2017, the Formula One Group has been on a mission to bring the sex appeal back to the grid. Drive To Survive not only gave the sport a significant shot in the arm, but lifted the curtain on the constructors who had previously wilfully guarded their success with great secrecy.
The thrills and spills of the last three Formula One seasons have been documented with fascinating candidness, and crowned unlikely heroes from across the grid – including my personal favourite, the comedic defeatism of Haas team principal Guenther Steiner. While the unending success of Lewis Hamilton feels every bit as stage managed as you might expect from one of the biggest sporting faces on the planet, Drive To Survive has skyrocketed Ricciardo from fan favourite to a genuine superstar in his own right. Netflix eats up the Daniel Ricciardo story because he shares so much of himself with the viewer. Without the driver's colourful personality it's difficult to say whether the show would have been as successful.
"I think the first season of Drive To Survive was awesome. I spend some time in the States, and I noticed it literally from one trip to the next. It was the first time I started being recognised and people referencing that TV series. So it certainly did us wonders, even – not to talk social media – but numbers on social media went nuts. It did a lot for us and the sport," Ricciardo says.
F1 put on their social channels 'top 10 moments of the year' and eight of the ten were crashes. I was just like, you guys are fucking idiots
As one might imagine, the good comes with its own drawbacks. For the Aussie in particular, that was highlighted in season two when, let's say, the showrunners used a fair amount of creative licence to add a little spice to the mid-grid battle between Ricciardo (then at Renault) and McLaren's former-driver Carlos Sainz.
"I mean the second season, there were some episodes or parts where I feel they forced it a little bit," Ricciardo explains. "They tried to create a bit of a rivalry between me and Sainz and it wasn't really there. Like, he's no more a rival than anyone else. There wasn't any personal grudge with him, but I think [Netflix] wanted something, so a lot of questions led with asking about Carlos. Maybe no one noticed, but for me, I was like, he's fine. I've probably got other guys that I dislike, you know, as opposed to Carlos… I mean, he dresses like a 60 year old, but otherwise he's alright."
Authenticity is the key word here. As soon as race day becomes secondary to the so-called 'dramas' going on in the paddock, the show risks turning into just another "reality TV show", Ricciardo warns, and loses its appeal.
More prescient than making mountains out of molehills is how Netflix and Formula One handle the biggest headline in motorsport in a decade: Romain Grosjean's death-defying crash at last season's Bahrain Grand Prix.
Speaking before the release of season three of Drive To Survive, I share my fears with Ricciardo that this spine-chilling moment could turn into nothing more than crash porn; glorifying the drama of the incident, as opposed to sensitively portraying how close one driver came to losing his life, in spite of the countless safety protocols.
Ricciardo is in the same boat: "I think last year, F1 put on their social channels, like, 'top 10 moments of the year' or something, and eight of the ten were crashes. I was just like, you guys are fucking idiots. Maybe 12-year-old kids want to see that kind of content, and that's cool because they don't know any better, but we're not kids. Just do better, guys. Do better than that."
Fortunately, our fears are mostly unfounded. Without giving away too much, season three, episode nine, entitled 'Man on Fire' (groan…), captures the visceral shock of the drivers and the teams as Grosjean's Haas explodes into a fireball. Having watched the crash live on TV, it was heartstopping to see the crash again.
Personally, I don't care for how the show portrayed Grosjean as sitting in the fire for a good five minutes (the driver was in the car for 28 seconds before miraculously extricating himself), but I'll concede the producers were recreating the agony of what must have felt like an eternity for both Grosjean, his family, and the Haas team. I'll leave it to you to make your own mind up… 
Taking the Bull by the horns
To understand the man Ricciardo is today, we must first know the boy. Growing up in Duncraig, about 16km north of Perth, young Danny used to tag along with his Italian father Giuseppe Ricciardo (side note: you might know the Ricciardo surname as phonetically 'ricardo', but correct pronunciation is 'rit-chee-ardo', with bonus points for those who can roll their Rs) to nearby Barbagallo Raceway where his dad used to drive an Alfa Romeo Alfetta, a big V6 sports sedan.
He "never pushed" his son into motor racing – there was no eager parent forcing his child into the seat of a go kart, no quietly held aspirations to see his son reach the pinnacle of the sport – "which was a good thing, because I probably would have pushed back otherwise", but before long the siren's call of the racetrack led nine-year-old Danny to the join the Tiger Kart Club. By 16, he had progressed to driving a beat-up Van Diemen in the Western Australia Formula Ford Championship, and a year later he won a scholarship into the Formula BMW Asian championship with Eurasia Motorsport before his 18th birthday.
From there, Ricciardo's ascension up the ranks of motorsport is all-too familiar for those of us who know the origin stories of the sport's biggest names, but that's no bother to his racing-obsessed father who can scarcely contain his excitement, even to this day: "Obviously he tries to downplay it, but I notice how much it means to him, how excited he is if he's around his friends. If I'm visiting home and they've got some people over, dad will start to talk a little bit about me or get me to, you know, share some experiences," Ricciardo says with his trademark smile.
"I'm like, 'Dad, don't be a dick.' Like, I'm embarrassed, but he's just proud as punch and he's, not showing off, just living vicariously through me."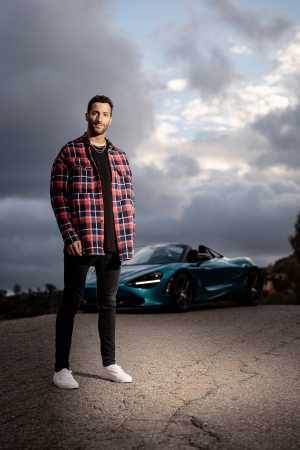 Curiosity gets the better of me, and I can't help asking who's the better driver…
"Oh, till this day, my dad could drive with three pedals ten times better than me. He's so good in terms of he still knows more about motor racing than I do. He knows much more about cars than I do, but he's never really got involved [with me in F1]. He's never overstepped that boundary of being a dad or being part of a team." One thinks of the cautionary tale of Lewis Hamilton being managed by his father Anthony, and the strain that put on their relationship for a number of years, as proof that Ricciardo Snr made the right call in leaving his son to it. After all, parents make the worst backseat drivers, don't you think?
So here we are at Red Bull Racing. Ricciardo's affair with the nouveau riche conquerors of motorsport began at the very beginning of his Formula One career. He made his track debut in an F1 car when test driving for Red Bull at the back end of 2009. On the final day of the three-day testing block, he clocked the fastest time of the test by more than a second – and in doing so caught the attention of a watching-on Christian Horner, Red Bull team principal.
Under the watchful gaze of Horner, Ricciardo would be handed a position as test and reserve driver for Toro Rosso (Red Bull's sister team), make his Grand Prix debut at the 2011 British Grand Prix at Silverstone for Hispania Racing, spend two promising seasons back at Toro Rosso, before making it to the big league at Red Bull – replacing compatriot Mark Webber at the start of the 2014 Formula One season, and partnering four-time world champion Sebastian Vettel.
"I loved growing up in the Red Bull system. I loved having Helmut Marko breathing down my neck all the time, and making sure that I was getting the most out of the car and myself. I definitely matured a lot through that programme," Ricciardo reminisces. To this day, those exacting standards, the pressure applied on the driver's shoulders, is the environment in which Ricciardo thrives.
"I think having some tough love was certainly good for me and, yes, we'll see but I know Andreas Seidl at McLaren, I think he'll be that guy to give me the tough love. I think you need that. They'll hug us when they need to hug us and then tell us to smarten up when we need to. You need that little bit of authority, I don't mind that." Horner and special advisor Dr Helmut Marko have made no bones to the media that if you can't handle the heat, get out of the kitchen – or, perhaps to be more exact, if you can't handle it, we're kicking you out – but Red Bull's reputation for fostering a snake pit precedes itself. Webber's relationship with former-teammate Vettel was frosty at best (if you haven't seen *that* collision from Turkey 2010, that's the only proof you'll need there was no love lost between the two) and, indeed, Ricciardo's relationship with supremely talented youngster Verstappen played out like
a pair of squabbling siblings towards the end of Ricciardo's fifth season at Red Bull.
I didn't really want to be the nice guy who is just there to show up; I put my balls on the line
As documented by season one of Drive To Survive, Ricciardo's rather abrupt exit from the team in 2018 came as something of a shock at the time, and raised plenty of eyebrows among the racing fraternity – not least because he was stepping away from one of the most competitive cars on the grid, but because it threw cold water on his rivalry with Verstappen.
Ever one to stir the pot, Horner suggested Ricciardo was "running from a fight" with the Dutchman (cheeky sod), while the Australian shrugged off the barb and explained he was looking for a "fresh start" after a nigh-on ten-year association with Red Bull.
In truth, I think there's an element of 'this town ain't big enough for the both of us' about the departure. At the end of the day, the bigger the star, the faster it burns; it would be fair to say his relationship with the team had run its course.
Horner would hate to admit it, but Ricciardo leaving caused him an almighty headache that has taken until the start of this season to shake. Red Bull junior driver Pierre Gasly filled Ricciardo's vacated spot in the Red Bull and failed to meet the required jump in performance. He was ceremonially demoted to Toro Rosso, with driver Alex Albon going the other way to Red Bull. You can bet Netflix was sitting there rubbing its hands with glee as the drama unfolded.
For Ricciardo, while he sympathises with the plight of the Red Bull rookies, it's served as validation for the levels he forced Verstappen to reach: "I truthfully do believe Red Bull knew what they had with myself and Max. They obviously knew we were top tier – and, yeah, maybe they were expecting to struggle a bit with who filled the seat after me. I don't know, but I would say that those outside of the team maybe underestimated what Max and I did to each other, to push each other to that level. And yes, obviously, Pierre or Alex, couldn't get on top of that. Or at least not soon enough."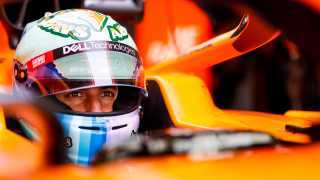 The late, great commentator Murray Walker once said: "I should imagine that the conditions in the cockpit are totally unimaginable." And it's true. We don't know the pressures Gasly or Albon were feeling as their performances failed to make the grade. Unfortunately, as a driver in one of the best cars in the grid you have two options available to you: sink or swim.
Ricciardo was presented with the same choice. His cheerful disposition and reputation for being a nice guy was seen as weakness by the ruthless members of the grid. They smelt blood: "When I first got to the sport, I was the happy kid. I hadn't really shown that 'kill or be killed' attitude yet."
But having been promoted to the Red Bull car, he made a pact with himself that he would rather try and fail – crash, if necessary – than play it safe. Inspired by his childhood hero, NASCAR legend Dale 'The Intimidator' Earnhardt, he adopted a more aggressive driving style befitting of his new nickname, 'The Honey Badger'.
"I got to a point where I didn't really want to be the nice guy who is just there to show up. I started, let's say, putting my balls on the line and actually, you know, pulling off some moves. My thought process was if I crash, then I think I'll still be respected for having a go'," Ricciardo explains.
"Once I was able to show that I could still be this fun guy, but when the helmet comes down, I'll do what it takes. That was the moment I felt I earned the paddock's respect. Yes, you do see me smiling, but this shit means a lot to me."
One person for whom the respect is very much mutual these days is none other than Verstappen himself. Contrary to reports of a personal feud (I'm looking at you, Netflix), the two have a healthy friendship off the track:
"I think it's easier now for me and Max to be friends for two reasons. I think one is that obviously we're not in direct competition – we're not trying to basically end each other's careers!" That smile has crept back onto his face.
"The second point is that I think – I mean, of course, I won races with him as a teammate and got pole position so I think he always knew I was quick and respected me – but now, since I've left, the other drivers have come through and him having different teammates, I think it's probably increased his respect for me even more. I mean we never hated each other, we just wanted to end each other's careers! It's as simple as that."
The shoey is on the other foot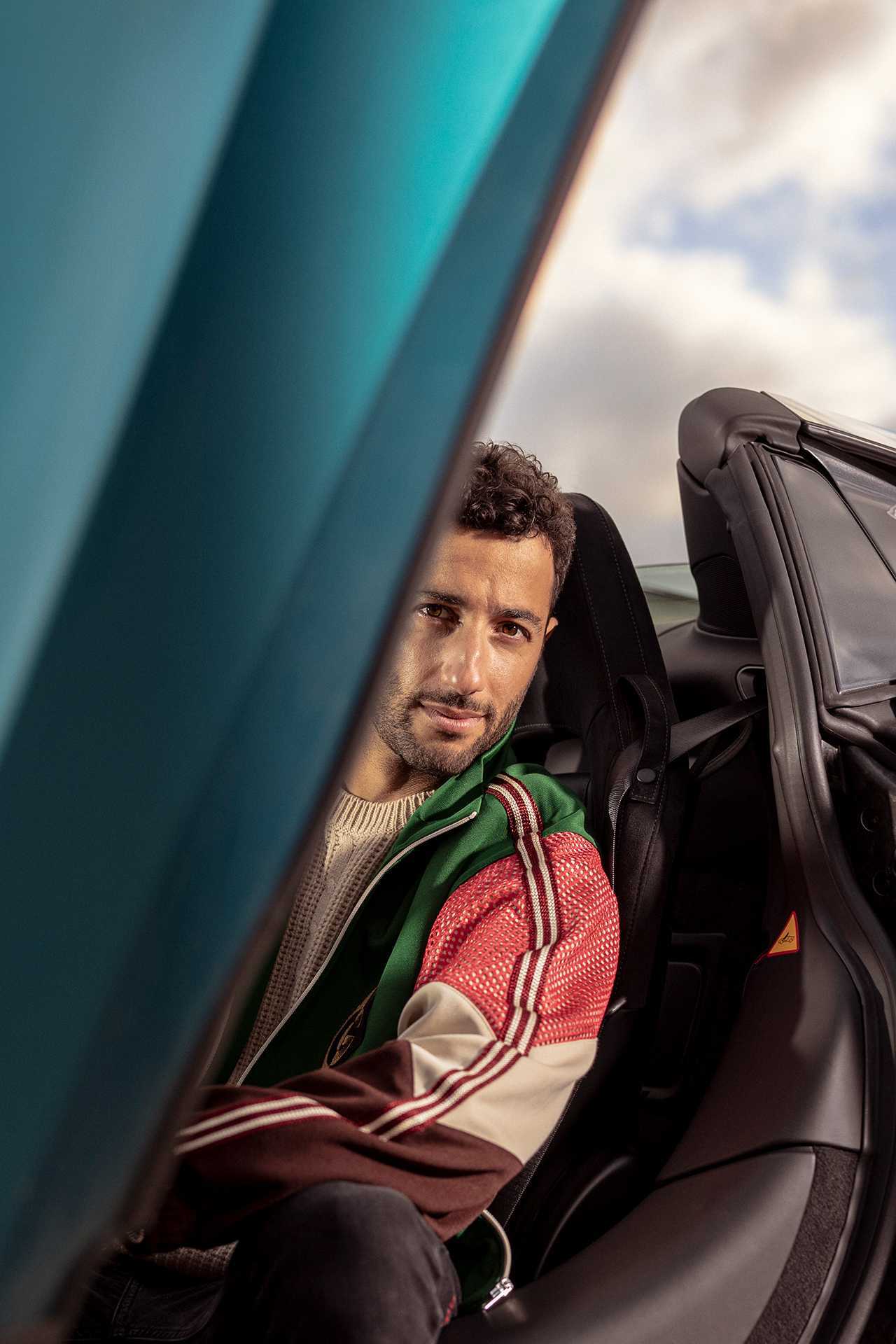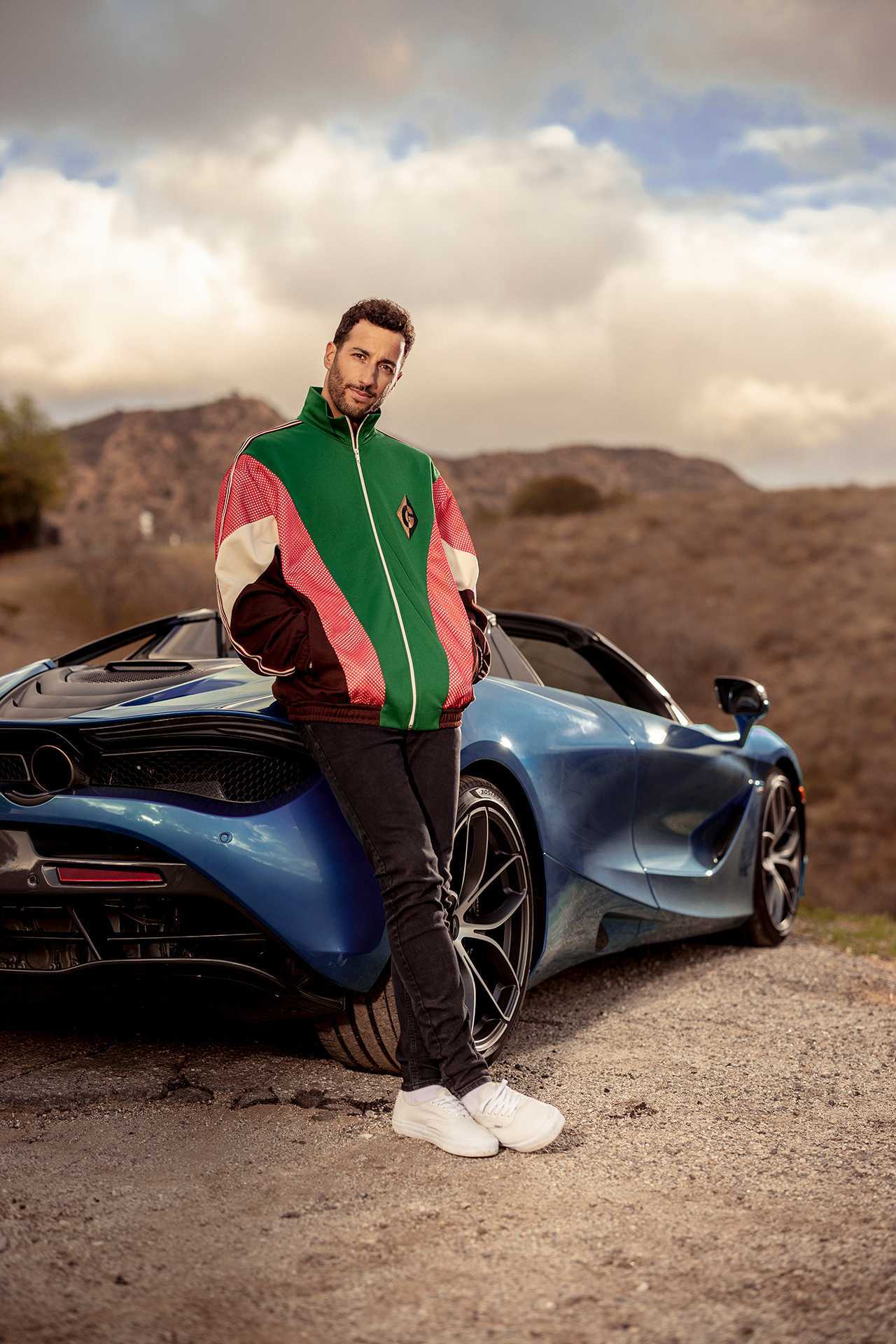 There are varied reports on the origins of drinking from one's shoe, or 'doing a shoey' in common parlance, but here's my favourite.
The story goes that a Prussian general in the Middle Ages promised his troops if they were victorious in an upcoming battle, he'd drink beer from his own boot. The plucky upstarts won, and as a sign of respect to his men and a proud display of military bravado, the general… chickened out and ordered a glass imitation to be made instead. The boot-shaped glass is called a bierstiefel, you might have come across one on your travels.
Much later, German soldiers took the tradition into World War I where it was hoped drinking from one's boot would bring them good luck. Quite why or how the tradition was then picked up by the good people of Australia is less easy to explain, but there is a certain cyclicality to the fact that Ricciardo debuted the shoey in Formula One at the 2016 German Grand Prix; somewhere on another plane, there's an old general raising his bierstiefel in salute.
And, yes reader, you better believe I shared this information with Ricciardo himself: "I'm going to bring that up at some point!" was his thoughtful review. I'll be holding him to it. "You know, I thought it would literally just be a one-off thing. I got the photo, sent it to my mates, cool; job done. But I'm actually glad that it's done what it's done. I mean, to ever think I would have a Sir drink out of my shoe is pretty cool. I'm not talking about Lewis, I'm talking about Patrick Stewart."
We never hated each other, we just wanted to end each other's careers – it's simple
Anyway, next time we see the Aussie pull off his trademark and he's waxing lyrical about German generals and boot drinking, remember that Winstanley over here was the man who dropped the knowledge.
The spoils of war may seem a long way from the F1 podium, but in an era where two constructors (and one driver) have dominated for more than a decade, it's worth noting it can be a long time between drinks for the chasing pack.
Carlos Sainz, a seven-season veteran who is yet to win in Formula One, made a very good point in our interview last year: "Every driver in the sport has won in pretty much every category before Formula One: we've all been winners before, so we're the best of the best. But in Formula One sometimes you just never get the chance to win."
If you're a serial winner, the notion of losing must be difficult to stomach – especially if you're a Ricciardo-type figure who has tasted the sweet (or is that sweaty?) taste of success. "Let's be honest, winning is the fun part. Winning is why we started racing or why we continued racing – because we were winning and we were being told that we're the best. So when you don't do it for a while, you've got to search for something else.
"And in that case – in a midfield team – a win is fifth place, you know, and your teammate gets tenth. That's a win, for example. You've got to just readjust," Ricciardo says.
While there might be no choice but to reset expectations, a glimmer of hope lingers on the horizon for the smaller constructors on the grid. The 2022-2023 season signals the beginning of a seismic round of changes that might just shake things up. The most crucial is a new breed of F1 car that features an aerodynamics package that greatly improves the chances of overtaking.
At present Formula One's current reliance on wings for downforce is believed to be the cause of 'dirty air' problems that make close-quarters racing difficult in modern racing. It's hoped that the proposed changes make this a thing of the past – not only making for more exciting racing, but also levelling the playing field between the two giants of the sport and the rest.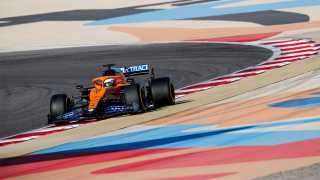 Ricciardo sums it up quite succinctly: "I really hope shit hits the fan in a good way… It really should do on paper – everyone's best chance to challenge Lewis and Mercedes."
I take it as a given the fan x shit situation sees the Aussie come out on top, but for the benefit of the tape, I'm curious to get Ricciardo's take on the dominance of Mercedes.
When Lewis Hamilton missed the Sakhir Grand Prix owing to Covid in December last year, Williams' George Russell was given the almighty task of stepping in for the seven-time world champion. Despite a catalogue of misfortune ultimately costing Russell the chance of victory, his strong performance raised questions of just how good Hamilton really is as a driver.
It's a statistical fact that Hamilton has broken almost every Formula One record there is to break (he added 'most Grand Prix laps led ever' to the tally at the season-opening Bahrain Grand Prix this year), but how much can we attribute to Hamilton's prowess and how much credit should we give the immense Mercedes machine? I ask Ricciardo for some help, fully in the knowledge I am opening the proverbial can of worms: "To answer it diplomatically, I think Lewis isn't the only one that could win races in that car. That's obviously my opinion and I think that George Russell, in a way, showed the possibility of that by pretty much beating Valtteri [Bottas] in his first race. So you could argue that just maybe Lewis doesn't have the strongest competition," Ricciardo says.
Do a few of us believe we could beat Hamilton? Yes. I'm quite sure of that.
In truth, it's a shitter of a question to ask anyone: speak out of turn about 'the GOAT' and risk being accosted for apparent sour grapes, say too little and you suggest you're merely not as good a driver. I think Ricciardo is fair in his judgement: "I think, where we can't be too aggressive or disrespectful to Lewis, is that, do a few of us believe we could beat him? Yes. I'm quite sure of that. But none of us have ever been in the hunt for a title. None of us have dealt with that pressure. None of us have had that year after year. Pretty much every weekend he rocks up to a race. Yes, he has the best car, but he's also expected to win all the time. And if he doesn't, it's, 'OK, what happened to Lewis?'"
Whether podiums, Grand Prix wins, or a chance to go toe-to-toe with Hamilton for a world championship await Ricciardo in his future, the Australian is happy to leave the sport behind when the chequered flag comes down on his career. I think it's easy for us normies to look at the prospect of lucrative TV and commentary deals, and beg the question why wouldn't you take the right-hand turn down Easy Street, but for a driver who has given everything to the sport – spent much of his adult life a long way from Duncraig, Perth, and Barbagallo Raceway – the prospect of being "normal human being" even for just a little is a pleasant fantasy.
"As much as I love the sport, and obviously it's given me a lot, I think I'll also equally love to escape from it once I'm done. I've poured all my heart into it and energy, so when I do say I'm done, I think I'll be done. At least for a bit of time." But even as we talk through the notion of a 'gap year' (a silly thing the driver missed out on in his teenage years), the magnetic pull of Formula One's travelling circus tugs at Ricciardo. "I mean, it might call me back to do something at some point… but I just see myself just going on a massive road trip and doing something really, still adventurous, but in a different way, you know, not on a schedule.
"So whether it's related around music, food or whatever, it just sounds good."
And who can blame him? When the time comes, Ricciardo will leave the sport with a legion of adoring fans, a 'fuck it, send it' attitude that won him the respect of the greats, and a legacy that you can make it to the very top without compromising who you are.
One thing's for certain: Mr Nice Guy will always have the last laugh.