Sam Heughan arrives at The Savoy's Gucci Suite at midday. Now there's an opening sentence. Let's backtrack.
Heughan's previous Square Mile cover is one of our most successful ever. We wanted to bring him back: the difficulty was creating a shoot that could live up to the previous one. Enter the Royal Suite by Gucci: one of the most remarkable hotel suites in the world, and a fitting host for Sam and photographer Charlie Gray's 2022 reunion.
So – Sam arrives at midday. He had the Outlander season six premiere the previous night and it was a late one. Obviously: it was the Outlander S6 premiere. Yet his handshake is firm and his bright blue eyes are not even slightly bloodshot – just blue. Very, very blue.
While the crew prepares, I offer to do a shop run – what do people want? "Carbs," says Heughan with feeling. "Carbs. And a Guinness."
I return with sandwiches and a four-pack of Guinness cans. Heughan decants his into a martini glass. Not many people can pull off Canned Guinness Martini: Heughan makes the drink look damn aspirational. "Kinda looks like an espresso martini," he observes. Next shoot, we'll mix an espresso martini and serve it in a Guinness glass. Or maybe tequila is a better shout – Heughan has brought a bottle of his Sassenach Reposado for everyone to share. It's a classy touch, and a classy drink – "smooth, right?" he says as I sample a glass.
Actually, I'm not quite doing the moment justice. I'm flanked by these vast indoor plants that quite literally touch the ceiling. Sam is standing in front of a black marble fireplace with flowery panels on either side. He's wearing a polka-dot smoking jacket and a top hat. He's smiling, awaiting my verdict on his tequila. It's one of those Am I Awake? moments that sometimes occurs in this gig.
But yes, the tequila is damn smooth. It slips down with an ease that promises the best kind of trouble after nine o'clock. And the photoshoot might be even smoother, resembling the aftermath of the best party you've never attended. Rooftop shot, anyone?
Tom Ellis did a brilliant job exploring his friend's career in the previous interview so this time we decided to do something a little different – explore Sam Heughan, the human. He's a pretty fantastic one.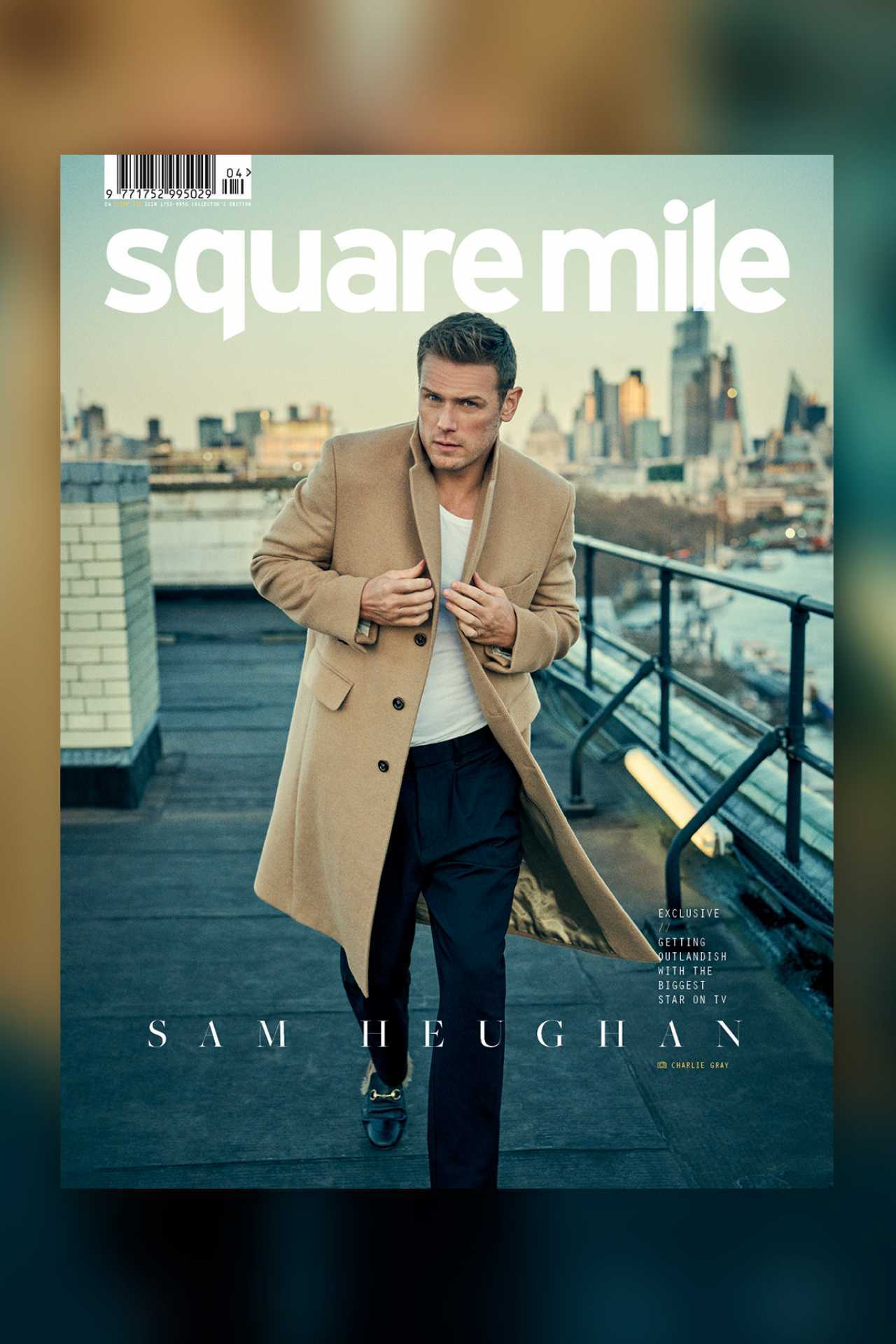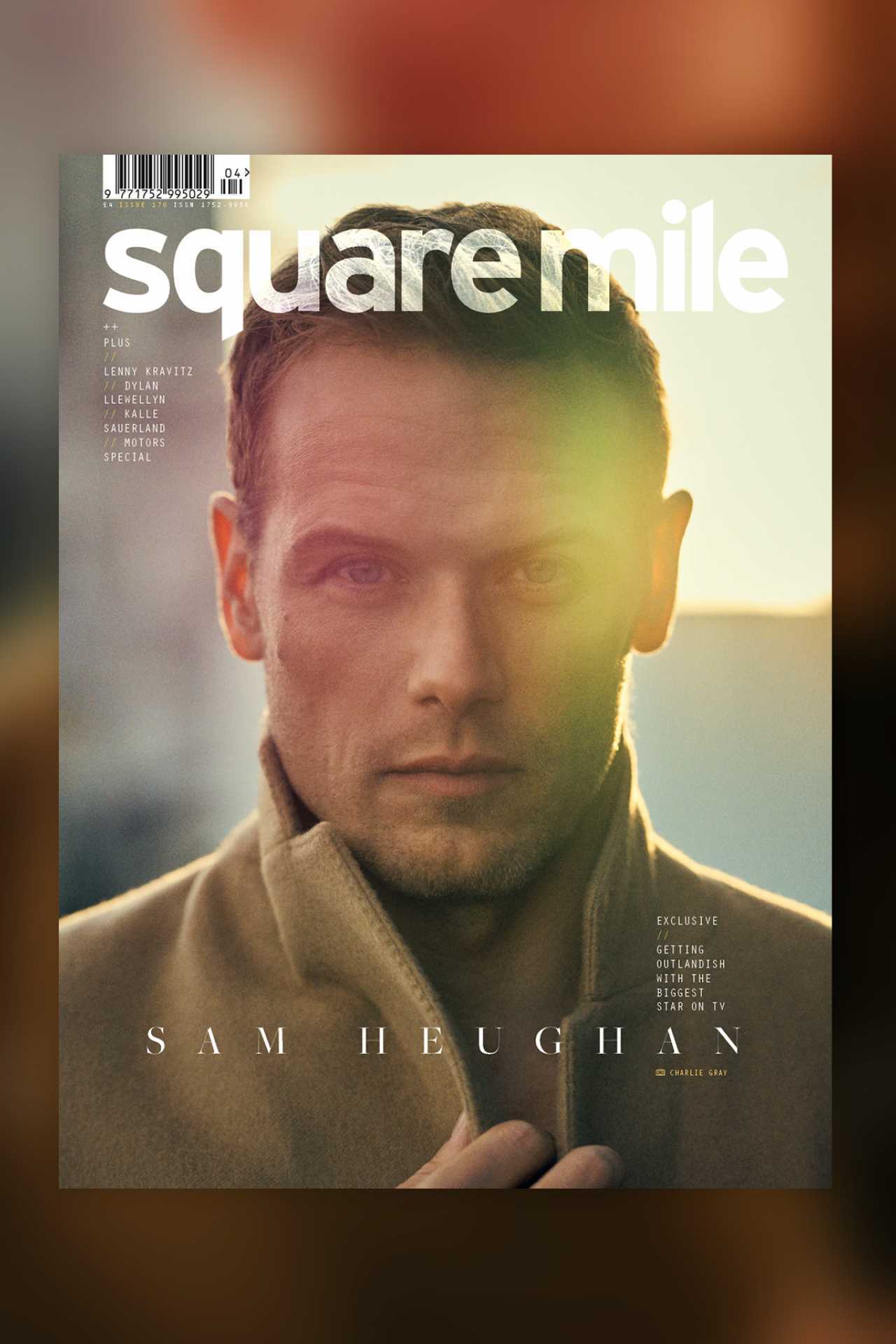 Square Mile: So, first question – what's your earliest memory?
Sam Heughan: I was born in a cottage in the south of Scotland and we moved to the grounds of an old, derelict castle when I was about three years old. I remember as a kid walking with my mum down to the castle. There's a big line of trees that my brother used to climb. It was autumn, amazing leaves, amazing scenery and this derelict castle – which at a young age was kinda scary. But it was a great playground as a child.
SM: As a kid, who did you look up to?
SH: Probably my brother. Five years older: we weren't very close because he was quite a bit older. He was out mountain biking and cycling and swimming. He played rugby, he always beat me at pool and table tennis – so I always wanted to beat him! I think that's why I become competitive.
But yeah, I looked up to him. Younger brothers always look up to their elders and want to emulate them.
SM: Are you guys close now?
SH: You get closer as you grow older – or we did. I wouldn't say we're like best friends but as we've both got older, you see them as a human being. There's a lot more empathy. He's still a better cyclist than me; I can probably drink better than he can.
SM: When did you realise you might succeed at acting?
SH: I don't think you ever think you're going to succeed. Even now. There's always that question in the back of your head: oh my God, what if I never work again? I certainly never feel like I'm at the top of the game: you always feel like you could be better at something.
I suppose the first time I really thought I can do this was at drama school. I was shit at drama school. I was told I was a bad actor. And then in my second year I played Romeo in Romeo and Juliet. I remember one day in rehearsal, before we were onstage, I realised: ah, fuck I can do this.