What does a racing driver do when they're not allowed to compete on the track? For Lando Norris, it means taking the racing online. 
Unsurprising for a driver itching to get back in the seat for his second season at McLaren, Norris has been keen to keep sharp during Lockdown.
That means daily sessions on his home simulator – naturally streamed on Twitch to his 470k-plus followers.  
As one of the most exciting young prospects in the sport, big things are expected of Norris. 
In the interview below, he tells us that his ultimate aim is to become Formula One world champion, as well as admitting his first love was actually motorbikes – not fast cars.
Check it out:
Life
What upcoming project(s) are you most excited about?
I'm super excited to go back racing in Formula 1 with everyone at McLaren. Right now, that is my number one priority and the thing I get most excited about. In the future I would be keen to take part in other races outside of F1, if I had the time. I just took part in the Virtual 24hrs of Le Mans, so I'd probably like to do that in the real world sometime.
What is your proudest professional accomplishment?
Probably being announced as a 2019 Formula 1 driver for McLaren. Making it to F1 had been my goal for more than a decade, so to have made it when I was still relatively young, especially with a team like McLaren, was a proud moment. Other than that, I would say it would be winning three championships in one year, which I did in the junior categories back in 2016.
If you could change one thing about your career, what would it be?
Not much really, I'm pleased with how my career has gone so far and how the future looks. I love Formula 1 and that's my top priority and main focus. I would love to race in IndyCar or World Endurance racing if I got the chance, but only after I felt I had achieved everything I want from F1. It's difficult to compete in more than one series with the busy F1 schedule and I wouldn't want to take anything on that would distract from my main focus.
What do you hope to achieve that you haven't yet?
Ultimately, my aim is to become Formula One World Champion, that's my main goal and has been ever since I started racing.
Outside of your family, who is / was your biggest inspiration?
I followed Valentino Rossi very closely when I was growing up, he's even partly inspired my helmet design. I was lucky enough to meet him last year at the British MotoGP at Silverstone. We had a short chat before his session got underway and I had the chance to take a look around the MotoGP paddock.
Tell us something nobody knows about you…
When I was younger, before I started racing, I was way more into motorbikes than I was cars. At first I wanted to be a MotoGP rider more than an F1 driver, but my parents took my motorbike away from me before I got too quick to hurt myself.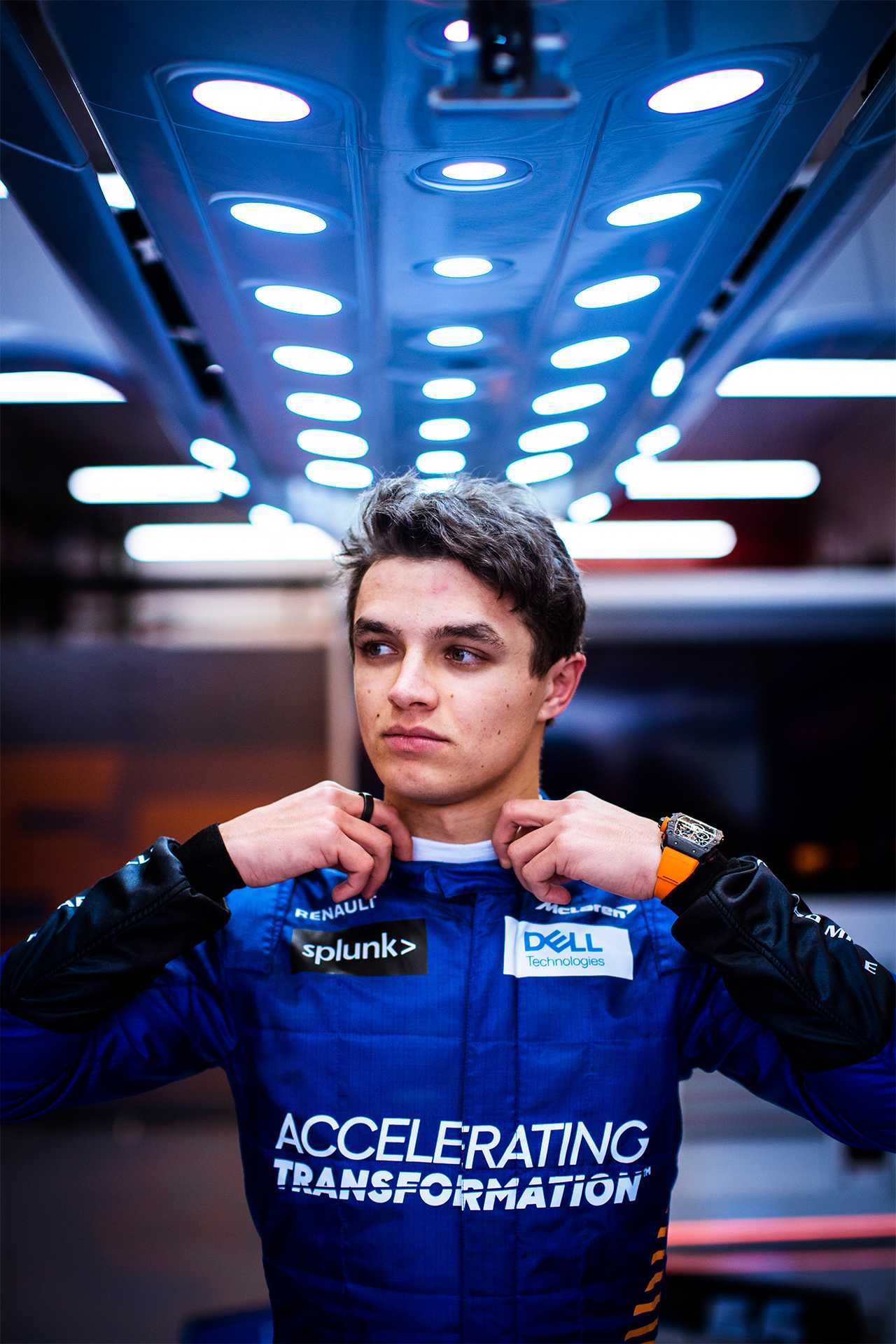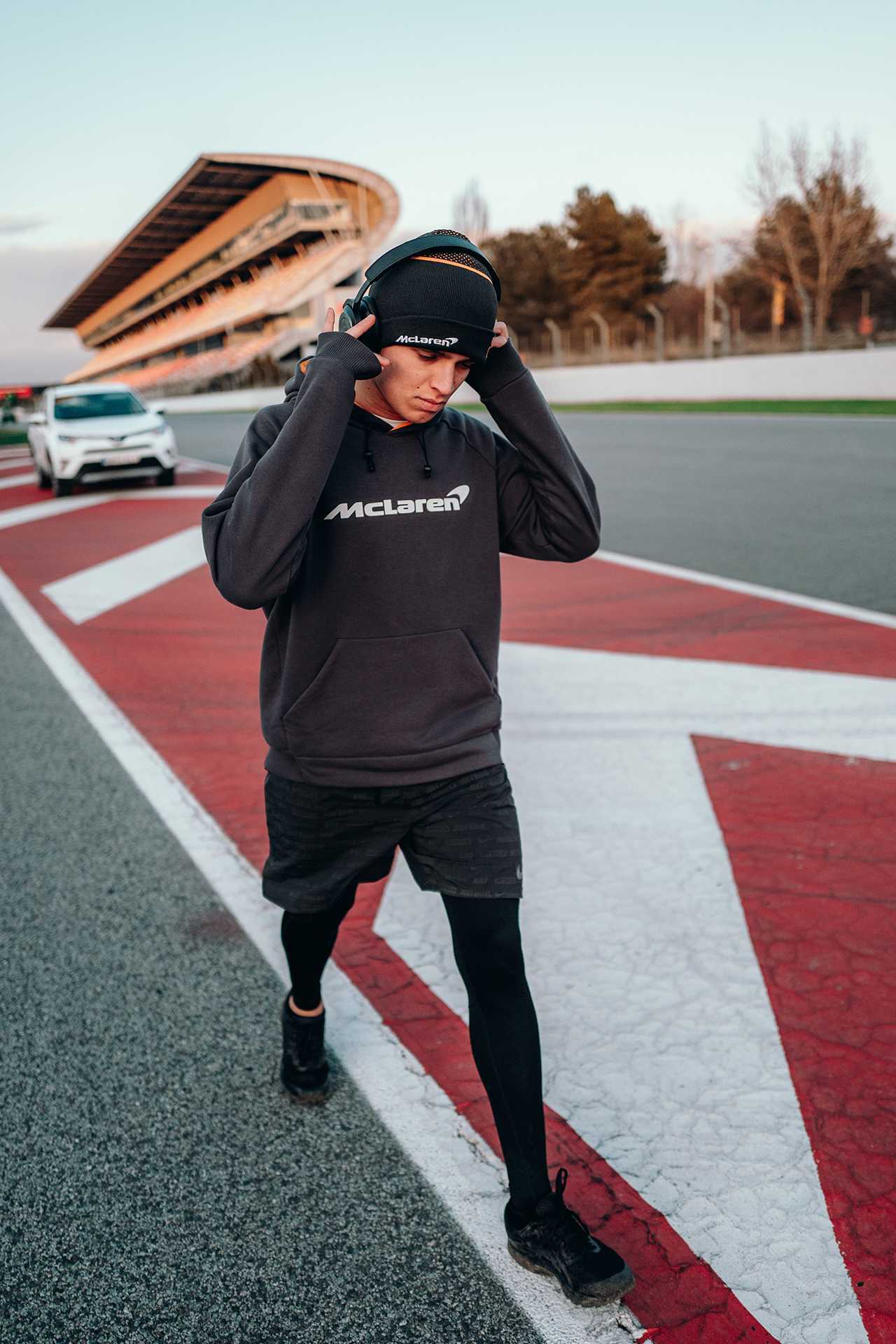 Lockdown
How are you finding lockdown?
It's been going well, I get to stream on twitch, chat to my friends, drive on my simulator and even enjoy a bit of sun when training in my garden. I'm pretty used to lockdown now I've been doing the same things for the past 2 months.
Best thing about lockdown?
I really enjoy streaming on Twitch, which isn't something I can do very often during the middle of a normal season. I've been streaming myself playing games and racing in my home simulator almost every night for the last two months. I enjoy being able to speak directly to my fans and having two-way conversations with them. It's been great to give my fans something to watch while we've been away from track.
Worst thing about lockdown?
There's still a lot that I would prefer to do outside of lockdown like of course being back in the car, going racing again and travelling the world. I can't wait for the season to start again early in July.
Top tip for surviving lockdown?
Set a timer so that dinner doesn't burn in the oven. It's become a common occurrence as I'm often streaming on twitch around dinner time and time just flies by when you're in a race or a game. I always say to myself that I'll remember this time, but it doesn't go to plan. Siri can help putting a timer on, but I don't always remember to ask.
If you could be locked down with one person, alive or dead, who would it be?
That's a difficult one as I really enjoy spending time alone! I have spent the last 3 months on my own at home, filling the time with workouts, streaming and sim racing. It's not been too bad, so I'm not sure if I would want to be locked down with anyone else.
What are you most looking forward to doing once lockdown is over?
Getting back on track, going racing again in Austria. It was one of my better races last year, so I'm looking forward to heading there for two races this year. It should be a really exciting start to the season.