Golf trips to Ireland are a Dr Jekyll and Mr Hyde affair, such is the contrast you are likely to find from one course to the next.
One moment you may be navigating the Augusta-like Adare Manor, with its manicured fairways and ancient trees rustling in the breeze – and the next you're buffeted across the wild links land of Carne by 40mph wind.
For some, this schizophrenia is too much of a departure from the gentle parkland of their home county golf course. For us? It's paradise.
Adare Manor, County Limerick
The scale of Adare Manor's achievements are difficult to grasp until you've witnessed the conditioning of the golf course for yourself. Tee boxes perfect enough to putt on, pristine fairways and green surfaces unlike any you've ever seen – there's a lot of talk of this place being the Augusta of Ireland, and it's all true.
The story goes that famed golf architect Tom Fazio was invited to consult on a small bunker restoration project to coincide with Adare Manor's grand hotel reopening in 2017, but he and Open winner Pádraig Harrington persuaded JP McManus into rebuilding the course from scratch. As an avid golfer, the Irishman couldn't help himself: he signed a cheque for some £30m and watched his course transform into one of the world's best.
The drama of the water holes, the wooded sequence at the furthest point of the property, the eye-watering 7,500 yardage, the need to use almost every club in the bag… This course was made to host matchplay – heck, Fazio installed fibre-optic cabling underneath the course ready for the Ryder Cup.
Pay the eye-watering €340 green fee and the €55 compulsory caddie fee and play it for yourself: this is as good as it gets anywhere.
For more info, adaremanor.com
Carne Golf Links, County Mayo
In Ireland's extreme north west, just outside the tiny town of Belmulett, the fabled Carne Golf Links has slowly grown to prominence in golfing circles for its one-of-a-kind experience.
Set on the Carne Banks, this course was built by a brigade of farmers wielding shovels, hoes and rakes. Eight years later, Ireland's greatest architect Eddie Hackett had created a course that soars, swoops, swerves and slides through some of the wildest dunescape you'll ever see. It is golf's truest links test – a course entirely shaped by the elements.
These looming monoliths are tactical ploys in Hackett's masterplan. Whether you have to navigate around them on the fairways (being able to shape the ball is a huge plus, here) or climb them to hit tee shots from their summit, they are crucial to Carne's incredibly dramatic golfing experience. You need only stand on the tee of the par-three 16th, the green sitting at the foot of an adjacent giant dune, to understand. It feels like there's nowhere else on earth this place could exist.
Hackett vowed that "God's work would not be despoiled by bulldozers" at Carne – and, in keeping his promise, he has created one of golf's most memorable and unique courses.
For more info, carnegolflinks.com

Old Head Golf Links, County Cork
There are few more exciting routes to a golf course than the road leading to Old Head.
As the farmland on both sides of the road falls into the sea, a slip of country lane makes its way onto a lonely headland guarded by the ruins of Downmacpatrick Castle. It's stunning.
Carved out of rock by the wind and sea across millennia, this narrow patch of land is home to a remote par-72 course that challenges your game and head for heights in equal measure.
No hole does a better job of reminding you that you're 300-feet above the lapping shore than the 4th, aptly named 'Razor's Edge'. A tight drive is the least of your troubles on this testing 427-yard par 4, the second shot requires all of your accuracy: the left side of the green drops directly into the ocean below.
Unprotected from the elements, Old Head is renowned for blowing a gale on a calm day, but this is all part of the charm at a links course quite unlike any other.
For more info, oldhead.com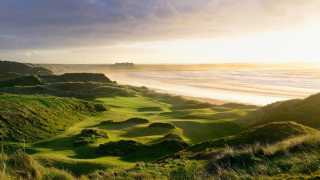 Trump International Links, County Clare
Doonbeg Links, now the domain of the 45th POTUS's Trump International, is an exercise in "everything's bigger in the United States". This is a golf course that takes the untamed linksland of the Wild Atlantic West and asks for it supersize – with extra fries, please.
Hulking sandhills, 100ft high, tower above the fairways that rush through their centre, bubble over the top, and career down the slope into the next cluster of helter- skelter holes.
The 1st is one of the best openers in Ireland: 561-yards, with a narrow landing area off the tee, the second and third shots play towards a green guarded by seven sand traps, while the dunes provide a dramatic amphitheatre for any putt holes on this tricky par five. Is it the authentic force of nature of Carne? No, this is something altogether different; less Irish, more US Open venue. That is to say this is a course that plays as tough as they come.
The rough is thick and nasty, with multiple lost balls likely, while greens peppered with painful pot bunkering may leave you wishing you hadn't found your ball at all. But this is undoubtedly a special location for golf, and it's worth bringing your A-game to find out.
For more info, trumpgolfireland.com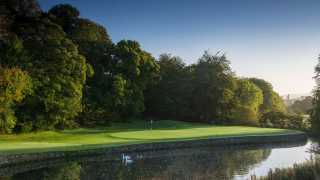 Mount Juliet, County Kilkenny
Located in the heart of the Emerald Isle's south east countryside, Mount Juliet is a golf course and hotel that continues to draw the crowds since its opening in 1991.
The likes of Tiger Woods, Nick Faldo and Ernie Els have won titles on this charming parkland, but these days it's home to lovers of the amateur game who travel to the Jack Nicklaus-designed layout (the Golden Bear's only in Ireland) for the gently rolling fairways, carefully sculpted bunkering and tasteful water features.
In contrast to the fierce links terrain elsewhere in this list, Mount Juliet is a serene walk through a 1,500-acre country estate – a place so charming you might not realise just how tricky this strategic course can be. The par-five 10th, for example, involves players making choice between left and right of a copse of trees in the centre of the fairway.
Simply put, this is one of Ireland's most enjoyable, low-key experiences.
For more info, mountjuliet.ie