In the 63rd minute of Tottenham Hotspur's recent Europa League game against Ludogorets in late November, Harry Winks picked up the ball and unleashed a 56-yard drive that sailed over the head of the opposition goalkeeper, kissing the bar before hitting the top-right corner.
It was notable for a few reasons: primarily the aesthetics of its arcing trajectory, the bolt-from-the-blue aspect, and the distance from goal it was struck. Also, because it became clear from his post-match interview that it wasn't a shot at all, but an attempted forward pass to Gareth Bale, who was running towards goal. But possibly most notably because it was only Winks's third goal in more than 150 appearances for his boyhood club.
It's probably fair to say that Winks is the kind of player that English football fans are only recently beginning to understand. Not blessed with the same kind of eye-catching flair and predilection for goalscoring as Spurs legends like Glenn Hoddle or Paul Gascoigne, Winks prefers to focus on keeping the ball, recycling possession and setting the tempo of a match. His is closer in style to the kind of role Barcelona's Sergio Busquets mastered in what was arguably the greatest club side of all time – and it's therefore also the kind of role that things like statement-making Champions League wins can be built on.
 There was a lot of determination, a lot of hard work, a lot of bad times and a lot of good times
The Athletic's Tottenham correspondent Charlie Eccleshare quoted a source close to Tottenham in a piece earlier this year: "Winks is the equivalent of a drummer in a band in the way he sets the tempo but often goes unnoticed," he wrote. "If the team wants to go a bit faster, or a bit slower – or indeed go to the chorus line – it comes from them. He is the beat in the team."
It's fair to say that goals for Tottenham mean a lot to Harry Winks – after all, he's been playing for the club since he was five years old – and his passion in celebrating the team's goals and wins has even become a meme among Tottenham fan accounts online. Born in Hemel Hempstead, he remembers watching Tottenham games at White Hart Lane with his father from an early age, before signing his first professional contract in 2014.
"It was an amazing moment for me," he remembers, "because it was the real step from being an apprentice and dreaming of playing for Tottenham to getting that professional contract and being one step closer, and bridging the gap between the first team and the academy.
"When you're an apprentice, you're still full-time but you're not professional, and to get that title was really special, and something I always dreamed of saying. When I got that it was a great moment for me and my family."
Winks confesses that he juxtaposed the groundedness of being new to the professional game with the kind of ambition and self-belief you'd expect from someone who has since become an elite, top-level athlete.
"I wanted to work as hard as I could and see where I could go, but in the back of my mind it's only normal to think 'I want to play for Tottenham, and I want to get in this team.' There's always a little reality where you think 'Maybe I'm going to have to go on loan, or to go a different route, but in my mind it was always that 'I want to play for Tottenham, I feel I should play for Tottenham, I feel like I'm a Tottenham player, I feel it's in my destiny to play for the club.' I've been at the club since I was five, gone through a lot of ups and downs, and I felt it was only right that I'd get my chance to play, and there was a lot of determination, a lot of hard work, a lot of bad times and a lot of good times. But when you get there and you start playing regularly it makes it that little bit sweeter."
Winks's rise to prominence came at a serendipitous time: 2014 was also the year that Argentine manager Mauricio Pochettino came to Tottenham after leaving fellow Premier League club Southampton, and over five or so years transformed the club from one that regularly did reasonably well in the Premier League but traditionally missed out on qualification to Europe's foremost club competition to Champions League regulars and often title contenders.
"From watching Tottenham from five up until 16, in the stands with my dad or on telly, the club was always a good club, a very good club, but it was never really pushing for top four, never pushing for titles and to win things," Winks says. "Then, we accepted that if we got into the Europa League or the top seven, it was a success. Now, the mentality of the club's changed massively, and everyone who signs for the club or plays for the club thinks the same, and that is first and foremost we set out the season to try and win everything we're involved in; every competition."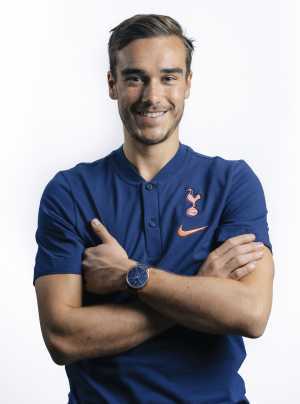 In Pochettino, Winks also found what young footballers must thrive under more than anything else: a manager who believed in him and who trusted him implicitly. "He didn't particularly want me to go on loan, so it was never really an option," Winks remembers. "There were times when I'd get frustrated – when I wanted to play, and I wanted to go on loan because I wanted to play football, and I didn't know if there was an opportunity to play. I was travelling a lot with the team and training every day and not getting chances, and it was difficult.
"But the manager was insistent on me staying at Tottenham, learning the trade, working with top players and improving as a player mentally and physically, and eventually getting the chance where he trusted me. Looking back it was the best decision I ever made. I was lucky that when I was coming through the academy we had a manager that was playing academy boys and giving opportunities to players. It was perfect timing in that sense, because if I worked hard in the academy and performed well, I knew there were opportunities in the first team. We had a lot of young players, and to be part of that process – that transition from where the club was to where it is now – I do feel fortunate that I've been a part of that, and that I've seen and witnessed it first-hand. It's been a great journey."
Winks's approach to football may not always catch the eyes of English football fans, but if there was one match early in his career that did – a performance so impressive in its assurance and composure that it caught the attention of pundits around the sport – it was in the Champions League group stage, in October 2017, against the holders Real Madrid. Winks had had breakout performances before, but not against the best club team around. He dictated the play from the first minute, most memorably finding Kieran Trippier with a delicious crossfield pass from deep, with the right-back crossing on the volley for Dele Alli to open the scoring.
"I've played in some amazing matches for Tottenham, and we've had some great results domestically and in the Champions League over the last few years, but it was a great game for me, that one," Winks remembers with a smile.
That match was part of a season wherein Tottenham bossed their group – which also included Borussia Dortmund, an ever-present in the Champions League and always tough opposition – before narrowly missing out on a quarter-final appearance in the last 16 against a wily, experienced Juventus side. Spurs built on this the year after, going all the way to the final, a match in which Winks played from the start. They would end up losing in a cagey 2-0 defeat against Liverpool, arguably the best side in England and Europe that season.
The following year, though, things unravelled, as their beloved manager Mauricio Pochettino and his staff were sacked early into the 2019-20 season as the positive momentum of the last few years ground to a halt. José Mourinho was installed as his successor the same night, and while his eyebrow-raising capture certainly provided a boost to the club, with results following suit, Spurs could only finish sixth last season, missing out on the now-familiar Champions League place.
Winks knows too well the boost this can bring to a club, and therefore the drawbacks of not having secured it. He knows, too, that it's in Tottenham's DNA to play midweek matches against the elite teams of Europe – what fans of the club refer to as 'glory glory nights' under the floodlights in N17. "Ideally we want to be in the Champions League – that's where everybody wants to be," he says. "But second to that we want to be in the Europa League rather than nothing. Globally we still want Tottenham to be seen as a big club, and we also want to be in a competition that we can win. Being in the Europa League gives us an opportunity to try and achieve that.
"It's going to be tough, of course, because we're still playing against elite European teams, but we consider ourselves just as good as well. It's another opportunity for us to try and win something and progress this club."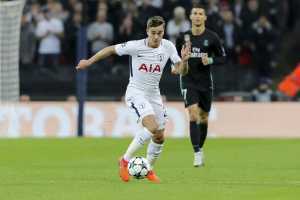 TF-Images via Getty Images
A sense of progress is, of course, a crucial part of what keeps fans engaged with their team. But, frequently, so does the constant of having homegrown talent making their way into the first team. Manchester United – arguably the world's biggest football club, consistently the most successful in commercial terms and no stranger to signing players for exorbitant fees – made history recently by naming a former academy player in their matchday squad for the 4,000th consecutive game. Spurs might not be able to match this mind-boggling achievement, but seeing local players turn out for the first team has always been a source of pride for regular match-going fans. Winks, however, knows that this isn't cut-and-dried, and that as English football's profile and financial clout has ballooned over the last three decades, so has many fans' appetite for high-profile signings over academy graduates.
Where does a player like Winks fit into the conversation? Does he feel that it's important for a club like Spurs to regularly give game time to players who have come through their academy? "It's hard to say yes and hard to say no, because I've been a fan and I know how they think," he says. "Fans want headline signings, big-money signings, and ultimately they want to see their club moving forward. But if you look at our most successful player in the last few years, Harry Kane, he's come through the academy, and he's now got amazing loyalty and connection with the fans.
"It's important to have homegrown players in the team, because when you're playing for the club it's important to know the history, it's important to know what it means to the fans, what it means for the club to win."
So after all this – joining the club as a five-year-old, signing professionally at 18, making himself a first-team regular, scoring his first senior goal, starring against the best club side in the world and becoming a regular for England, is Harry Winks the footballer the same person as Harry Winks the young Tottenham fan? Do players who play for their boyhood club keep the tribalism of everyday football fans? Winks seems conflicted, perhaps in the way that he was at 18, between the emotion of his connection to the club with the stark realities of being a top-level footballer.
"Everyone's playing for the club because first and foremost it's your job, it's your team, you're paid to give everything for the club, and that's our role. Whatever team I played for I'd have the same mentality."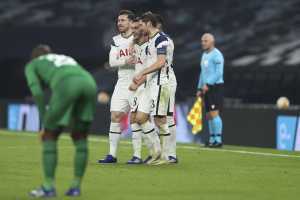 Matthew Ashton:AMA:Getty Images
But, he admits, "it's different for me because I'm a Tottenham fan. When I'm on the bench or in the stands, of course I still want us to win, and that's because it's the team I play for and I want us to be successful. I'm playing for the club that I love, yes, and when we win it's better and when we lose it's worse, but I look at it more constructively now.
"I speak to my dad every day regarding football – he's a fan like me, he's been a fan longer than me, and always wants us to do well and wants us to win, but ultimately I'm his son and he looks at it from a different aspect to the regular fan does. Again, when we win, it's that little bit sweeter and when we lose it's that little bit more painful, but it's about trying to keep that balance and trying not to get too emotionally attached to it, because at the end of the day it's a job and we've got to perform, we've got to do well and we've got to win."
To talk to Winks is to understand that a certain level of critical distance from a die-hard fan's perspective on football is probably healthy. After all, for every Tottenham fan who feels a huge sense of pride seeing Winks – up to now a genuine one-club man who may yet, like former captain, fan favourite and current first-team coach Ledley King, begin and end his career with the club – there's one who'll take to Twitter to demand he be replaced by an expensive signing they feel is an upgrade in his position.
Whatever happens, though, he can always think back to being that 18-year-old, newly professional footballer, holding on to the dream of becoming a regular for the club he supported as a boy, with a sense that it was written in the stars that he would do so. In that sense, his destiny has already been fulfilled.
See more of Winks in Every Second Counts: an online series exploring the relationship between time and football via YouTube and @iwcwatches on Instagram.