It's approaching midnight in Moscow when Eric Dier places the ball on the penalty spot. England's World Cup last-16 shootout against Colombia has reached its climax. Score and we're in the quarterfinals. Miss and it's sudden death.
Like every other England fan, John Stones can barely breathe for nerves. Unlike every other England fan, Stones knows that if Dier misses, he'll be taking the next penalty but one. He has never taken a competitive penalty in his life. 
"Aw, mate, I was seventh!" laughs Stones. "I was seventh and I was absolutely bricking it."
Dier starts his run up and – oh, you know what happens next, even if you weren't among the 24 and half million TV viewers who lost their minds when he slotted it into the bottom corner. 
You remember all summer. Atomic Kitten, Three Lions, beers turning the air liquid gold at Croydon Box Park, the heatwave, the joy, the bottom half of the draw, seeing off Sweden on a sunny Saturday afternoon, those endless It's Coming Home memes, the first semifinal in a generation, Trippier sends it top corner, holy shit it's actually happening only Kane doesn't square to Sterling and Croatia refuse to tire and three years later we still can't decide quite how bittersweet those memories are flavoured.
"You can look at it in different ways," agrees Stones. "You can look at it as a failure or as a success. Maybe it wasn't our time."
Maybe not. But it was the time of our lives, for Gareth Southgate's young squad and a nation raised on a diet of tournament failure. After all those missed penalties and broken metatarsals and dodgy decisions and football so stodgy it gave the viewer indigestion, finally we had a team and a summer to make us believe. And now, after three long years, we get to live it once more.
And maybe, just maybe, John Stones and his teammates will bring football home again.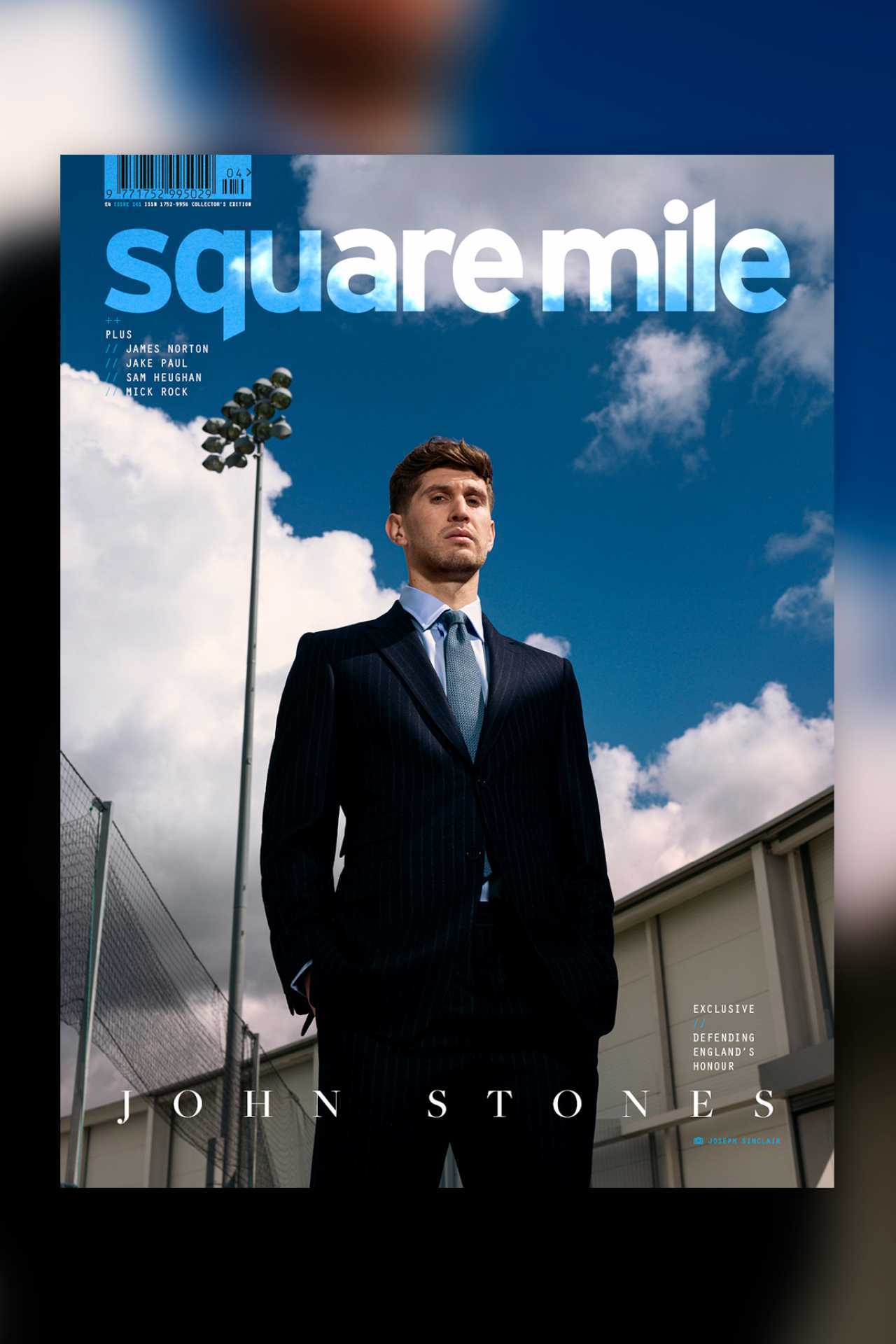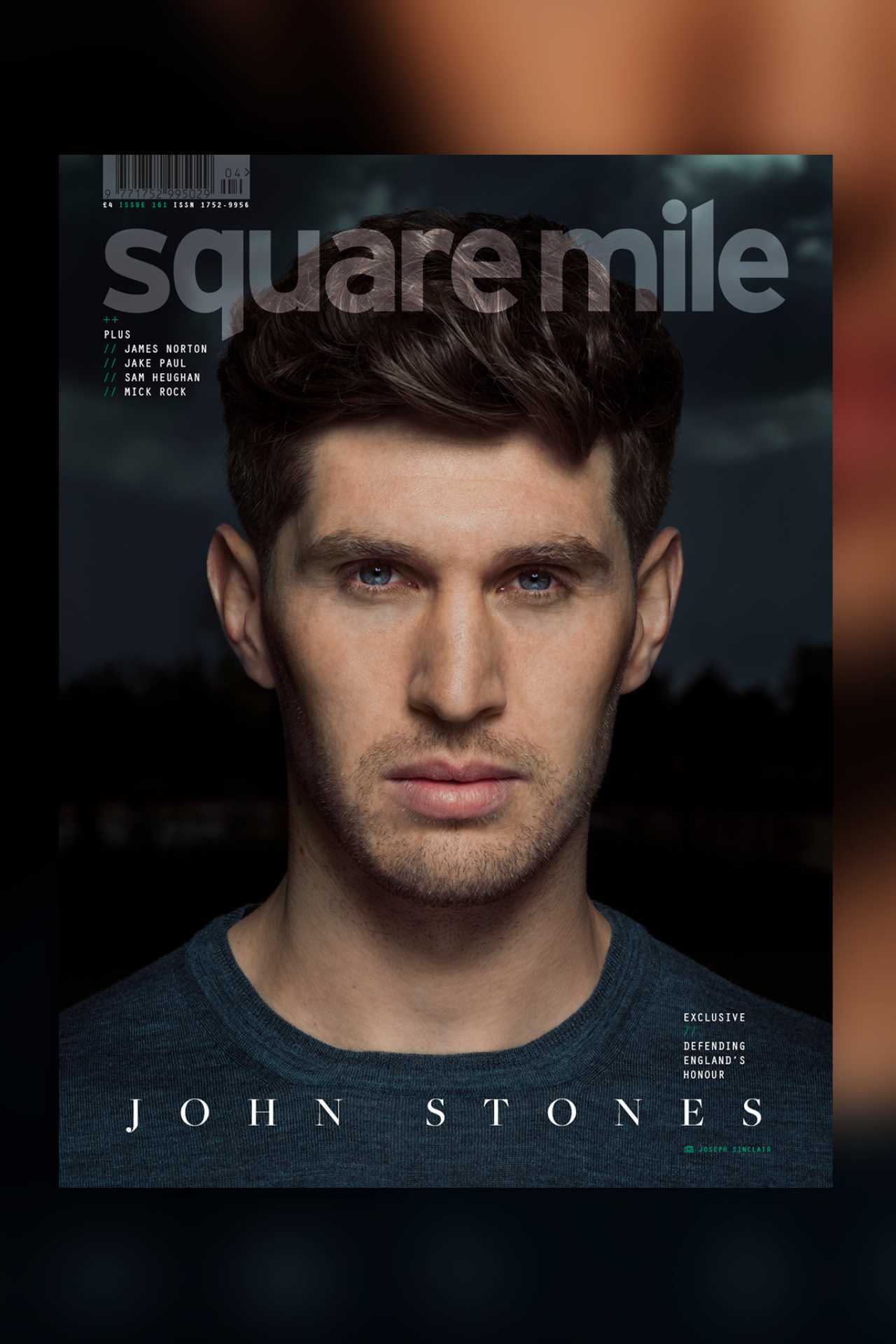 Winning and learning
If your knowledge of football is even casual you will know of John Stones. You probably recognised him from our photoshoot, suited up and silhouetted against a spotless blue sky, looking like God's own footballer – or maybe Boy's Own, considering his 6 ft 2 frame and comically square jaw could be drawn from a Roy of the Rovers strip.
But maybe your knowledge of football is less than casual. Maybe you only tune in for the major tournaments. That's OK. There's a major tournament upon us and a helpful little John Stones recap in the paragraphs below.
John Stones is widely considered the finest English centre half of his generation. His composure and elegance on the ball has been compared to his illustrious predecessor Rio Ferdinand and even the legendary German sweeper Franz Beckenbauer. He started his career at Barnsley, his hometown club, spent four years at Everton and then signed for Manchester City in a £47.5m transfer that at the time made Stones the second most expensive defender in history. At City, Stones has won every domestic trophy available to win – three Premier League titles, one FA Cup, four League Cups – but not the Champions League. He's 27 years old and has earned 42 England caps. 
Three days after this interview, Stones contested the 2021 Champions League final, the first of his career and City's history. He seemed remarkably relaxed for a man staring down the barrel of one of the defining moments of his life to date. The nerves, he said, would come on the matchday. "If we're not nervous about something new and something we haven't experienced before then we're not human."
He's not a superstitious player. His predecessor in the centre of England's defence, John Terry, famously had a host of them. (Listen to the same Usher CD, tape his socks three times, wear the same pair of lucky shin pads – presumably washed between matches.)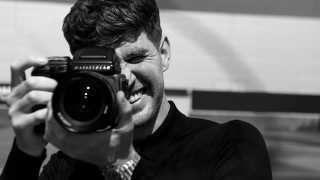 Stones is a more prosaic creature. He follows a simple routine to get himself into the zone. "Get in the dressing room. Get a massage, make sure I'm warm. Go in the gym, get all activated. Get ready, put my boots on for the warm up. It's almost like a process; I wouldn't say it's a ritual."
So no lucky shin pads? He laughs. "No, no! Nothing like that."
Of course as you almost certainly know, but we then didn't, City would lose the final 1-0 to Chelsea after manager Pep Guardiola decided not to start any defensive midfielders. During our interview, Stones says his two most disappointing defeats were the World Cup semi final and City's 2019 Champions League elimination to Tottenham Hotspur on away goals. It's hard to believe a third hasn't been added to the list.
But setbacks can educate, and they can motivate. As Stones later tells me – he's referring to the Croatia game but the mentality still applies – the best way to bounce back is to press forward. "You've got to learn to accept things and move on quickly. Because there's always something else coming up or there's another challenge to overcome. You've got to learn from it and move on. I think you can take a lot from hard times."
Coming up next is the European Championships. Winning the Euros with England mightn't fully extinguish the pain of losing the Champions League final with City. But it would certainly be a bloody good start.

Championship to champion
The story begins, as all such stories must, with a kid and a football. Before the trophies and the transfer fees and the international tournaments, young John Stones would take his ball onto the streets of Barnsley and kick it about with his friends.
"We'd try and play anywhere that we could. It was literally put your jumper down, we got a goal. We just loved playing football. I was never one of the kids that knew everything about football – teams, players, everything like that. I'd just go out and play. Get a ball, kick it against a wall, play against some older kids. Whatever it was."
Did he adopt a player in these kickabouts? I'm gonna be… Every kid adopts a player, right? "Oh yeah. I loved Beckham as a kid. Me and my friends just tried to score free kicks. He was a big role model for me and my friends growing up."
He couldn't bend it like Beckham but he was good, good enough to be signed by Barnsley aged six. It's hard to believe now but for a couple of years in his early adolescence, Stones was dropped down an age group due to his diminutive size. "Which was obviously a big setback for a kid where you're watching all your friends moving on, progressing."
Luckily growth spurts are a thing. Like many prospects, Stones bounced around various positions before finding his natural home. "I started off as a winger when I was really young. Then I moved into central midfield. To right back. And then centre back from 15, 16. I loved it there."
He made his Championship debut aged 17, coming on as a substitute during Barnsley's 0-4 home defeat to Reading. He scored on his first start, a League Cup 4-3 over Rochdale. The following week, Stones started in the league and helped keep out Middlesbrough for a 1-0 victory.
"The winger got past me the first time. I remember thinking, that's not happening again. I think it was Marvin Emnes. He was quite an established player at the time. Well known throughout the leagues. And yeah, he didn't get past me again. I set my mind to it and set a footprint down that I was ready for the Championship."
I'm impressed he remembers the opponent, more than 250 matches later... "My memory's not the best actually but once I focus in on something it starts to come back. You start to relive it, which is nice. Because you play that much and do that much throughout the seasons, over the years, and they go by so quick. You forget what's happened and what you've been through. Those sort of things are special because it's the first time it's ever happened. It's nice reliving it."
Let's relive some more. He signed to Everton on the deadline day of January 2013. A callow 18 year old, Stones spent the first months of his career in the reserves. "I went from playing men's football back to my age group football. That was a difficult time because I obviously had the expectations when I was going, I'd go to play. I wanted to play. I look back and I think I was nowhere near ready to play. The difference was huge… I look back and think how well they managed me."
He cracked the first team the following season, a breakthrough campaign that culminated in his England debut in a friendly win over Peru. From the Championship to the Premier League to Wembley. "All that happened within two years," recalls Stones. "It was fast. Quite a fast incline." Did he appreciate the speed of his ascent? "I didn't to be honest. I just tried to go with the flow."
It's a cliche that displays the mellow temperament of Stones the man while doing an immense disservice to Stones the professional athlete. You do not win multiple trophies for arguably the best football team in the world by going with the flow. You work. You learn. You suffer.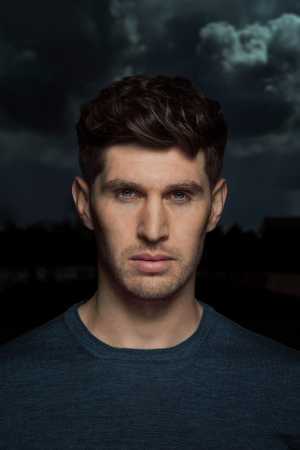 Take his answer to the question of which individual – player, coach, whomever – had the biggest impact on his development. "This might sound really, really cheesy but I think everyone has an impact on you in some way. Negative or positive. I think you can learn off so much, and you have to learn. Off other people, how they play, and adapt to them.
"I've taken a bit of everything from the players that I've played with, in all different aspects. That might be personal techniques down to the mental side of the game. Learning how to be a team player in respect of learning about my teammates: what they like doing, what they don't like doing, how I can help. A lot of things that form around just playing to try and succeed and try and be better. I've always tried to take as much advice as I can."
What about his technique, his composure? The range of passes that earned the sobriquet 'The Barnsley Beckenbauer' and the calmness to pick them out? He exhales. "I couldn't tell ya. I don't know where I've got it from, to be honest. I think it's just a natural attribute. Maybe. Looking at my younger years and how I was coached, it was kind of the new generation of football that they were trying to implement – playing out from the back."
Elegant players make the game look easy. The tradeoff is their mistakes tend to be criticised more harshly than those of their less gifted counterparts. The 2019-2020 season was a tough one for Stones. His form suffered, resulting in his exile from the first team. There were rumours of a summer transfer. Stones never contemplated a move.
"I believed in myself and my own ability. I don't think that's been in question. I think it was delivering [on that ability]. I had to go out there and deliver it. I knew how hard it was sitting on the sideline and watching the team and feeling like I can't contribute. And you do feel like that, the players who don't play. Everyone wants to be out on the pitch and contributing in some way toward the team."
Despite starting the season on the bench, an injury to Aymeric Laporte gave Stones the opportunity to reclaim his starting berth alongside new signing Ruben Dias. His performances were a revelation. In 22 Premier League appearances, Stones helped the team keep 14 clean sheets and concede only 12 goals. City recovered from a poor start to romp to the title with three games to spare.
Go on, John – what triggered the best form of your career? We want there to be an obvious catalyst: a word of advice from a teammate, simple yet transformative. Some coaching wizardry by Guardiola. Transcendental meditation. A pair of magic football boots. But the game isn't that easy, or that complicated. The catalyst was this: Stones worked really, really hard.
"Worked really hard in the gym to ensure I'm recovering well so I'm ready to play in the next three days. Worked hard on my strength, my power. Every attribute that we need as players. And then I looked at all the other things that are so vital but don't get really recognised. Your food, your sleep. All the things that have an effect on your body when the season's so demanding."
He spoke to the club psychologist: "nothing out of the ordinary or over the top. Just normal conversations about small things." Sought the advice of his friends and family. When the chance came, he was ready. He seized it. He's barely put a foot wrong since.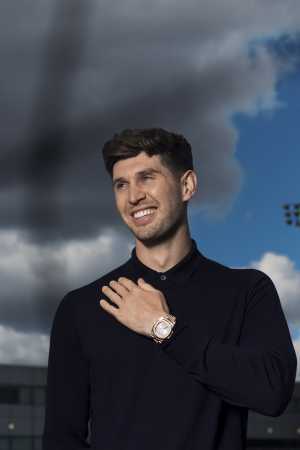 Coming Home
What was your first World Cup? For Stones, it's 2002 Japan-South Korea, coming into school in the morning to watch Ronaldinho lob David Seaman from 40 yards. Despite already being on the books at Barnsley, Stones never imagined he would star on the same stage 16 years later.
"I never thought I'd play for England. I never thought I'd play in the Premier League. I wanted to become professional and play for my home town. But I never thought I'd play for England or anything like that."
The funny thing about the 2018 World Cup run is that it essentially consisted of two matches: penalties against Colombia and the quarter-final win over Sweden. The former was the most intense Tuesday night in history, the latter came as a long, golden Saturday of languid bliss. Which did Stones prefer?
"Colombia, easy," he replies. "They were the dirtiest team I've ever played against." They really were dirty, weren't they? I'm so glad we didn't lose to them.
It's weird: reliving that tournament with Stones is more of a communal experience that it has any right to be. The gap between him playing in it and me watching it doesn't feel particularly wide. And yes, I'm fully aware that the gap is very, very wide indeed but thus the joy of that summer, no?
It's the defining, if paradoxical, quality of Stones and the current England squad: despite earning astronomical wages in a sport that has never been more global – Super League, anyone? – the 2018 World Cup forged a bond between the nation and its national side that the Golden Generation of the previous decade could never manage.
It helped that expectations were low enough for a semi-final defeat to feel like a triumph, whereas 12 years earlier a quarter-final exit to Portugal on penalties was considered a disaster akin to, say, being knocked out by Iceland. It also helped that in the previous tournament we were knocked out by Iceland. A 2-0 win over Sweden is no longer a birthright but a reason to flood the beer gardens and crank up Baddiel, Skinner and the Lightning Seeds to maximum volume.
But it was also the personalities of the players themselves. Rather than the indifferent multimillionaires of old, here was a group of likeable young men living out all of our dreams, winning World Cup penalty shootouts for England, and since we couldn't live out these dreams ourselves, celebrating their success was the next best thing. And so it wasn't their success but our success, too. England was no longer a case of them but us.
Which is incredibly unfair as I'm sure playing for England mattered just as much for Steven Gerrard and Frank Lampard as it does for John Stones and Harry Kane. But then life isn't fair, and neither is football.
And of course the connection flowed both ways. The team knew the impact their run was having back home. "We were getting loads of videos sent off friends, family," grins Stones. "It was a bit of like, 'aw, where would you rather be?' And then we were like, 'yeah, we'd rather be here!'" Wise call, John. Croydon Box Park isn't that good.
The team didn't return with the World Cup. They didn't reach the final. But they made supporting England fun for the first time in years. That was John Stones's hope before boarding the plane to Russia: give people some good times to remember.
"I just wanted people to love football again and love England. We'd had a lot of disappointing tournaments previous to that one. And that's not out of trying at all but that's football and it doesn't always work out.
"It was a goal to obviously succeed as a team but also to get the backing and change people's perceptions about the England team. I feel like we did that and brought the love back to England as a nation."
Mission accomplished. Final question: is football coming home this summer?
"Oh mate, I hope so!" He grins. "I have my fingers crossed. We'll do our best."
Thanks for those memories, Stonesy. Now go and make us some new ones. 
Subscribe to the magazine