The World Cup has endured a tough time of late. Underwhelming tournaments, the rise of European 'superclubs', a brace of hosts in Russia 2018 and Qatar 2022 that might politely be deemed 'controversial', and, from an English perspective, recent campaigns that make the quarterfinal exits of the noughties acquire the glow of a golden era have all tarnished the sparkle of Fifa's crown jewels. Does the World Cup even retain any relevance in the 21st century?
Whoa there. Unclasp those hands. The 2014 World Cup reached 3.2 billion people, with an estimated 1.01 billion tuning into a minute or more of the final – 14% of the global population. Those are truly staggering numbers, rivalled only by the Summer Olympics: Rio 2016 attracted an audience of 3.6 billion across its three weeks, but with nothing like a similar peak. (The opening ceremony was watched by a 'mere' 342m.)
"Football is the one true coming together of one single sport," notes Gary Lineker, a man more steeped in World Cup lore than most. "You have the Olympics, but they're generally individual sports where you cheer someone on. This is unique. It leads to patriotism and everyone getting behind their own country. It's unique in the fact that it's so global."
Modern football has become the sporting equivalent of fast food: supersized clubs and players consumed on a scale both vast and dizzyingly transient, with fans gorging on not only the Match but every tweet, video clip, rumour, and opinion piece separating the Match from the next Match three days later. You get your fix, but each season is oddly weightless; merely a prelude to the next, even bigger season that will arrive halfway through the transfer window. Only the truly epocal triumphs – the Treble, the Invincibles, Leicester – linger in the collective memory.
The World Cup, in contrast, still carries a sense of genuine historical weight; after all, only 20 have been played since Uruguay hosted the inaugural tournament of 1930. We wait four years for a party that will pass in four weeks – or six days in the case of England's most recent participation.
"The rarity value adds to it, enhances it," says Henry Winter, chief football writer for The Times and preparing to cover his eighth World Cup. "If you had it every year or every other year it would absolutely lose its charm. Fifa aren't that stupid."
Probably not, but then Fifa did award its showpiece event to Russia and then Qatar. Leaving aside the serious moral questions posed by both nations' record on human rights – and the allegations of a corrupt voting process – logistical difficulties also abound; the threat of hooliganism looms large over Russia, while the Gulf climate of Qatar will require the most famous summer tournament in sport to be played in December.
Football is inscribed with all these big issues and important historical narratives. That's what makes it so interesting
Many have stated their intention to boycott Russia 2018: switch off the TV, close the curtains on the party taking place outside. English attendance is heavily depleted: 28,000 tickets sold as of March, compared to overall sales of 57,000 for Brazil 2014. An unfancied team may be one factor; the altercations with Russian ultras at Euro 2016 offer another reason to stay home.
(Not all nations have shelved their passports: demand for tickets in current champions Germany has more than doubled from 2014, with 338,414 sold compared to 134,899 over the same period.)
Lineker sees Russia as an imperfect host but not an unworthy one. "We have to be very careful about criticising countries. Russia in particular has a reasonable case to host a World Cup – it's a massive football country with a huge passion for the game.
"You can talk about a country's politics, but where would you be able to play the World Cup? How corrupt is our present government in various ways, shapes and forms?"
He notes the capacity of sport to be a force for social change. "People talk about racism in Russia – yes, but I think football is a chance to alter that. You get people playing from all different parts of the world, all sorts of different ethnicities, and they're all coming to Russia. And hopefully it will make a difference as it has done in other countries."
Academic and journalist Martin Jacques has written extensively on the intersection between sport, race and politics. "Football is inscribed with all these big issues and important historical narratives," says Jacques. "That's what makes it so interesting. It's not overtly political but it is the political."
Like Lineker, Jacques believes football can raise awareness and appreciation for different cultures. He cites the fervour with which Liverpool fans have embraced the club's Islamic, Egyptian forward Mohamed Salah: "If he's good enough for you, he's good enough for me; if he scores another few, then I'll be Muslim too" runs a popular terrace chant.
Of course it is naive to assume that a successful World Cup will thaw the frosty diplomatic relationship with Russia, let alone melt tensions completely. Nonetheless bridges can be built. As Lineker noted, no other sporting event, not even the Olympics, unites so many fans in such numbers. The World Cup offers a unique opportunity for both tourists and host to represent the best of themselves. [Continued below the gallery.]
Ten best moments from the past ten World Cups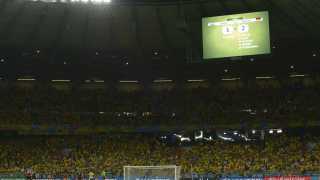 (Photo by Bob Thomas/Popperfoto/Getty Images)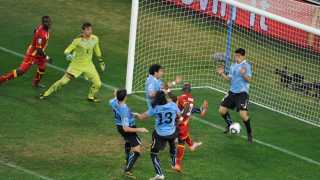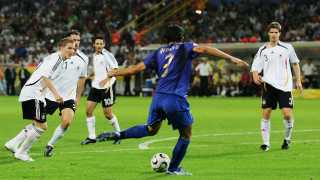 (Photo by Alex Livesey/Getty Images)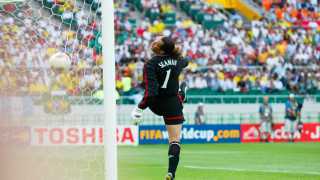 (Photo by Eric Renard / Onze / Icon Sport )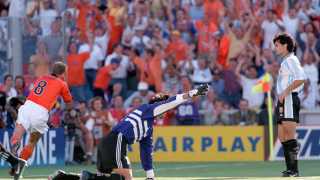 (Photo by Popperfoto/Getty Images)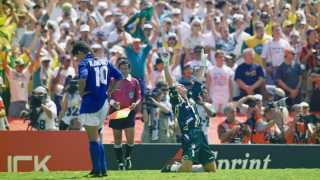 (Photo by Shaun Botterill/Getty Images))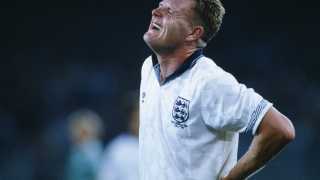 (Photo by Bob Thomas/Getty Images)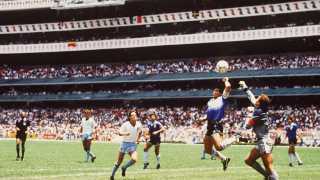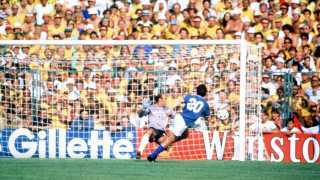 (Photo by Bob Thomas/Getty Images)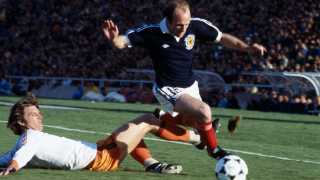 (Photo by Paul Popper/Popperfoto/Getty Images)
Timid Lions
Every World Cup is in fact two World Cups: the global tournament – 64 matches played between 32 countries – and national participation in this tournament, which at most will involve seven matches against seven opponents, and quite possibly a mere three against three. Over the past 12 years, England have waged campaigns of diminishing returns: quarterfinalists in 2006, last 16 in 2010, a group-stage exit in 2014.
Unsurprisingly, national interest has dipped with national performance. Compared to past hysteria over the metatarsals of David Beckham (2002) and Wayne Rooney (2006), the build-up to Russia has remained muted; put bluntly, nobody gives England a prayer. Fool me once, shame on you; fool me 12 times…
"I think some people have fallen out of love with England," says Winter. He observes that, considering England haven't reached a semi-final since the home tournament of Euro '96, the fans have stayed "remarkably supportive, but I think that that's tailed off."
The elephant in the FA headquarters – and what an elephant! – is the Premier League, and the damage it may or may not inflict on the national team. Has the money flowing through elite clubs made England an afterthought – a nice bonus, so to speak, rather than the crowning glory of a career?
Jacques thinks the World Cup has been diminished, albeit not devalued completely. "If you go back in time over the last few decades, I think the World Cup relatively speaking has become less important, just like national sides have become less important vis a vis club sides. The money is not in national sides; the money is in the club sides."
People always say, "oh, they don't care" about players but that's complete nonsense. The problem sometimes is they care too much
Ironically, the fans may be more apathetic than the players. Winter quite literally wrote the book on the travails of the England football team; the introduction to his excellent '50 Years of Hurt; The Story of England Football & Why We Never Stop Believing' has a chorus of former internationals from Alan Shearer to Jermaine Jenas eulogise on the honour of representing their country.
"It's the biggest stage of all, it's the most exciting thing a player can ever do," affirms Lineker, whose ten goals over two World Cups make him comfortably England's top scorer at major tournaments. "People always say, "oh, they don't care" about players but that's complete nonsense. The problem sometimes is they care too much and they get overstressed or a little bit too nervous."
A tabloid press ravenous for its next scapegoat only heightens the pressure. The effigies of David Beckham after France '98, and the vilification of "footie idiot" Raheem Sterling for having the temerity to wear "bling" (i.e. jewelry) and buy his mother a house, offer a stark warning on the price of failure. At the base of every pedestal is a bonfire.
"If they play badly for their club, they will get criticised," says Winter of the players. "If they play badly for England, and England lose, their whole family gets it... It's almost like an insult on the country's honour when England exit a big tournament and that's why the reaction is so frenetic."
This is the first post-Brexit World Cup. A multiracial England squad will be supported – at least initially – by a tabloid press whose view of nationalism resides somewhere in the 1950s. Harry Kane of Walthamstow, and Raheem Sterling, born in Kingston, Jamaica, will spearhead the English attack. We can predict the consequence of a premature exit, and which of the two men will be blamed by certain media outlets – but what happens if England surpass expectations? Would a good run this summer unite the nation?
"Well, it would for a few weeks," says Lineker wryly. "And then it would go back to what it is, which is sadly a very divided country. I think most of us are together anyway, I think what you do see are the extremes of all sides – they shout the loudest, whereas most of us are reasonable, sensible and somewhere in the middle."
Brave new world
The effect of globalisation can be seen in the heritage of national squads across the globe. Many young players will be eligible for more than one country, at least until they play a competitive international fixture for their chosen side. All but the most jingoistic fans appreciate these decisions can be complicated and extremely personal. However one player caused a national outcry when he turned his back on the country of his birth.
In 2013, striker Diego Costa rejected his native Brazil to represent Spain, for whom he had recently been granted citizenship. "It was very difficult to choose between the country where you were born and the country that has given you everything," explained Costa. "I have family in Brazil and it is the country where I was born. I hope that God allows me to live there again in the future."
Brazilians were outraged: Costa had not only abandoned his country, but opted to join the world champions and pre-tournament favourites. (Ironically, Spain exited at the group stage.) Yet such moves will only become more common, especially as the best players gravitate to a handful of European leagues. Might the international game increasingly start to resemble the club one?
"It depends how cynical it is," says Winter. "Costa looked fairly cynical. If you look at the German team, which is very multicultural and cosmopolitan, that just reflects on modern Germany in terms of the gastarbeiter [guest workers] who came in, and their children. Global fluidity is inevitable and it's great that that's reflected in the national team."
Enough politics: what might the actual football provide? Of the recent tournaments, yes, South Africa 2010 was a stinker, but Germany 2006 and Brazil 2014 both added a few stunning clips to the World Cup showreel, 'Zidane's kiss' and '1-7' the headline acts from each. With the squads of Germany, Spain, Argentina and Brazil all calibrated with attacking intent, there is every chance Russia 2018 will add to this iconography – provide a moment, a match that will outlast us all.
Lineker is optimistic. He notes the rise of high-scoring matches in the Champions League – Liverpool netted a record 46 goals en route to this season's final – as reason to hope the World Cup might prove equally bountiful.
It just needs a little bit of success on the pitch to regain that kind of enthusiasm and interest
"The game is evolving into a much more attacking game with less concentration on defence. Hopefully we see the same in the World Cup. Sometimes in the World Cup it gets so tense for everybody, and there's such a fear of making a mistake and losing, that caution takes over and takes away from exciting, free-flowing football."
The addition of a further 12 teams from 2026 onwards, swelling the number of qualifiers to 48, will bloat the World Cup but is unlikely to cripple it. "I think it will carry on," says Winter of the tournament's future. "It's just so important. As people become more and more obsessed with club football, there is still a place for, every four years, everyone going crazy about the national team. And if England do well, the whole country will go crazy."
The last time England truly did well at a World Cup, Gary Lineker scored a late semi-final equaliser against West Germany in Italia '90. Despite ultimately losing on penalties, more than 300,000 fans welcomed the team back to Luton Airport. Lineker believes a similar run would prompt equal euphoria.
"It just needs a little bit of success on the pitch to regain that kind of enthusiasm and interest. When there's not much hope then there's not quite the allure that we've seen before. If we suddenly started a run going at the World Cup it would go bonkers again."
Regardless of English performance – and who knows, we may yet win the damn thing – for four weeks this summer we should settle back and enjoy the unique pleasures of a World Cup. A spectacle shared by billions, an opportunity for people across the planet to celebrate themselves and each other; a glimpse into who we are, and what we can briefly be.