When British leather accessories brand Ettinger launched its first watch roll in July 2019, the world was a different place. Corona was a beer, masks were for superheroes, and catching a flight was as habitual as jumping on the bus.
That summer, the brand's Double Watch Roll was a top seller – the perfect accessory for globetrotters who wanted a choice of timepieces for their travels.
Now the world is getting back to normal, Ettinger has expanded its collection in time for the summer of 2022.
To complement its double roll, it has launched two new rolls – a single and a triple holder – in its popular Capra goat leather collection.
Designed to hold watches securely at home and when travelling, the watch rolls are suede-lined, have leather dividing rings to separate the watches inside, and have popper closures to allow for differing watch sizes.
All three rolls are available in the five Capra Collection colours - black, tan, marine blue, forest green and bordeaux, and can be personalised on the outside with up to five initials.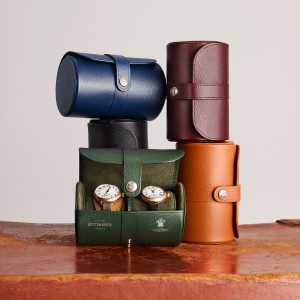 The Single Watch Roll retails at £270, Double Watch Roll at £300, Triple Watch Roll at £395.