Josh Denzel is feeling good about life – and well he might. The 30-year-old presenter is holed up in one of the most exclusive locations in the country right now: St George's Park, headquarters of the England team preparing to make history. (We hope.) 
For the last few weeks, Denzel has been sending video dispatches from inside the camp, immersed in the journey of the Three Lions. It's a dream job for the North Londoner – one that his teenage self would struggle to credit. 
"I'd have said you've got more chance of being an astronaut!" laughs Denzel when imagining Josh Junior's reaction to his ongoing gig. 
We caught up with Denzel over Zoom to discuss his ideal chat show guests, the trauma of losing his childhood football boots, and much more. 
Life
What upcoming projects are you most excited about?
There's a few! I've just signed a contract to be part of BBC MOTDX. Me, Jermaine Jenas and a few other guests. That's going to run for the entirety of next season.
Also, I've got NFL Overtime, it's a show on Sky Sports, Thursday at 9pm. It started last year, hosted by myself, and it basically runs through the past week, builds up to next week's football, there's a guest, normally a past NFL player. That's going to run for the entirety of 2021-22 season.
And I can't talk too much about this but there's a show on Gary Neville's YouTube channel called The Overlap. It will be myself, Jamie Carragher and Gary Neville. I'll have to manage both of them in some way! We'll be talking about all the hot topics of the week. It's an exciting one.
What is your proudest professional accomplishment?
I've had a few 'pinch me' moments but I genuinely think being here with the England team. As a kid, I remember them wheeling the bubble TVs into my classroom to watch the 2002 World Cup. I don't think you can possibly get further away as a fan from that experience to what I'm doing now.
I used to look at the players as my idols, my heroes. Now I'm entrusted to live with the boys for the duration of this tournament, see them every single day and be part of the culture here. If I'd told my nine-year old self that I'd be doing this job, I'd have said you've got more chance of being an astronaut!
If you could change one thing about your career, what would it be?
The only thing I would change is I wish it could have started earlier. I've had my fingers in a few pies in terms of work until I decided to take the presenter stuff earlier.
I wish I'd kicked on early, maybe 2013 when I had my first opportunity, instead of going into the big, bad world and becoming a recruitment consultant. Terrible, terrible idea!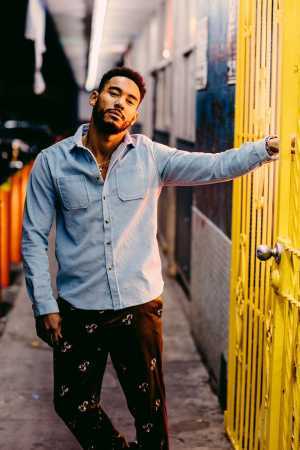 What do you hope to achieve that you haven't yet?
Blue sky thinking – I would love to have my own late-night talk show where we just chop it up with various different sportsmen. Bridge those culture gaps between sport, entertainment, music, try and bring people together from worlds that mightn't always mix.
Dream guests? I'd love to have someone quite serious in there. Maybe Harry Kane, and then we'll throw in Chris Eubank and Matthew McConaughey and just curate the vibe!
Outside of your family, who is or was your biggest inspiration?
Growing up in North London, Reggie Yates. I used to watch CITV and BBC, Reggie Yates and Fearne Cotton's Tour of America. It was like the first time I'd seen someone drive a Mustang around, it was unbelievable!
In terms of the presenting roles, as a kid I looked at Reggie and thought, 'well he kinda looks a little bit like me, he kinda sounds a little bit like me.' That's someone you can genuinely aspire to be.
Reggie Yates was that person for me, who basically showed me there was a path to do what I do. Rather than it looking untouchable, there's no way of getting there. I had a phone conversation with him about a year ago and was like a fanboy!
Tell us something nobody knows about you...
I've been punched by David Haye. The first proper gig I did for SPORTbible, I was supposed to hold a phone camera and film an Instagram story of David Haye training. I took it upon myself to host the story.
David liked my attitude but said I had to get in the ring. He gave me this protective padding and we filmed him punching me to the body.
It was a shot from hell! I genuinely felt like I'd been hit by a truck. It made great content though, and me and David have been friends ever since.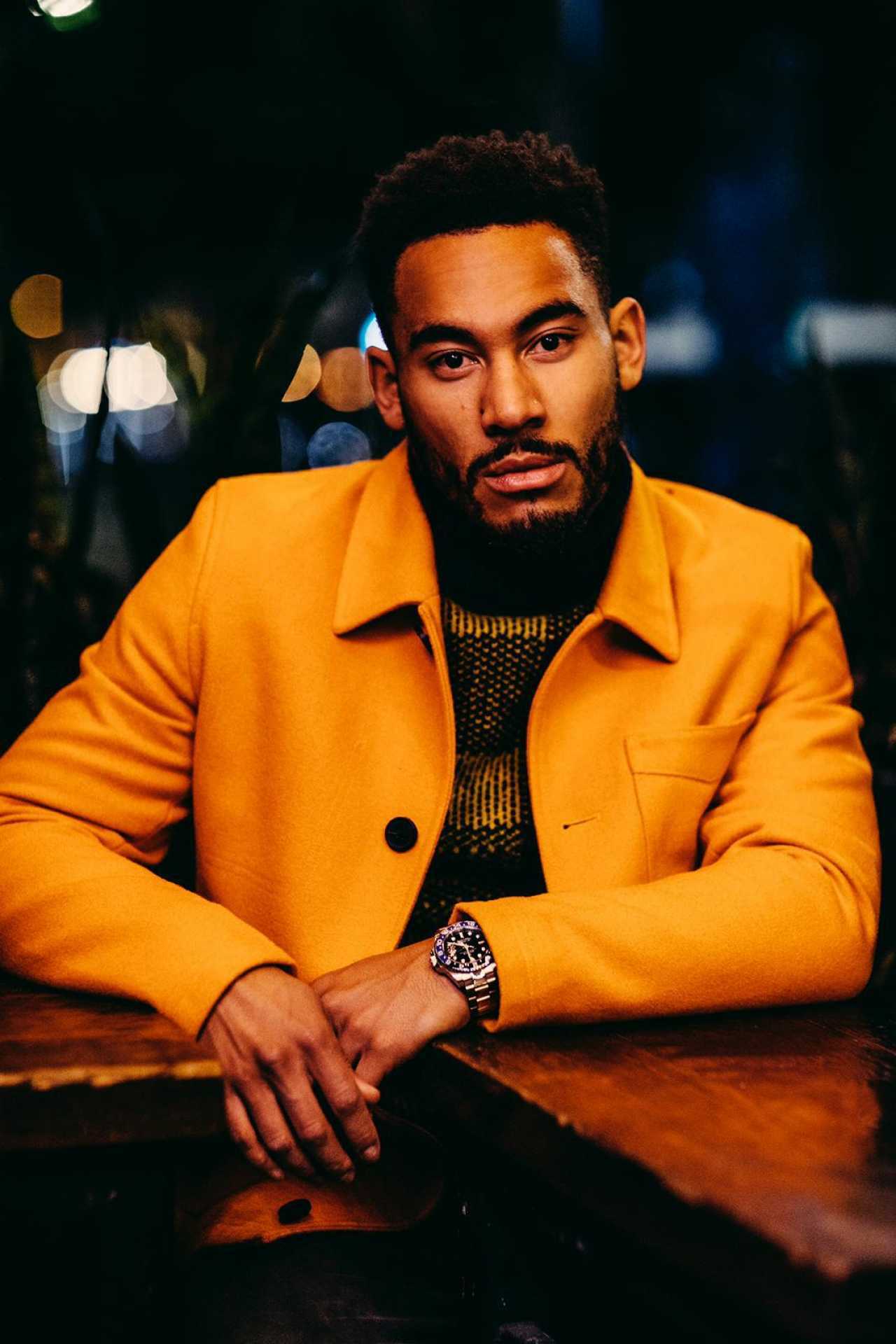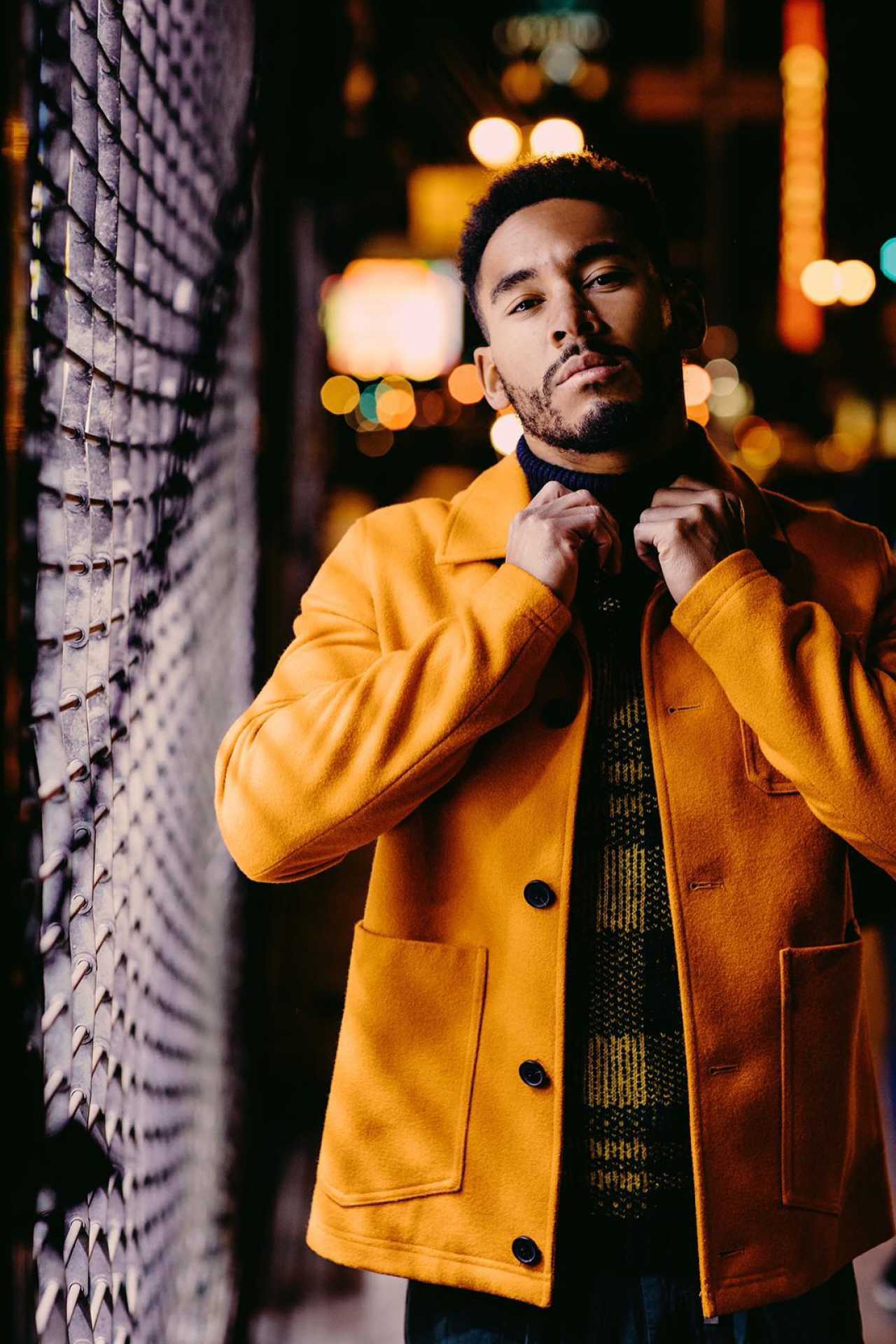 Style
What's your favourite item of clothing – and what does it mean to you?
A double-breasted blazer that I wore in Miami to the premiere of Bad Boys For Life. I was working for Sony on the red carpet and I met my idol Will Smith! I've not worn it since. I think I might put it in a perspex box. 
It was 36 degrees and I had a roll neck on. The sweat, the pain, the heat – it was all worth it because I met my idol Will Smith and we had a 20-minute conversation about life. 
Favourite accessory – watch / jewellery / etc – and why is it special to you?
I have two things that I really love. With my first big cheque, I bought a Santos Cartier Skeleton Watch. I wear it everyday, it's not one of those ones that stay in a box. It's a bit scratched but it's my watch and I love it.
The second thing? My friend got me a custom necklace with a pendent. I'm from St Kitts and it's got the outline of the mountain there. It's got a J, which is my mum's name, and two elbows touching – which me and my friend used to do in year 7.
It was a gift for my 30th and I've worn it ever since.
What items do you take on holiday and why?
I'm a terrible packer. I'm somebody who panic packs three hours before the flight. All of my clothes in the largest case I can find.
I lose things all the time. I make sure I take four, five pairs of sunglasses. That's my thing.
There's nothing worse than squinting your way through to five days of a holiday because you left your one pair of sunglasses.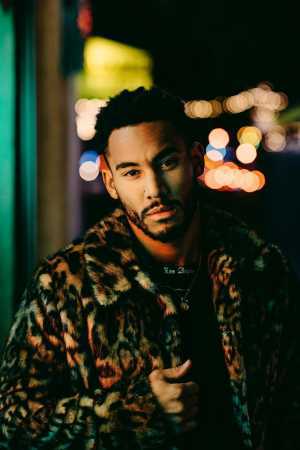 Is there an item you threw away – or lost – that you really miss?
My mum bought me a pair of Adidas Champagne Predators, the ones that David Beckham wore. They must have been secondhand but for the first time I had the top level boots.
We went on a tour with my Sunday League team and got beat about 5-0 in the final. In the car home, I realised I didn't have my boots. Went back, hour each way, no boots, no nothing.
Now they're about £500 and they're my favourite ever boots and I've never managed to get a pair since. Sometimes when I see those old Beckham freekick clips I feel a twinge of sadness!
What's next on your shopping list?
For my 30th birthday, I bought myself a car that I haven't collected yet.
It's a Mercedes AMG-GT 50th edition. One of 500 in the world. I always wanted it, even as a kid!
What would you buy if money was no object?
A massive yacht. I'd just cruise around the Bahamas, follow the sun, take a load of friends and family.
People could jump on and off when they want.
Follow Josh on TikTok for the latest updates from England and more