On 2 August 2015, Nav Salimian got a call from an unknown number. He was working at Claudio Lugli, a menswear brand owned by his family based in north London.
"Have you heard of Tyson Fury?" the caller asked.
"Of course," Salimian replied. He knew the Gypsy King. He'd been following his upcoming match with Wladimir Klitschko, he was excited to watch the fight.
The caller had seen other boxers – Amir Khan and Conor McGregor – wearing Claudio Lugli suits. Fury wanted one. But the catch? Salimian only had 18 hours to turn it around before his press conference with Klitschko.
Of course, Salimian pulled it off, and seven years later, Fury's loud and patterned suits are known worldwide.
Square Mile sat down with Fury's designer and stylist to find out exactly how he gets it done. 
[You can read our cover interview with Tyson here.]
Tell me about that first suit you made for Fury.
I only had about 18 hours to turn around an outfit for someone of Tyson's stature, and he's a man mountain with freakishly long arms.
I started to research a little bit about Tyson, the Gypsy King persona, and I came up with an idea that resembled a mob boss, a Don Corleone, or Tony Soprano character. And I went for these bold checks with a 1950s cut waistcoat. It's quite classic with a little bit of a twist.
I had to go for one of the biggest sizes that we have in our collection, Tyson is six foot 10, so I had to take that into consideration.
And did he like it?
When Tyson arrived, he ducked under his own doorframe. That's when I first saw the size of the heavyweight, and I thought, I really hope this fits.
When he first put on the trousers, the shirt and the waistcoat, I was still quite confident, but only when he put on the jacket, I realised it was about three inches from the suit cuff. And he kind of looks down at his outstretched arms and goes, 'I like the suit Nav, but what are we going to do about the sleeves?'
Did you turn it around on time?
We sent it back to the team and ensured that all the adjustments were made, and we passed over the completed outfit to his wife Paris at the press conference. I then took my seat at my first ever boxing press conference, and Tyson arrived dressed up head to toe in a Batman outfit with a cape. So I'm thinking, where the hell is the suit?
I didn't know if he was happy with the sleeve length or the final product. But then it was all part of his, I guess gimmick, for the day. He wanted to come in as Batman, to throw his opponent off, and then come back in the suit, dressed up as Bruce Wayne. And that's when I realised this guy's got a humorous side. He's got such a personality and a hell of a lot of charisma.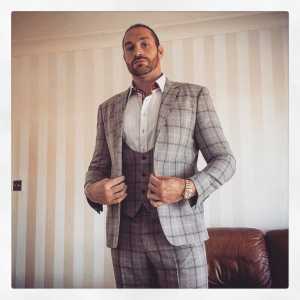 And I guess the rest is history. You've been working together for almost seven years now. Was it plain sailing from the first suit?
After his victory against Klitschko, he fell into a massive bout of depression and mental health issues, which kind of hindered the next part of that collaboration. I guess where my relationship with Tyson really blossomed is that within that space of time, even though I could see through the press that he was going through a tough time and gaining a lot of weight, I just stayed in contact.
I was just saying, 'Champ, whenever you need a suit, we're ready. It doesn't matter what size you are, we'll make it work.' And I think that stuck with him. And we stayed in touch. When he then came back and was making his return, one of the first calls he made was to let me know that in four months' time, he needs a suit, and that he's going to be ready.
What's the best thing about dressing Tyson Fury?
I think the fun thing about designing suits for someone like Tyson is that we're trying to show off his personality through the garments. And not only that, a lot of the time, there's a lot of art imitating life. We tell a story through the outfits.
What kind of stories do you want to tell?
When we initially started working with Tyson, one of the things we wanted to display was his advocacy for mental health. And that topic is quite difficult to portray – the Mental Health Awareness message – through garments.
We created an outfit that shows all of his facial expressions. It's like sad, happy, determined, focussed, and in and amongst the face, we superimposed his mental health quotes over the print.
So when he arrived in Vegas for his bout against Deontay Wilder, we wanted to use that platform to emphasise Tyson's advocacy for mental health awareness because it's an important part of his legacy, in and outside of the ring.
When the heavyweight champion of the world is using his platform to speak openly about his struggles, it resonates with the general public, and I think a lot of people have taken to that story. We wanted to get behind him and help push his message.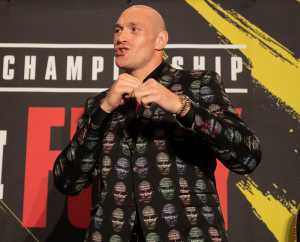 Why are clothes a good way of telling stories?
When you're making a first impression, it's something that sticks with a lot of people. Using the garments to tell Tyson's story is the only vehicle that we here at Claudio know how to best portray, and evoke some emotion.
Especially someone with Tyson's stature, you're able to see the boldness of the print on his body, so we feel like that's the perfect canvas.
We also use it, in some cases, as a tool for mental warfare. We've used our garments as a way of potentially getting into Tyson's opponent's heads.
One example is the suit we made for one of the Deontay Wilder bouts. It was a pinstripe outfit that had 'You big dosser' going down the body of the suit, and we were paying homage to something Conor McGregor did against Floyd Mayweather.
It's just a bit of mental warfare, trying to get in our opponent's head, trying to put him off his game. And Tyson is someone that is renowned for his ability on the microphone to trash talk, to get inside his opponent's head, so we wanted to use his strengths.
Has anyone ever tried to use Fury's tools against him, to use clothing to get in his head?
It hasn't been done yet. But we're only about one week away from the press conference between Dillian Whyte and Tyson Fury, so that leaves space for a little bit of the unknown. Will his opponents one day use his tools against him? Who knows? But we're yet to see that. Tyson is always one step ahead.
What if I wanted to get my hands on one of these suits?
Tyson is the bearer of the sole suit. Each outfit that we create is a limited edition.
But, Tyson and I have embarked on a venture to create The Gypsy King collection. Combining all of his iconography from the suits we've designed, we've put them on shirts for the fans.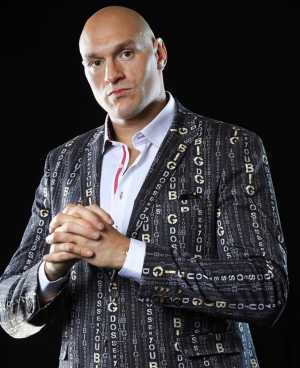 How many people does it take to create one outfit?
We've got about five of us here that work for Tyson and put a lot of time and effort into creating these unique pieces. We've got myself who verbally conceptualises the designs, we have my brother, my father, and two designers in our office that take what we verbally conceptualise and put them onto the digital print.
Claudio Lugli is the brainchild of my father. My father is a master tailor and designer. He's the one that has been creating the garments, pretty much my whole life.
Has Fury ever said no to one of your designs?
He has never said no to our printed concepts. However, I have put a lot of garments in front of him where he's said, 'Nav this is not loud enough. It needs to be bolder and brighter, more colourful. I'm the Gypsy King, I'm going on television, I need to steal the show.' Those are the times where he's said we need to up the ante.
Are we going to see Fury donning Claudio Lugli for many years to come?
I want to touch upon Tyson's loyalty and friendship. It's very clear that someone like Tyson has been given multiple offers to work with some of the best fashion houses in the world. But he said to me, 'Where were they when I was going through all of my dark times? They just want to be with me on the upside.'
When we were in a car journey back from The Jonathan Ross Show, he showed me a proposal from an unnamed, global Italian fashion house and he said, 'Do you know what, it's important to stick with the people that are with you when you're on the way down as well as on the way up?'
What can we expect from Fury's next look?
We've got an amazing outfit that we are keeping under wraps, even with Tyson he likes to be surprised. Although we run briefs through him, he doesn't actually know what he's going to get until the day. That's part of the excitement, he likes to keep things fresh.
One of the outfits we have lined up for him, which I will obviously reveal on the day, has almost a regal theme, without saying too much. It's Tyson's homecoming so it surrounds the king returning to his throne: being on the UK stage at a packed out Wembley Stadium, 94,000 people in front of him, his home fans.
The theme, you could say, is like The Return of the King.
For more info, see claudioluglishirts.com