Donegal tweed hails from County Donegal in Ireland's Ulster province, where sheep roam in the local hills and bogs; the material is coloured using dyes drawn from indigenous plants including blackberries, fuchsia, gorse and moss.
In the late 18th century, the Royal Linen Manufacturers of Ulster reportedly distributed roughly 6,000 looms and flax wheels to Donegal homesteads, encouraging the rise of the homespun tweed industry in the 1800s.
Herringbone and check patterns are still commonly produced today – the cloth manufacturer W Bill has been making them for more than 150 years – but the area is mostly known for its relatively heavy (15-16 ounces/425-455 grams) plain-weave wools with a base colour of lovat, brown or blue.
Into these base colours small bits of different-coloured yarn are woven to achieve a flecked effect that recalls the region's natural heathers and lichens. Regardless of its geographical origins, any fabric that has this flecked characteristic can be called 'donegal'.
When I worked at Huntsman, both Irish and Scottish donegal were extremely popular among customers wanting suits
A close relative to the true Irish Donegal fabric is Scottish thornproof donegal tweed. Thornproof tweed has a tighter, higher-twist weave that makes it less easily punctured by the thorns and branches that a wearer might encounter during shooting excursions. Porter & Harding, a fabric-maker founded in 1947 by John Porter and Bill Harding, themselves country sporting fans, is a company famous for producing Scottish thornproof donegal tweed.
The fabric ranges from 12-18 ounces and, in the highest quality versions, is a 'self-repairing' cloth, meaning that if it is pierced by a sharp object, massaging the point of puncture will make the resulting hole disappear. In addition to its durability, another reason Scottish donegal is often used for shooting suits is because its natural flecked appearance acts as a kind of camouflage.
The third most common type of donegal tweed is the Italian version. In recent years Italians have been combining traditional Irish donegal and Scottish thornproof donegal to achieve a unique medium-weight fabric (ten-11 ounces) that has a softer handle than its Irish and Scottish counterparts and can be worn more or less nine months of the year. Italian donegal tweed has a base range of seven or eight colours and is typically used to make sportcoats destined not for traipsing through the prickly underbrush but for, say, enjoying an al fresco aperitivo or two in Milan.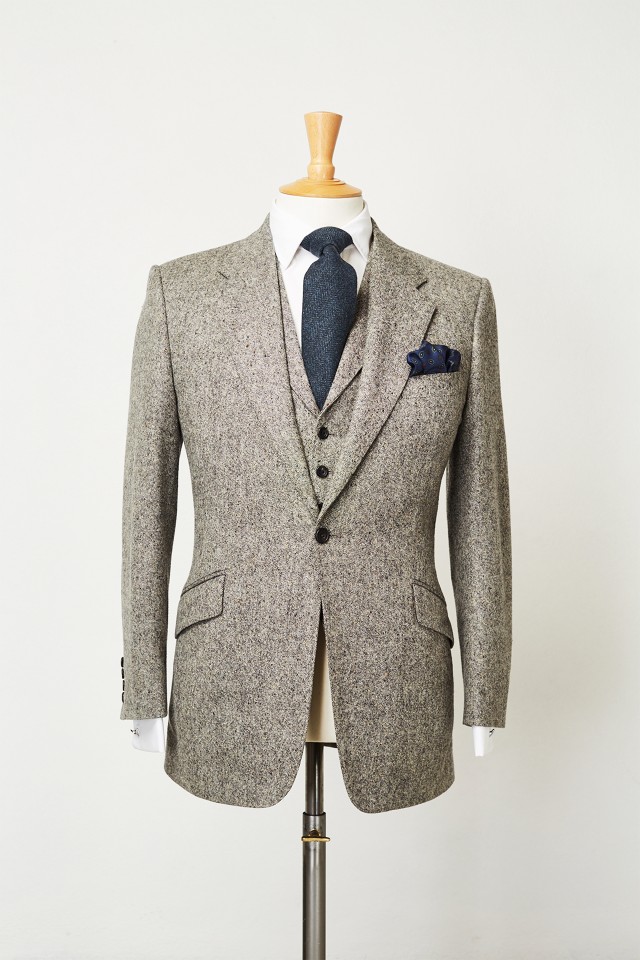 When I worked at Huntsman, both Irish and Scottish donegal were extremely popular among customers wanting suits, overcoats or shooting clothes, including plus-twos and plus-fours – hunting breeches or knickerbockers that extend two or four inches below the knee, respectively. The softer, lighter, more modern Italian donegal hadn't yet been conceived; when it was, we at Richard Anderson decided to use a beautiful pebble-coloured specimen to make up this single-breasted three-piece suit.
The fabric reminds me of the tweed suits men came into Huntsman wearing on a Friday afternoon because of their versatility: you could comfortably wear Irish or Scottish donegal to the office during the day then out to the countryside on a Friday night.
In the same spirit, Italian donegal echoes the Irish and Scottish versions but also breathes new life into this classic aesthetic: somehow it looks and feels younger and fresher, yet the material is no less adaptable, as you can wear it to the office or even wear the jacket or waistcoat on its own, with jeans.
The three-piece suit dates back to at least the early 1900s, when the Victorian frock coat was replaced by sack coats and lounge coats, and three-piece ensembles consisted of a sack with a matching waistcoat or a vest often paired with contrasting trousers. It was also common to wear a matching coat and trousers with a contrasting waistcoat.
Italian donegal is also a favourite among our ready-to-wear customers, thanks to its sturdiness and faintly vintage aura
The waistcoat would typically fasten quite low and did not have a collar, whereas today one often sees waistcoats made to look more formal by the additional of a lapel. On our Italian donegal three-piece, for a slightly sportier look and feel, we added a lapel to the waistcoat and an outside ticket pocket to the coat.
During my early years at Huntsman, I became friends with one of the young tie salesmen who often came in: Robert Godley, then an employee of Drake's of London and now the founder and co-owner of Psycho Bunny, a clothing company that combines 'refined English tailoring with bold American design'. Robert has been our client at Richard Anderson for three years now, and he loves Italian donegal – because, I think, his background in exclusive fabrics has given him a great eye for new takes on old styles and, of course, an appreciation for Italian donegal's soft handle.
He's ordered suits and jackets in at least four different Italian donegal fabrics, and often he'll wear the jacket with a pair of jeans. Italian donegal is also a favourite among our ready-to-wear customers, thanks to its sturdiness and faintly vintage aura. The material is informal, but elegant enough to be worn on business occasions, to a cocktail party, or even to a spring or autumn wedding.
Making the Cut: Stories of Sartorial Icons by Savile Row's Master Tailor by Richard Anderson is out now (£18.50, Thames & Hudson)