It's one of life's little ironies that the most celebrated incarnation of the Devil is played by one of the nicest men in the world but there is Lucifer and here is Tom Ellis and you can't really argue with either of those statements. 
Ellis is committed to helping causes bigger than himself. (He also believes there are causes bigger than himself, which I imagine isn't always the case with stars of his wattage.) For the past few months, his Instagram has hosted Black Folx, a series of interviews conducted by Brandon Kyle Goodman – don't miss our interview with a truly remarkable soul. 
Now, Ellis has joined forces with fashion brand Rupert & Buckley to create a sustainable clothing range and hopefully raise £100,000 for Great Ormond Street Hospital Charity. It offers garments for men, women and children – check out the full range here. However the collection is only available until May 11 so you better move fast. 
We caught up with the former Square Mile cover star to discuss this very special endeavour – and what we can expect in the future. 
How did the collaboration come about?
So I've been an ambassador for Great Ormond Street for a while now. When I first started on Miranda, I was invited to the hospital and did some of the Christmas parties there. They asked me if I would be an ambassador and I said yes.
It's an incredible place. To go to a children's hospital, you'd think would be a really depressing experience, but actually it's quite the opposite. Even though people are in horrible situations at times it's just the most incredible place. The spirit there is like nowhere else I've been – amongst the staff and amongst the kids in the most trying of circumstances.
Any time I've got an opportunity I go there, basically. Say hello to a few people and take it all in. I end up speaking a lot more to parents than I do to kids. They're the people who are quietly shouldering all this anxiety.
As a parent yourself you must emphasis...
Yeah. I feel incredibly lucky that my kids have been healthy to this point – touchwood. But even when they're slightly ill with something, it's the most horrible feeling. If your kid's in need of a triple-heart surgery or something like that... I can't even fathom it. As I say, the spirit there is just remarkable.
And Rupert & Buckley?
I was doing a shoot for a magazine. The stylist had got hold of some Rupert & Buckley stuff and I really, really liked it.
Alex Newman, who runs the company, reached out to me and wanted to gift some stuff for my kids. We got talking – he's a dad as well and he was looking for someone to do some kind of charity venture with the label. We talked about charities and because we're both dads, Great Ormond Street seemed the obvious fit for it.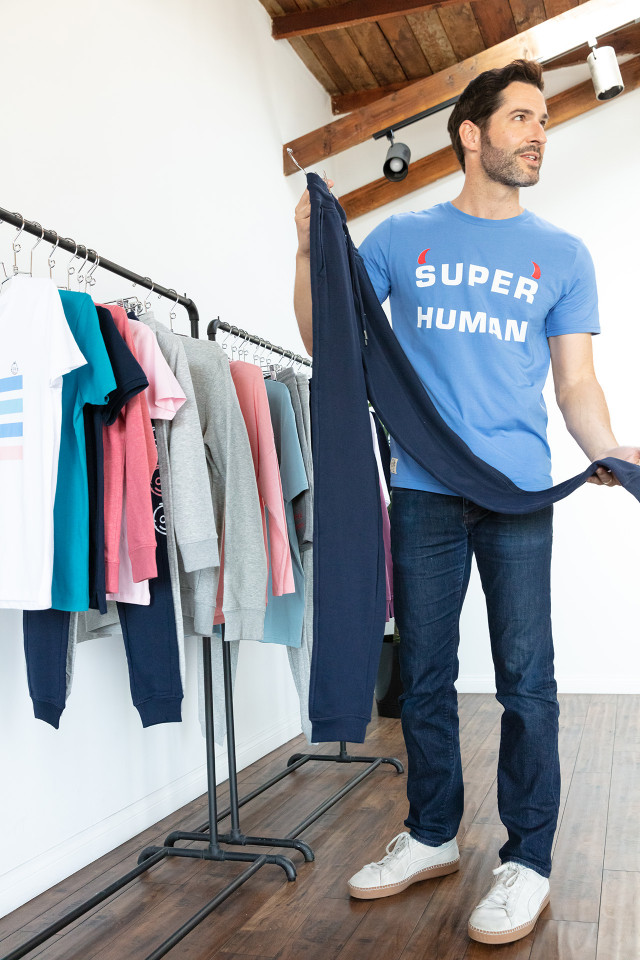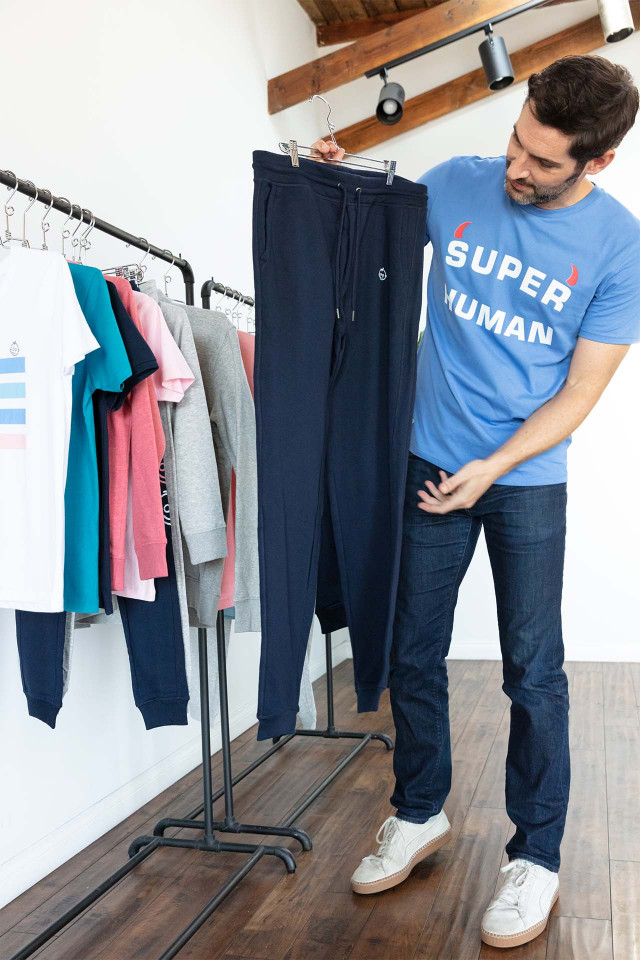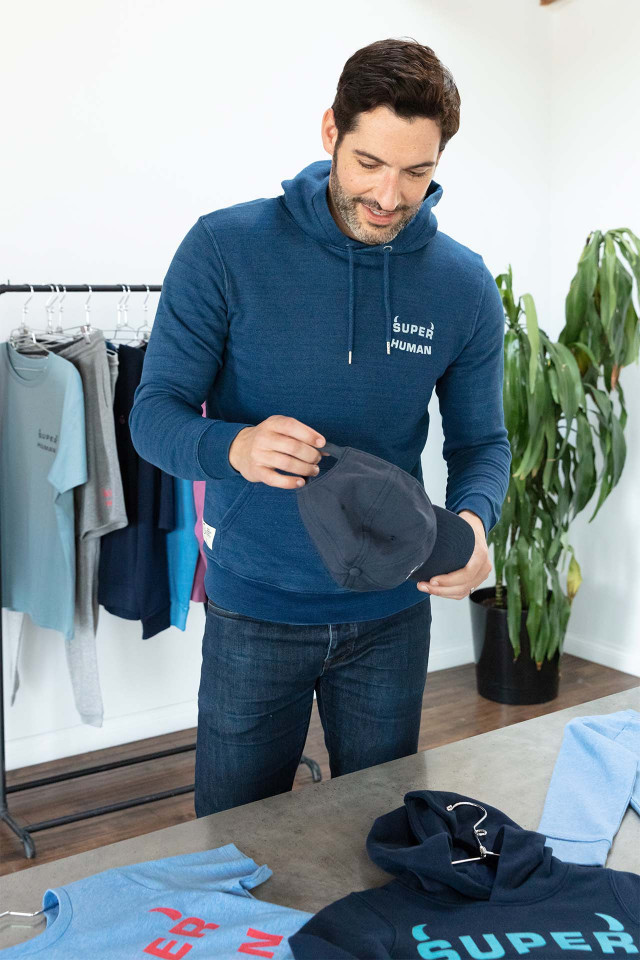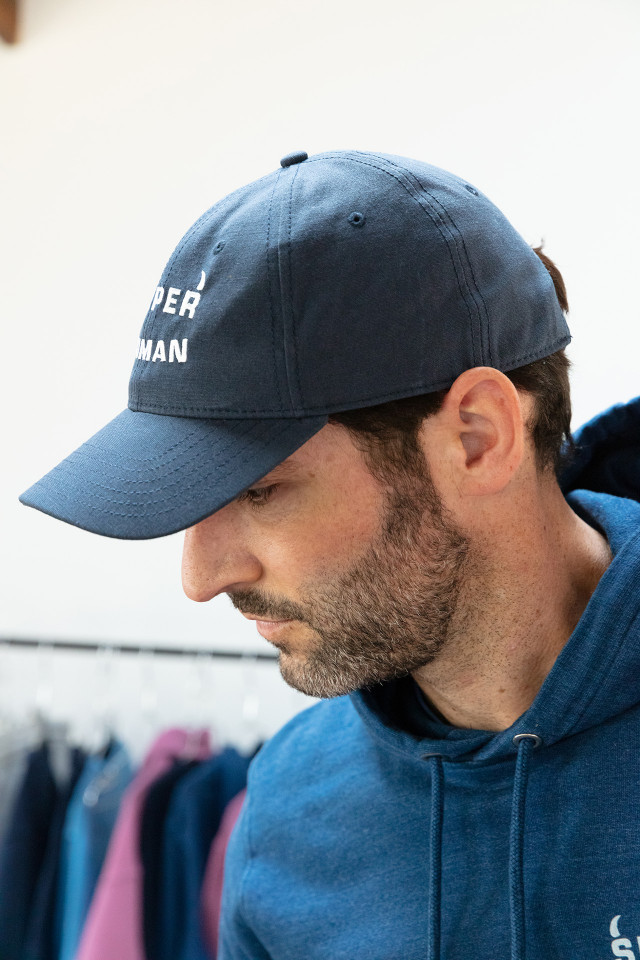 They're very stylish garments...
We wanted to keep it as simple as possible. Stuff that people would actually wear. Stuff that wasn't emblazoned everywhere. Rupert & Berkley have an ethos to be sustainable and carbon footprint free as a company by I think 2022. That tied into stuff I really care about as well.
They did their designs, sent them to me, and I was really, really happy with them.
As a very nice man with a very big profile, how do you choose which causes to promote?
You have to go with one or two, basically. Because you can't help everybody. You can obviously give to other places but I think if you try to help too many people then your message gets a little bit diluted. Cos I've been involved with Great Ormond Street for such a long time that will become my main cause. 
I'm now a proud owner of cats, my wife is massively into animal rescue, especially cat rescue, so that's become my other cause! [Their cats are called Cain and Abel. Suitably Biblical names, although Abel better tread carefully...]
You've done some great stuff for GOSH in the past. There was karaoke with a fan – what song did you choose?
The fan wanted to do Phantom of the Opera. So we absolutely murdered that! [Laughs.] I think Summer Nights was our most successful go at a song. But we had a good 45 minutes to an hour session. It was lovely! It was great fun. It was bonkers – part of the Covid bonkersness. But Zoom karaoke. It exists.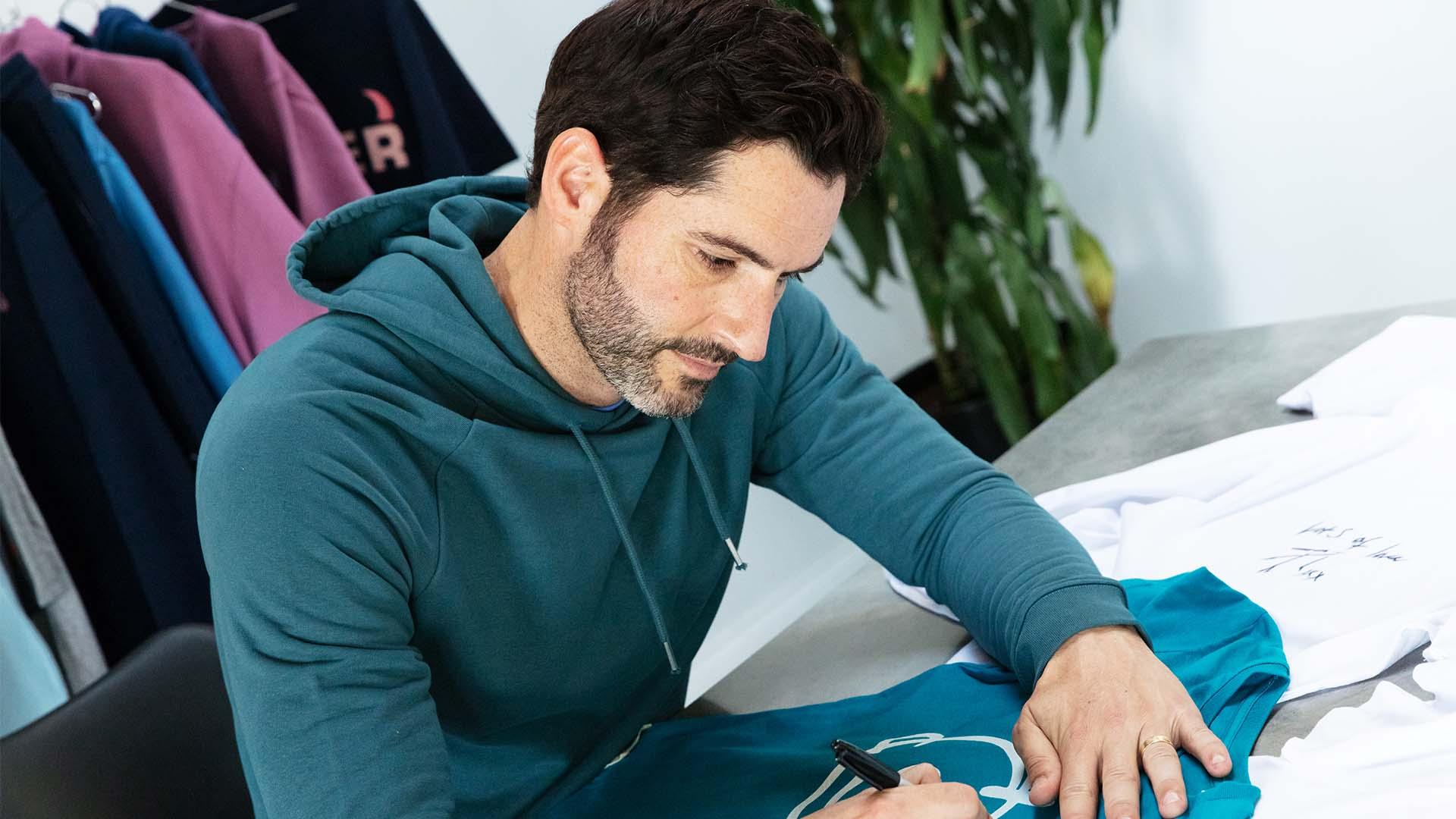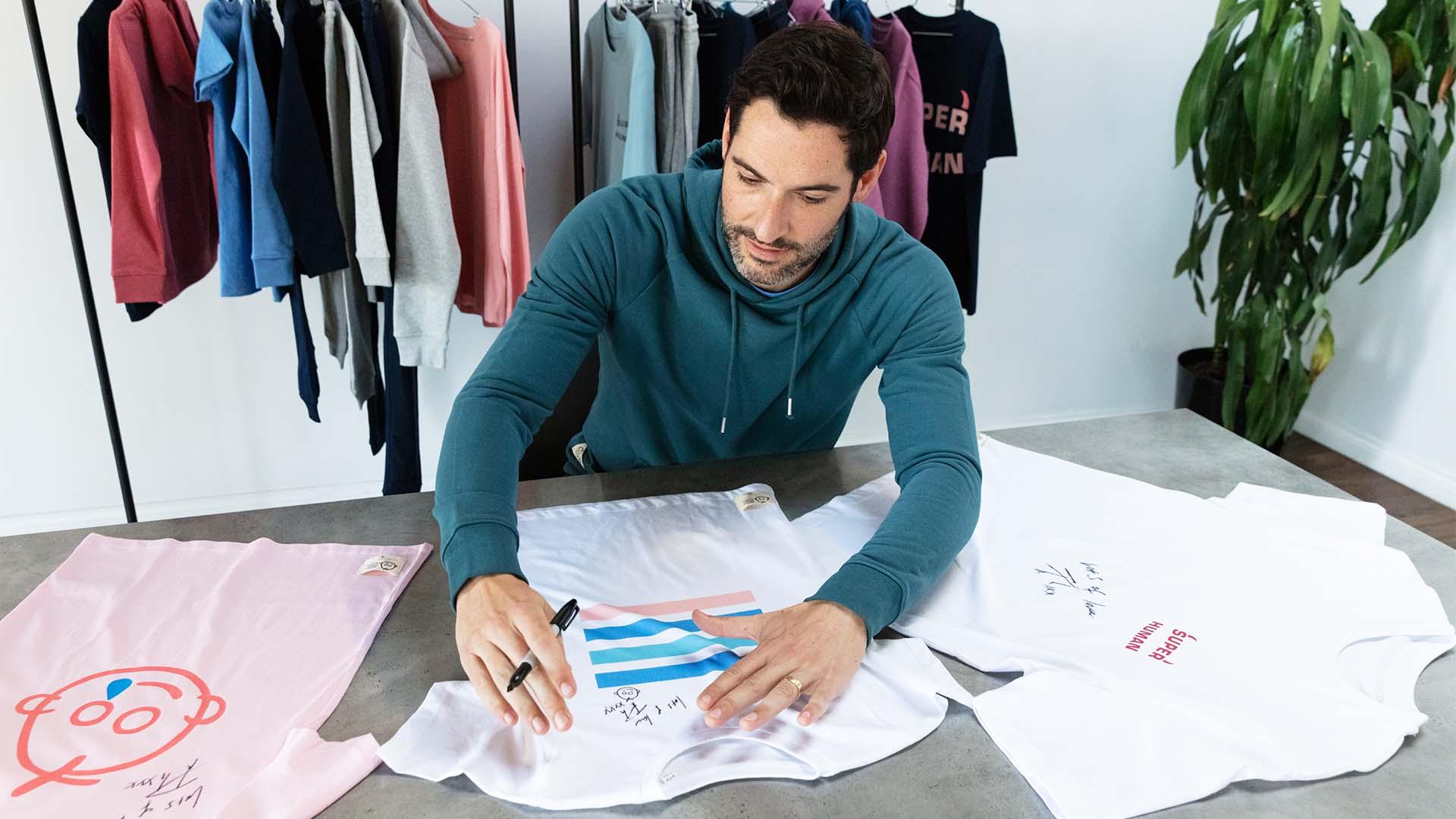 And you grew a moustache...
The moustache grew out of lockdown boredom. [Laughs.] I've normally got facial hair so I decided to do a Movember type thing because I've never been able to partake in Movember. I've always been working.
I had an opportunity to grow a moustache and I don't think I'll be doing Movember again, given my wife's reaction! [Laughs.] 
Wasn't a fan?
Not a fan at all. I think the word was 'creepy'! Made me look 'creepy'. 
One of the comments compared you to a porn star, albeit a porn star with a great cause...
Porn star with a heart! [Laughs.] There you go.
Are there any future charitable endeavours you'd like to attempt? Run a marathon, etc...
Oh God, I've gotta be careful about what I say here! I gave up smoking so I'm very proud of myself. Just before we started season six of Lucifer. That's opened the doorway to maybe doing some kind of marathon in the future.
I'd rather do something like the Three Peaks Challenge because that's more in keeping with something that makes me happy. Running I find incredibly gruelling and boring! But I love being in the outdoors and I love mountains so something like the Three Peaks would be something I'd be up for.
You could do it with Sam Heughan. He has the My Peak Challenge...
I think maybe we could talk about doing that! Oh my God, that would be so much fun! [You can read Tom's interview with Sam here.] 
Three Peaks is Ben Nevis, it's Snowden and it's Scafell Pike – the three biggest mountains in England, Scotland and Wales.
You run up all of them?
[Sounds alarmed.] I don't think you run up them, do you? You walk with purpose up them! 
How do you hit the balance between promoting great causes without coming across as preachy? The Hallelujah video, for example...
Oh God, yeah, I remember that. I genuinely care about the things that I'm doing the thing for. This is going to sound really wanky but I try and just talk honestly and from my heart about it, and I hope that people won't be cynical. I think there's more people out there that want to do good than bad.
Also, like I've touched on before, don't do too many. If you do too many, it becomes generic white noise. You've gotta pick your thing to raise money for and stick with it. And be really thankful when people donate, and don't be hard on people when they don't. And try not to look desperate! [Laughs.] That's a general rule in life!
Get the collection here
Full wardrobe but want to help? Donate to Great Ormond Street Hospital Charity here