Frustrated by travel restrictions? Why not take the opportunity to explore some destinations closer to home? 
Take Belfast. A wonderful city, a mere two hours from London and that's counting the train ride to the airport. Edinburgh and Dublin may be more common trips but Belfast feels like an actual living location rather than a tourist board advert come to life. 
It's still beautiful mind, standing at the mouth of the River Lagan with green hills looming and mist a frequent companion on the streets. You can read our Weekend guide to the city here. 
Any good trip needs good accommodation, so here are three of our favourite hotels in and around Belfast. A boutique hidden gem in the city, a splendid spa resort just outside it and a haunted castle a short drive up the coast. 
The Harrison Chambers of Distinction 
The Harrison Chambers of Distinction can be encapsulated by one word: delightful. Other candidates include 'unique', 'eccentric' and 'eclectic' but 'delightful' serves best. However that wouldn't make a very informative review so let's add a few extra words below.
The Harrison is a beautiful boutique hotel, part time capsule, part bohemian retreat. You feel like you've walked onto a set of a Wes Anderson film, or maybe an art gallery. The reception alone contains a blue felt replica of Michelangelo's David, a bookcase packed with Irish writers, a painting of a chimera, a model octopus, a lamp shaped like a monkey and a chaise lounge. Doubtless some will find the decor a little much. Pity them. Those are the type of people who order margarita pizza and consider Carry On films a touch too risque.
The building itself dates back to 1879. Each of the 16 bedrooms are named and modelled after a notable person with close connections to Belfast. The CS Lewis Suite, for example, contains a Remington typewriter atop an antique desk, a stuffed badger, lion-embroidered cushions and, yes, a wardrobe filled with fur coats. (I sat inside it for 20 minutes to no avail but then my years of Narnia eligibility are long behind me. Very soothing nonetheless.)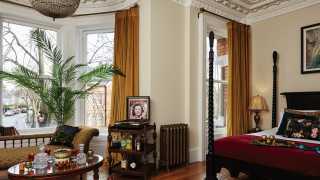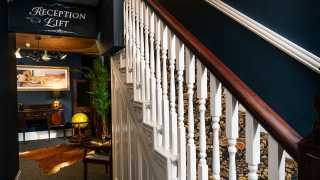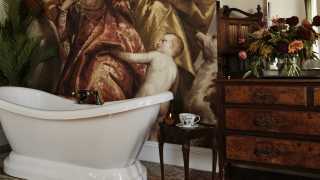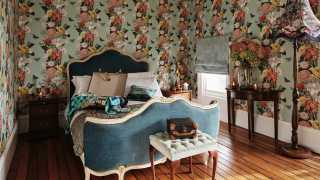 Even the smaller rooms bristle with character. The Percy French has a railway theme in honour of the musician's most famous song 'Are Ye Right There, Michael', inspired by a train journey. The decor includes a railway trunk and ticket inspectors' hats and various archaic signs on the walls – such as the one from the Sleeper Carriage instructing 'No Snoring'. Don't make me tap the sign!
You get the idea: visit the website for a full rundown of your accommodating options. Owner Melanie Harrison and her team have poured their hearts into this place and the result is a hotel unlike any other on the planet, let alone the city. The Harrison only opened a couple of months back so this is a true 'In The Know' establishment (it won't stay that way – word is already spreading for reasons outlined above).
The restaurant will be completed by October, although the superb location – a few minutes' walk from Botanic Gardens, and a mere 15 into the centre of town – offers numerous dining and entertainment options. The staff are wonderful, the decor fabulous and the experience is, well, delightful.
Rooms start from £119 per night. 0289 460 0123 / 07456309657 Click here for more information 
Ballygally Castle Hotel
Any accommodation that describes itself as a castle immediately captures the attention. With its imposing facade and cylindrical tourelles (type of turret), Ballygally Castle Hotel would already appeal to all our inner children; factor in its reputation as being one of the most haunted buildings in Northern Ireland and you have a venue that should be included on any itinerary. Unless you're scared of ghosts, which is stupid because everyone knows that ghosts are generally benign – it's poltergeists that you need to worry about and I don't believe Ballygally has any of them. Don't quote me on that if your bedside lamp throws itself out of the window.
The castle dates back to 1625 and is the only residential 17th-century building in Northern Ireland. It withstood multiple assaults during the Irish Rebellion of 1641 – hardly surprising when you consider the walls are five-foot thick. Strolling around the beautiful garden, you'll encounter several arched gateways that further reinforce the considerable romance of the place. You may need to stoop when passing through them: our 17th century ancestors weren't the tallest.
There are 54 rooms and suites, all of which supply the modern amenities you'd expect. You aren't expected to shower using a bucket or hunt down your dinner with a bow and arrow. Accommodation options range from deluxe bedrooms looking over the coast to those set within the tourelles of the castle tower itself. It's not a bad buzz, strolling down the beautiful causeway, taking in the view of Ballygally bay, inspecting the castle in all its historic glory and thinking, "oh look – there's my tourelle." The causeway walk is a lovely one, by the way, plus there's a beach – with actual sand! – directly opposite the hotel.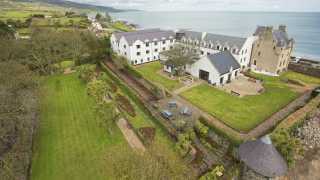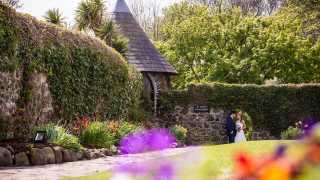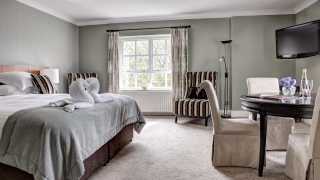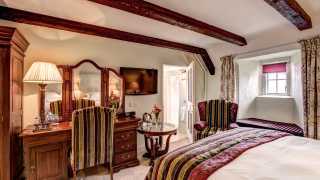 Back to those ghosts: the primary spectral resident is Lady Isabella Shaw, wife of the castle's original owner Lord James Shaw. Lord James locked his wife in the tower – as you do – and when trying to escape, she fell out of the window. (Technically she succeeded in escaping the tower, albeit only for the few seconds it took her to reach the ground.) You can visit Lady Isabella's bedroom – we recommend you exit via the door – and perhaps even receive a visit from her if you stay in one of the tower rooms.
Hand on heart: during my stay, I was doing a little bit of work when the door of my bedroom slammed shut. Not only was there no breeze – the windows in the tower stay closed, for obvious reasons – but I don't remember leaving the door open in the first place. I promise I'm not making this up. There were also creaks and distant moanings in the night but that might have been the neighbours.
As you would imagine, Ballygally Castle is a very popular venue for a wedding or party. Christmas is also a Big Deal, with numerous special offerings and escapes. And if you can forgive season eight, there are plenty of promotions based around Game of Thrones, which was filmed in the surrounding area – many of the cast stayed here. You will not be bored here but rather charmed, enthralled and maybe a little spooked. Don't forget your proton pack.
Oernight stay and breakfast from £60 per room. 028 2858 1066. Click here for more information 
Culloden Estate and Spa
There are boutique hotels that tickle your senses. There are historic hotels that awaken your curiosity. And then there are five-star hotels that widen your eyes and leave your jaw hanging from its hinges. Hotels that almost intimidate you with their splendour, the kind of place that would make Jay Gatsby give a nod of approval and Charles Foster Kane book in for a week.
Enter: Culloden Estate and Spa. Please wipe your shoes on the mat.
The first thing you notice are the sculptures. There are a whole host of them decorating the immaculately manicured lawns: a bronze woman on a bench, a bear with boxing gloves, a snarling silver tiger. You feel like you've walked into a fairytale, a sensation not reduced by the sight of Culloden itself, all rounded tourelles (you remember!), rectangular towers and sprawling stone facades. It's not so much a hotel as a Disney palace. You half expect Merlin to come floating down the slope to take your luggage.
Structures like Culloden don't spring up overnight. Construction of the building started in 1876 and took two and a half years – a timescale not helped by most of the stone being shipped over from Scotland and then transported by horse and cart. Yet despite giving every impression of being in the middle of the countryside – or Ruritania – the Culloden is only 15 minutes from the centre of Belfast by car and barely any longer on the train. (Cultra station is literally next door.)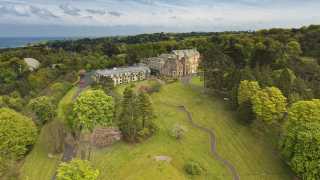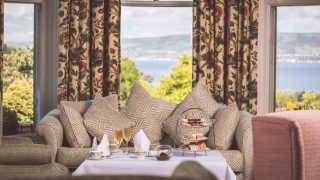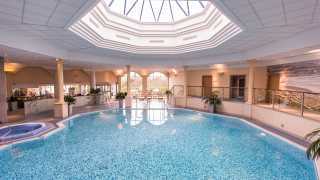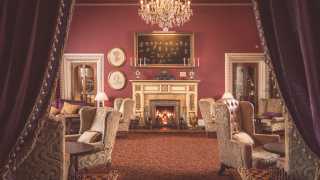 It's a little surreal: one moment you're strolling around the grounds in splendid isolation, then in less time than it takes to polish off a glass of fizz, you're experiencing the buzz of Cathedral Quarter. Oh, and get this: the shelter of the aptly named Hollywood Hills keeps the temperature of Culloden approximately three degrees higher than Belfast! Sheltered climate, borderline teleportation – who says you can't have it all?
However you might decide to forgo Belfast and spend your afternoon in the Culloden's magnificent drawing room with its armchairs and sofas, paintings and engravings, fireplace, grand piano, views across the Belfast Lough that can only been described as 'panoramic', and the overwhelming sense that you've wandered into an episode of Bridgerton. Or perhaps you'd prefer to pay a visit to the spa, enjoy a swim, steam and sauna, maybe kill some time in the jacuzzi. Or dine at the Cultra Inn, a minute down the hill from the main building, serving up locally sourced produce. There's a Bollinger Bus parked just outside. All aboard!
Culloden earns every one of its five stars. It goes without saying that the breakfast is superb and the beds are fluffy white marshmallows and there's a stained glass window halfway up the main staircase and the corridors are so wide you can stretch your arms out like an aeroplane as you run, I mean walk, down them and even the smell of the place is delightful, sweet and slightly smoky indoors, like expensive cologne, and outdoors hits you with freshly mown grass and the salty tang of the sea.
This, my friend, is the good life. The only hard part is check out. 
Rooms from £300, breakfast included. 028 9042 1066. Click here for more information