Akira has a few meanings in Japanese. They include 'bright', 'clean', 'sunlight and moonlight', and all are applicable to the restaurant located on the second floor of Japan House, Kensington High Street. Walking from the pristine and dazzling entrance of Japan House into Ylang Ylang scented, dimly lit Akira itself feels like a transition from day into night, for example.
Transitions done, coats cloaked and bags removed, the weight of the day pours off our shoulders and we're slowly escorted past the open kitchen where you can watch and smell the chefs in action from bar-style seating, to the cosier, candle scented end of the room. The music feels a little loud, but a few minutes later the room swells up with more diners, and the music, a sort of catwalky-soft-house-playlist is optimum levels of present.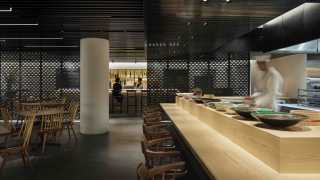 We've ordered a three-course Omakase each. One Robata Omakase, one Sushi Omakase, both contain an appetiser that's rotated daily, Sashimi, and then the main course – Wagu beef, grilled chicken skewers, a few pieces of sushi and the soup of the day; or Wagyu sushi, which is eight pieces of assorted sushi, and a soup of the day.
A few minutes later our appetiser arrives, it's an assortment of strangely-good-together-things. In there I can spot: (what I think was crayfish) sashimi, chives, parmesan, pomegranate, edamame, and yuzu zest. It is probably the least authentic thing we had over the course of the dinner, and showcased plenty of textures (edamame's greatest asset) and flavours (albeit a little more chive than the fish could take), and the addition of pomegranate was integral for maintaining a fairly well-rounded dish: Appetites were awake.
The sake served with the appetiser was lightly creamy, grassy and popping with citrus – a great pairing that helped balance the dish further.
Up next was the savoury highlight: Assorted Sashimi, Japanese osozai side dishes & vegetables selection.
Well, scratch that… up next was a chess set. Two alluringly large wooden boxes are opened, we are both staring at them like the Christmas present you asked Santa for and never got, but then miraculously, suddenly did.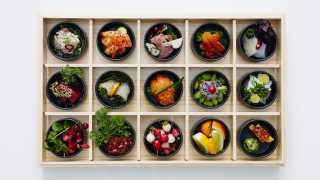 Fifteen individually presented morsels and condiments on beautiful (and food colour-complimenting) little plates and bowls. It's impossible for me to provide all of the components of these dishes. Each bite has a multitude of ingredients, and there are a multitude of things. You may need a degree in cuisine to know what each and every element is, but my god, can you appreciate them all.
There's definitely delicate sea bass, probably the best salmon I've had in London, tangy lean tuna, creamy fatty tuna, scallops, and eel done beautifully.
More sake while you take a breath (optional). There's a golf-ball-sized scoop of mashed potato with pomegranate and chives in, which is way too good to just be pomme de terre. There's a sort of soy sauce tasting, panna cotta feeling condiment that I later learned is a cold savoury custard with a tablespoonful of broth on top. There's also, what I can only call, a gooey cheese panko crumb bit of ping pong ball sized heaven on earth.
That one's nice, that ones nice - is all we keep saying. Pointing at that and that and the salmon with the roe on it. Letting them all happily swim into our mouths from every angle, one by one, quickly, between brief cleansers from the sake.
There's no system on how to eat it either, no arrows nor currents to navigate you through: the mackerel in orange with spinach looks good? Get on it. Now the sea bass with lime? fine! Mashed potato next? sure! It's all there in its bite-sized glory, an absolute onslaught of flavours.
We switched to a white as the main was being prepared, Riesling, in our case, though Champagne is an indulgent and worthy pairing alternative too. You don't need the rice of Sake because you already have that on the plate, and the fizz helps to refresh your taste buds for the next bite. A masterstroke that is often overlooked, according to the waiter, who after some probing for his recommendation let us in on the secret.
As you'd expect, the mains quickly followed. Sizzling Wagu Beef pre-sliced and looking like a dream, and chicken that was dripping with juice – both sat on molten hot rock, still sizzling; next to the neat box of sushi. The Sushi main showed a smaller treasure-chest-chess-set and a hearty bowl of miso. The chicken was weirdly tasty, actually, as someone who finds a genuinely succulent chicken about as often as a natural water source is found in the Atacama Desert. The Wagu, was exactly what you expect: lean, creamy, tender, beef. It was absolutely fine. But to be honest, the fish steals the show here. So unless you absolutely must have five slithers of (admittedly good) Wagu, please get the sushi option.
When you love a piece of food, one of two things happen
The sushi is sublime. Much of the fish you have already met from the sashimi, but it's experienced entirely differently as sushi. The sweet and sticky rice, which I could have eaten on its own, offers more of a meaty texture to play with. There's subtle additions of seasoning on each piece, add a bit of soy (on the fish, not the rice), and wasabi at discretion, and the flavours are shipped somewhere else entirely.
As we woke from our Omakase-dream-state and the array of plates and bowls and boxes and rocks drifted away, and the cold chill of reality came toward us. The waiter arrived with the phrase "you must try this dessert". And so, like a heavy fluffy towel being stretched out before you at the beach, we jumped right in.
I give you: Matcha Mille Crepe Cake. Which if you haven't had it, is arguably the best cake there its. Firstly, because it's a load of matcha-crepes stacked together, which beats basically any sponge ever; secondly because each layer is separated with an indulged matcha-cream, and thirdly because it looks like something out of a design studio.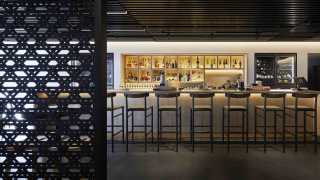 When you love a piece of food, one of two things happen. You either crave it and eat every not-quite-as-good rendition of it until you are sick of it forever (currently me with sushi) or the second you finish it, you vow to maybe never go near it again until the next time you have it from the exact same place, as my company and I have vowed to do with this earthy, indulgent, pillowy slice of goodness. If you can't be splashing £8, just beg that it's your birthday or something. You need to try it. You'll see us tucking into one next to you, I'm sure.
As Japan Week comes to a close, and I sit here composed of 95% nigiri and sake, feeling high on matcha. It dawns on me why Japanese food is my favourite to dine out for. Beyond the obvious fact that you can't access such fresh and expertly prepared fish at home – it is the way that it's all small but mighty, that makes it the best for dining on.
You feel like you've spent days traversing every corner of a food culture through the small delicate snacks that have filled you with euphoria, put you in some yogi state, and make your tongue dissolve into a ball of purity… but upon surfacing you realise it has been 90 minutes at longest, and that you are not overfed, nor bloated, nor covered in greasy meat sweats.
They do things quickly, efficiently and full of efficacy, the Japanese. Even with a hyper-indulgent layered cake, there is no hangover-like-guilt. And Akira is as good (and accessible) an ambassador as London could hope to have.
Three-course Omakase £60; for more information visit japanhouselondon.uk