The City has been known to like a bit of swag and ceremony. So it makes sense that a City spa run by iconic hotel group Four Seasons would situate itself in a Grade II listed building.
Designed by Sir Edwin Cooper, the imposing stone Beaux-Arts structure holds within a 100-room hotel, 3 restaurants, 41 luxury apartments and – vitally for this work-worn crowd – a very good spa.
By good, I mean that it has the requisite level of service you'd expect from Four Seasons but notably offers a recently refurbished spa "wet area" (the swimming, steaming and plunging bit) that I would confidently call one of the best – certainly most glamorous – in London.
Don't believe me? Check the feeds of a litany of bloggers who cannot get enough.
What are the amenities?
The spa itself lies below ground, with a curved, marble-heavy reception leading onto expansive changing rooms, where you climb into your fluffy white robes and head to the pool. You'd be a fool not to arrive a full hour before your treatment to enjoy splashing about.
The generously sized swimming pool - at 14 meters – is large enough to get some decent laps in. However, the sheer decadence of the design – a central staircase leading you grandly into the water in the manner of Cleopatra lowering herself into warm milk – means you're more likely to paddle lazily about, head to the plunge pools and lie down on warm grates with bubbles pulsating under you.
Sauna and steam room? Check, check, very nice, now back to the pool.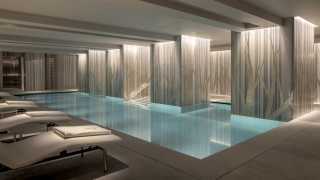 The spa also has a Moroccan hammam which can be booked for thoroughly cleansing rub downs, ideally the Ultimate Sensory Journey for two. For treatments, make your way from the changing room to a nice holding area to leaf through magazines till summoned. Then into your room where treatment beds are adjusted to suit the exact temperature that works for you and you can change the music to suit your taste, from classical to more spiritual.
With their heavy soft blankets and instruction to breathin therapeutic oils from the palms of their hands as you start the treatment, you're off to the land of fairies before you can say "I'd like you to focus on my..." Then it's wakey time and off to the individual cubicles in the relaxation area for herbal teas, little pots of nuts and another bed to catch just a few more ZZZs.
Which treatment do we recommend?
Some spas in London are meant for a quick rejuvenating treatment to bring you back to life, others are for luxuriating in company. This is the latter. Since the wet room is such fun, book treatments with a friend or partner to make an afternoon of it.
We went for a full couples massage and booked the signature Harmonizing Detoxifying Ritual (£240), a full body massage over 90 minutes in an enormous suite that means you don't really need to acknowledge your other half too much, but you can still share the big shower at the end.
As well as a meltingly good massage, you go through a body polish and mud wrap experience, which means a shower down with your partner before returning to the bed for body firming treatments and a final tuck up before you're done.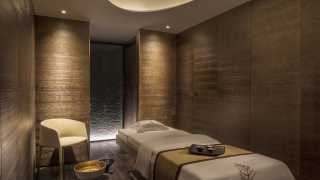 What to eat?
If you're committed to the healthiest of spa days, there is a lounge in the heart of the hotel where you can grab a hearty superfood salad or plate of decent beef tartar. However, it's more hotel lobby-style eating than a sense of occasion.
Where you really need to be eating is at Mei Ume, an Asian fusion restaurant that blew our cotton socks off. Serving Chinese and Japanese dishes with a twist, the extensive menu means you can be kind to your body after the spa – with plates of sashimi, edamame, steamed scallops, and black cod – or indulge.
We chose the latter, which involved some of the best soft shell crab I've ever eaten – ungreasy but crunchy – with a spicy tuna roll topped with truffle karashi and parmesan flakes, followed by Peking Duck with pancakes, as well as a fresh take on the Korean BiBimBap (rice, vegetables and beef in a sizzling hot stone bowl).
The Kung Pao Chicken is bravely fierce in spice and there are three decent tofu options (including a Szechuan style tofu) for veggies. Desserts include a bittersweet yuzu Creme Brulee which makes a fine accompaniment to a Nikka whiskey at the end. Not so body temple but Four Seasons isn't a bootcamp.
What's the cost?
For treatments, massages start at £130 for 60 minutes. Facials are anything from £125 up to £270 for the luxurious caviar lift facial.
A meal at Mei Ume is likely to be around £100 plus if you don't booze, really much more if you do.
Anything else to note?
It's definitely the sort of place you dress up for, to feel more comfortable in. Ideally pick a long Friday afternoon to spa, leading into a formal evening meal.
For the sober or sober curious, the mocktails at Mei Ume are very impressive – particularly the unsweet Yuzu Mar, a tart little number to make you feel zingy without the hangover.
For more info, see fourseasons.com