Love Yourself offers a range of diet options: Balanced Diet, Vegetarian Diet, Keto Diet, and even an Office Lunch Diet. (Check out the full range of diets here.)
Each diet offers its own unique benefits, so whether you're looking to shed weight or put on muscle, there should be an option for you.
Worked on by dietitians, and prepared by Love Yourself's food contains no processed meats, additives or preservatives – it's simply good, healthy, honest food to chow down on with minimum of fuss. 
There's a barcode which you can scan into the My Fitness Pal app, telling you the calories and macros of the meal. Healthy eating, 21st century style! 
What do you get?
I went with the Balanced Diet, because balance is always good – whether it's your food intake or the Force. The calorie count was 2,000 per day, meaning I didn't go hungry but nor did I ever get that 'I'm a pig' bloat that follows a meal that's 80% grease. (There are also calorie options of 1200, 1500, and 2500.)
The diet is high in complex carbs, which are ideal for slow release energy, keeping you pepped up throughout the day. Morning and afternoon snacks are included but you're not going to be jonesing for them: breakfast carried me through the morning and a lunchtime gym session without any hunger pangs. It's good, healthy, nutritious food for a good, healthy, nutritious you.
Does it taste good and will I get bored?
Not gonna lie: Day 1 got off to an inauspicious start with the millet flake, oat porridge with dates: I wasn't a huge fan. However my colleagues liked it – as they also liked buckwheat muffin that came as a snack. They work on a food magazine, and I don't, so maybe trust them more than me.
My lunchtime smoked salmon succotash salad was delicious: light and flavoursome and with a real "I'm eating healthy food" aftertaste. And the chicken and ricotta pasta for dinner absolutely smashed it out of the park. (Please note: I got the meals the wrong way round: should've been chicken for lunch, salmon for dinner. Yes, that makes more sense. Yes, the boxes are labelled. Yes, I'm an idiot.)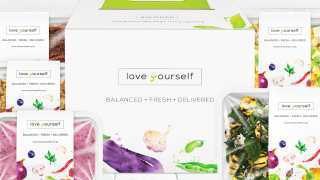 Day 2 hit the ground running with a turkey and cheese quiche. Never had quiche for breakfast but it really hit the spot – a massive upgrade on the porridge. I managed to have the lunch for lunch, chicken with vegetable ratatouille keeping the good times coming. Pear and blue cheese salad was a decent dinner, albeit one that became much better once I added a vinaigrette (remember, kids: you own the meals, the meals don't own you.)
Day 3 started with another porridge, this one a straightforward oat porridge with raspberries and toasted hazelnut, which I enjoyed much more than the first one. (Clearly, millet flake and my taste buds do not see eye to eye.) Lean cod in a coconut sauce proved a truly stellar lunch, with a Tuna and sweetcorn salad with Thai basil dressing rounded off the day nicely.
How does delivery work?
My meals were delivered to my front door every evening between 7-10pm. Worried the delivery will arrive at an empty house? (You have a life, you social butterfly, you.) Not to worry: the courier had my mobile number, which presumably he would have phoned and arranged a safe place to deposit my mealbox. (Fortunately, my housemates were in, even on the evenings when I wasn't.)
How much does it cost?
Pricing varies depending on the quantity of the order and the calorie count of your meal plan.
For example, the Balanced Plan would cost £109 for Monday-Friday meals totalling 1500 calories. That falls to £99 for 1200 calories and rises to £119 for 2500 calories. 
You can bulk order up to eight weeks or simply order for a one-off day. Explore your options here. 
For more info, see Love Yourself