You've got to hand it to Breitling, over the last few years it has methodically reimagined itself as much more than a distinguished pilot's watch brand – and it has done so with great aplomb.
Don't get me wrong, the iconic Navitimer is still the frontman in the manufacturer's band, but these days it's been joined by a chorus of equally accomplished timepieces keen to hum their own tune.
Breitling has dusted off the old blueprints to many of its most popular and collectible references from days gone by, carefully revived them without too much fussing, and released them to universal approval from the watch sphere.
The Premier collection was the first of the core collection to get its modern makeover, while crowd-pleasing limited edition pieces like the Navitimer Ref.806 1959 Re-Edition (winner of the Heritage Watch category of the Square Mile Watch Awards 2019) gave fans another chance to get their hands on a hallowed piece of Breitling history.
It's been an exciting period of renewal and reissue that sees the brand come into 2020 on a roll – and that's before we get to its latest relaunch, the Breitling Top Time Limited Edition.
I'd happily stick my neck out and say this is my favourite of the new Breitling era.
Let's take a peek…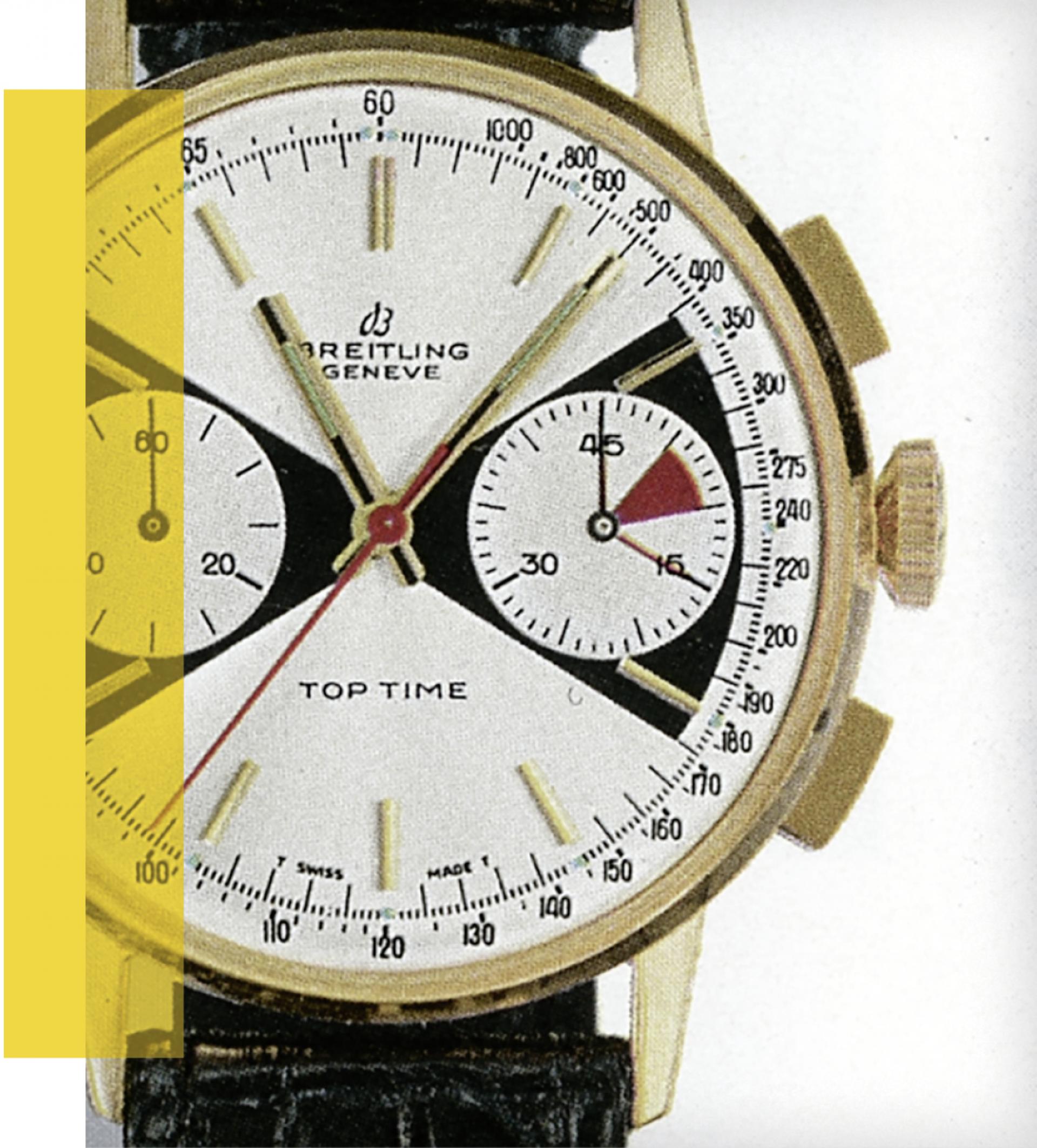 The Elevator Pitch
The original Top Time was released in 1964 – 12 years after the world was introduced to Breitling's first Navitimer – as a tactical sidestep away from utilitarian pilot's timepieces towards a more broadly appealing watch style.
At the launch, Willy Breitling (grandson of the brand's founder, Léon Breitling) announced with great excitement that the Top Time was an "ultramodern chronograph… particularly suited to the needs of young and active professionals" – a view that was later cemented when an early model found its way onto the wrist of James Bond in Thunderball.
Owners may not have enjoyed the geiger counter secretly hidden in 007's iteration, but they did have access to a particularly clean and sporty two-register chronograph.
Breitling chose to forgo the external bezel and slide rule we were used to seeing on its models in favour of a pared-back less technical design that suited the stylings of the everyday wearer. Unsurprisingly, it was an instant hit.
Several models followed, featuring a series of different case and dial variants, before Breitling struck gold with a bold geometric design that would grow into one of the most recognisable of the period.
Affectionately known as either the "Zorro" dial or the "bowtie", depending on who you ask, it is this version of the Top Time that Breitling has faithfully brought back to life.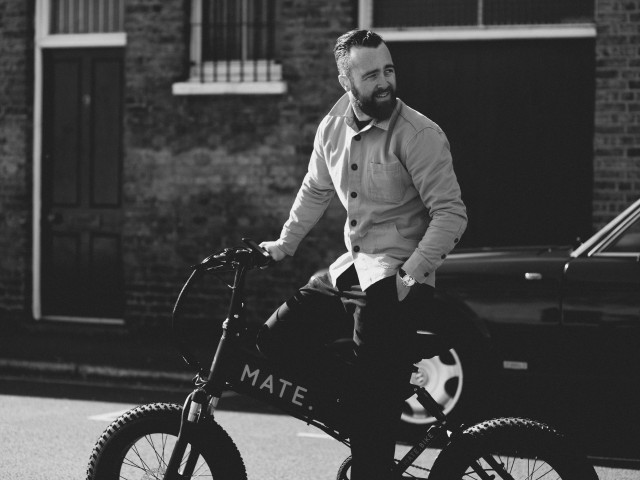 Pub Fact
Before we get into the nitty gritty, there's one particularly modern aspect to this vintage reprisal: this is the first Breitling offered with a blockchain-based digital passport, which confirms the authenticity and ownership of the watch with a single click.
This might sound like a bunch of technical flimflam, but blockchain is growing into an important tool for watch brands due to its ability to 1) give owners access to the watch's certificate of authentication at any time and transfer ownership with a simple blockchain transaction, and 2) digitally house anything that relates to the watch (archives, pictures, drawings, the service documents) in one secure place.
In layman's terms, your "box and papers" are being securely stored digitally, which can only be a good thing as an owner or for the person who buys your watch in the future.
Vacheron Constantin chief marketing officer Laurent Perves put it best in our chat last year when he said: "Blockchain is the ultimate technology to protect authentication." It's as simple as that.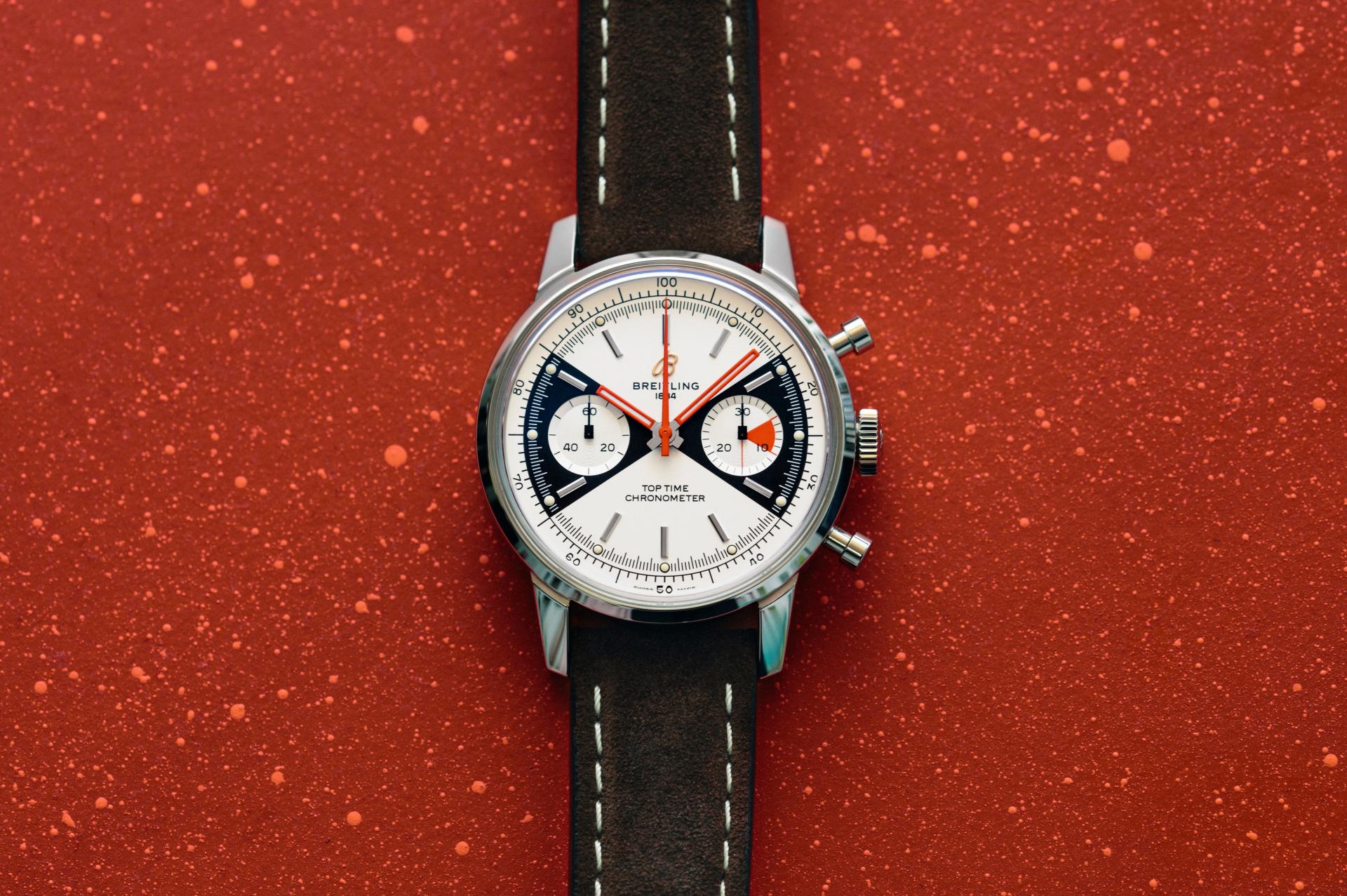 Geeking Out 
Sam Kessler in his excellent Square Mile rundown of James Bond's best watches begged Breitling to bring back the Top Time, with one of the brand's current crop of manufacture movements.
He got half his wish: the watch is back in all its glory, but Breitling opted for the Caliber 23 automatic movement instead of one of its in-house calibers.
Is this the end of the world? Well, the movement is a chronometer-certified version of either the workhorse ETA 7753 or its Sellita counterpart, with a 48-hour power reserve to boot. But I agree with Sam that something manual wind and in-house would have given this watch another string to its bow. When I see 'Limited Edition', I like to think I'm getting something extra special for my money, but that's just me.
Would we be getting the Top Time's currently excellent price point at a shade more than £4k if we were rocking an in-house movement? No we would not. And, hey, for those who care about historical integrity the original Top Time also had an outsourced movement to keep the costs down for the buying public. Swings and roundabouts, basically.
My only other slight reservation should come with the preface that I haven't gotten my hands on the watch just yet, but I think I'd have preferred if Breitling had left the case size alone.
The new iteration comes in at 41mm with a lug-to-lug length of 51mm and a thickness of 14.27mm. That's certainly as big as I'd want it to be – and as a lover of slimmer 36-38mm case sizes often attributed with vintage pieces, is a slight sticking point for me.
That being said, this is as pretty a Breitling as I've seen: it's bold, it's clean, and quite unique by most chronograph's standards.
The "Zorro" motif coupled with the two concave sub-registers with concentric engraving give the dial a real sense of depth, while the faceted applied hour markers and dots of beige Super-LumiNova are quiet companions to the dial's bolder design features.
The decision to replace the tachymetre scale around the outer chapter ring with a decimal scale I think is inspired – it declutters the dial, while still offering a welcome nod to vintage chronographs of yesteryear.
We know from Breitling's latest releases that the brand has found its own blend between the old-school and contemporary aesthetic. For me, the Top Time hits that sweetspot plum on.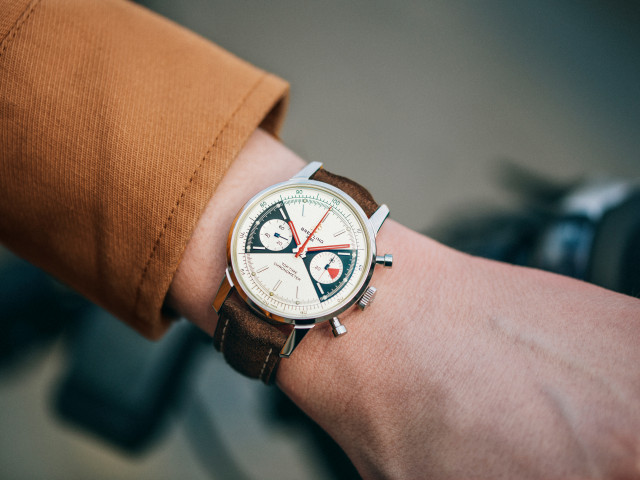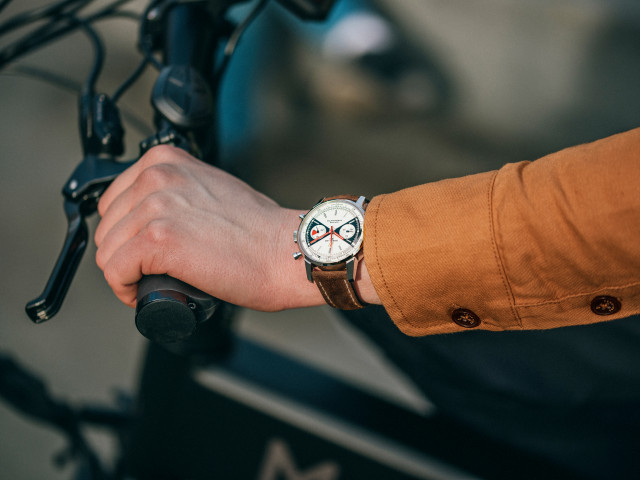 Add To Your Collection
This is the kind of watch that makes you want to lace up a pair of boots, throw on the leather jacket, and hit the road in something fast with the top down. 
The Breitling Top Time is limited to 2,000 pieces and priced at £4,100.
For more information, see breitling.com