It's watch season, baby! That's right: clip on your favourite Patek Philippe tie (!), strap something shiny to your wrist, and get ready to indulge in the latest and greatest timepieces from the biggest names in horology. 
April is when the circus comes to town… or at least virtually this year. Watches & Wonders – taking over from Baselworld and SIHH (Salon International de la Haute Horlogerie) – is the key event where many of our favourite watchmakers roll out their selection of goodies, but expect us to jump back into this feature in the coming months to update you on any forthcoming releases worthy of your consideration. 
As always, it's rare for a watch brand to completely overhaul a collection or indeed create something totally new; evolution more than revolution is the aim of the game here. While us journalists may yearn for something that tips the Richter scale, most watchmakers are artists when it comes to improving on perfection. A subtle line change here, a tweak to the case shape there, it might sound like we're making a lot of fuss about very little, but trust us when we say these details are the secret to creating modern day icons.  
Without further ado, let's get into it…
A Lange & Söhne Lange 1 Perpetual Calendar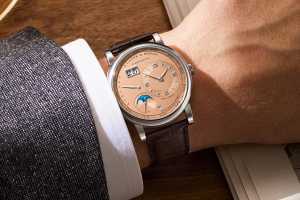 It's difficult to overstate the importance of the Lange 1 to the Saxon kings of watchmaking but, suffice it to say, without this 20th century icon there would be no modern-day A Lange & Söhne.
The formative company, founded by Ferdinand Adolph Lange in the 1800s, was all but lost after the exploits of two World Wars and later being nationalised by the Soviet Union, but was saved from the history pages by Lange's great-grandson Walter and watch industry veteran, Günter Blümlein. The pair released the first four A Lange & Söhne models in more than 50 years on 24th October 1994. The Lange 1 would instantly become the maison's poster child.
In many ways, the Lange 1 represents the return of German watchmaking to the upper echelons of haute horlogerie. Its unorthodox dial and impeccably finished movement beguiled those who first laid eyes on it in the 1990s – and continues to do so to this day. For ardent watch collectors, it remains a must-have.
Countless models have been produced in the interim, including a 2012 perpetual calendar model that was fitted with a tourbillon concealed on the back of the watch (the cheek! The guile! The audacity!), but perhaps surprisingly it has taken until 2021 for the maison to release its first traditional perpetual calendar in the Lange 1 collection.
We could wax lyrical about how the asymmetry of the dial makes for one of the most unique and compositionally perfect QP layouts, but in truth the pictures say it all. God, it's stunning.
The months are arranged on the periphery of the dial, the days of the week on a retrograde display on the left side of the dial, and a big date aperture at 11 o'clock. An off-centre hours and minutes counter, a smaller subdial for moonphase indicator and seconds counter, and a triangular leap year aperture complete one of the most perfectly formed perpetual calendars you'll ever see. It's an art making so many time indicators blend so harmoniously without mess and without fuss.
You have two colour options: white gold case with a pink gold dial (it's not a salmon dial, don't make us cross), and a pink gold case with a silver grey dial. Fuck it, buy both.
From £87,900; alange-soehne.com
Audemars Piguet Royal Oak "Jumbo" Extra-Thin 39mm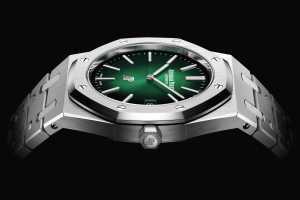 Photo by Diode SA - Denis Hayoun
The eminent nerdiness of the watch world is such that small details, such as the rather lovely sunburst-green dial present on this new Royal Oak "Jumbo", can quickly become points of contention between hardcore collectors.
Why such a big deal? Well, this is a Royal Oak without one of its key distinguishers: the checked tapisserie dial we're most accustomed to seeing. But it's nice to see a modern expression of the original Royal Oak format every now and then, stretching the confines of this icon's template.
The execution of the graduated green dial – that charming fade from emerald to black – alongside the use of a platinum 39mm case and white gold markers is incredibly elegant. It's a little less sporty and more dressy than its 1970s roots, but that's no bad thing in our book.
CHF 97,100, audemarspiguet.com
Audemars Piguet Royal Oak Offshore Diver 42mm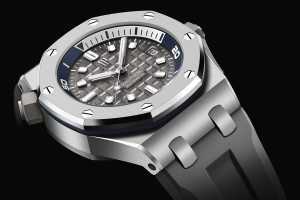 First launched in 2005, the Royal Oak Offshore Diver transformed the 1972 Royal Oak original into a tough-as-teak dive watch built for the seven seas… or at least a Lockdown walk. It's bigger, buffer, and comes with its own legions of fans – so it's no surprise that AP has given it a bit of a reboot.
While we wouldn't quite call it a wholesale redesign, this brand-new iteration of the Offshore Diver features a host of evolutions that amount to the biggest changes ever undertaken on the original.
There are three very tasteful colour combinations (blue, khaki, and grey), as well as a new in-house automatic movement under the hood, a few minor aesthetic tweaks to the dial, and the introduction of a new quick-release strap system.
Even as fans of the original, we must say the changes to the Offshore Diver have come as a welcome addition to AP's offering this year.
CHF 23,400, audemarspiguet.com
Breitling Premier Heritage Collection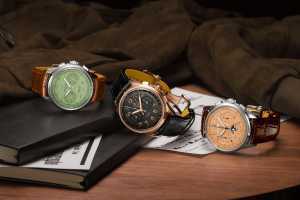 The Roaring Forties continues to provide inspiration to the watch fraternity – and this is no bad thing in our books. Breitling's latest addition to its classic Premier range – the Premier Heritage collection – comprises three 1940s-inspired models: the Chronograph, Duograph and Datora, all available in either stainless steel or 18k red gold.
All feature Arabic numerals, vintage-inspired hands and semi-shiny alligator straps with tone-on-tone stitching. Every watch is a COSC-certified chronometer and water-resistant up to 100 meters.
Our pick of the Chronographs is a pistachio-dialled number, which is so bang on trend it may as well have its own Instagram account. The Datora is the model to get the real watch nerds drooling with day, date and moonphase complications.
And then there's the Duograph: we've always been big fans of the rattrapante movement here at Square Mile – and this model proves exactly why you should be, too.
From £6,200, breitling.com
Bremont Supermarine S302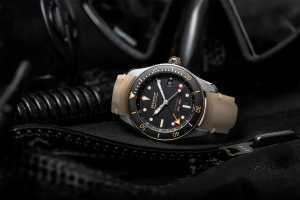 Bremont's Supermarine range was already extremely cool. Any collection inspired by the maker of the iconic Spitfire was always going to be a winner.
But the S302 – new for 2021 – has to be the best iteration yet. As with its predecessor, it's the holy grail of 40mm – making it incredibly wearable compared to larger dive watches.
The vintage aesthetic follows on, too, but this time you get added GMT functionality. The burnt orange GMT hand beautifully complements the 24-hour markers seen around the watch's dial ring and the colour applied indexes which use the company's iconic 'P-51' Super LumiNova.
And what really finishes it off is the new Sahara Vintage leather strap – our favourite Bremont colourway yet.
£3,295, bremont.com
Bulgari Octo Finissimo Perpetual Calendar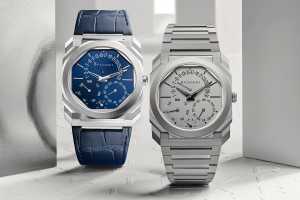 Bulgari is fast becoming the Lewis Hamilton of watchmaking. Another race, another record. But that doesn't make the accomplishments any less impressive.
This year, Bulgari can add "the slimmest Perpetual Calendar ever made" to its mantelpiece. The superb Octo Finissimo racks up its seventh world record with this latest ultra-thin iteration. It crams 408 components into a 5.80mm case – and its movement, the caliber BVL 305, is only 2.75mm thick. Mind. Blown.
It comes in two variations – the now familiar 'signature' sandblasted titanium, and a platinum version with a rich sunburst blue dial. Bulgari has never made an Octo Finissimo case in platinum before, so this version is definitely getting the collectors excited.
CHF 57,000, bulgari.com
Carl F Bucherer Adamavi Full Calendar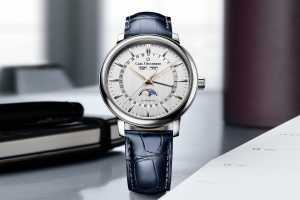 Relaunched at Baselworld in 2001, the Carl F Bucherer brand can trace its history back to 1888 when its namesake Carl Friedrich Bucherer-Humitzsch opened up a jewellery store with his wife in Lucerne. Much has changed since those days, of course, but the watchmaker has continued rolling out rather charming ways of displaying the time for the best part of a century and a half.
The Adamavi collection is Bucherer's take on a classic dress watch and, while it doesn't draw quite as much on vintage aesthetics as its sister Heritage collection, it comes with a certain old-school beauty that this watch writer really enjoys. The latest addition to the line-up is the Carl F Bucherer Adamavi Full Calendar, which displays the days of the week, month and date in a really elegant and straightforward manner. The first two shown via two rectangular apertures at 12 o'clock, and the latter through a neat and tidy pointer-date device around a central ring on the dial.
This kind of fuss-free watchmaking leaves little room for error, which makes the choice of a vertical satin finish on the dial a good one: it adds just enough intrigue to the offering, without compromising its minimalist layout.
For those with aspirations of owning the Patek Philippe In-Line Calendar elsewhere on this list but without the budget to do so, this much more affordable option is well worth a second look.
£2,900, carl-f-bucherer.com
Cartier Privé Collection Cloche De Cartier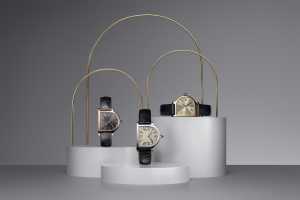 Eagle-eyed readers might remember that Cartier's Privé Collection has been the recipient of a little love from the famous French jeweller in recent times. In fact, such was our appreciation for its splendid reimagining of a watch from the past, we nominated the Privé Collection Tank Asymétrique for a Square Mile Watch Award in 2020. Is it a coincidence that they're back for more this year? We think not. Stop flirting with us, Cartier, we know what you're up to.
Moving swiftly on, the Privé Collection came to life in 1998 as a collection in which Cartier could showcase some of the finest classic designs in its back catalogue. In other words, this is their answer to the unrelenting consumer demand for heritage timepieces. The beauty when it comes to Cartier, of course, is it has so many distinctive watch collections to play with that this heritage exercise doesn't feel like pandering to a trend but a justifiable reason to celebrate its many unique designs.
This year, the Cloche de Cartier gets the Privé treatment with six new models for enthusiasts to enjoy. The Cloche – French for "bell", mon ami – may be a little less renowned than its Tank and Santos brethren, but its idiosyncratic composition is just as chic.
The bell-shaped design started life as a brooch watch before being transformed into a wristwatch for the first time in 1921. The 90º rotation of the dial, with 12 o'clock adjacent to the crown, perhaps makes more sense given its jewellery years (pin to a jacket, and lift the garment towards you when you need to know the time), but on the wrist it makes for a rather zany means of getting the job done – something that has earned the Cloche its very own following over the years. For one, it's rather fun seeing the curved side of the dial poking out from underneath a shirt cuff, like a hermit crab having a peak from within its shell. (Just us?)
The new collection is available in either yellow or pink gold, or platinum, with the brand-new hand-wound 1917 MC movement, as well as three skeletonised versions for the more daring individual. All six are just lovely to look at – a genuinely different, old-school look for the modern day.
£POA, cartier.com
Glashütte Original SeaQ Bicolour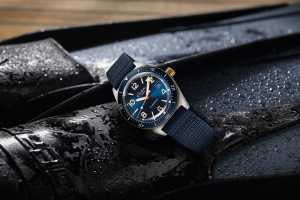 Glashütte Original's Spezimatic Typ RP TS 200 from 1969 was a masterclass in how to make a dive watch. Indeed, when the Saxon brand launched the SeaQ in 2019 as a tribute to this original, it really didn't need to change much to make it work for today's market.
A boost in case size here, an updated font there, and you have a delicious vintage-inspired yet contemporary proposition.
For this year, Glashütte now offers the SeaQ in bi-colour. This latest colourway is a cap doff to the 1969 version, which unlike 2019's relaunch model, was also produced in a bimetal construction: steel for the case; brass for the bezel surrounds. This year's gets some added bling with the addition of gold – including the crown.
For 2021, blue is also thrown into the equation. There's the deep blue of the ceramic bezel inlay, complemented by the rich hues of the blue sunburst dial.
Different strap versions – black rubber or navy synthetic – make it easy to adapt the watch to your personal style.
The end result is the most versatile SeaQ yet – one which looks at home on the reef as it does on the road; happy swimming in the sea or with sundowners. It's rugged yet sophisticated – just like you, right?
From £10,700, glashuette-original.com 
Grand Seiko Platinum High Beat Black Dial Tree Rings Ref SLGH007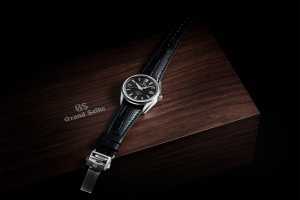 Grand Seiko makes some of the most creative and beautifully executed watch dials in the business. Its latest offering – the Platinum High Beat Black Dial Tree Rings Ref SLGH007 – is a perfect example.
In honour of Seiko's 140th anniversary, this new model takes inspiration from the passing of time as denoted by tree rings.
The miniscule but visible variations in the dial's depth reveal the subtlety of the dark and light tones of wood grain. It's a wonderfully organic effect to bring to a mechanical timepiece.
Grand Seiko's new Black Dial Tree Rings Ref SLGH007 may stand out for its original dial, but what lies beneath is just as impressive: the Caliber 9SA5 high-beat movement, which delivers a precision rate of +5 to –3 seconds a day and an 80-hour power reserve. The watch's case is crafted from Platinum 950 and indexes from gold.
The watch will be available as a limited edition of 140 at Grand Seiko Boutiques and selected Grand Seiko retailers worldwide in July 2021. 
£54,190; grand-seiko.com
Harry Winston Ultimate Quadri Tourbillon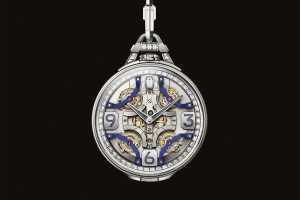 When Harry Winston makes any kind of watch, it's a big deal. When it makes a Quadri Tourbillon pocket watch that also comes with a luxurious arch to convert it into a clock, then you know the jewellery giant really isn't holding back.
This 18-karat white gold pocket watch is an adaptation of Harry Winston's rectangular Histoire de Tourbillon 10 wristwatch released in 2019.
The real feat here was adapting it to a round case. That's where the bright blue bridges come in – playing supporting roles to the four tourbillons' hypnotic ballet. Harry Winston has form here – releasing a unique objet d'art timepiece every year. This latest one certainly doesn't disappoint.
£POA, harrywinston.com
Hermès H08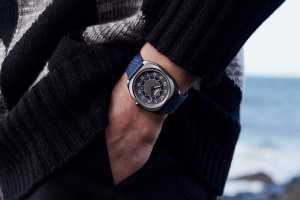 You know what they say about good things and waiting… The Hermès H08 was due for release this time last year, but now the brand's first dedicated men's watch collection has finally been unveiled.
Despite its status as a relative newbie in the haute horology sector, Hermès has been punching well above its weight in recent years. Not only have the watches always been beautifully crafted, they are full of design flair, often complemented with accents of French philosophical whimsy.
The H08 is no exception. Take the 0 and 8 numerals after which the collection is named: their shape evokes the watch's unique cushion-shaped case.
These two figures have also been picked for more than just their aesthetics: according Hermès, the numeral '0' "embodies emptiness" while "the horizontal figure 8 symbolises infinity".
We're desperately trying not to think of Eric Cantona sitting on a Eurostar right now. But if he were, surely he'd be wearing an Hermès H08?
£4,440, hermes.com
Hublot Big Bang Integral Tourbillon Full Sapphire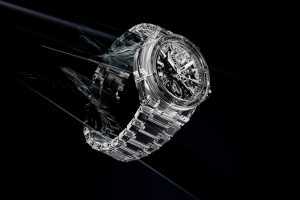 We'll let you in on a secret: back at the Square Mile Watch Awards ceremony in 2019, we sat next to industry legend Jean-Claude Biver. As you might imagine sitting next to a man credited with saving Blancpain from extinction, putting Omega on the wrist of James Bond, and transforming LVMH's collection of watch brands into giants in their own right made for very interesting conversation but, most importantly, we were utterly fascinated at what this long-time watch collector was wearing on his wrist. The answer may surprise you: a Hublot Big Bang Unico Sapphire.
OK, the one-time CEO of Hublot wearing his own product isn't exactly headline news, but choosing one of the whackier models the brand has ever produced certainly raised our eyebrows. Thing is, though, it looked absolutely awesome. Launched back in 2016, the Big Bang Unico Sapphire boasts a case made entirely from sapphire crystal. True to Hublot's MO, this is an extremely innovative use of materials – and by god does it work in the metal. Or should that be, sapphire crystal?
It's this little story that popped into our heads as news broke that Hublot was launching a new sapphire watch in 2021. The Hublot Big Bang Integral Tourbillon Full Sapphire actually goes one step beyond Biver's personal model by featuring a case AND an integrated bracelet entirely crafted from sapphire. Once again, the effect is really compelling.
Hublot gave us its first ever integrated bracelet last year and it's already flipped the concept on its head by making the whole thing out of sapphire this time around. That the watch itself is a skeletonised version of its iconic Big Bang model, with a tourbillon added for good measure, is almost (almost) besides the point.
It's just a bloody brilliant bit of fun. Crucially, it's also totally unique.
£349,000, hublot.com
IWC Big Pilot's Watch 43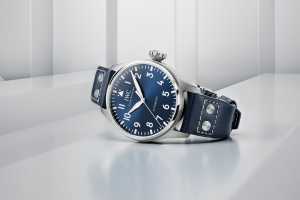 You'd have to go back as far as the 2008 Credit Crunch and the collapse of Lehman Brothers to witness the rebirth of small watches. Big and bold was out, shy and retiring was in – and the trend continues to this day. (Just note Rolex's new Explorer which has shrunk 3mm back to its original 1953 size.)
Now IWC's iconic Big Pilot's Watch – despite having the word Big in its name – is getting, er, smaller. And that's no bad thing.
Available in a new case size of 43mm for the first time, the new Big Pilot's Watch 43 is much more wearable than its 46mm predecessor.
It still has presence by the bucket load – from its audacious crown to the rivets on the leather strap. Prefer a bracelet? No problem, thanks to the integrated EasX-CHANGE system that lets you swap at the touch of a button. (Something we wish every manufacturer would offer.)
The in-house 82100 calibre features pellaton winding with ceramic components – and is gloriously visible through the sapphire glass back.
And if you want to go big on complications, then there's the Big Pilot's Watch Perpetual Calendar option. Its IWC-manufactured 52615 calibre builds up a power reserve of seven days in two barrels.
This watch lends a whole new meaning to giving both barrels, and IWC has proved that big – but not quite as big – is beautiful.
From £7,200, iwc.com
IWC Big Pilot's Watch Shock Absorber XPL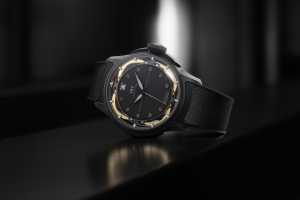 You've heard of racing car drivers pulling 5G in a corner; or fighter pilots pulling 9G in a dog fight. But 30,000G? Well, IWC's new Big Pilot's Watch Shock Absorber XPL has been impact tested at accelerations faster than that – and its movement has still survived intact.
With the help of boffins at the Cambridge University's Cavendish Laboratory, IWC has for the past eight years been diligently developing its new SPRIN-g PROTECT system, based on a cantilever spring that suspends the movement inside the case.
The spring has been designed to evenly spread the stress across its length and width; and it's made from Bulk Metallic Glass – an advanced substance significantly more elastic than conventional metals.
The watch's movement boasts a bidirectional pawl winding system that builds up a mighty power reserve of 120 hours.
And the case is made of Ceratanium – which sounds like something the Avengers created, but is in fact an IWC-developed material based on a proprietary titanium alloy.

£POA, iwc.com
Jaeger-LeCoultre Reverso Quadriptyque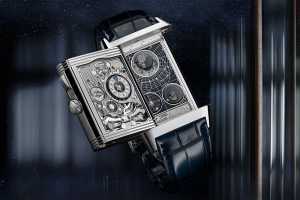 Every now and again, Jaeger-LeCoultre likes to remind its peers that while it may be one of the oldest maisons on the planet (dating back to 1833, don't you know) it still has the firepower to create something totally new. And when we say new, we mean complicated. And by complicated we mean, "Holy moly!"
Meet the Reverso Quadriptyque. What we have here is not simply the most complicated rendition of the brand's iconic Reverso, but one of the most complicated watches Jaeger-LeCoultre has ever made. Count 'em: there are a whopping 11 complications in total.
The Reverso is, of course, one of the most inventive and distinctive watch designs of all time. The story goes that at the beginning of the 1930s British Army officers based in India were looking for a watch that could withstand the rough and tumble of polo. Jaeger-LeCoultre's solution was a dial that could be smoothly concealed by reversing the case, and in doing so revealing a case back that could take the odd bang of a mallet. First world problems and all that.
I'm not sure those polo-playing officers would recognise what the watchmaker has done to their trusty Reverso this year. On the first face, there's a perpetual calendar, including day, big date, month, year, and leap year indicators. There's also a day/night indication and a flying tourbillon for good measure. Oh, and there's also two small hands for, you know, actually telling the time. Flip the dial over and you're faced with a minute repeater (something of a Jaeger-LeCoultre speciality), as well as another dial displaying the time – in this instance with the addition of a digital jumping hour.
How can a watch have four dials you ask? Well, Jaeger-LeCoultre has rather cunningly squeezed its final complications into the inside and back of the case chassis itself. The third dial is all about the lunar cycle – and for the first time ever displays the synodic, draconic, and anomalistic cycles on one dial. You'll need an astrology degree just to make sense of it all.
Should you live in the Southern Hemisphere, you'll be pleased to learn the final dial displays the moon-phase from your part of the world. Just in case.
And that's it. Nothing to it really…
€1.35m, jaeger-lecoultre.com
Nomos Metro Neomatik 41 Update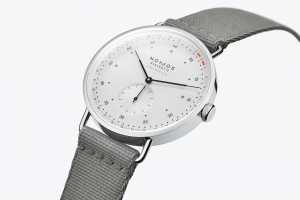 A few years ago, German watchmaker Nomos released its Neomatik Caliber DUW 6101 in-house movement. The brand debuted it in its newly released Tangente Neomatik 41 Update, an eye-catching watch that transposed its modern classic Tangente design, upped the case size and added a distinctive feature: a date indicator around the edge of the dial where today's date was highlighted by a block of colour either side of the number. 'Update' here being a cheeky play on the reimagining of the date display, as well as the new movement; the equivalent of 'banter' in watchmaking circles.
It's a beautiful complication – one that avoids another hand or a date window jostling for attention in its otherwise sparing, minimal aesthetic – and that's without mentioning the movement's ability to set the date quickly forwards or backwards, or how its slender profile allows the watch to wear beautifully slim on the wrist even by Nomos's standards.
Now, the newest addition to its Metro line gets this movement, as well as that delicious date mechanism, too. As you'd expect, the Metro Neomatik Update still carries a lot of the classic Nomos DNA in its look and feel: the dial's big in the case while the bezel's slim, and those spider-leg hands, reminiscent of a Tim Burton animation, are present and correct, too.
Unlike the Tangente Neomatik 41 Update, those big, Bauhaus-looking 12, 2, 4, 8 and 10 numerals are given over to the Metro's smaller minute markers, while the date ring is lit up in eye-catching bright orange, rather than the Tangente's red (and it's also available with a dark blue dial, with the date indicator in lime green). Aside from that flash of colour, that second subdial provides all the subtle flair a minimal watch like this needs – its sharp indices and snailed surface make it a genuine feature, rather than an afterthought.
£3,500, nomos-glashuette.com
Oris AquisPro Date Calibre 400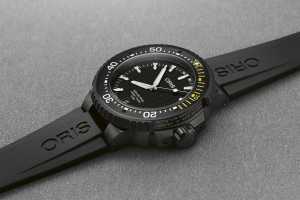 Holstein-based watchmaker Oris has often resisted leaning too far into the aesthetics when it comes to its Diving and Aviation collections, often ending up – like with its Big Crown series – with pieces that borrow cues from true divers' and pilots' watches while still showcasing the kind of design restraint that makes them adaptable to a variety of looks. The Big Crown Propilot Big Date isn't a million miles away from a dress watch in look and feel, for example, while many of its Divers series are fairly inconspicuous on the wrist.
The new AquisPro Date Calibre 400 certainly breaks from that tradition. Following the lead set by its Aquis collection – chunky bezels, large case sizes, and made with a genuine eye on delivering professional diving capability – the AquisPro Date Calibre is a hulking behemoth of a diver. With a case size of 49.5mm, a matt black finish, a shock of yellow around the bezel from 12-3 o'clock and a chunky rubber strap as standard, it's about as conspicuous as can be. And with good reason, should you find yourself in the murky depths of the ocean needing to know when it's time to resurface. (Or needing to tell the time through the suds in your kitchen sink. Your choice.)
It makes use of the brand's recent Calibre 400 movement, which features an impressive 5-day power reserve – delivered via twin barrels and an extended mainspring – along with a clean, uncluttered dial with chunky hands and indices, and a slim blink-and-you'll-miss-it date window at 6 o'clock. What's more, ultra-rugged titanium provides up to 1,000 metres of water resistance. A true diver in both form and function.
£2,700, oris.ch
Panerai Submersible eLAB-ID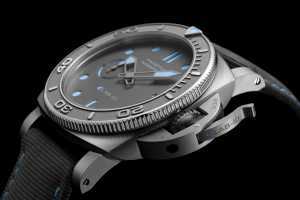 Where some brands pay lip service to sustainability, Panerai is at the other end of the spectrum, leading the way in environmentally responsible watch manufacturing.
Its new Panerai Submersible eLAB-ID contains the highest percentage of recycled-based material ever used in the construction of a watch. Indeed, 98.6% of its weight comes from recycled materials.
For example, the case, sandwich dial and bridges are composed of EcoTitanium, a recycled titanium alloy. And it's also the first watch to use 100% recycled SuperLuminova™ on its dial and hands, as well as 100% recycled silicon for its movement escapement. Both are obtained through dedicated, small-scale recycling processes that reuse raw material waste.
Fair play to Panerai – not only has it pioneered this, it's not hogging any of the newly developed materials or processes to itself, but rather allowing and encouraging all other watch manufacturers to follow its lead.
£54,000, panerai.com
Patek Philippe Nautilus 5711/1A-014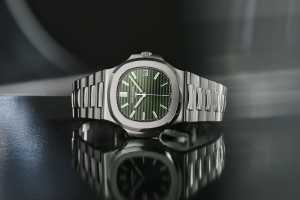 Depending on what corner of the digital watch space you occupy, the latest news from Patek Philippe is either the biggest of 2021, or a rather innocuous colour change.
The story began in January of this year when the watch giant confirmed rumours that the blue-dial version of its iconic ref.5711 Nautilus model (the ref.5711/1A-010, to be specific) was being discontinued with immediate effect. Blue dial = dead.
We've had to wait until April to find out what its replacement would look like, but Patek has finally broken the news to fans: the new-look ref.5711/1A-014 features a sunburst olive green dial.
It's rather lovely. A little more military and utilitarian in disposition, but there's nothing more to say than that, really. The calibre 26-330 SC under the hood has been used in the 5711 Nautilus since 2019, and Patek fans will still lose their minds over the collection – blue or green, that doesn't matter.
Given we have seen a number of green dials this year already (looking at you Audemars Piguet), perhaps 2021 marks the death of the blue dial and the birth of a new hero? Or perhaps we're getting ahead of ourselves. Time will tell.
£26,870, patek.com
Patek Philippe Ref. 5236P-001 In-line Perpetual Calendar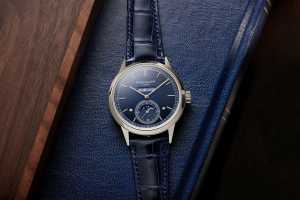 Perpetual Calendars are already incredibly complicated watches – and Patek Philippe is the undisputed master of making them. (Patek made the first commercial QP wristwatch back in 1925.) Yet somehow the brand keeps finding new ways to refresh and reinvent the complication.
This year, it has launched the Ref. 5236P-001 In-line Perpetual Calendar, which shows the day, date and month in a single panoramic aperture. In order to achieve this feat it had to invent and consequently file three different patents.
The technical term for this unique layout is 'coplanar' – essentially meaning the information is presented all in line and on one level.
Now, this is not the first time this has been done. Indeed, the inspiration behind it was a famous Patek Philippe pocket watch from 1972 (No. P1450) that features a calendar format 'à l'Américaine'. There is one big issue with this – the month and day are the wrong way around. (Thanks, America).
So the challenge was set to Europeanise the layout, while making it small enough to fit on a wristwatch and still remain legible.
The solution was to build four discs that would remain inline but never touch one another. This mechanism alone required 118 parts in addition to a conventional perpetual calendar display.
These include double ball bearings which keep the discs at the correct height with negligible friction, not to mention some ingenious wheels with strategically missing teeth. To the uninitiated, they look like cogs that have been in a fight. Indeed, the tens star – with only four teeth – is the veritable Cletus Spuckler of the watch world.
Yet it is thanks to these missing teeth – along with the Ronseal-named 'catch-up finger' – that help ensure you never need worry about a leap year again. (At least, until 2100.)
All this mechanical genius is presented in a classic Calatrava case made from platinum. The blue lacquered dial – with its black gradation and vertical satin finish – is frankly a work of art in its own right, and a fitting frame from which to present Patek's latest watchmaking art.
£100,190, patek.com
Patek Philippe Calatrava "Clous De Paris" 6119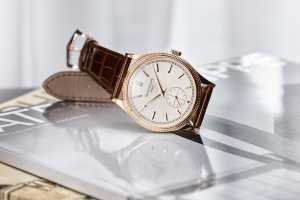 The Nautilus might steal the limelight more often than not – along with Patek Philippe's 'flashier' grand complication pieces, of course – but it's worth sparing a thought for the understated Calatrava collection. Dating back to 1932, the Calatrava is not just a standard bearer for dress watches, but is also one of the longest-running collections in continual production anywhere. Sure, it might not pepper your Instagram feed with the same regularity of its younger siblings, but this is one watch design that has stood the test of time better than most.
We've seen countless Calatrava models over the years, but the one that stands above the rest is probably the ref 3919. First launched in 1985, this iteration featured a distinctive hobnail guilloché bezel, known as a "Clou de Paris" pattern, that framed the otherwise demure dial with an elegant flourish. There's nowhere to hide with this kind of simplicity, but that's just how Patek likes it: those devilish details are executed to perfection.
You know where this is going… The brand-new Calatrava "Clous De Paris" 6119 breathes fresh life into the iconic 3919 model, with a few concessions to contemporary tastes and a new hand-wound movement under the hood for good measure.
First things first, the 6119 is not just a modernised version of the 3919 but it's much larger as well. The case is a perfectly proportioned 39mm (up from 33mm) that benefits from reworked lugs – tapered and curved instead of the straight lugs of its predecessor – ensuring a slender profile in spite of the growth spurt. Elsewhere, faceted "obus" markers in 18K gold replace the 3919's Roman numerals, and dauphine hands are used in place of more ornate leaf-style hands. Both decisions are justifiable: by removing traditional watch design cues and replacing them with more minimal aesthetics, you have a more timeless rendition that feels contemporary even if it's still classic at heart.
Most importantly, however, is the presence of that lovely Cloud De Paris pattern on the bezel. The two rows of mini pyramid accents is just a dynamite feature that creates just enough flair to make this understated gem sing.
The 6119's new case size predicated a new movement, and Patek has plumped for its Calibre 30‑255, which brings with it a host of modern day heft in comparison to the 3919. Think: 65-hour power reserve, and a stop second mechanism useful when setting the time.
Available in the classic combo of a rose-gold case and a silvery grained dial, or a more contemporary white gold and charcoal grey dial, it is a timeless timepiece – and a charming nod to a Patek icon.
We're telling you now, this is a sneaky-good release from Patek.
£22,770, patek.com
Piaget Polo Skeleton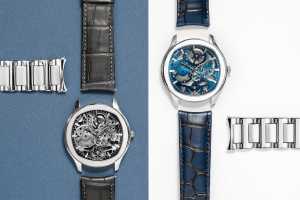 The 1970s changed the watchmaking landscape forever, there's no getting away from it. You need only look at the rosta of timepieces to know this to be true: the Royal Oak (1973), Laureato (1975), Nautilus (1976), the underrated Reference 222 (1977), and the Polo (1979) all played their part in an era that belonged to the luxury sports watch. Each has been a collector's dream ever since.
If the Royal Oak defined the sports watch as a timepiece that occupied a space inbetween the dress and tool watch – something hard-wearing and versatile, yet stylish and elegant – Yves G Piaget took the concept to its logical luxurious conclusion by the era's end: crafting a watch and bracelet from precious metal for maximum extravagance. Much like a sports jacket, a sports watch was very much for sport in name only; the 'Polo' in the collection's name speaks more for the crowd in attendance at the sporting event, than competitors on the field. And, yet, its glamorous appeal was such that A-listers like Roger Moore, Andy Warhol, and Brooke Shields all wore one on their wrist at one time or another.
The Piaget Polo has always expressed the bombastic side of the sports watch spectrum, and this year's new ostentatious execution embraces that notion with abandon. The Piaget Polo Skeleton is a celebration of the watchmaker's core principles: its sports watch heritage, ultra-thin movements, and meticulous skeletonisation. Here, Piaget has crafted a Polo case 30-percent thinner than other models in the collection (a svelte 6.5mm in total), with an open dial that bares its naked innerworkings for all to see.
…That might sound a little more erotic than intended, but there's no doubt that Piaget's watchmakers have created something very sexy here. The ultra-slim automatic 1200S1 caliber is viewable from both sides of the watch, with beautiful handiwork on the bridges, mainplate and balance wheel, each of which is given a little cherry on top via either satin-brushed or radial sunburst finishes.
Elsewhere, Piaget has employed an interchangeable strap system that allows users to swap between the Polo's signature 'H' design bracelet and an (included) alligator leather strap without the need to use any fiddly tools.
Just don't wear this for actual polo, alright?
£26,500, piaget.com
Rolex Explorer 36mm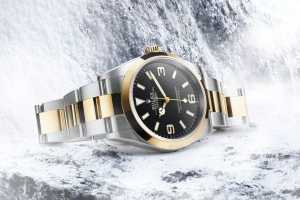 Rolex might not have invented the tool watch, but the watchmaker certainly paved the way for much of the popularity it enjoys in the modern era. You might think of the Daytona or the Submariner when you think of these highly specialised timepieces, but it was the Explorer that kicked off Rolex's professional-grade watch lineup.
Hot on the heels of Sir Edmund Hillary and Tenzing Norgay reaching the summit of Mount Everest in 1953 (naturally wearing Rolex Oyster Perpetual watches on the ascent), the watchmaker released the Rolex Explorer in the very same year to commemorate the success. Suffice it to say, it became an icon overnight.
History lesson over, let's fill you in on the new update: out goes the 39mm Explorer first released in 2010, and in comes a more historically accurate 36mm addition. It's not just a new size, mind, there's new mechanics making this beauty tick. The automatic 3230 calibre – a movement we've recently seen in the new no-date Submariner and Oyster Perpetual models of 2020 – that features a Chronergy escapement, proprietary Rolex tech that boosts movement efficiency and reliability over an extended time.
There's two variants in this new 36mm, an all-steel version for the minimalists and, perhaps more exciting, a steel-and-gold version Rolex refers to as Rolesor (a term it first coined in 1933 to indicate two-tone models incorporating gold).
Anyone else picking up Wolf of Wall Street energy from the new Rolesor? Old school is firmly back in the new school.
£8,700, rolex.com
Rolex Explorer II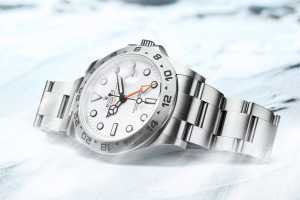 It's perhaps no surprise to anyone that Rolex should celebrate the 50th birthday of its oft-underappreciated Explorer II model (famous siblings and all that…) with a bit of an upgrade. We say a bit of an upgrade because, in truth, this is ostensibly the same Explorer II we've known and loved for decades – white dial, brushed steel bezel, and handy GMT complication – it's just received a technical update under the hood that brings it in line with many of the other models in Rolex's arsenal.
Now, rumour has it that the case proportions in person do indeed appear to be slimmed down considerably, especially the lugs which do appear thinner, though it's very difficult to tell from pictures alone and Rolex hasn't given anything away in their press junket. We'll reserve judgement on that point until we see one in the metal.
Anyhow, the caliber 3285 is currently ticking away inside the latest iteration of the GMT-Master II, and now it has a home inside the Explorer II as well. We'll spare the details, but assume the new movement receives the full "Rolex treatment", including that very clever Chronergy escapement we've already mentioned once in this article.
So, happy birthday Explorer II. Here's to 50 more.
£6,800, rolex.com
TAG Heuer Aquaracer Tribute to Ref. 844 Limited Edition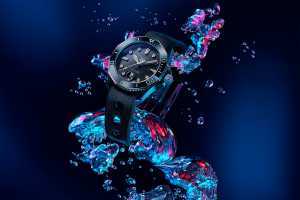 The TAG Heuer Aquaracer occupies the 'accessible luxury' end of the dive watch category, along with similar big hitters Tudor Black Bay and Seiko Prospex. It's something of a sleeping giant in its field that from experience we've known to be an excellent gateway into the world of watches – often being the first purchase of a budding collector before they go on to bigger and spennier things. So put some respect on its name: the Aquaracer might not be the first dive watch you think of, but it's a watch that has plenty of clout.
For 2021, TAG Heuer has updated the Aquaracer Professional 300 series with seven new models in either 36mm or 43mm. There's a bevy of positive improvements, including a simplified dial, more elegant font choice on the bezel, and a tweak to the hour and minute hands, as well as a rather nice new date aperture at six o'clock that has been topped by a cyclops lens. The movement is unchanged – TAG Heuer's workhorse Calibre 5, an automatic movement based on the ETA 2824-2 – while black, blue, green, and silver colourways offer plenty of choice. So far, so good.
But the Aquaracer model we've zeroed in on is a particularly charming limited-edition tribute to Heuer's Ref. 844 diver. The virtues of vintage-inspired watches is something we've celebrated in the Square Mile Watch Awards for the last few years, and it would come as no surprise if TAG found themselves with a contender for this year's honours. Originally launched back in 1978, the Ref. 844 diver is one of a smattering of vintage Heuer pieces collectors scour the shady corners of the resale market searching for. Call off the search, guys, TAG has done the hard work for you.
The Aquaracer Tribute to Ref. 844 Limited Edition features all of the vintage touches you might expect from a heritage model. There's faux-tanned lume and a vintage-effect perforated rubber strap, while a red 24-hour scale (one of the hallmarks of the Ref. 844) is present on the dial for good measure. Limited to, you guessed it, 844 units, it also features a 43mm titanium case and rocks the same hardware as its siblings inside.
£3,600, tagheuer.com
Tudor Black Bay Fifty-Eight 925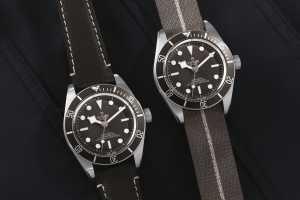 Who knew you could get excited about taupe? 'Grey with a tinge of brown' does not usually get one's juices flowing. But when applied to Tudor's iconic Black Bay Fifty-Eight, consider our interest well and truly piqued. Especially, as in the case of the new Fifty-Eight 925, they are complimented by a new satin-finish 925 silver case.
It's also the first Tudor dive watch with an open case back, so you get to see that beautiful Manufacture Calibre MT5400, which is usually hidden beneath solid metal.
It's loaded with a silicon hairspring and a 70-hour power reserve. And, as with the first Tudor dive watch made in 1958, this latest model will be waterproof to 200m.
£3,230, tudorwatch.com
Tudor Black Bay Chronograph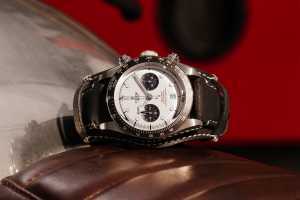 The panda dial is a watch industry failsafe. There are few watches that don't look cooler once the designers have pressed 'invert'. And Tudor's steel Black Bay Chrono is a case in point.
To celebrate the 50th anniversary of its first chronograph, Tudor has rebooted its already awesome Chrono with the choice of white-on-black or black-on-white contrasting subcounters. Both look great; but the panda edges it in our book.
The Chrono has had much more than just a paint job, though. There's a reworked case – it's thinner than its predecessor; there's a new fixed bezel with a black aluminium disk; and there are three strap options – including a new cuff in black aged leather or a riveted steel affair.
They say life begins at 50 – and it seems Tudor's Chrono is only just getting started.
£3,660, tudorwatch.com
Vacheron Constantin Historiques American 1921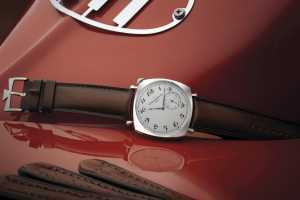 This year's Vacheron Constantin MO is 'classic with a twist'. The manufacture is taking that mantra pretty literally with the Historiques 1921, which revolutionises the traditional watch dial – 45 degrees on the diagonal to be exact.
It's designed as a driver's watch so you can see the time perfectly with your hand still on the wheel.
And you may have noticed the date: watch companies love an anniversary – and 100 years since the original American model was launched is worth celebrating.
There are three new variations: two white gold models and a 100-piece Collection Excellence Platine limited edition. All come loaded with a manual-winding in-house movement, Calibre 4400 AS, that packs a 65-hour power reserve.
£31,200, vacheron-constantin.com
Vacheron Constantin Traditionnelle Split Seconds Chronograph Ultra-Thin Collection Excellence Platine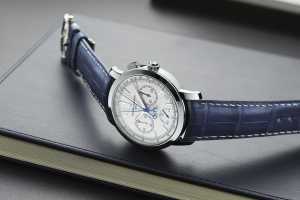 This one deserves a mention for its name alone. This is a watchlover's watch – and you'd need to really love watches just to be able to remember its name: the Vacheron Constantin Traditionnelle Split Seconds Chronograph Ultra-Thin Collection Excellence Platine.
So, let's break it down. The Traditionnelle collection is one of Vacheron Constantin's staples – classic watchmaking at its finest. This year, it's been enhanced by an in-house Ultra-Thin Split-Seconds Chronograph movement. And the Collection Excellence Platine bit refers to a special series of watches that dates back to 2006, dedicated to proving what is possible with platinum.
The result – an individually numbered 15-piece limited edition – also happens to be one of the most handsome watches we've seen released this season.

£POA, vacheron-constantin.com
Zenith DEFY Extreme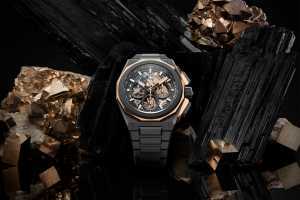 It's been a strong year for Zenith already. The Chronomaster Sport, launched at LVMH Watch Week 2021 in January, has already been a huge success with critics and punters alike. The watch nailed the "sport chic" brief that forward-thinking CEO Julien Tornare set his designers.
Fast forward to Watches & Wonders, and Zenith has refocussed its energies on its other brand pillar, the DEFY collection. This arm of the business has always been about pushing boundaries. And that's not just marketing spiel – the DEFY 21 was the first and only chrono able to measure 1/100th of a second.
This month, Zenith has added a new DEFY Spectrum range, which integrates colour into the actual metal of the movements (as well as the straps and precious stones surrounding them).
And now there's this, the DEFY Extreme – the most, er, extreme version yet.
This is not a watch for lockdown walks around Hyde Park (although, that may be where it spends a lot of its time). It's essentially a DEFY on steroids – details are accentuated; there's a bulked up 45mm case with a water-resistance of 200m; additional components protecting the pushers; plus a screw-down crown.
A first for Zenith, it comes with three straps – a titanium bracelet, as well as rubber and velcro options.
Its most striking element, though, is the 12-sided ring under the bezel – a nod to the faceted bezel of the DEFY A3642 from the 1960s.
£15,300, zenith-watches.com