Audemars Piguet is not a watchmaker that does things by halves.
Launching a new collection? Here's 13 references to get you going. Oh, you like vintage-inspired pieces? How about a meticulously researched 1943 model to obsess about. Fancy building your own museum? Perhaps visionary architect Bjarke Ingels could add a little spice to the broth.
Yep, the legendary maker of the Royal Oak has a habit of making Bob Beamon-like leaps, while many of its competitors cautiously babystep their way to market.
It's something I've greatly admired about AP in recent years, not least because it makes it exciting to write about, but because it also makes it just a little more difficult to predict. Who doesn't like being kept on their toes?
You won't be surprised to hear, therefore, that few watch brands create quite the same fervour when it comes to new releases as Audemars Piguet.
Let me set the scene. Usually the way AP watch launches work is there's a little bit of lip service paid to their loyal customer base, a sprinkling of genuinely new designs for us journos to sink our teeth into, and a flourish of something shiny and expensive for pure frivolity. And it's a recipe that works for us.
Take a look at Audemars Piguet's latest creations below…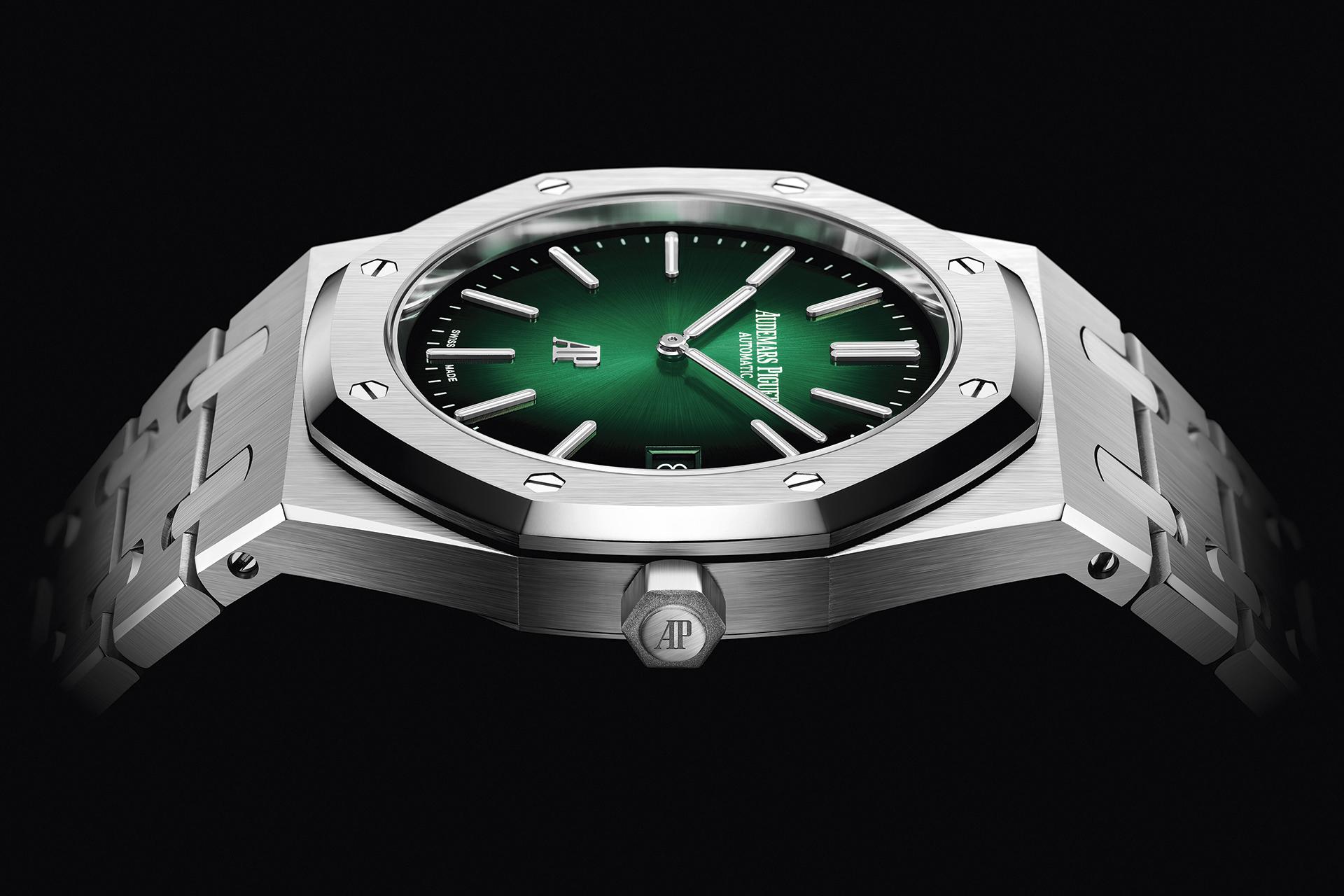 Photo by Diode SA - Denis Hayoun
Royal Oak "Jumbo" Extra-Thin 39mm
The eminent nerdiness of the watch world is such that small details, such as the rather lovely sunburst-green dial present on this new Royal Oak "Jumbo" Extra-Thin, can quickly become big points of contention between hardcore collectors. Why such a big deal? Well, this is a Royal Oak without one of its key distinguishers: the checked-pattern tapisserie dial we're most accustomed to viewing on one of horology's great icons.
For my part, I don't think it's a great surprise to see the modern expression of the original Royal Oak format every now and then stretch the confines of its template – and, actually, I'd say the execution of the graduated green dial (that charming fade from emerald to black) alongside the use of a platinum 39mm case and white gold markers is incredibly elegant. It's a little less sporty and more dressy than its 1970s roots, but aren't we all these days?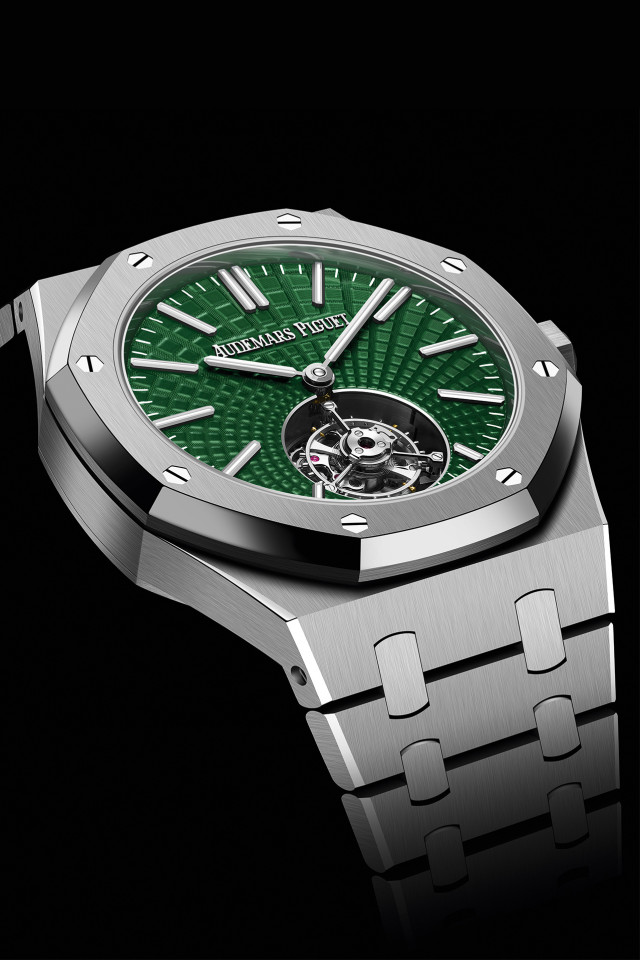 Photo by Diode SA - Denis Hayoun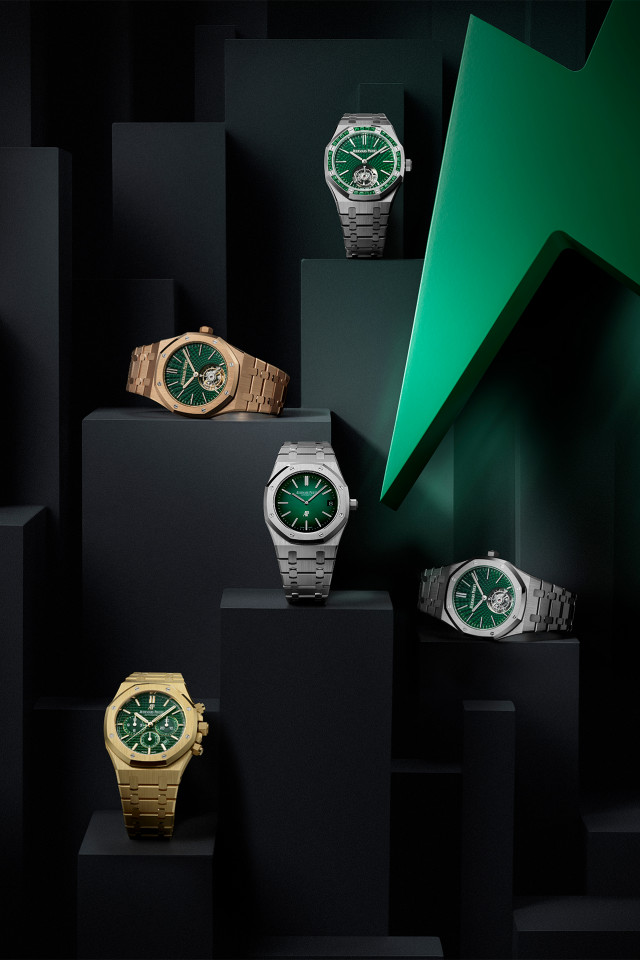 Photo by Imagie / Eliot & Watson
Royal Oak goes green…
The green theme continues throughout the rest of the Royal Oak collection, with a smattering of high complication pieces featuring this vibrant new colourway.
Top of the list for me is a stunning 18-karat yellow gold selfwinding chronograph that is just a little reminiscent of the Rolex "Money Green" Daytona that musician John Mayer tipped up as a future collectors' watch a few years ago (second-hand pieces doubled in value overnight, naturally). AP won't necessarily appreciate the comparison, but they'd certainly value the same clamour from big-spending watch lovers.
Anyway, as a lover of green dials and as perhaps the only person in the watch world who doesn't enjoy blue dials all that much, thank you AP for bringing a bit more green to the watch market.

Photo by Imagie / Eliot & Watson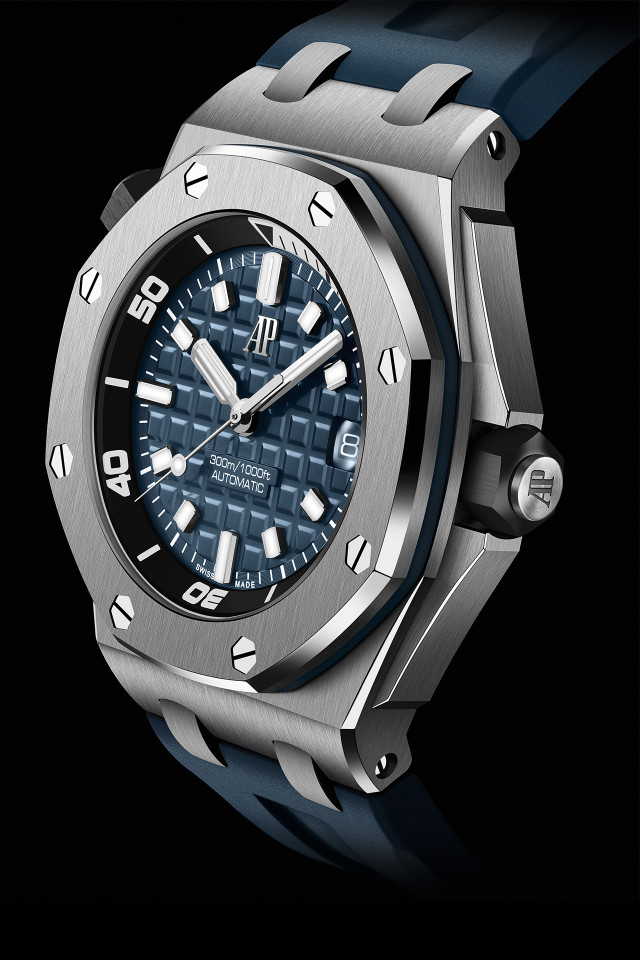 Photo by Diode SA - Denis Hayoun
Royal Oak Offshore Diver 42mm
First launched in 2005, the Royal Oak Offshore Diver transformed the 1972 Royal Oak original into a tough-as-teak dive watch built for the seven seas… or at least a Lockdown walk. It's bigger, buffer, and comes with its own legions of fans – so it's no surprise that AP has given it a bit of a reboot.
While I wouldn't quite call it a wholesale redesign, this brand-new iteration of the Offshore Diver features a host of evolutions that amount to the biggest changes ever undertaken on the original. 
There are three very tasteful colour combinations (blue, khaki, and grey), as well as a new in-house automatic movement under the hood, a few minor aesthetic tweaks to the dial, and the introduction of a new quick-release strap system. 
Even as a fanboy of the original, I must say the changes to the Offshore Diver have come as a welcome addition to AP's offering this year.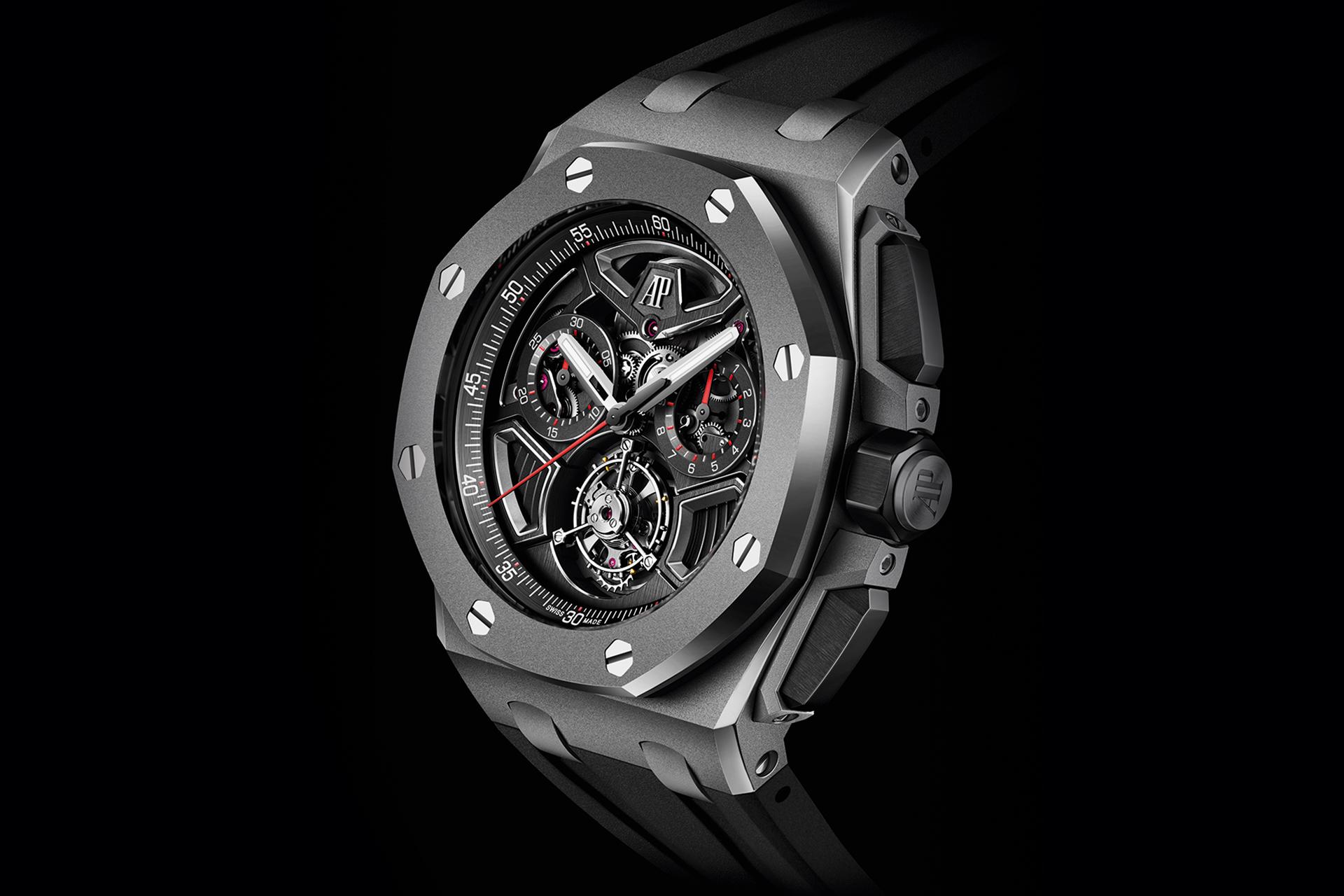 Photo by Diode SA - Denis Hayoun
Royal Oak Offshore Selfwinding Flying Tourbillon Flyback Chronograph 43mm
If you're looking for something with a little more razzle dazzle – and the price to match, of course – then this puppy is for you. Featuring a flyback tourbillon and a flyback chronograph, this futuristic Offshore creation offers its select owners all the horological bells and whistles your heart desires. 
The partial skeleton design features the kind of painstaking attention to detail you'd expect in the upper echelons of haute horlogerie: alternating sandblasted and polished finishes on the titanium bridges, a rhodium-toned balance wheel on the tourbillon cage, and little touches of black PVD for that modern edge. Meticulous craft skills combining with mesmeric effect, you might say. 
Limited to just 100 watches, bagging one of these would give you some serious street cred among the AP illuminati.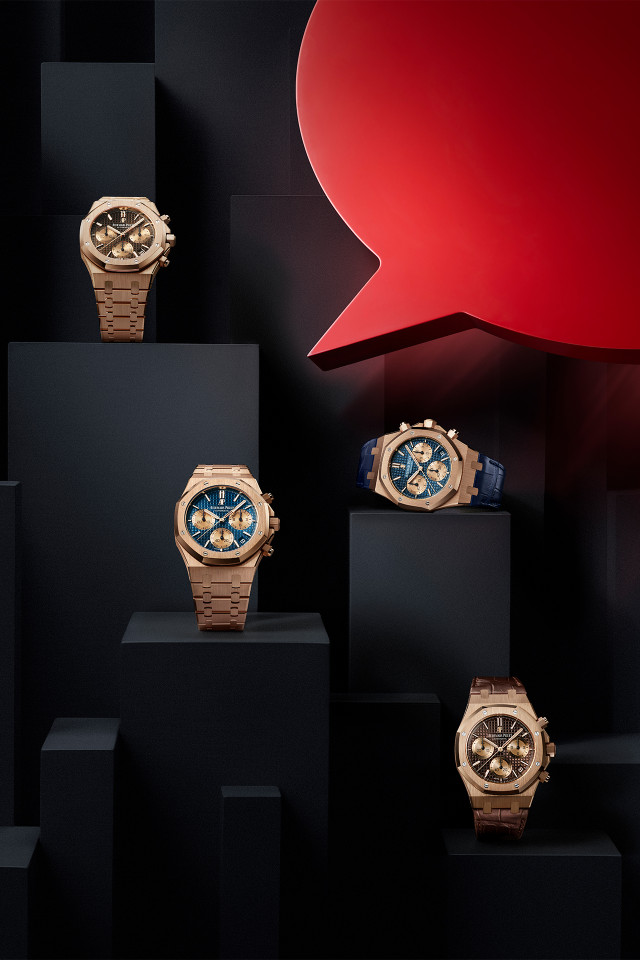 Photo by Imagie / Eliot & Watson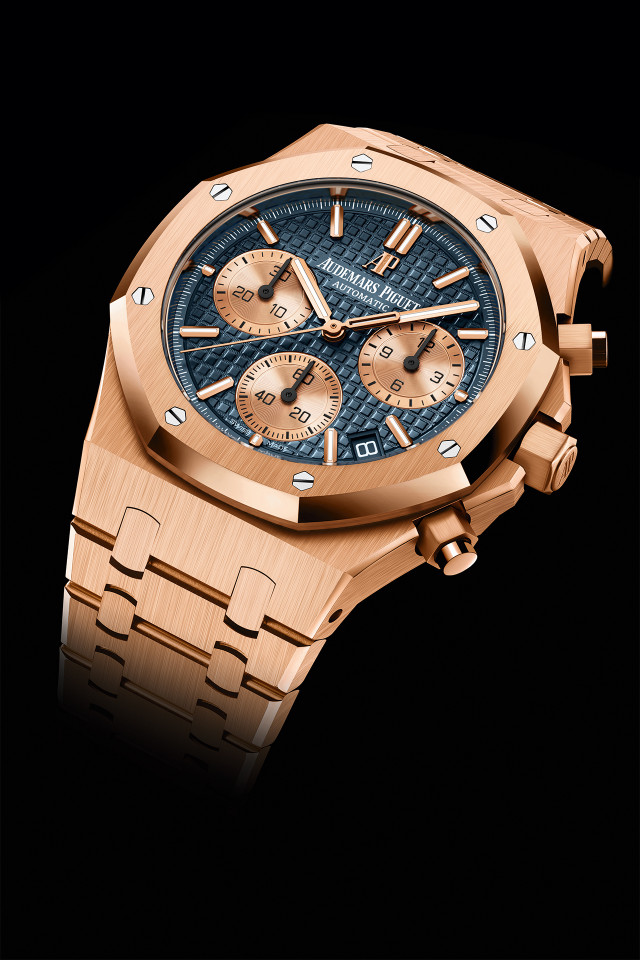 Photo by Diode SA - Denis Hayoun
Royal Oak Selfwinding Chronograph 41mm
For something a little more classic we return to the calmer waters of the classic Royal Oak collection.
These gold-hued additions to the Royal Oak Selfwinding Chronograph line-up are all executed in 18-karat pink gold cases, with either a chocolate brown or navy blue dial to accompany. 
The aesthetics are utterly gorgeous, but it's the movement inside that deserves an added mention: AP has used these gold beauties to introduce its latest in-house integrated flyback chronograph calibre to the Royal Oak collection (first debuted in the CODE 11.59 launch in 2019).  
It's every inch the Royal Oak Chrono we know and love, now with shiny new hardware to boot – and proudly on display through the sapphire crystal caseback.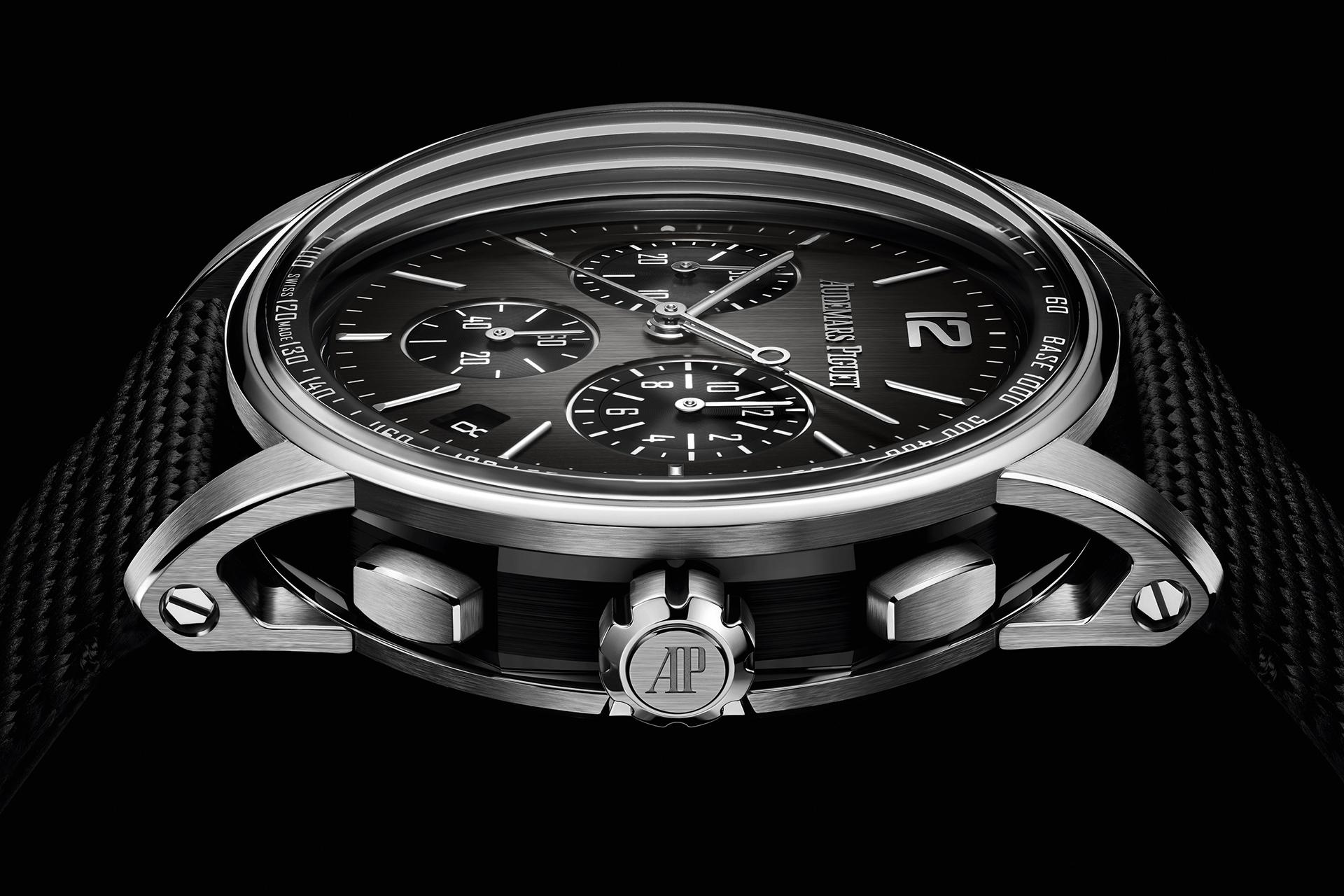 CODE 11.59 Selfwinding Chronograph 41mm
I think it would be fair to say that the latest CODE 11.59 additions aren't a big news story in their own right, but they perhaps hint at something bigger in the pipeline. 
These two CODE 11.59 selfwinding chronographs feature a new black ceramic mid-section. That's it, really. But bear with me. 
Developed in collaboration with Swiss-based precision component company, Bangerter, the ceramic is created using Zirconium Oxide powder combined with a 'secret' binder component. It's testament to AP the effort they are prepared to go to in aid of improving the aesthetics of their watches.
However, I can't help but feel this is simply Phase 1 of a wider collaboration with Bangerter. Perhaps this means we'll see an all-ceramic CODE 11.59 in the future, for example? Now that would be very interesting. 
That's pure speculation on my part but, hey, a man can dream.
For more information, see audemarspiguet.com