What does it take to make the shortlist of our marquee Watch of the Year award? In a word: bravery.

The horological world sees countless deviations on a theme every year – whether it be new colour combinations, materials or complications – but the timepieces on this list stand out from the norm.
These are the outliers, the loveable, covetable rogues, that take the conservative watch designs and styles that we know and throw caution to the wind.
They are not similar pieces – Vacheron Constantin's ingenious answer to a pertinent watchmaking question bears no semblance to the contemporary sports watch stylings of Urban Jürgensen's One collection – but what they share is an earnest desire to innovate, to modernise, to push forward.
The enterprising spirit of the formative watch industry lies within them.
Meet this year's finalists...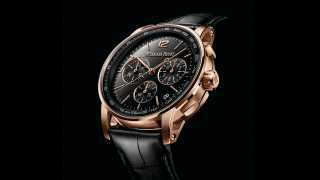 Audemars Piguet CODE 11.59 Chronograph
It's a rare thing these days for one of the world's most notable watchmakers to bring out an entirely new collection. Things used to be so different: look back to the 1950s and the Rolex Explorer and Submariner, the Breitling Superocean and the moon-bound Omega Speedmaster all wrote their name into horological history. Or the 1970s when designer Gerald Genta put the sports watch on the map with the Patek Philippe Nautilus and Audemars Piguet Royal Oak.

In the case of the latter, AP has built an entire modern brand off the strength of its icon, as well as its big brother the Royal Oak Offshore (launched in 1993) – and it's a wildly successful brand at that. Suffice it to say, then, the watch-writing fraternity collectively spat out its tea at the news that the Vallée de Joux watchmaker was releasing a totally new collection for the first time in more than 20 years.

CODE 11.59 draws its inspiration from the last minute before a new day – a time for new possibilities, thinking to the future and, apparently, putting on a new watch.

If this is Audemars Piguet's new dawn then we're all for it. The timepiece features a bold geometric design that encompasses a two-part structure: the first, a thin round bezel fused to the curved lugs, the second, a subtly octagonal middle case (a quiet nod to its Royal Oak forbear).
CODE 11.59 draws its inspiration from the last minute before a new day – a time for new possibilities and thinking to the future
Top it off with a double-curved, domed sapphire crystal and you have a three-dimensional watch that is texturally rich whatever angle from which it is viewed. There's 13 references in the new collection, including an eye-catching aventurine-dialled perpetual calendar and a self-winding automatic, but the new chronograph is makes a compelling case for Watch of the Year.

The smooth lacquered dial sinks below an outer chapter ring, drawing you into the watch. It's a particularly appealing effect in midnight blue where, punctuated by baton-marker indices and sub-registers circled in white gold, it creates a clean, modern look.

Inside, there's a brand-new in-house integrated chronograph, rumoured to have been in development for five years. The Calibre 4400 is a self-winding flyback chronograph that features a column-wheel and a vertical clutch and a clear focus on performance and efficiency. Measuring 32mm in diameter, it operates at 4hz and can store up to 70 hours of power reserve...

Does this watch have what it takes to stand alongside the Royal Oak as a pantheon of modern watch design? Time will tell. You can't help but tip your cap to AP, though. Few brands would be as brave as to step away from its DNA and bring something new to the table. Audemars Piguet purists may be a little perplexed by this move, but for those among us who wanted to see the lauded watchmaker flex its muscles in something other than a sports watch, the CODE 11.59 is a welcome change.
For more info, audemarspiguet.com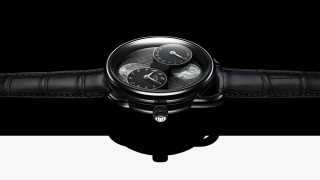 Hermes Arceau L'Heure De La Lune
There's something wonderfully unorthodox about Hermès timepieces. Whether it's the sloping italicised numerals of the Arceau collection or the quirky charm of L'Heure Impatiente's novel 12-hour timer complication, they never fail to put a smile on our face.

It's exactly this thought that ran through our mind the first time we laid eyes on the Arceau L'Heure De La Lune – a totally unique but utterly gorgeous take on the moonphase complication.

Hermès employed one of the greatest watch minds in Jean-Francois Mojon to bring its vision to life. Mojon has worked with the likes of MB&F and Harry Winston on ambitious projects in the past, and he has lent his name to a horological feast for the eyes here.
It's rare to find a watch that flips a complication on its head
Delving into the design, we've got two stationary mother-of-pearl moons (one for both the northern and southern hemisphere) that are topped by two floating lacquer disks (displaying the hours and minutes on one, and the date on the other) that make a full sweep of the dial every 59 days.

The current lunar phase is shown by how much of the moon is obscured by the rotating subdials – a simple enough premise but visually impressive nonetheless.

Look closer and you'll find further Hermès flourishes: the two hemispheres are inverted (south being at the top), while one of the pearlescent moons improbably contains a subtle pegasus motif by artist and designer Dimitri Rybaltchenko.

For the dial itself, you have a choice to make between a meteorite and an aventurine dial. Aventurine, a type of Murano glass flecked with golden shimmers of copper, creates a particularly whimsical extraorbital effect, but the moody meteorite option with its graduating grey disks and idiosyncratic textured dial encapsulates an austere moon-like aesthetic perfectly in keeping with this piece's theme.

It's rare to find a watch that flips a complication on its head, but Hermès has delivered in spades.
For more info, hermes.com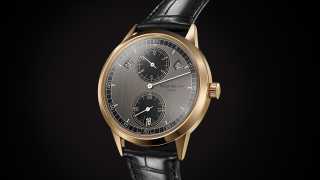 Patek Philippe Ref. 5235R Annual Calendar Regulator
Patek Philippe could bring out a Hello Kitty Quartz watch and a portion of the watch fraternity would still fall over themselves to get a slice of the action. But that's not how the towering Swiss brand does its business. Patek has made its name through peerless watchmaking and a level of finishing rarely seen from a large-scale brand. Just take a look at the new Ref.5235R Annual Calendar Regulator. There's few other words for it than stunning.

Let's start at the beginning. Regulators date back as far as the middle 18th century were regulator clocks were accurate timekeepers using a weight-driven movement for the highest level of precision available at the time. Such was their renowned accuracy that watchmakers used them as reference points when adjusting their own creations – and as a result the style of separating the hour, minute and second hands came into fashion as a matter of functionality.

The minimalist dial, designed for function rather than aesthetics, shares its utilitarianism with watches designed in the Bauhaus style, which brings us neatly to Patek Philippe's first regulator wristwatch, launched in 2012 and succeeded in thrilling fashion this year.

The Ref.5235 is a fascinating outlier in the Geneva watchmaker's hallowed collection. It is the only time Patek has made a regulator-style wristwatch and as such looks quite unlike any other piece in the brand's lineup. The sparse dial configuration, the ebony-black subdials and chapter ring, that sumptuous vertically-brushed graphite central section, it oozes contemporary elegance rather than the more familiar hallmarks of Patek classicism. It's a feast of warm tones and restraint.
An old-school brand pushing the boundaries of what is possible
The best part is the watchmaker has leaned on its Advanced Research division to add a number of high-tech movement components that blend this traditional timekeeping device with the pinnacle of modern horology.

Brace for the big words: under the hood you will find a Pulsomax escapement, Spiromax balance spring, and Gyromax balance. This can get complicated pretty quickly so we'll explain these innovations as:
1) marginal gains within the components of the balance wheel to create greater efficiency, and,
2) the use of hybrid silicone material Silinvar for further efficiency and reliability.

To put it another way, it's a bit like the hybridisation trend currently taking the automotive world by storm. You're getting the best of both worlds: the grunt of a traditional petrol engine and energy-saving efficiency of electric components.

In fact, the hybrid car shares other similarities with the Ref.5235R. Both have their detractors who simply can't compute the confluence of tradition and technology, but many more are all for seeing an old-school brand pushing the boundaries of what is possible - and for that it deserves its place on this year's Watch of the Year shortlist.
For more info, patek.com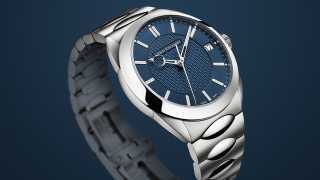 Urban Jürgensen Jürgensen One Reference 5241
The steel sports watch is largely credited as the saviour of the Swiss watchmaking industry for good reason. At the height of the 1970s Quartz crisis, high-complication high-price models were struggling against a riptide of mass-produced battery-powered timepieces that were as cheap as they were accurate.

The industry needed an injection of cool to pull itself above the water – and it got it in the form of Gerald Genta's triptych of watch designs the Audemars Piguet Royal Oak (1972), Patek Philippe's Nautilus and the IWC Ingenieur SL (both 1976).

Suffice to say, it was nothing short of a revelation. Genta's designs broke down the conventions of dress and tool watch to create a watch style altogether different: dressy but casual, luxurious yet rugged.

Models like the Vacheron Constantin Ref.222 and the Girard Perregaux Laureato rode on the coattails of this newfound Swiss watchmaking momentum, so that by the turn of the decade the giants of Geneva and beyond were back on top.
One of the most harmonious, unique designs in the category (we'll say it) ever
And then…nothing. The frenzy of creation that forged a whole new timepiece category dried up. Watch brands consolidated their iconic efforts and added new complications and colour combinations – to this day, there has been little advancement in the sports watch category beyond the odd movement update.

So forgive us for losing our collective minds at the sight of independent brand Urban Jürgensen not just launching a brand-new sports watch, but one of the most harmonious, unique designs in the category (we'll say it) ever.

This from a Danish-born, Swiss-bred brand with almost 250 years of continuous history is something of a surprise, especially when you consider the handcrafted complicated pieces that encompass much of the brand's range. But here we are: Jürgensen One.

The timepiece started life as a series of varying circular shapes overlapping with one another. Throughout the development process this crystallised into a modern steel watch without a single straight edge and a distinctive bracelet featuring oval-shaped central links. The links themselves are also tapered so that no two links are shaped the same, save for the final ones intended to be removed for adjustment.
Truly iconic watch designs, like prized fighters, come around once or twice a generation
Before we get to the jaw-dropping attention to detail, it's worth stressing that this is perhaps the first time in 40 years that a brand has dared to deviate this far from the Genta blueprint. This is bold and exciting watch design, the likes of which we haven't seen for a long time.

The watch in the metal is composed of a seven-piece construction with stylised tear-drop lugs. There's satin-brushed and mirror-polished surfaces across the timepiece, while Urban Jürgensen has opted for a medical grade 1.4441 steel (a higher grade than what you will find in most similarly priced watches), but this is just the tip of the iceberg.

The central dial features an intricate wave-like grain d'orge guilloché pattern, while the outer perimeter exhibits a grained effect that adds further texture to the design.

Urban Jürgensen's immediately distinguishable hand-finished hands are present on the dial featuring more detail than you're likely to see from any other brand: hand-riveted centre canons, slightly bent tips for further legibility and with either a highly polished or thermally blued finish. It's a visual feast both on and off the wrist.

Offered in either date-only or GMT complications, with a white, blue or black dial, this is the watch collection we lie awake thinking about, but for Watch of the Year we're siding with the Reference 5241 for its Jürgensen-blue dial and contemporary sports watch stylings.

Truly iconic watch designs, like prized fighters, come around once or twice a generation. Meet the new heavyweight champion of the world.
For more info, urbanjurgensen.com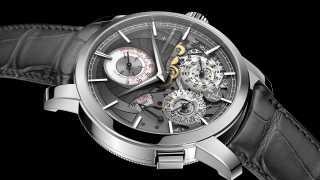 Vacheron Constantin Traditionnelle Twin Beat Perpetual Calendar
Watch writers bang on about power reserve with (occasionally) tedious frequency, but it's not without reason. A lengthy watch running time can prove convenient for those weekends you feel like leaving it off your wrist or fancy swapping to another in your collection, without having to worry about resetting the time the next occasion you wear it.

It's even more crucial, however, when you start talking about complex movements like the perpetual calendar: with date, day, month and year displays to account for, it can be a right pain to set once a watch has worn down.

Our first Watch of the Year contender takes this very real horological problem and solves it in the form of a unique world-first movement. The Vacheron Constantin Traditionnelle Twin Beat Perpetual Calendar is fitted with a 'standby' mode that boasts more than 65 days worth of power reserve.

It works by utilising two oscillators, as opposed to the conventional one, both powered by a single energy source – one runs at a high beat (5hz) for added stability and accuracy, while the other at a low beat (1.2hz) for increased efficiency.
Press the button on the left-hand side of the case and the watch will seamlessly transition from the high-beat oscillator to the monumental power reserve of its low-beat ancillary.
This all sounds mightily impressive but, in spite of the two patents acting on this timepiece, Vacheron's greatest achievement is cramming this unique watchmaking inside a highly wearable 42.mm x 12.3mm case size, alongside the esteemed Swiss brand's usual standard of finishing.
Look closely and you'll find a blend of intricate hand guilloché on slate-coloured gold with an openwork bottom to the dial exhibiting the inner mechanics of the perpetual calendar.

There's delicate dauphine hands and applied 18k gold indices, with the ingenious standby mode demarcations in an appealing red. Vacheron habitually exhibits great examples of watchmaking evolution, but this piece is nothing short of revolutionary.
For more info, vacheron-constantin.com