The Reader's Choice award puts you in the driving seat: what watch has impressed you the most this year? We've shortlisted ten watches: from £100k masterpieces to exceptional value daily beaters, there's something to cater to every taste.
Have a read, take your time (see what we did there) and then make your decision in the poll at the bottom of the page.
Think you know your perpetual calendars from your chronographs? Here's your chance to get involved…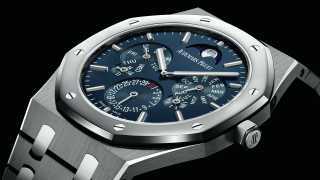 Audemars Piguet Royal Oak Perpetual Calendar Ultra Thin
It's difficult to sum up the brilliance behind Audemars Piguet's latest creation without first returning to the original creator of the Royal Oak, Gerald Genta. Such is his lasting influence on horology that almost 50 years after the 1972 release of AP's iconic sports watch, the design remains one of the most popular timepieces on the planet. But how do you keep a stone-cold classic fresh? It starts with a heavy dose of innovation.
In the case of the Royal Oak Perpetual Calendar Ultra-Thin, it required five years of development from AP's research division, saw a concept model released in 2018, and finally became available to the buying public in 2019. Let us be the first to tell you, it was worth the wait.
So what are we looking at? The thinnest perpetual calendar ever made, wrapped up inside that handsome Royal Oak package. It's an astonishing 6.3mm in thickness (thinness?), thanks several space-saving innovations in the movement.
Most QPs boast a modular construction, which essential means that watchmakers add a separate module on top of an existing movement - counterintuitive when you're attempting to slim down in size. The AP Ultra-Thin does away with this by integrating the QP module into the movement itself and redistributing the parts horizontally, rather than stacking on top as in traditional perpetual calendars.
What's not to love? Same old Royal Oak, now with record-breaking watchmaking.
For more info, visit audemarspiguet.com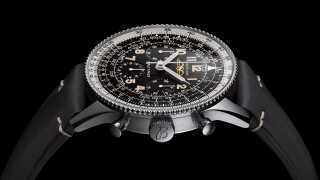 Breitling Navitimer Ref. 806 1959 Re-Edition
Breitling is Navitimer, Navitimer is Breitling: the definitive pilot's watch has soared above the competition since it was unveiled to the world in 1952. Its slide rule, basically a mechanical calculator, put the tool in tool watch thanks to its ability to work out speed and distance, currency and temperature conversions with a few turns of the bezel. Add to the mix chronograph functionality and, needless to say, it became a mainstay of air force and commercial pilots from the UK to the Middle East.
The highly collectible first Navitimer edition was the reference 806. Powered by a manual chronograph movement with column-wheel mechanism, mint condition models fetch a pretty penny at auctions whenever they appear. For mere mortals, rather than veteran collectors, they're nothing more than a pipe dream. Or at least they were.
For 2019, Breitling has treated us to a re-edition of a 1959 Ref.806 model – not just a vintage throwback but almost a carbon copy of the original – and we've got to be honest we're absolutely thrilled.
The only difference you'll find in this re-edition isn't visible on the dial, but powering the watch within. The calibre B09 is a hand-wound chronometer-certified chronograph with a 70-hour power reserve. Why manually wound? This watch predates the advent of the automatic chronograph by ten years – it just wouldn't sit right featuring the more modern style of calibre. You don't get much more heritage than that.
For more info, visit breitling.com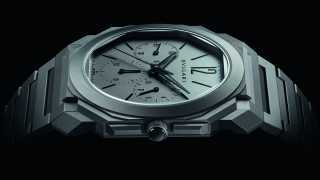 Bulgari Octo Finissimo Chronograph GMT Automatic
Meet the Bulgari Octo Finissimo Chronograph GMT: the world's thinnest automatic chronograph. Astonishingly, the innovative brand has wedged both GMT and chronograph complications (and a 55-hour power reserve) into just 6.9mm of case depth. It comes with the brand's typical low-key typography on the dial and a matte-grey sandblasted titanium finish. Industrial chic is how Bulgari likes to showcase its record breakers, and we're more than happy with that fact.
To be frank, in spite of all the innovation, this is the best and most useful timepiece Bulgari has made – at a cost that isn't so much f-you money as f-yes. We're big fans of this one.
For more info, visit bulgari.com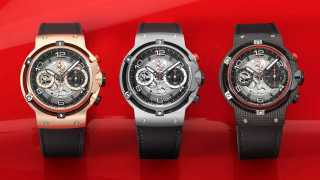 Hublot Classic Fusion Ferrari GT
You've got to hand it to Hublot. In an era where not everyone is as excited about watchmaking as us, they have found a new way to reach the consumer – a series of well-cultivated relationships with big-name brands.
Its most fruitful partner is certainly Ferrari. Entering its eighth year of collaboration with the Prancing Horse, the pair have joined forces in 2019 to create what can only be described as its most successful timepiece to date.
This may have something to do with the fact that Flavio Manzoni, head of design at Ferrari, and his Centro Stile team (the supercar manufacturer's in-house design group) are said to have provided the driving force for the watch's blueprint – using as their muse the Ferrari GT. In automotive terms, Hublot simply provided the engine.
On the wrist, the eye is immediately drawn to the unusual saucer-like case with its convex central console sitting proud from the outer body and curved lugs. It's a dynamic, contemporary aesthetic and very effective.
Add to that the Unico HUB1280 calibre (a self-winding flyback chronograph) and Ferrari's prancing horse logo at 12 o'clock, and you have a watch that shouts "POWER" in full Jeremy Clarkson growl.
For more info, visit hublot.com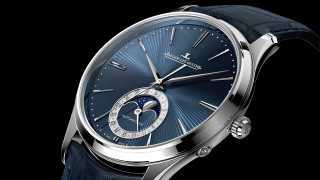 Jaeger-LeCoultre Master Ultra Thin Moon Enamel
"The Watchmaker's Watchmaker": ask anyone about Jaeger-LeCoultre's historical influence on the horological world and this is the phrase you're likely to encounter. The Swiss brand, founded on the south slopes of the Vallée de Joux in 1833, once created movements for watchmaking giants Audemars Piguet, Blancpain, Patek Philippe and Vacheron Constantin, and while it's power may have diminished slightly in the centuries since, it remains one of the finest producers of timepieces on the planet.
Take the stunning Master Ultra Thin Moon Enamel: a limited-edition moon phase watch that features impeccable gullioché engraving on a sunburst-blue enamel dial. This is as elegant a finish as you'll find on any watch. Period.
For more info, visit jaeger-lecoultre.com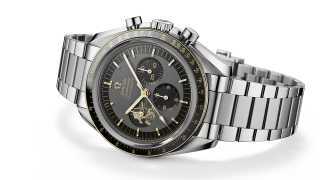 Omega Speedmaster Apollo 11 Anniversary Limited Edition
It's no surprise that Omega should celebrate the 50th anniversary of this momentous achievement with a special Moonwatch, but this is no ordinary limited-edition piece, this is one of the most collectible watches launched in the last decade.
Let's make our way from the inside out: the impressive new Calibre 3861 is at the beating heart of this watch. Rumoured to have been in development for the last four years, this is a METAS-certified (Federal Institute of Metrology – aka, the most accurate place in Switzerland) Master Chronometer movement that features a co-axial escapement. In layman's terms, that means it offers greater accuracy over time and longer service intervals than your average lever escapement – and has passed Omega's exacting reliability and chronometry tests to prove it.
On the design front, we're looking at one of the most unique dials Omega has placed on the Speedmaster. It starts with a base grey dial and black sub-registers, but then it gets a little more interesting. The powerful image of Buzz Aldrin stepping down onto the moon has been laser engraved on the nine o'clock register - and forms the focal point of the piece. This, along with the bezel edge and indices, has been created in a new 18k alloy Omega is calling 'Moonshine Gold' - a slightly paler yellow gold developed by the brand to preserve its colour over long-term wear. Suffice to say, this is no normal Speedie.
There's another thoughtful tribute to the moon landing on the caseback where, laser-engraved onto an evocative moon-like surface, is an image of an astronaut's bootprint. Armstrong's legendary "That's one small step…" frames the scene for added gravitas.
Unusually, perhaps the biggest treat is the presentation box, which includes an assortment of paraphernalia: mission patches, two engraved plates with landing site coordinates and landing time, and best of all a delightful lunar module display stand. Thoughtful touches that will no-doubt ensure this piece will be a sought-after collector's item in the decades to come.
There are few watches that match the historical impact of the Speedmaster, so it's to Omega's credit that it has met and perhaps even surpassed expectation with its Apollo 11 anniversary model.
For more info, visit omegawatches.com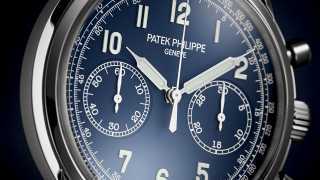 Patek Philippe Ref.5172G-001 Chronograph
Ooft, this is a beauty. For 2019, Patek Philippe has made the bold decision to replace its entire 5170 reference, with a fresh take on its hand-wound chronograph – enter the white-gold 5172, stage right. This follows on from a long line of classic Patek references, including the Ref.1463 from the 1960s (rare models of which sell upwards of £100k), but with a slightly more sporty edge.
In Patek terms, this watch is a big deal – a large enough overhaul of one of its most storied collections to be considered a risk – but it's paid off.
The new reference does away with some of the more classical chronograph elements in favour of bold Arabic numerals, round pushers and a warm blue-coloured dial. Add to that a matching blue calfskin strap and the pleasing addition of stepped lugs, and you're looking at a watch that straddles vintage appeal and a contemporary edge. This is Patek dressed in smart-casual attire.
For more info, visit patek.com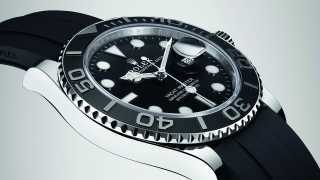 Rolex Yacht-Master 42
Rolex brought a new rendition of its secondest-youngest watch collection into the world in 2019 – without necessarily reinventing the wheel. The new Yacht-Master 42 grows to a largest-ever 42mm case size and is dressed in an elegant monochrome colour scheme thanks to its 18ct white gold case, matte black Cerachrom bezel insert and black dial. Wrapped around the wrist with the brands rubberised Oysterflex bracelet, this piece oozes sporty appeal with dressy elegance thrown in for good measure.
Under those handsome looks is the state-of-the-art caliber 3235. Rolex's premier time-and-date movement uses a Chronergy high-efficiency escapement (an energy-saving answer to the traditional Swiss lever escapement) in order to regulate the watch to a highly impressive +2/-2 seconds per day – in short, crazy levels of accuracy for a daily beater.
It might not have quite the storied history as its siblings, but the latest Yacht-Master is an appealing alternative to the slightly less-dressy tool watches that Rolex does so well.
For more info, visit rolex.com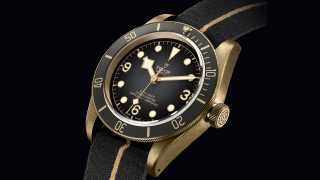 Tudor Black Bay Bronze 2.0
Tudor can do no wrong when it comes to the Black Bay. The brand's diverse flagship collection has been a conveyor belt of hits – and none more so than the 2016 introduction of the Black Bay Bronze.
Fans went mad for the new case material - back then still a relatively novel addition - as it provided a wholly new element to this much-loved design. This year, however, Tudor has followed up with a different colour scheme that has quite frankly transformed the look and feel of this piece for the better in our view.
The previous model featured a warm chocolate dial that, while a harmonious accompaniment to the bronze metal, was not the most versatile. The 2019 slate grey colourway is a different prospect entirely - bringing an austere elegance to the timepiece, as well as ensuring this piece is much more flexible when pairing with an outfit.
Ticking along inside the bronze exterior is still the excellent in-house MT5601 Chronometre-certified calibre, boasting a capable 70-hour power reserve.
With plenty of spare change left from £4,000, it's easy to see why yet another Tudor model is competing for best value watch this year.
For more info, visit tudorwatch.com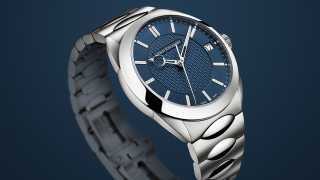 Urban Jürgensen Jürgensen One Reference 5241
Old-school watch brand Urban Jürgensen threw us a curveball this year by not just launching a brand-new sports watch, but one of the most harmonious, unique designs in the category (we'll say it) ever. The Danish-born, Swiss-bred watch manufacture has brought us many elegant, high-complication pieces over its nigh-on 250 years of continuous history, but its first attempt at something altogether more contemporary is incredibly successful.
The Jürgensen One timepiece started life as a series of varying circular shapes overlapping with one another. Throughout the development process this crystallised into a modern steel watch without a single straight edge and a distinctive bracelet featuring oval-shaped central links. The links themselves are also tapered so that no two links are shaped the same, save for the final ones intended to be removed for adjustment.
In the metal, the watch is composed of a seven-piece construction with stylised tear-drop lugs. There's satin-brushed and mirror-polished surfaces across the timepiece, while Urban Jürgensen has opted for a medical grade 1.4441 steel (a higher grade than what you will find in most similarly priced watches), but this is just the tip of the iceberg.
The central dial features an intricate wave-like grain d'orge guilloché pattern, while the outer perimeter features a grained effect that adds further texture to the design. Urban Jürgensen's immediately distinguishable hand-finished hands are present on the dial featuring more detail than you're likely to see from any other brand: hand-riveted centre canons, slightly bent tips for further legibility and with either a highly polished or thermally blued finish. It's a visual feast both on and off the wrist.
For more info, visit urbanjurgensen.com