Watches & Wonders sees the world's most important watch and jewellery brands descend on Geneva for the industry's largest annual trade show. It's always an informative occasion: the first opportunity to see the latest timepieces, discover brand-new technology, and plot the emergence of the year's trends (it's green dials – again! – if you were wondering).
As your window into the watch world, you can rest assured that Square Mile was there on the ground to sample all the latest watch releases in the metal. It's a tough job, but someone's gotta do it.
Forgive us for going a little "first-world journalism problems" here, but one of the issues with viewing so many watches in quick succession is your senses are quickly dulled to the incredible craftsmanship on offer; after a short while it all starts to blur. It makes standing out from the crowd a somewhat challenging proposition. As for genuinely catching us watch-weary members of the press by surprise? Fat chance. We've seen it all before.
Every once in a while, however, there are a few pieces that genuinely cause the eyebrows to raise. It might be a new movement mechanism or a total curveball from a generally quite conservative brand. In an age where it's all too easy to stick to the tried-and-tested route to market, we want to applaud the watchmakers genuinely keeping us on our toes in 2022.
Here are the biggest surprises from Watches & Wonders this year:
Rolex Oyster Perpetual GMT-Master II 'Sprite'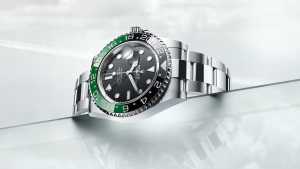 This one came straight out of the left field – quite literally. In a move that nobody saw coming, Rolex has introduced a new iteration of its incredibly popular GMT-Master II model with the crown, crown guard and date aperture flipped to the left-hand side of the case. Nicknamed the 'Sprite' thanks to its green and black Cerachrom bezel (made out of the watchmaker's patented ceramic material), it's ostensibly the same watch as the recent 'Pepsi' and 'Batman' models released in 2018 and 2019 respectively – including the excellent in-house calibre 3285 beating at its heart – other than the new colourway and somewhat disorientating case configuration.
Rolex has had to flip the movement 180 degrees and reverse stamp the date disk in order to accommodate the new position of the crown. It begs the question: why produce a lefty at all? The watchmaker told us the decision was driven by a desire to "broaden [its] offering and better satisfy customer needs and demand". While that seems like a very Rolex way of saying it can do whatever it damn well pleases, we suppose there's an argument to be made that it caters to individuals who prefer to wear a watch on their right hand without having to worry about the crown digging into their wrist. After all, Charlie Chaplin and Steve McQueen are but two examples of southpaw watch wearers.
Interestingly, the move is also not without precedent. The watchmaker produced a very small number of 'destro' (meaning 'right' in Italian) Datejusts and Day-Dates on special order in the 1950s and 1960s, while there's also a revered ref 16660 Rolex Sea-Dweller that was ordered by a left-handed COMEX diver to be worn on his right wrist.
As for commercially available destros? This might just be the first in the Rolex catalogue ever.
Lefties rejoice, Rolex has you covered.
Vacheron Constantin Historiques 222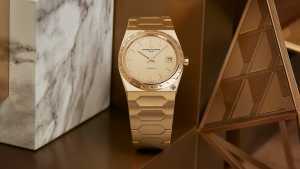 Jörg Hysek might not be the household name that his fellow watch designer Gerald Genta is today, but he is nonetheless responsible for one of the greatest sports watches of all time: the Vacheron Constantin 222. Created in 1977 to celebrate the watchmaker's 222nd anniversary, the 222 was a welcome diversion from Genta's geometric Royal Oak and Nautilus watch designs, settling instead for softer angles in its tonneau case and charming notched bezel seamlessly flowing into the integrated bracelet. It's a lovely thing to look at, and has remained a cult favourite among collectors long after it was discontinued in 1985.
Given the popularity of heritage reprisals, it's no surprise that fans have been clamouring for Vacheron to release an homage to the 222 for quite some time, but even ardent believers wouldn't have expected the watchmaker to release such a model quite so out of the blue. But here we are: the Vacheron Constantin Historiques 222.
Part of Vacheron's Historiques collection of refreshed classics, this magnificent 37mm monochromatic 18k yellow gold rendition is every bit as gorgeous as the original. It oozes Seventies charm, with some marginal modern-day tweaks to the bracelet and movement.
Originally, the 222 ran a reworked version of Jaeger-LeCoultre's ultra-thin 920 mechanism, but this reprise sees Vacheron bring things in house with the calibre 2455/2 automatic movement, beating at a frequency of 4Hz and ticking along for 40 hours of power reserve. As for the bracelet, the watchmaker has carefully machined it for maximum comfort – seriously, this thing just melts onto the wrist – as well as hiding the pins and opting for a satin-brushed effect.
Was Vacheron trying to steal some of Audemars Piguet's thunder as the latter celebrates 50 years of the Royal Oak in 2022? We wouldn't care to speculate, but we're very glad to see this simply excellent sports watch brought back to life in such excellent fashion.
Grand Seiko Kodo Constant-Force Tourbillon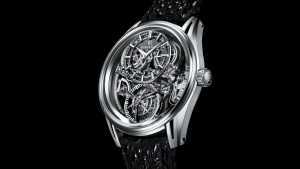 It's difficult to know where to start with Grand Seiko's latest feat of mechanical engineering, but here goes nothing…
The Kodo is the world's first tourbillon and constant-force mechanism on a single axis; it's the most complicated watch Grand Seiko has ever created; it's the watchmaker's first attempt at a tourbillon; and it's also the first time it's showcased a skeletonised movement on any of its models. In short, this thing is a whopper.
Kodo, meaning 'heartbeat' in Japanese, starts and ends with the patented calibre 9ST1 movement, which marries together the combined power of a tourbillon and a remontoir constant-force mechanism. The former is employed to help negate the effects of gravity while the latter creates a more stable power output to the movement over a longer period of time.
Generally speaking, as the mainspring of a watch reaches the end of its wind it causes the watch to run faster. A remontoir gets around this by providing an intermediate source of power between the mainspring and the escapement – feeding power to the escapement more consistently. The result of these two mechanisms working in tandem is what Grand Seiko terms "extremely stable accuracy" for 50 of the Kodo's 72-hour power reserve, a quite remarkable feat.
The fact that the watch is a feast for the eyes, finished to Grand Seiko's usual exacting standards, should be no surprise but that doesn't stop us from marvelling at the mechanical excellence on show here.
Tudor Black Bay Pro GMT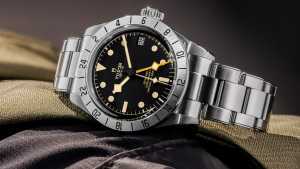 It has been a decade since the Black Bay burst onto the scene and transformed Tudor's position in the global watch market from 'Rolex's little brother' to bona fide pioneering force in design and innovation.
After countless iterations, multiple complications, and the use of different materials such as bronze, surely there's only so much further the brand can push the design we first met in 2012?
Not so, says Tudor, as it introduces us to a new subcategory of its definitive collection. Meet the Black Bay Pro.
The Black Bay Pro takes Tudor away from its traditional sweet spot as a vintage-inspired dive watch – a style that's been copied many times over in the ensuing years – towards the realms of the utilitarian tool watch.
Featuring a fixed steel 24-hour bezel atop a 39mm case, and a handy GMT complication signposted by the yellow hand on the dial, it bears more than a passing resemblance to Rolex's Explorer II while retaining distinguishing Tudor flourishes like the snowflake hands and the retro-looking beige colour palette. There's also new indices made from monoblock ceramic.
Under the hood you'll find the new in-house automatic MT5652 movement, based on the absolutely superb MT5400 beating at the heart of the Black Bay and Black Bay Fifty-Eight watches, but this time with an integrated GMT function that allows you to easily move the central hour hand forward or backwards to your desired hour increment.
For those who have always admired Tudor's style but were perhaps looking for something a little meaner than the original Black Bay silhouette, this might be just the ticket.
Patek Philippe Annual Calendar Travel Time 5326G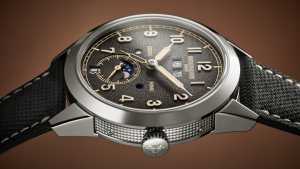 Patek Philippe is the master of the annual calendar complication – a mechanical watch that only needs the date adjusted once a year – this is an undisputed fact, after all they invented the mechanism itself in 1996. Almost 30 years later and Patek is still moving the goal posts, this time creating a model that combines its signature annual calendar complication with a travel time display.
On the dial we see Patek's customary annual calendar configuration: a date window at six o'clock alongside a moonphase within the small seconds subdial, while the weekday and month are displayed below 12 o'clock. However, on this occasion we also see the Travel Time functionality in the form a central 12-hour hand for a second timezone, with day/night indicators both for local and home time. It's a deeply practical and very Patek way of solving a real-world horological problem – it's incredibly satisfying.
If you were being a touch unfair, you could make the argument that it's not at all surprising that Patek has found a new means of displaying highly technical watch complications: this is, after all, what it's very good at. What is very striking, however, is the textured charcoal dial that Patek chose for this particular model. We've heard it described as everything being akin to an old Leica camera or like the graininess of tarmac. Either way, it adds a distinct, almost urban feel (almost being the operative word, this is still Patek), to some good old-fashioned watchmaking. The Clous de Paris (hobnail engraving) decoration on the caseband is just the cherry on the top.
If this is what modern-day Patek looks like, we're here for it.
TAG Heuer Carrera Plasma watch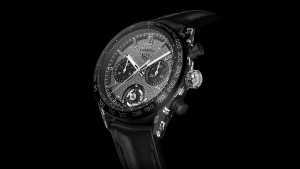 The Tag Heuer Carrera Plasma D'Avant Garde is undoubtedly one of the talking watches of this year's exhibition. At its core, the Plasma turns the idea of the diamond-encrusted watch on its head, transforming it from an ostentatious aesthetic choice to a core design feature through extensive use of lab-grown diamonds.
We've talked about the merits of lab-grown diamonds before – identical to natural diamonds in almost every possible way, without the same expense and invasive mining processes – but we'd never have imagined their potential implementations in the world of horology.
One of the upsides of growing diamonds in a controlled environment is that they can be intentionally shaped in ways that simply wouldn't occur if you left Mother Nature to do her thing. Here, that's allowed the whizz kids at TAG to seamlessly embed 48 lab-grown diamonds (4.2ct in total, if you were wondering) into the 44mm sand-blasted anodized aluminium case. But the brand hasn't stopped there. The "polycrystalline diamond dial" sees the dial blasted with a finely ground diamond powder to create this shimmering textured visual effect, which is then topped off with – you guessed it – lab-grown diamond indices. Hell, even the crown on the side of the case is made from a single piece of diamond. The result is something incredibly striking and wholly different to anything else we've ever seen before in watchmaking.
It's almost not even worth mentioning TAG's premier Heuer 02 Nanograph Tourbillon Calibre is the movement doing the heavy lifting in this otherwise quite typical Carrera chronograph. But, then again, it would be remiss of us not to mention the 65-hour power reserve or the fact that it features an in-house carbon hairspring which is produced thanks to the same Chemical Vapour Deposition (CVD) technology used to create the lab-grown diamonds. Because of course it is.
Before we get too excited, we should probably note that this watch is little more than a concept at this stage. TAG Heuer CEO Frédéric Arnault has confirmed that less than a dozen pieces will likely ever make it to market – and each at a cost of CHF 500,000 to their respective owners. So your chances of seeing one of these in the wild, let alone actually bagging one for your wrist? About as likely as pigs taking flight.
But the possibilities! Oh man, this thing could have industry-wide ramifications. Not only does the Carrera Plasma prove that there's a wealth of applications for lab-grown diamonds and CVD technology in watchmaking, it looks absolutely fantastic in the process.
Montblanc 1858 Iced Sea Automatic Date watch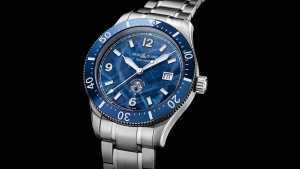 If you'd have asked us at the beginning of Watches & Wonders what we categorically didn't expect to see, Montblanc entering the dive watch space with an absolute doozy of a collection would have been right up there on our list of improbables.
The 1858 Iced Sea Automatic Date is the brand's first fully fledged dive watch and neatly draws inspiration from the Mer de Glace ("Sea of Ice") waters found at the base of the Mont Blanc Massif mountain range.
On the spec sheet, you'll find a host of the usual dive watch details: a robust 41mm case complete with matching steel bracelet, unidirectional rotating ceramic bezel, increased legibility thanks to anti-reflective coating on the sapphire crystal and Super-LumiNova painted on the numerals and indices, as well as a screw-down crown and water resistance up to 300m. The watch is also ISO 6425 compliant, which basically means it's undergone standardised testing to ensure it meets the industry requirements for a dive watch.
What you won't find on any other diver is the striking 'frozen' dial created using an old-school technique called gratté boisé whereby a special wooden tool is scraped across the brass base dial before the lacquering process. It creates an appealing sense of depth and really does evoke cracks in the ice without compromising the dial's structural integrity. There's three colourways to choose from – blue, green and black – each one inspired by a different frozen landscape.
Beneath the surface you'll find the new MB 24.17 automatic movement, based on the Sellita SW200-1 and finished in Montblanc's headquarters in Villeret, boasting a 38-hour power reserve and 4Hz frequency.
This is one ice-cool customer we didn't see coming.