There are some watches that are deserving of 'classic' status. And while most are mechanical pieces released half a century or more ago by the most highly thought-of watchmakers in the game (hi Gérald!), there are occasionally models at the more affordable end of the market that can hold their own in that arena, too.
The Tissot PRX is one of them – originally released as a quartz watch in 1978, its distinctive flat lugs, integrated bracelet and sporty but dressy dial made it a hit pretty much through the era of Pac-Man and New Coke up to the present day.
The PRX's distinctive flat lugs, integrated bracelet and sporty but dressy dial made it a hit on release
It would be disingenuous, mind, to suggest the watch was an entirely revolutionary design when Tissot launched it. By the point of its release, the Royal Oak had been around for six years and the Nautilus for two – both among the most coveted integrated-bracelet sports watches in the world. And it's actually closest in look to Vacheron Constantin's 222, released the year before. But of the two, it was the Tissot that endured.
Tissot PRX Powermatic 80
The brand has duly delivered this September what many of its fans were looking for with the launch of the PRX Powermatic 80 – in other words, a mechanical version that kept the same 40mm case, but slid in the brand's impressive Powermatic 80 calibre. The movement has a walloping 80 hours of power reserve, shown off in the automatic version's sapphire caseback, while the other design tweak sees a beautiful Audemars Piguet-style 'waffle' dial, which adds a layer of visual intrigue without overcrowding the aesthetics. The bracelet, too, is wonderfully put together, with a lovely butterfly clasp and a pleasing shimmering effect when it catches the light.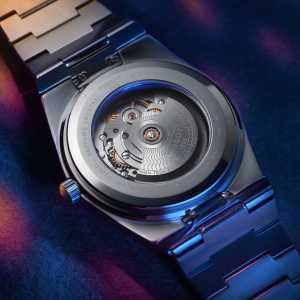 It should also be said that at under £600, the PRX Powermatic 80 represents astonishing value. Tissot is an affordable watchmaker by design and one that releases at scale, but not at the cost of Swiss watchmaking expertise or quality components. When you factor in that impressive movement, it all adds up to a mighty reinvention of a genuine modern classic regardless of the price point.
£565; tissotwatches.com