Whether you're young or old, new to the watch world or a seasoned collector, there's arguably one brand beyond all others that has the power to unite people from across the spectrum. That brand is Seiko, a 140-year-old Japanese watchmaker that makes timepieces from the actually objectively affordable to those that compete with the highest-spec and most prized Swiss watches on the market.
Seiko is one of those curious things: a totally mainstream brand with a genuine cult following. And, with much of its range featuring mechanical watches made with in-house movements and a history to compete with the best of them, it's easy to see why. Seiko's ever-popular Presage Cocktail dress watch collection, for example, generally retails at just under £400; the Snowflake made by its higher-spec sister brand Grand Seiko is over £5,000, and some other Grand Seikos top out at £20,000 or more.
All this is to say that whatever the price point or collection, a Seiko (or a mechanical Seiko, at least) is something no watch snob will roll their eyes at. Pieces from the more affordable collections remain gateway watches. Countless people wearing Royal Oaks and Lange 1s will tell you the first mechanical watch they bought was a Seiko. In fact, some collectors only collect Seikos.
Whatever the price point, a mechanical Seiko is something no watch snob will roll their eyes at
This is especially true when it comes to the Seiko 5 series: started by the brand in the 1960s, it pushed the price point down even further and gained the brand legions of followers in the process. These days, a Seiko 5 remains pretty much the undisputed value proposition of the watch world.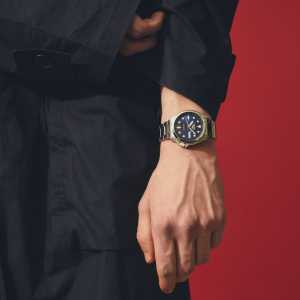 The SRPE53
Ever since I started reading about the Seiko 5 story, I knew I wanted one. I love watches but I also love value, and just as a Black Bay 58 represents great value at around £3,000, a Seiko 5 at a shade over £200 is a simply irresistible temptation.
That aforementioned mind-boggling number of references in the collection can be a difficult place to start. In the Seiko 5 Sports range, as it's now called, are simple, clean sports watches and chunky divers alike, but one that stayed with me was a release from last year, the SRPE53 – largely because in terms of its design, it represents a perfect mid-point between the two styles.
The dial is supplanted pretty much directly from the popular SKX series of divers, but it sheds the rotating bezel in favour of that downsized sports-watch-style one. Remember the 'cult following' aspect? The 53 – along with its siblings, the black-dialled SRPE55 and SRPE57 – are known amongst Seiko fans as the "DressKX", owing to the melding of the two's aesthetics. (Yes, this obviously isn't a dress watch, but ToolKX doesn't rhyme and isn't as catchy.)
Like the SKX series, hands and indices are all diver, a little reminiscent of the Black Bay, you might say – blobs, triangles and chunky hands – and the colour of the dial on the SRPE53, is a beautiful dark navy rather than black. The crown continues one of the collection's five defining principles – hence the name Seiko 5 – being offset at 4 o'clock. (In case you were wondering, the other four are, roughly: automatic; water-resistant; on a bracelet; a day and date window on the dial.) The case is also crowd-pleasing at a nice, easy 40mm – not slim, but not chunky, either – with an exhibition caseback to view its incredibly reliable 4R36 movement and a power reserve of 41 hours.
The fact that searching "SRPE53" or "DressKX" online you'll find countless video reviews from websites and reviewers across the watch spectrum is a testament to the impact of this little watch with a big fanbase. First mechanical, weekend beater, one of a collection or your one and only watch, it can do it all. And at a price that really is pushing into rude-not-to territory, it really does symbolise everything people continue to love about this enduring brand, its heritage and its mindset.
£230; seikowatches.com