Watches and motoring just go together. Rolex and the Daytona 500; Tag Heuer and Le Mans; Chopard and the Mille Miglia.
But no watch brand takes this marriage to quite the extent of REC – a Danish company that doesn't just take its inspiration from cars, but actually builds parts of them into its watches.
Let us explain.
The name REC isn't an anagram, but rather an abbreviation: it's a three-step process the brand has coined as RECover, RECycle, REClaim.
The idea is to take the soul of a car, and embody it in a watch.
Its most extreme collection yet, the limited edition 901 RWB has been two years in the making.
The cars
These highly-tuned and customised Porsche 911s are creations by the legendary Japanese car tuner Akira Nakai, founder of Porsche tuning company RAUH-Welt BEGRIFF (RWB).
Nakai is considered an underground phenomenon in the drifting community, having specialised in the installation of custom wide-body kits and extreme fenders on classic Porsche 911s. Doing most of his work by hand, Nakai-san's RWB conversions are unmistakable.
His violent, chaotic approach is the antithesis to Porsche's discreet, careful upgrades – the Mr Hyde to Stuttgart's Dr Jekyll.
The cars used as the muses for this collection are two famous race cars personally owned by Nakai: the Stella Artois – a race car 12 years in the making and the genesis of all RWB projects; and Rotana – a hardcore, track-focussed take on a Turbo.
Stella Artois was Nakai-san's first full conversion: a black and gold classic black 1985 Porsche 930 turned into a roaring monster.
Whereas the purple Rotana is based on a Porsche 993 and Nakai-san's vision taken to the extreme.
Both vehicles would go on to define and shape the RWB brand and Porsche tuning subculture.
The watches
The 901 RWB STELLA and ROTANA timepieces contain a piece of metal from both cars.
Raw fender material has been punched into the watch dials and lacquered in place.
Beyond this physical embodiment, the wider design also embodies their spirit. As the watch designer Thomas Funder explains: "Whether you like them or not, Mr Akira Nakai's RWB creations don't go unnoticed.
"You take a stand. We wanted to incorporate the same powerful presence into our Stella and Rotana timepieces".
The Design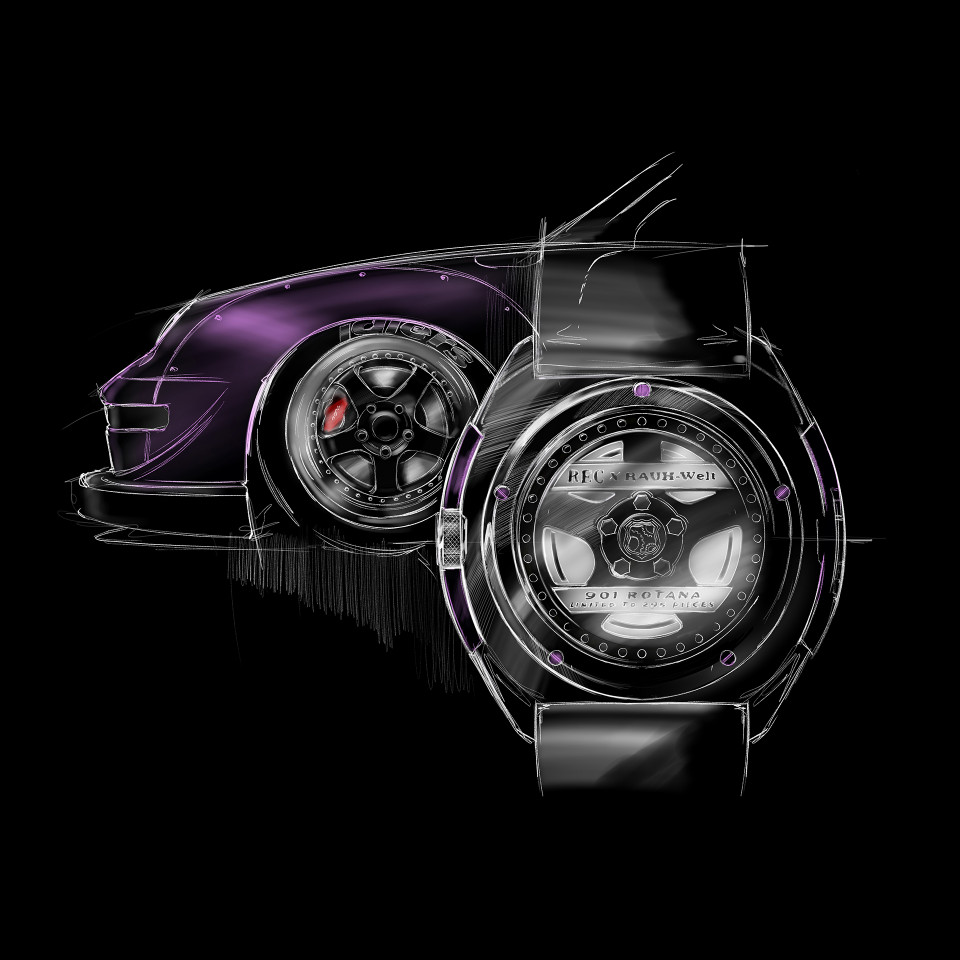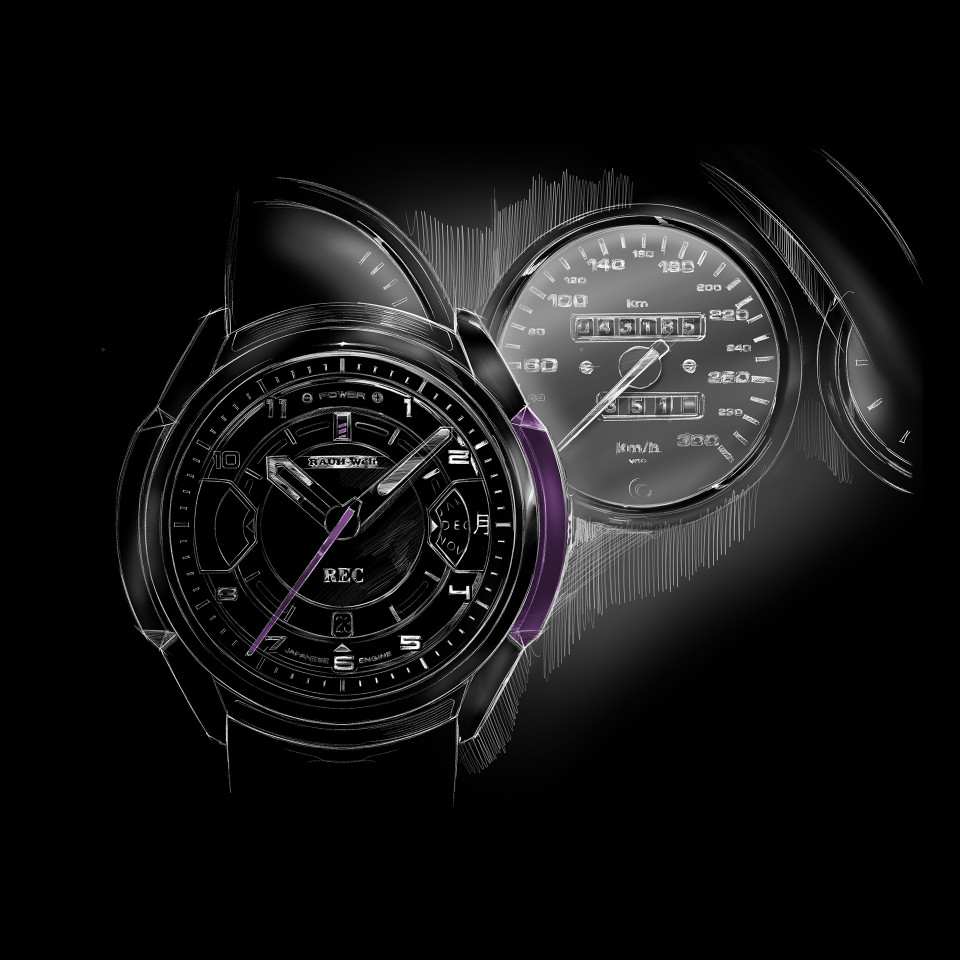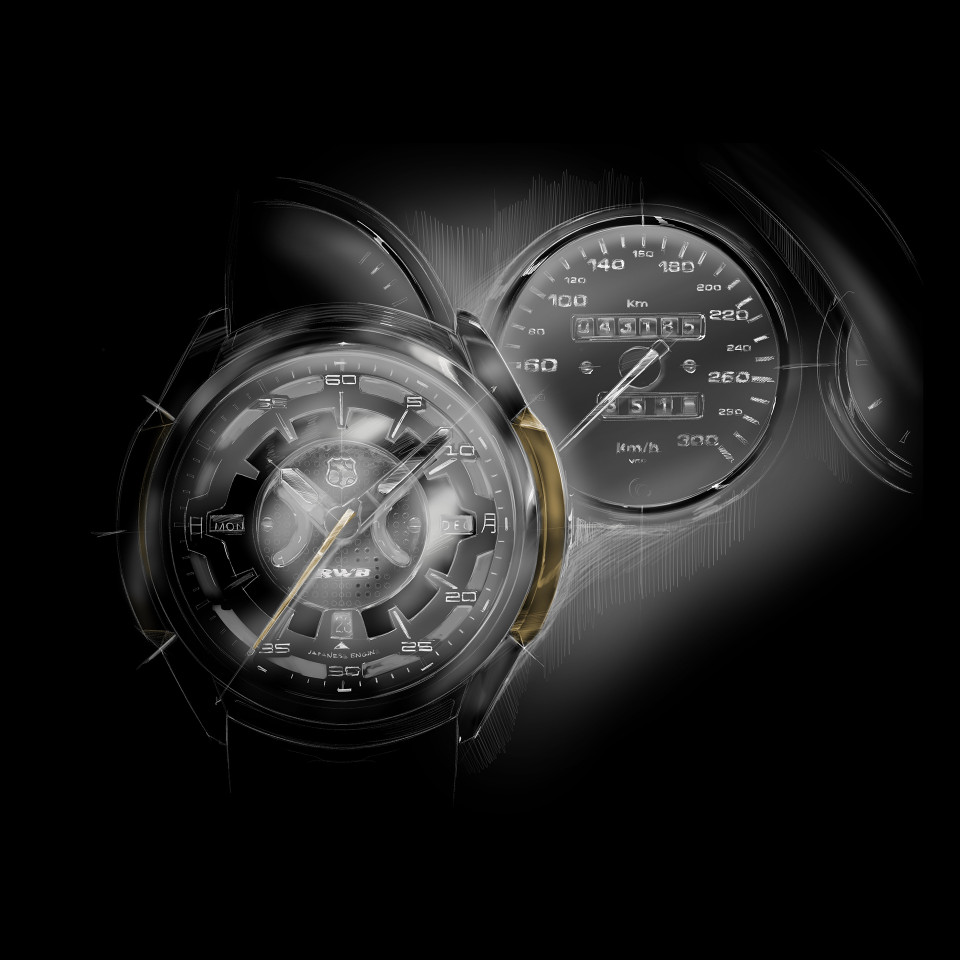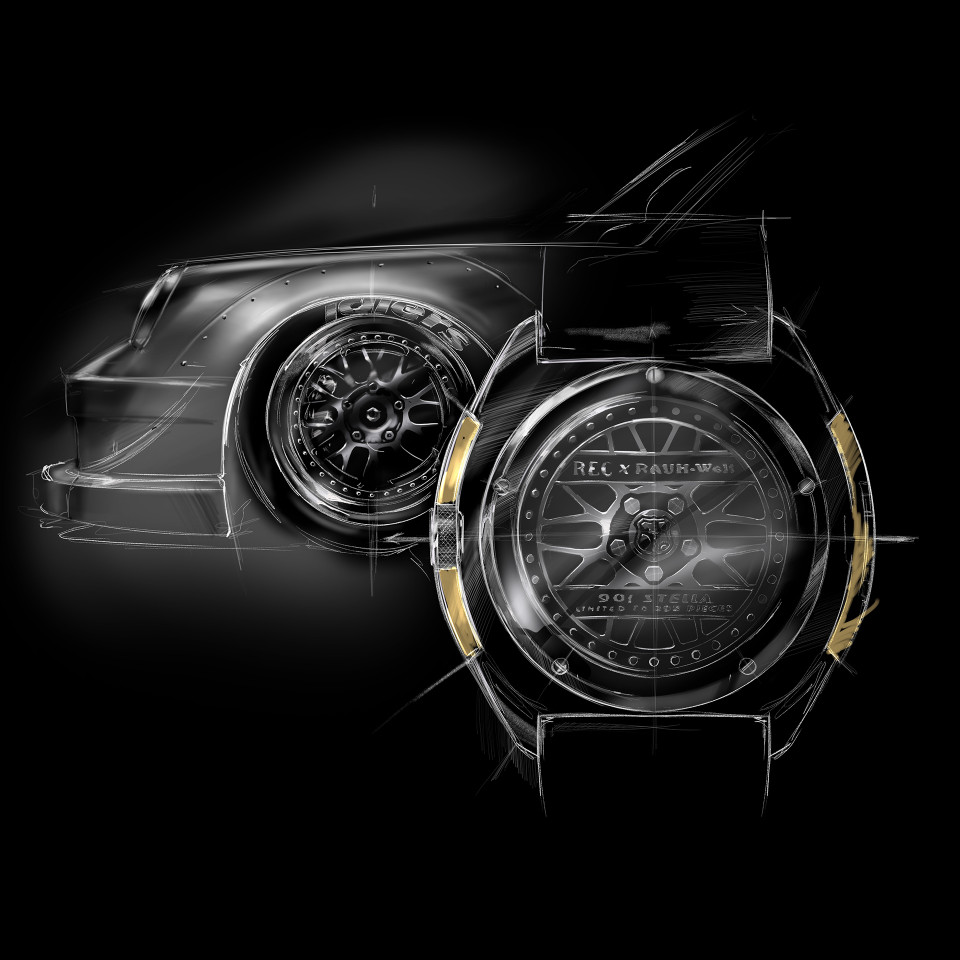 The extreme wide body kit of the cars is reflected in the 901 RWB's own bulging case; the black PVD caseback is an hommage to the cars' rims; and even the visible screws are a nod to RWB's kits, which are all screwed on by hand.
The Rotana's month/week indicators also reflect the car's dashboard – specifically, the mirrored segments of its oil temperature and pressure gauges.
Under the hood is a 26-jewel automatic movement with a 40-hour power reserve.
And naturally the quick-release straps are made from black rubber. We're half surprised those don't come pre-burnt…
Each model has a limited run of only 305 watches. £1,471 For more information, see recwatches.com