Jason Wilbur is a multi-faceted designer who loves to push the limits of design. From his accomplished career in automotive and future-focused transportation design to award-winning timepieces and innovative products, Wilbur is creating a whole new brand of modern art. Inspired by the modern methods of high-performance automotive R&D, a love for machines, and the pioneering spirit of California – the WILBUR brand was born.
Wilbur was no stranger to the watch industry when he launched his new brand Wilbur last year. He has been making waves in the industry for over a decade and has gained the respect of collectors and the industry worldwide. He was the designer and inventor of the award-winning Devon Tread 1 watch, as well as many other extreme concepts and successful brand collaborations which put him on the radar.
Watchmaking in the US rare. Most of the respected brands are born out of Switzerland, but Wilbur sees this as an opportunity to add a new and bold character to the luxury watch landscape.
"I'm on a sort of an island by myself out here in California. It's a blessing and a curse. Not being surrounded by the industry as most are in Switzerland, it gives me an opportunity to create my own interpretation of what a watch brand should be, without interference. This also means I need to be creative in the way I engineer and manufacture my watches as there aren't many watch factories just down the street."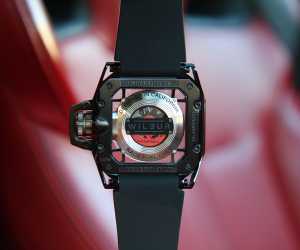 Wilbur designs his watches himself in high tech computer-aided 3D programs and this allows him to do the work of a full design team. He then leans on teams of micromechanical engineers, automotive and aerospace engineers to help finish the job. Wilbur says this makes for a more unique product as there are no fixed parameters as there would be if working with traditional watch engineers and factories.
Through this unique process alone, Wilbur watches are like nothing else in existence.
"My goal is to explore new opportunities when it comes to watches, I have no interest in repeating the past. I'm interested in creating the future. My creations are art to me – sculptural pieces that just happen to tell time, not technical devices meant only to tell time."
My creations are art to me – sculptural pieces that just happen to tell time
Wilbur's love for rebellious design and automobiles comes through loud and clear in the character of his new American brand and the brands first release – The Launch Edition.
The Launch Edition has a 9-part exoskeleton case design reminiscent of an advanced automotive chassis with a suspended movement cage and impressive exhibition back. Sapphire crystals all around and multi-level dial with floating chapter ring in glass. The Launch Edition is fitted with a Japanese automatic movement and limited to 250 pieces each.
Launch Edition Watches are available now at wilburco.com