Picture the scene: It's October in London. A young black founder enters a room full of investment professionals and startups embarking on a major fundraise. There are around 50 guests, and some very deep pockets in the room. However, only one founder in here is black. And there isn't a woman in sight.
I've experienced first hand the lack of diversity in the start-up world. However, I've also seen some amazing initiatives pop up in the last few years – like UK Black Tech, an independent organisation aiming to increase the number of people from black and ethnic minority backgrounds working in - and founding - tech businesses.
Things have certainly improved since 2017 when TechCrunch's Mike Butcher tweeted, "It's great that there are so many UK 'Women in Tech' type groups now, but where's the support and groups for black tech founders?".
On the London circuit, walk from investor event to panel discussion to high stakes pitch day and there's still a tangible sense that we're massively underrepresented. Pity party this is not; it won't stop black founders doing their thing. However, for Black History Month, it's energising to be reminded that there are some fantastic role models in 'Tech City' right now.
Their stories are interesting for all, and critical for many…
Kenny Alegbe, Founder of HomeHero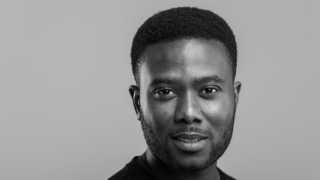 What did you start?
HomeHero. It makes running your home easy, helping you find time for the things that matter most. We do this by offering a platform that manages your household: from collating and setting up all your bills in one place, to taking care of admin like fixing your boiler, sorting out cleaners and responding to technical issues in the home.
How did you get into that?
I was going through a property transaction and had an idea. Like most entrepreneurs: I came up with my best guess on how to put it into action, quickly realised it was totally wrong and then learned from the existing market to arrive at the actual idea.
My problem was that there's a lot of pain in the process of getting into a property and managing all the disparate needs across the home. So I thought it was worth finding a way to take away the time and stress people have around that – because ultimately time is the most important thing you have.
Did you have a mentor or support structures in place when you founded it?
I've always been somebody who is happy when other people around me are doing well. When I was younger I was always able to find jobs in things I wanted to learn about, so went from working in law to working in an asset management firm to then working in a hedge fund just because I found those areas interesting. Plus I'm persistent.
I pulled together a group of five or six people and set up a sort of fraternity. Every Sunday we would have a Skype call and there was one piece of homework: Whatever you learnt in your job that week that was particularly interesting and helped you better understand the world, you had to bring into the conversation. The real advantage of network is really about exposure and understanding how things work, so I created this one to share knowledge.
My mum was also an entrepreneur and she was a serious influence. She's an amazing woman who has gone from selling fruit on the side of the street in Nigeria to having visited most countries in the world and imported/exported goods internationally.
Can you recommend three books that were game changers for you?
The Hard Thing About Hard Things, by Ben Horowitz. I love this book because it makes the point that building a business is hard for everyone, no matter what you do.
The Daily Stoic, by Ryan Holiday. It grounds you when it comes to facing challenges. Striving to achieve something in life and become notable is just as hard as it was thousands of years ago. Stoicism teaches you that happiness is a choice.
The 50th Law by 50 Cent. For some this might seem surprising, but there is a lot to be learned from people who have come from humble beginnings and have managed to climb. They often have many lessons to share.