"Check out that idiot!" Dan Bilzerian and I are inspecting the cover of Square Mile's July 2017 issue, graced by one Dan Bilzerian. The print version is squeezed into a white suit jacket, and looks about as comfortable as a doberman in a leotard. (Our photoshoot was the jacket's inaugural outing; it hasn't been worn since). In one shot, a pair of camouflage shorts are visible beneath the jacket's hem; Bilzerian 2017 had refused to don trousers, and the sight gag was too irresistible to omit.
Bilzerian 2019 seems to enjoy it. Chuckling, he films himself flicking through the pages and uploads the video as an Instagram story, where it will garner several thousand views before we have even sat down. Maybe more. The man is known as the 'King of Instagram', ruling over 27.9m followers (it was 22.6m when we met two years earlier). An earlier post of a sedentary Bilzerian with a model on his lap racked up 1.3m likes. She was even wearing an actual dress, rather than a bikini, or nothing whatsoever.
An extra 5.3m followers isn't the only change over the past two years. Last time, we interviewed Bilzerian at his Las Vegas mansion; now we must make do with the considerably less opulent surroundings of the Mandrake Hotel's penthouse suite. (And no, the comparison isn't ironic. Not even nearly.) Bilzerian still likes a T-shirt and shorts, and wears the former no tighter than an anaconda's squeeze. The shorts? The shorts are tiny and bright orange – and as you can see from the photos, when I say bright orange I really do mean bright orange. They would be considered garish at a Katy Perry gig.
If you don't know Dan Bilzerian, the short explanation is: millionaire poker player who found notoriety through his larger-than-life persona, documented on an Instagram account that is a mixture of FHM, the FT's 'How To Spend It', and an arms bazaar. Think a Michael Bay film with marginally fewer explosions and a lot more female flesh. Subtle, no (a thousand times, no). Effective? Absolutely. For a not-inconsiderable demographic, Bilzerian is living the American Wet Dream.
(If you want the full Bilzerian biography, involving his disgraced Wall Street raider father, his gambling exploits, the disputed source of his fortune, and his cats, track down our aforementioned cover interview – the definitive Bilzerian work, according to my mum. That's a joke. I don't think she's read it.)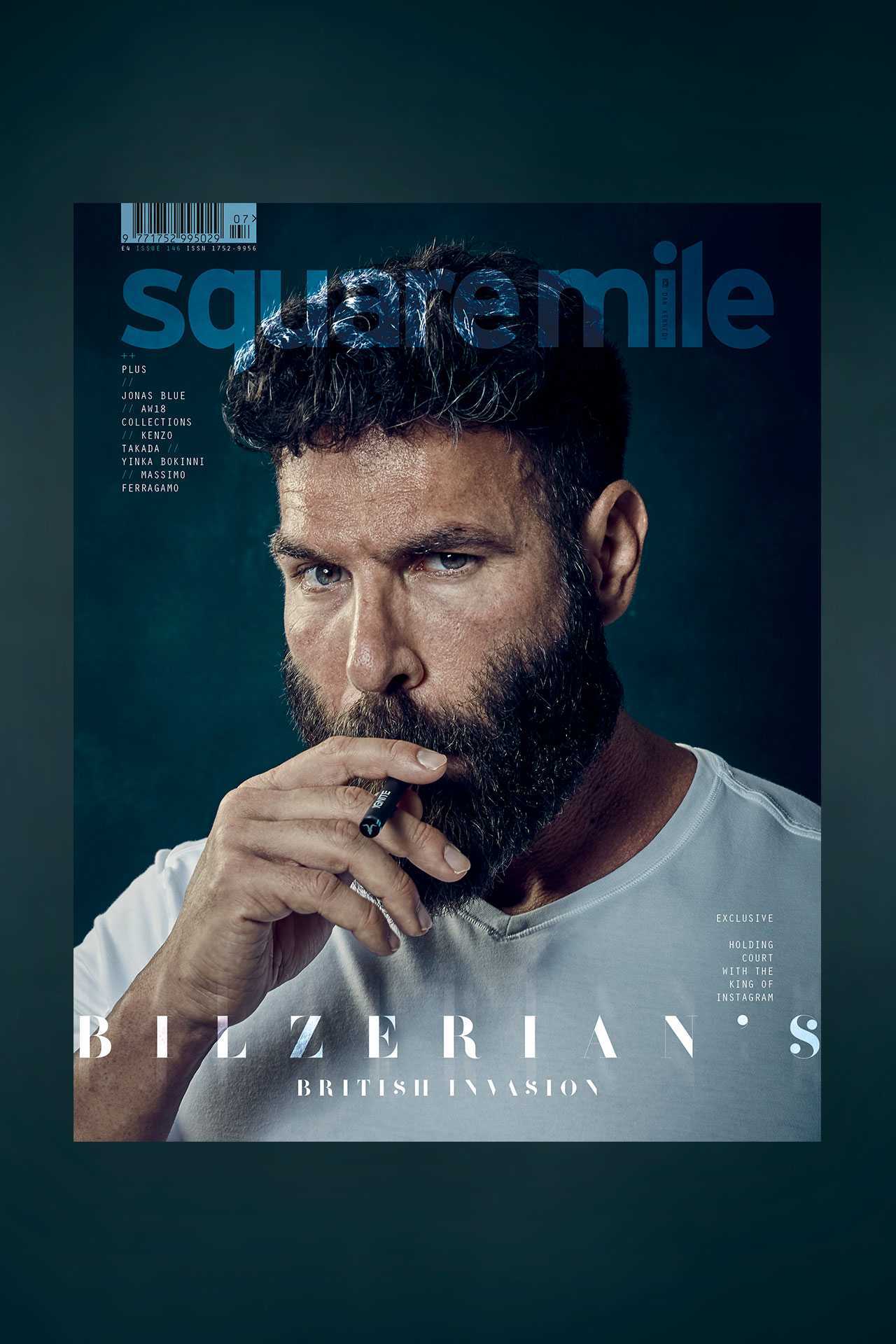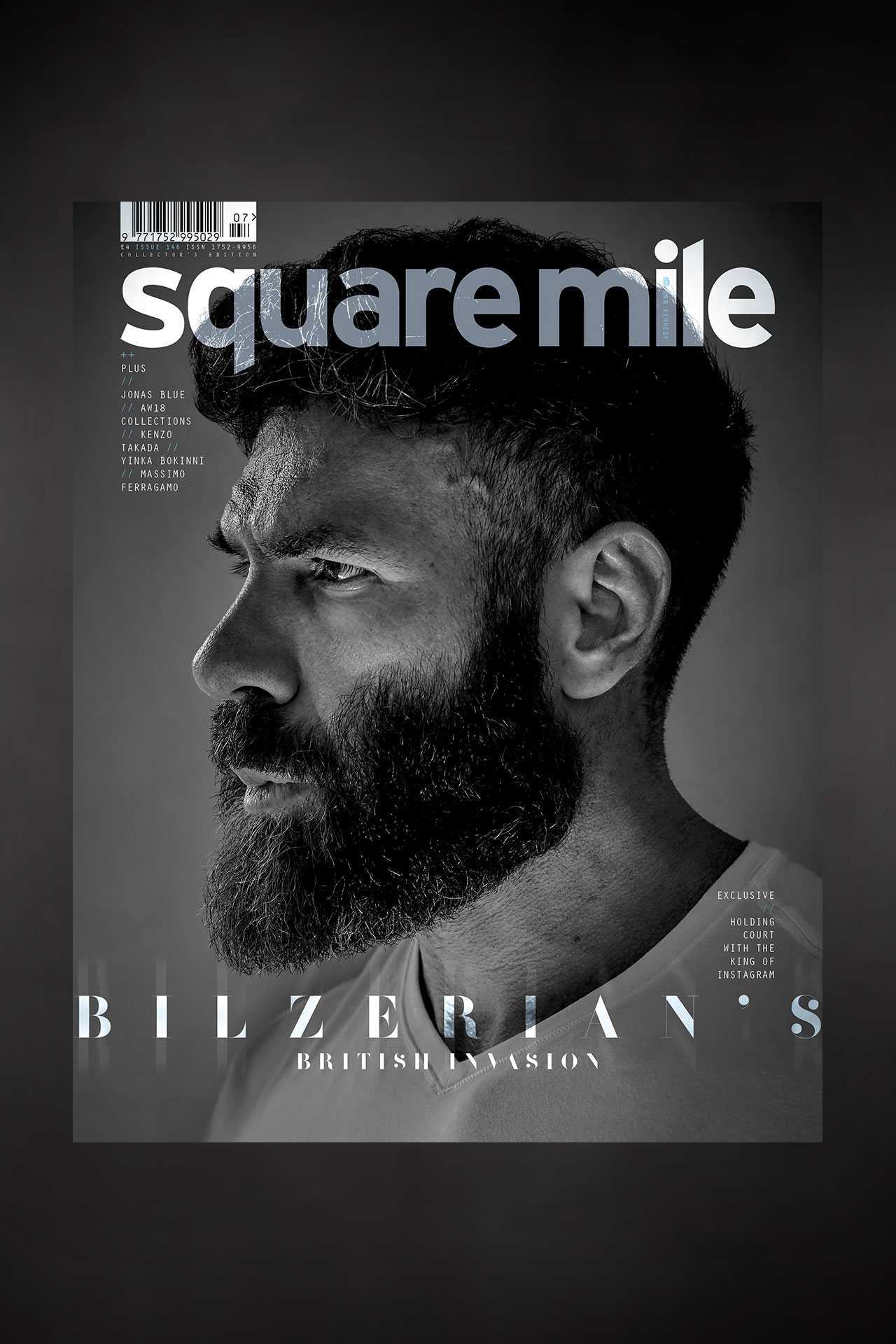 Bilzerian is visiting London for the UK launch of his cannabis brand Ignite. Isn't cannabis illegal here? Yes, but the cannabidiol (CBD) isn't, hence Ignite is marketing CBD products (eg: vape) that won't get you high but might just relax you after a stressful day at the office. Later this evening, the entire hotel will host a party filled with numerous models and influencers and journalists but very little Dan Bilzerian: our host shows face belatedly and briefly, then disappears into some kind of VIP area while everybody gets drunk at his expense. (Bilzerian is emphatically not the Jay Gatsby of the 21st century, but there are similarities beyond a consumption so conspicuous it might as well be wearing a gold top hat and bouncing on a trampoline. I'll open with 'permanent sense of restlessness' and let you decide on the others.)
Fine, another: the not entirely unfairly corrupted public image. Bilzerian and the media – it isn't that they don't get on (although they don't), more that they don't understand one another, and neither side cares to try.
In The Times, Hugo Rifkind treated Bilzerian with appalled incredulity: "He might be the most famous person I've ever met, and I've never heard of him. Does any of this make any sense?" VICE spent 2,000 words sneering at the Ignite party, before being granted a two-minute audience with Bilzerian and taking him to task on the sexist branding – no, sorry, asking about the health benefits of CBD. Chris Ayres of British GQ turned up at Bilzerian's LA mansion (not the Vegas mansion, a bigger one), refused to sign an NDA, and was forced to conduct the interview in the driveway. Two of these pieces are very much worth a read.
Ayres wrote the first major Bilzerian profile in 2015: 'The Truth About Dan Bilzerian'. (Bilzerian wasn't involved.) During my internship at British GQ, Ayres's article – brilliant, incidentally – was consistently the most popular on the website. An extract runs: "his feed documents a lifestyle so outrageous and seemingly free of moral, financial or legal constraints, it's as though he inhabits a Jason Statham movie, or a Hunter S Thompson novel – only with faster cars, less inhibited females, and more advanced weaponry."
You can understand my trepidation when, two years later, I found myself flying out to Las Vegas to conduct Dan Bilzerian's first-ever print interview for a lifestyle magazine (any magazine, bar the odd poker title). How did we land it? Good question. I'm still not sure.
You don't want to piss off the interviewee after two questions, especially when this particular interviewee is sitting opposite you on their sofa, absentmindedly loading a very large gun
An American PR agency wanted to promote Blitz TV, Bilzerian's short-lived foray into the realm of animation: cartoon depictions of particularly cartoonish escapades in a life that often seemed an ongoing homage to Hanna Barbera. (The two heart attacks, the time his coked-up friend put sharks in a swimming pool. Looney Tunes, X-rated.) The PR offered a phoner, we requested an in-person and photoshoot, and a few weeks later, still half expecting to wake up, the photographer and I were loitering by Bilzerian's swimming pool, waiting for its owner to return from the gym.
Bilzerian's Las Vegas pad? Lots of guns, supposedly loaded – I opted not to find out. A driveway full of vehicles that look like they might stand up at any moment, and start shooting lasers from their headlights. A games room with its own bar and cardboard cutout of Dan Bilzerian, smoking a cigar. A 21-year-old girlfriend. The girlfriend has since left – the rest, I suspect, is much the same.
My expectations for Bilzerian hovered somewhere between buffoon and psychopath, although I hadn't ruled out psychotic buffon. Would he throw me into his swimming pool as he once threw a female porn star – which doesn't sound so bad, except he was throwing the porn star from his rooftop, and he missed. Would he recruit me into some madcap endeavour, similar to his 33-hour cycle from Los Angeles to Vegas to win a $600,000 bet? (If so, would he stake me?) Would he scream "welcome to casa el pussy, broheim!" and seize me in a welcoming, broheimian headlock that inadvertently snapped my neck?
None of the above – although he did drive us into the desert on a dune buggy to shoot some guns, which I suppose fills one square on Bilzerian Bingo. He also posed patiently for the photographer in a white suit jacket and cargo shorts – Square Mile and Dan Bilzerian circa 2017 weren't exactly aesthetic soulmates. We have since relaxed on the suited 'n' booted look, as you can see from the 2019 shoot.
Our interview was a breeze. I started with the softballs. Standard practice – you don't want to piss off the interviewee after two questions, especially when this particular interviewee is sitting opposite you on their sofa, absentmindedly loading a very large gun. However Bilzerian never dodged a question – "Do I consider myself a feminist? Definitely not!" – and proved to be surprisingly articulate on the dislocation between his personality and his public image, and the commercial viability of playing up to the latter.
I liked him. There, I said it. Do I understand why people object to him? Absolutely. Do I think these people are wrong to do so? Of course not: in the Year of Our Lord 2019, an aggressively alpha-male millionaire who surrounds himself with a harem of women in their twenties and not much else will attract plenty of condemnation, and this isn't Political Correctness Gone Mad but a sign Things Are Moving In The Right Direction.
Nonetheless. Nonetheless the man still elicits a certain fascination, and for many of his 40 million-odd social media followers he is not merely a mensch but a bonafide hero. And I'm sorry, while media outlets are welcome to strike a pose of appalled, righteous, condescending bemusement, there is no great mystery to Bilzerian's popularity. He's a daredevil provocateur known for waging vast sums of money on ridiculous bets, posing with naked models on superyachts, and shooting stuff. Bemoan the fact that Dan Bilzerian has approximately 10,000 times as many Instagram followers as Francis Fukuyama, but don't pretend you can't understand why.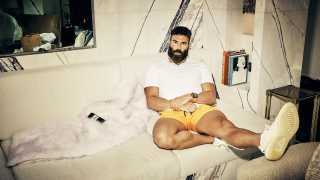 Last time we met you wanted to start a cannabis brand. How did you do it?
A lot of hard work, a lot of pain in the ass, and yes, we hired a good team, raised a bunch of money, and off to the races.
"I think it would be kind of fun to build a business and have a focus." Has it been?
It's been good. I've had my fair share of distractions, but it's been good.
Distractions in terms of?
Girls. The last time we talked, I had a girlfriend, monogamous, and now it's a fucking circus. So managing all that, man, it's a job in and of itself.
But you're enjoying it again? Previously, you seemed a bit done with it...
Yes, yes. I mean, I knew I was going back into hell, but it was for the brand and for a purpose, so people want to see that. It's not something that most people do, so it's a part of the aspiration and part of the wish fulfilment.