Now here's a proper cocktail bar. The kind of place you share with friends and take detours to visit. "Guys! I know a spot…"
Hidden beneath Pali Hill restaurant, accessed only via a rear staircase, Bandra Bhai is part smuggling den, part living room of a 1970s Indian grandmother. Or perhaps the living room of a grandmother who moonlights as a smuggler.
Whatever, it's gorgeous, decked out with colourful sofas and stuffed peacocks and posters of Bollywood stars and leopard-print cushions. The wallpaper is decorated with lions, palm trees and acrobats. There's a fireplace, and on the mantelpiece above it a collection of monochrome photographs. It may be small but you can easily lose yourself in Bandra Bhai.
What to drink?
The Smokey Joe (MaCallan 12yr whiskey, apricot liqueur, martini rosso, lemon, lapsang souchong). I mean, order what looks good – it almost certainly will be –- but old Joe here is an absolute showstopper. I had a sip of my mates, and then another, and then had to order one for myself. Even more of a knockout than its namesake.
There are plenty of other joys. The Gold Fashioned (Woodford reserve, jaggery, chat masala, aromatic bitters) is an Old Fashioned with an Indian accent and tastes all the better for it. (Not actual gold, mind you – this place is far more classy than Salt Bae.)
If you want to get the evening going – Soho is right next door after all – then maybe opt for a Disco Inferno! (Cardamom infused vodka, mango, chilli, lime). Their exclamation mark but it's very appropriate: there's a reason this is the most popular cocktail on the menu. Alternatively the Gabbar Singh Side-Hustle (cognac, pineapple, celery, almond, lemon) is a more refined option for the grown-ups present. Kensington is that way.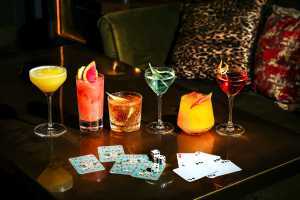 What to eat?
Some absolutely cracking bar snacks – as you'd expect with food coming from Pali Hill restaurant upstairs. Crab sukka with fennel seeds, crushed chilli and ginger is superb. It comes with Mangalore buns, fluffy pastry envelopes into which you spoon your crab. They come two per portion and you'll yearn for ten times that number.
Even better are the grilled lamb cutlets, seasoned with black pepper, cumin, crispy curry leaves and mint raita. Again they come in pairs, again you'll consider smacking your companion over the head with a picture so you can take theirs as well.
Of course, if you've got a proper hunger on then you need only pop upstairs to Pali Hill for the full dinner experience. Or dinner, as it's otherwise known.
Will it bankrupt me?
Bandra Bhai offers plenty of bang for your buck but you will need a few of them in the bank. Cocktails range from £12.50 to £16.50 – hardly eye-watering but you'll feel it after a couple of rounds, in every sense.
Unusually, it's the food that hits hardest. The crab is £14, the cutlets a hefty £20. One cannot argue with the quality but you might expect a little more in terms of quantity (or a little less in terms of price). Again, if you're hungry the smart play is to visit via Pali Hill – your wallet won't be happy if you come here for a proper munch. Your stomach will, mind.
Anything else to note?
Spoilt for choice? Head bartender Dav Eames will guide you through the menu with the expertise of a true craftsman. They say a menu is only as good as the people who serve it – Eames and his colleagues make Bandra Bhai world class. 
79-81 Mortimer St, Fitzrovia, W1W 7SJ; Bandra Bhai