Summer is upon us – which means it's time to dust off the barbecue and cook some meat.
You've donned the apron, you've opened the beer… but now comes the slightly trickier proposition of not turning those sausages into crispy black cylinders. Help us on hand with these easy barbecue tips from two of the UK's leading BBQ Influencers: Hilary Anderson of BBQLads and Jack Rowbottom of JacksMeatShack.
Rowbottom and Anderson host the weekly IGTV Show 'Sizzling Saturdays', sponsored by Buffalo Trace. Sizzling Saturdays includes regular drink features with leading mixologists and food collaborators, showcasing the great ways in which you can use Buffalo Trace with your BBQ.
Here are five simple tips to attain your BBQ A-Game. We've even included a cocktail recipe to toast your success.
CHOOSE THE CORRECT FUEL
Lumpwood burns hot and fast and will last about an hour, which is perfect if you're grilling burgers, steaks and sausages. Charcoal briquettes, which are uniformly shaped lumps of fuel, tend to burn for up to twice as long as lumpwood and provide a more constant cooking temperature, this is perfect for longer cooks such as smoking large briskets, pulled pork and whole chickens.
INVEST IN A CHIMNEY STARTER
The easiest and quickest way to light a barbecue can be achieved by using a chimney starter which is an upright metal cylinder with a handle on the outside and a wire rack inside. No need for lighter fluid when using one of these, as this could compromise the taste of your food.
KNOW WHEN THE COALS ARE READY TO COOK ON
Within 10 to 15 minutes, the charcoal will be ready to pour on to the grill. A good indicator is when the top pieces of charcoal have turned to a grey ash colour.
SMOKE – YOUR FINAL INGREDIENT
Think of smoke as an ingredient to flavour your meat. Start with fruit woods like apple, cherry and pear, which produce subtle flavours. For a more identifiable taste, woods like hickory and oak are your best bet.
75C TO STAY ALIVE
Invest in a meat thermometer and take the guesswork out of cooking. The majority of meat is safe to eat when it reaches 75 degrees Celsius. Check out Jackmeatshack.com for an in-depth guide to internal cooking temperature 
Cocktail Suggestion
Why don't you sit back and relax and have an old fashioned bourbon cocktail, which is the perfect cocktail to accompany this dish.
This simple old fashioned recipe with simple syrup, Peychaud's bitters, a Luxardo cherry and a twist of Orange is the best way to end a hard day's work.
1/2 teaspoon sugar
3 dashes Angostura bitters
1 teaspoon water
2 ounces bourbon
Garnish: orange peel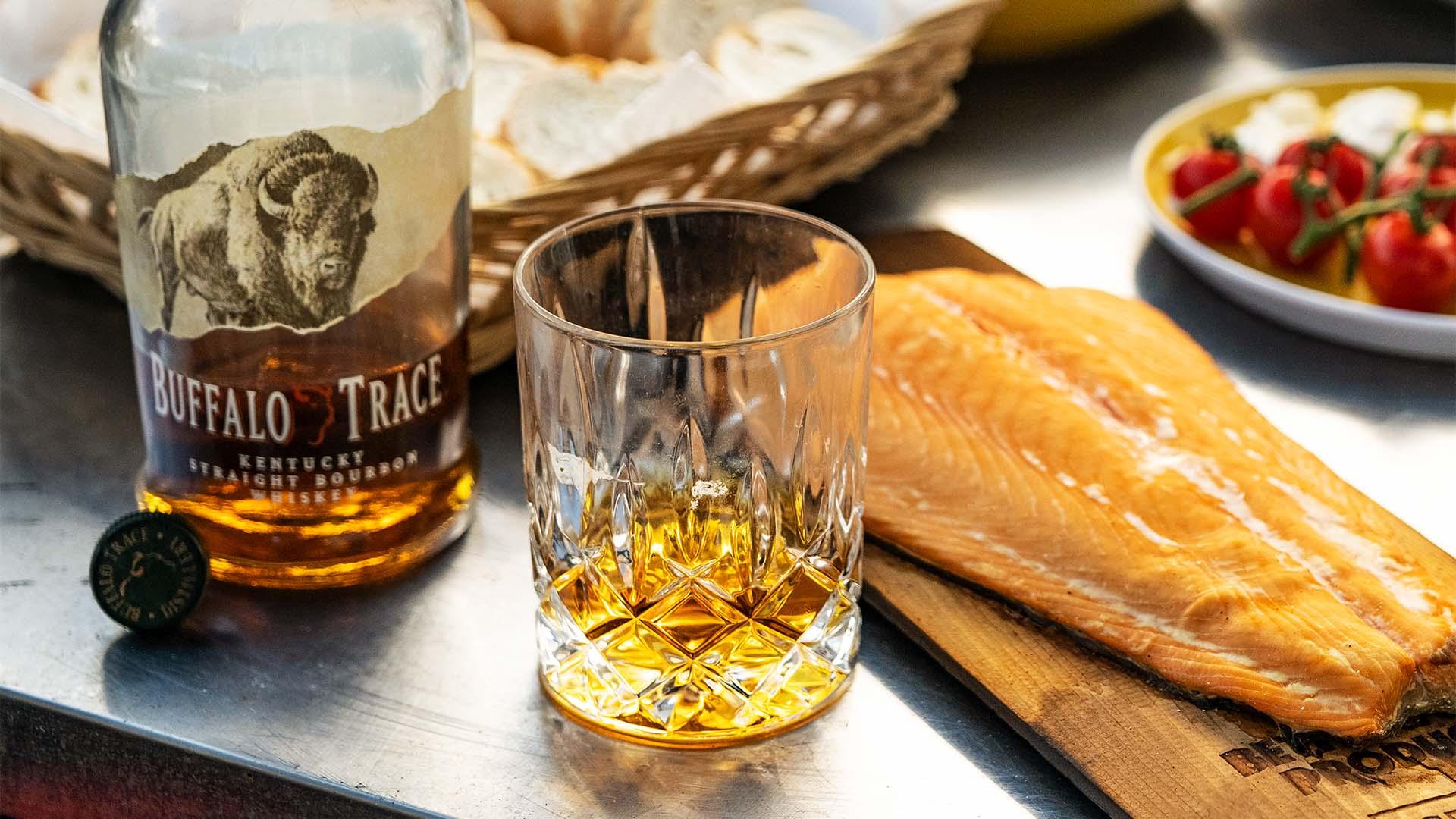 Meat Suggestion 
BBQ is about having fun and being with friends and family, practice makes perfect so get outside and get grilling!
Now you have all this knowledge at your disposal, why not try a delicious the beautiful 2-bone Rib of British Beef that has been dry-aged for 35 days in Buffalo Trace Bourbon-soaked muslin cloth.