What's the vibe?
The décor is sleek and a little dramatic. Candy chandeliers. Marbled feature walls. Quippy neon signs. Think 1980s space-ship with soft edges or Gringotts Bank after a Queer Eye makeover. It's busy, but not crowded. It's big, but the wraparound layout allows it feel intimate and exclusive.
Staff are friendly and attentive but don't hover. The music's loud enough that the place feels lively, but not so loud that you'll need to shout to be heard. Expect groups unwinding after work, a few anniversary dinners and no drinks left unfinished.
What's the story?
Opened in June 2018, this rooftop dining and cocktail spot is located on floor 12 of the DoubleTree Hotel in Tower Hill. The name Savage Garden is a nod to Anne Rice's novel 'The Vampire Lestat'; "In the Savage Garden you shine beautifully, my friend. You walk as if it is your garden to do with as you please." Which I think means: life is short, so make mine a double.
Tempura oysters are good enough to risk losing a friend over
What to order?
The Evil Eye (Herradura tequila, vermouth and Jägermeister) is short, sharp and made for sipping. It also scores points for looking like something a Disney villain would drink in a bubble-bath. Its visual opposite is the Horny Beast; a creamy blend of pink gin, coconut rum and rhubarb and cinnamon soda served with a shard of strawberry, lime and black pepper candy. Great if you prefer something sweeter, but more embarrassing to order if you're out with your mum.
Start with something punchy like the Wild Poison (a bourbon, apricot brandy and pine syrup blend that the menu promises will "go down like a man sliding to the floor"), before finishing on simpler and more refreshing note (both the Savage Spritz or the Kick Ass Martini will do nicely).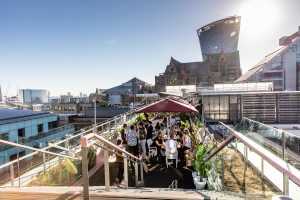 How's the food?
Really tasty. Expect small and thoughtfully assembled plates. Big on flavour and indulgence, the menu is varied enough to have something for everyone, but not so long you'll get lost in it. My advice? Choose something you wouldn't usually go for. The citrus buttermilk chicken sliders were great, but the impulsively chosen charred radishes (served with firecracker dressing) were the real standouts.
Worth noting that most of what we ordered came in threes, so if there are two of you be prepared to duke it out for the last tempura oyster (trust me, they're good enough to risk losing a friend or sabotaging a date over).
Head out to the terrace to admire the view from the twelve story vantage point
Will it bankrupt me?
Signature cocktails cost between £14 and £18, so you won't get drunk on a budget. Still, it's a perfect spot for a special occasion, or just if you feel like treating yourself.
Individual plates start at £6 and top out at £25, so it's possible to keep food costs lower, though once you've tried their crispy squid sticks (served poking out of a pineapple, because why not) you may be tempted to order more or go big with one of their sharing options.
Anything else to note?
Whatever the weather, make sure you head out to the terrace to admire the view from Savage Garden's twelve-story vantage point. Watch the city rush along beneath you. Take a photo on the steps as Trinity Square stands proudly behind you. Watch the sun set behind Tower Bridge. Point at the Gherkin and say "Gherkin."
Or just sit and relax. You're in the garden, after all. Do as you please.
For more info, see Savage Garden