Shoreditch is one of the most vibrant areas in London. It has something for everyone: delicious restaurants, wonderful art galleries, eclectic shops and buzzing nightlife.
Best of all? The bars. Make no mistake, Shoreditch cocktail bars are among the finest on the planet. In the short distance between Old Street to Hoxton, you'll find award-winning bars, inventive bars, beautiful bars, hedonistic bars and bars that simply serve bloody good drinks. 
No list of Shoreditch bars can expect to be definitive – there's sure to be another brilliant one opening within the next week. However we've rounded up a selection of our favourite bars in Shoreditch for your perusal. 
More of a pub person? Here's the best pubs in Shoreditch. Fancy looking further afield? Then try one of the best cocktail bars in London (some of which are also featured here). 
Best Shoreditch bars
Nightjar
For one of the best cocktail bars in Shoreditch – Nightjar might be one of the best cocktail bars in the world. Styled as a Prohibition-style speakeasy, Nightjar specialises in experimental cocktails to a soundtrack of jazz. There's another Nightjar opening in Carnaby Street if you happen to be round the West End. 
129 City Rd, London EC1V 1JB; Nightjar
Tayēr + Elementary
Tayēr + Elementary is another regular entry on any list of the world's best cocktail bars. Opened by celebrated mixologists Alex Kratena and Monica Berg, Tayēr + Elementary is split into two rooms: Elementary at the front and Tayēr at the back with its open kitchen. Make sure to order a One Sip Martini. 
152 Old St, London EC1V 9BW; Tayēr + Elementary
The Alchemist 
A theatrical bar and restaurant, The Alchemist has charmed London with its unique and diverse cocktail menu – hence the multiple outlets around the city, from Shoreditch to Canary Wharf. This is a great venue for either a date or a full night on the town. The food isn't bad, either.  
Read the full review of The Alchemist
6 Bevis Marks, EC3A 7BA; thealchemist.uk.com
Callooh Callay
Cocktail bar Callooh Callay has been a Shoreditch stalwart since 2008. The bar has won numerous awards over the past decade, and when you pay a visit you'll see why. Wonderful drinks served with knowledge and plenty of joy. There's also a Chelsea Callooh Cally but Shoreditch remains the original. Oh frabjous day indeed!  
65 Rivington St, London EC2A 3AY; Calooh Callay
Found 
Everyone knows that basement cocktail bars are the coolest kind of cocktail bars. Found is situated beneath what used to be Casita on Ravey Street. The bar only sits sixty – we're legally required to describe it as 'cosy' – but the booze range is sizeable and the menu from mixologist Oskar Klimaszewski offers some cracking cocktails. Worth seeking out. 
5 Ravey St, London EC2A 4QW; Found 
The Cocktail Trading Company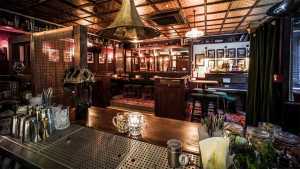 The Cocktail Trading Company was founded by three bartenders so you know it must be good. Everything is priced at £11, whether on or off menu – a lovely touch in this age of austerity. Naturally, the bar has won multiple awards – Shoreditch cocktail bars must have more awards than any area in the world. Anyway, this a company you'll want to join. 
68 Bethnal Green Rd, London E1 6GQ; The Cocktail Trading Company
Black Rock Whisky Bar
OK so Black Rock is a whisky bar rather than a cocktail bar – but it serves whisky cocktails so makes the list. It also makes the list by being a truly brilliant venue, with a vast hollow tree trunk carrying two rivers of whisky across the room. Pick from one of the near-infinite blends and be prepared to become a full-on whisky bore. In a good way. 
Read the full review of Black Rock 
9 Christopher St, EC2A 2BS; blackrock.bar
Discount Suit Company
Another storied name in the world of cocktail bars, Discount Suit Company only opened in 2016 but has firmly established itself as one of the coolest destinations in London. It's small, it's underground, and it makes truly fantastic cocktails. Be prepared to lose all sense of time once you find yourself inside. 
Read the full review of Discount Suit Company
29A Wentworth St, E1 7TB; discountsuitcompany.co.uk
The Gibson
Now here is a real standout. The Gibson is a classical cocktail bar, an art deco delight that only seats 40 people and serves some of the finest cocktails in the capital. The menu starts in Edwardian London – the origins of the gin cocktail that gave the bar its name – and journeys forward through time with some quite incredible mixes. Plus there's live jazz. Of course there is.  
44 Old St, London EC1V 9AQ; The Gibson
Nest 
Some cocktail bars can be quite pretentious. And then you have cocktail bars like Nest, just determined to give its punters a good time. The music is loud, the drinks flow, and there's a whole load of sharing platters to line your stomach. Its proximity to Liverpool Street station ensures an easy commute home. Plus it does bottomless brunch on the weekend. Of course it does. 
155 Bishopsgate, EC2M 3YD; Nest 
Colours Hoxton 
One for the cool kids. Colours Hoxton is a multi-arts cocktail bar and nightclub that hosts everything from live music to drag nights. There are four spaces: the main bar, the live room, superculture hub and the green room for private hire. Pick whichever takes your fancy on any given night and nails your colours to the mast with pride.
Read the full review of Colours Hoxton
2-4 Hoxton Square, Hackney, N1 6NU; colourshoxton.com
Ever After
A truly beautiful bar in Hoxton Square – you'll notice there are a lot of bars in Hoxton Square – Ever After serves brilliant cocktails but the food from head chef Joni Ketonen might be the star attraction. But then the cocktails are really quite something. Maybe call it a draw. Once you've eaten your fill, head downstairs to its sister bar... 
Read the full review of Ever After
8-9 Hoxton Square, N1 6NU; Ever After
Happiness Forgets 
Another underground speakeasy – 50% of Shoreditch must be underground speakeasies. But who cares when they're all so good? Happiness Forgets describes itself as offering high-end cocktails in a low-rent basement, and that more or less covers it. Not a place to work on your tan but most certainly a place to get your drink on. 
8-9 Hoxton Square, N1 6NU; Happiness Forgets
Nikki's Bar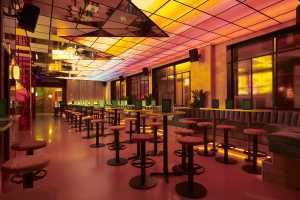 Who's Nikki? The nightmare girlfriend your mum warned you about, according to the bar's website. Nightmare girlfriend, dream bar – its garish interiors inspired by Quentin Tarantino. There's even a PVC-covered bed in the middle of the bar. For Instagram, we should stress, although who knows what happens if you get your drink on. 
Ground Floor, 39A Hoxton Square, London N1 6NN; Nikki's Bar