Discount Suit Company has managed to become a London institution in little more than half a decade. Opened in January 2014, the bar was once a storeroom for tailored suits – discounted suits? Who knows? – but now serves up some of the finest cocktails in the capital.
The bar is accessed via an unassuming door beneath a sign whose dilapidation must surely be deliberate. Descend the stairs to discover a subterranean bolthole, all wood and brick and leather armchairs, with an ambience straight out of the 1920s.
At Discount Suit Company, the time is always half past eleven in the evening, regardless of what your watch might tell you. SIt back and order another. (Although if the time actually is half eleven you better be quick: the bar shuts at midnight.)
What to drink?
Refreshingly for a modern cocktail bar, the menu isn't the size of a 19th-century Russian novel. Eleven cocktails are listed, although the bar staff are happy to take orders to spec or knock up the standard Old Fashioned, Negroni et al if requested.
However you really should sample some of the bespoke offerings – such as the Rhub Boi (Dewars 12yr Whisky, El Bandara Al Fresco Vermut, Rhubarb Cordial, Absinthe, Umbrella London Rhubarb Cider). "I don't any of the ingredients and I like that!" says my friend. Who doesn't like absinthe on a Tuesday morning?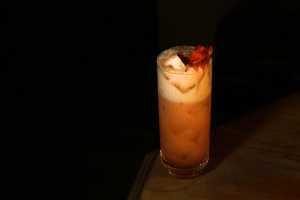 The Baklava (Cardamom Butter-Washed Irish Whiskey, Amontillado Sherry, Honey, Orange Blossom, Bitters) comes on potent: this a drink for those who like to know they're drinking when they drink.
Meanwhile Golden Apple (Seven Tails XO Brandy, Bourbon, Peated Whisky, Rosemary) is so lovely and smoky you want to open all the windows, not that Discount Suit Company has any windows. Warm your hands on it instead.
What to eat?
OK so you might want to line your stomach before paying a visit, especially if you plan on being here for the long haul. Discount Suit Company offers nibbles but nothing that you would count as a meal, certainly not a meal that will soak up three Baklavas.
However the nibbles are very good. Try the cheeseboard, which comes with four cheeses, plum jam and some very delicious crackers.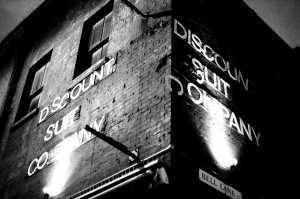 Will it bankrupt me?
Not unless you have a truly formidable constitution. Every cocktail is £9 so you can get through five for under £50.
We cannot in good conscience recommend you drink any more than five but as already mentioned, there are 11 on the menu – which still wouldn't break three figures. Do with that information what you will.
Anything else to note?
Popping upstairs for a cigarette after half an hour in the cocktail den is a disorientating experience – aahhh, daylight!
God knows how you'll feel should you arrive late afternoon and emerge with night yet to fall. Like a vampire, a very well-lubricated vampire – which I suppose is part of the joy.
29A Wentworth St, E1 7TB; Discount Suit Company