Is it a bar? Is it a pub? Is it some strange 'welcome to the 21st-century' hybrid of the two? (Bub? Par? Bub.)
Nah, it's a bar. It may be a bar with slightly pubish decor but a bar The Gun is, no doubt about it.
There's music, and the music is predominantly 70% Beyonce; there's botanical decor; and there's a distinct lack of solitary drinkers staring into their pint glasses as though the ghost of their long lost love is drowning in the warm dregs of spit and Stella Artois (eighth, and counting). The Gun is a bar.
Incidentally, a friend described the atmosphere as 'busy but buzzy', which sounds like a tautology, albeit a nicely alliterative tautology, but having visited I now know exactly what she means. Plus I'm not sure if 'busy but buzzy' would be a tautology anyway, or just a needlessly contradictory statement. Who cares?
What's the story?
Until 2015, The Gun definitely was a pub – and rather a well-established one, dating back nigh-on 500 years in some form or other.
A plaque in the old pub explains: "The fields of the parish of St Mary Spital were open space outside the city wall, and used mainly for recreational purposes. Henry VIII granted a Royal Warrant to the Honourable Artillery Company in 1537, and later gave permission to practice in "SPITALFIELDS." THE GUN takes its name from the Artillery barracks established near Artillery Lane. Because of the influences of the Huguenots [a religious group of French Protestants] who settled in the area, the barracks became known as "The French Barracks.""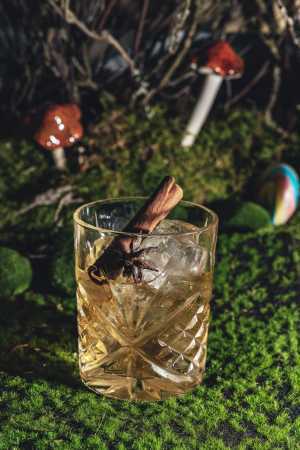 What should I order?
As you'd imagine, the beer options are plentiful, and best discovered under your own steam. There's also a pretty healthy wine list for the oenophiles among you. Let's talk cocktails, specifically the new winter menu. There's something here for everyone.
If you like rum, go Spiced Route Revolver: 'Havana Especial, Union Spice, spiced syrup.' Prefer gin? Hit up the Pink Liberty: 'Beefeater pink, Autumn spice syrup, Kummel, Luxardo Maraschino, fresh lime.' And for the tequila lovers, who are the lucky ones because it's the absolute standout, there's the Diablo at Dawn: 'Ocho reposado, Mezcal, Mandarin Napoleon, fresh lime, passion fruit, Habanero chilli.' Put some fire in your belly on these winter evenings. 
How's the food?
Really good. The standard pub staples are present and correct – Fish & Chips; burgers – but I'd suggest you venture to the more exciting areas of the menu: the grill, for example. My Braised Beef Short Rib practically dripped off the bone, and came with a mashed potato that must have been 80% butter. Definitely enough there for two, and it would be criminal to leave leftovers.
Vegetarians can chow down on an Aubergine and Sweet Potato curry, which my vegetarian friend proclaimed "tasty and complex" although "it could have done with a little more of a kick to really drive it home."
Order the popcorn chicken as a starter: it puts KFC to shame. (Well, obviously it does, you might be thinking, but gourmet comfort food can be surprisingly hit-and-miss; I've never eaten a fish finger better than Captain Birdseye.)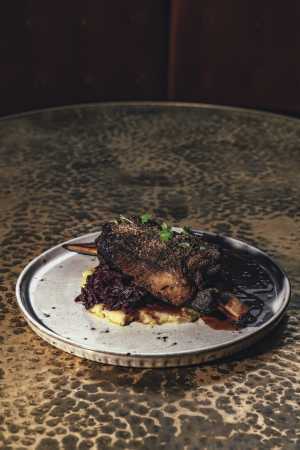 Will it bankrupt me?
It really shouldn't, considering you can stop by for a swift pint and then sod off – but where's the fun in that? Cocktails are around a tenner, main courses cluster between £11 to £17. It's the small plates – ranging from £5 to £12 – where you might rack up the bill. Fried Cornish Yard Brie for £8? Oh go on then!
Anything else to note?
Throwing a party? The Gun is available for full-venue hire, with a capacity of 350, and bespoke food and drink menus. Well, Christmas is right around the corner. (Unless you're reading this between January-August, in which case it's meant ironically.)
For more info, see The Gun