We all know that bloke who fancies himself to be a bit handy, and will take on any job that you're willing to throw at him.
Spot of plastering? No problem. Need your electrics done? Easy. Your boiler's broken? Pah! Plumbing is basically just Lego isn't it? Water Lego.
The Buxton on Brick Lane has a similar feel. It is part Parisian bistro, part English Gastropub, part rooftop cocktail bar, with bijou hotel rooms and even an open-air vegetable garden thrown in for good measure.
Unlike that guy who busted your radiators and flooded your kitchen, though, it manages to be master of all trades and pulls the whole thing off without compromising on quality.
What's the story?
The place takes its name from Sir Thomas Fowell Buxton, a 19th century Brick Lane resident, MP, Human rights campaigner and all round good egg. In his honour, the Buxton team are on a mission to be their best eggs too.
You've heard of locally sourced ingredients, but how about locally-woven rugs and blankets in the hotel rooms? It's all part of a wider emphasis on sustainability and welfare, so you can sate your conscience while you slake your thirst.
What to drink?
Go for the Lebanese Chateau Musar (£38.50). Not a clue about Lebanese wine? Us neither, but for every bottle sold a donation is made to Yalla Beirut, a charity helping the with rebuilding of the capital.
And, since it's a modest £2 contribution per bottle, to make a real difference you had better get good and sozzled in the name of philanthropy. Go on, do your bit.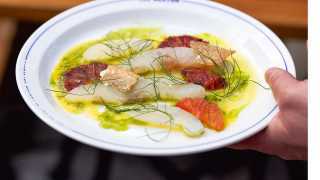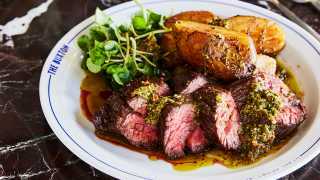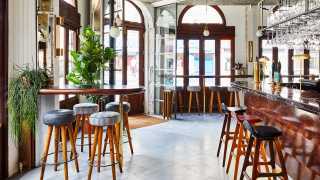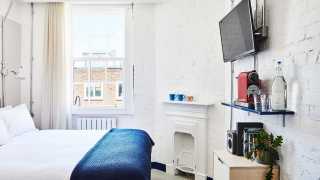 How's the food?
Excellent. Care is taken over everything; the butter is handmade, the crackers hand-crisped. It's five minutes from the biggest seafood market in London so expect fresh fish, but also high welfare steak, mushroom gnocchi and a leek tart that's oozing with egg yolk and piled high with parmesan.
The chefs are heavy-handed with the hard cheese at every opportunity in fact, and we mean that as the greatest of compliments.
It's a very open kitchen and a pretty intimate space, so if you sit at the bar you can keep an eye on the chefs at work. Handy if you've said something rude to the waiting staff and want to make sure no one is doing anything untoward with your steak as payback. Actually, I'm sure they could find a way. Let's hope so, anyway.
Will it bankrupt me?
Cocktails for a tenner, a two course dinner for £23, or three courses for £29 are prices that you really can't argue with. Throw in a comfy room in a central location for around £100, and you've got yourself a great value night out without the inconvenience of actually having to leave the building.
Anything else to note?
The rooftop is exclusively for hotel guests and is not to be missed, so if you are staying the night be sure to grab a cocktail and head up in time for sunset to see gorgeous views of the city and the East End.
A word of warning though, the stairs are steep and it's quite a climb to the top; after several bottles-worth of good deeds it can get positively precarious!
42 Osborn St, London E1 6TD; The Buxton