Tucked away amid the bustle of Covent Garden and its numerous – numerous – bars and eateries, is decorated chef Adam Handling's flagship cocktail bar: Eve Bar.
Eve Bar recently received an interior revitalisation, bringing even more luxe – and more Adam – to Covent Garden.
Like Handling's other restaurants – notably Frog, just upstairs – Eve Bar centres on waste reduction, working with Frog to inspire creativity in the bar's five mixologists who distil and convert surplus ingredients.
What's the vibe? 
When I say Eve Bar is tucked away, I mean it: we enter through an unassuming door between Costa Coffee and Frog and descend a staircase to the secluded basement bar. Though the glib 'resist EVErything but temptation' refrain can get a little weary – a neon sign welcomes you at the entrance, it is repeated in the menu – you have to applaud the interior's riff on 'temptation'. And did you notice the Adam (Handling) and Eve (Bar) pun, yet?
Apples sit on open books – presumably the Bible – protruding from the walls lining the staircase down to the basement, and backlit artwork of naked Adam (not Handling – the other one) mimic stained glass windows, creating an enigmatic church crypt.
The play with levels – some guests lounge on low sofas while others line the bar in tall chairs – and light keeps the intimate room feeling spacious. Pale marble veneers contrast with aged wood floors to create a modern gothic space. Though windowless, dark mauve walls and the backlit artworks cast an eternal twilight.
Arctic Monkeys, The Black Keys, and other gritty 00s classics play as we settle into our seats at the bar. A complementary aperitif swiftly appears before us – a pink yet savoury drink in a tulip glass – along with a menu.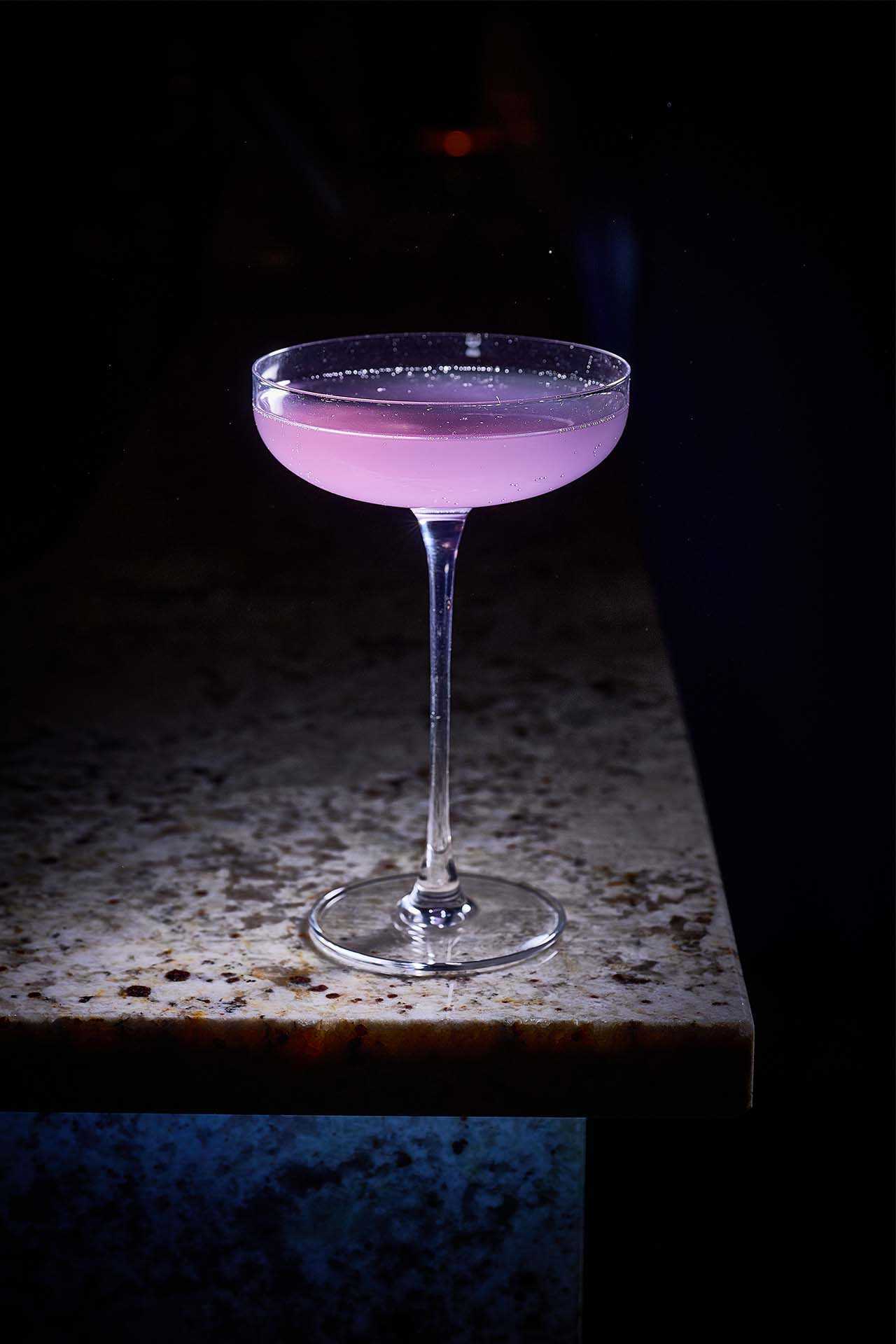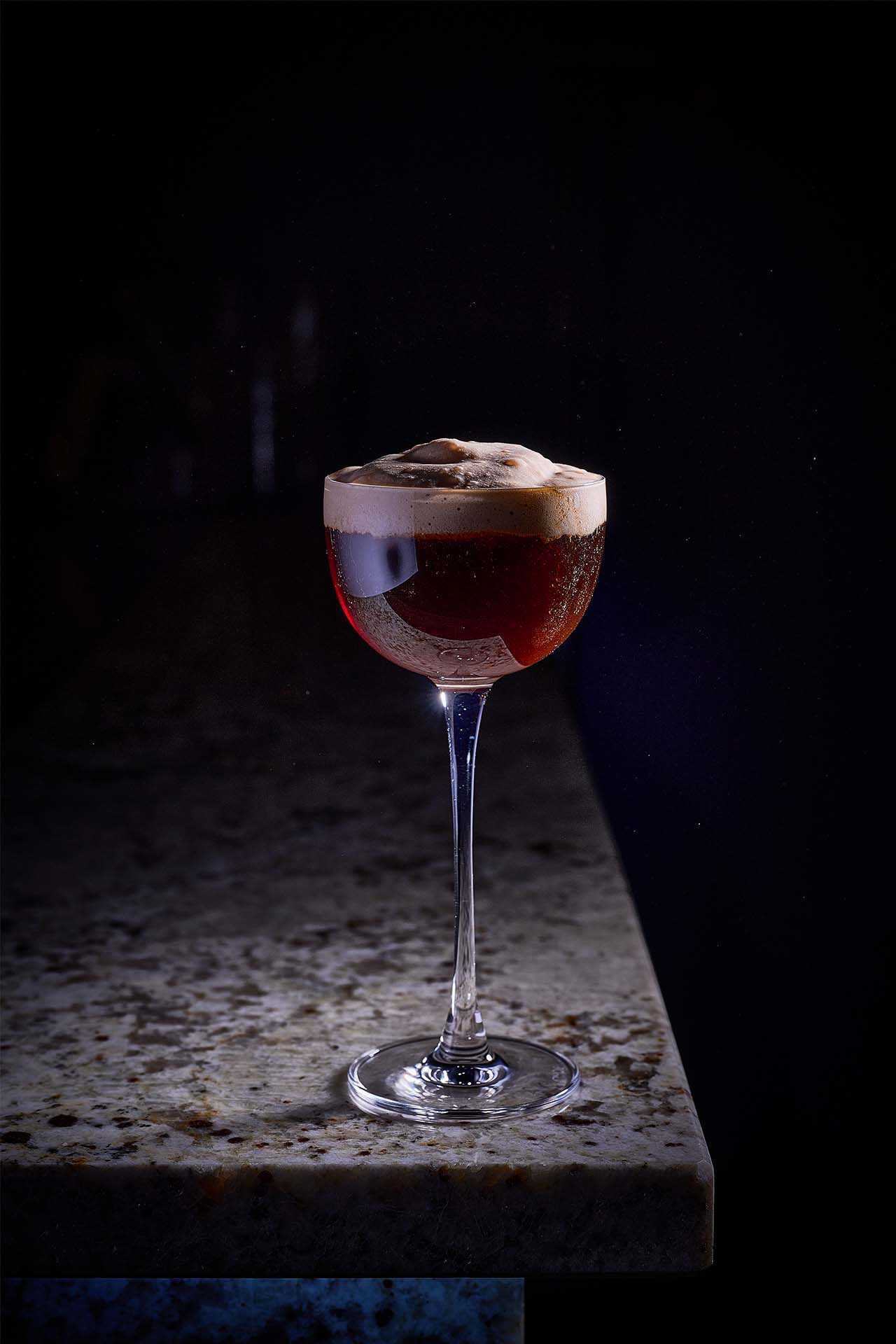 What to drink?
With only 10 cocktails on offer, you won't be spoiled for choice with this highly curated menu – but there's enough range to suit everyone's tastes. Better still, the menu details the key ingredients with three adjectives and an illustration of the drink, so you know exactly what you are ordering. No chance of slip ups and a wasted drink here.
For round one, we opt for Between Me & London (apple wood smoked aged grappa, rhubarb liqueur, calvados, lime) and Purple Rain (discarded grape skin vodka, passion fruit syrup, vanilla and cabbage liqueur, molecular champagne), the latter of which tastes like a lollipop.
Just before the barman places the drinks before us, he takes a lighter to a piece of corn and clips it to the lip of Between Me & London's glass with a wooden peg. As I take a sip, the singed smell perfectly accompanies the smoky, woody flavour of the drink. It goes down very smoothly, achieving the much-sought balance between noticeably alcoholic and searingly strong.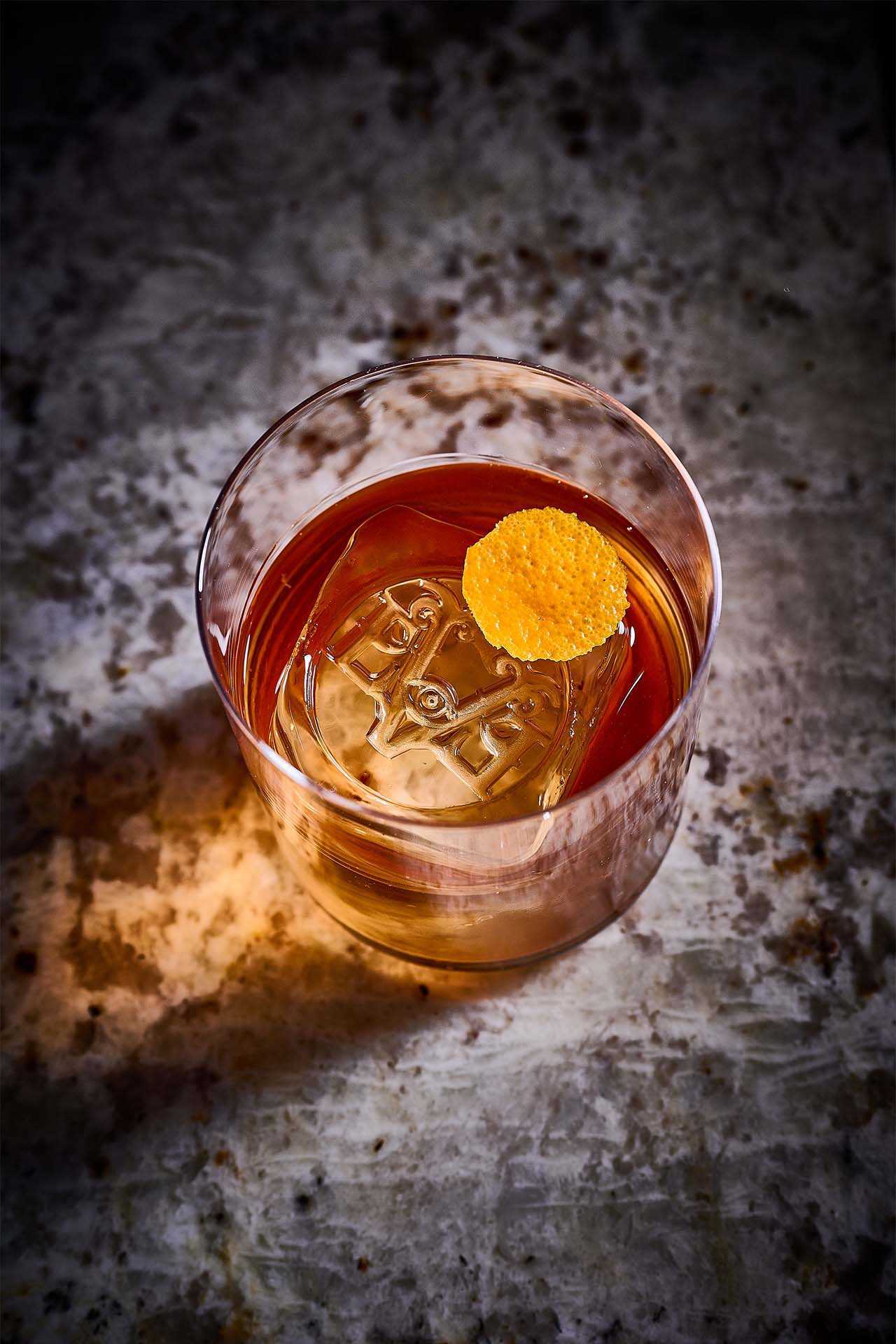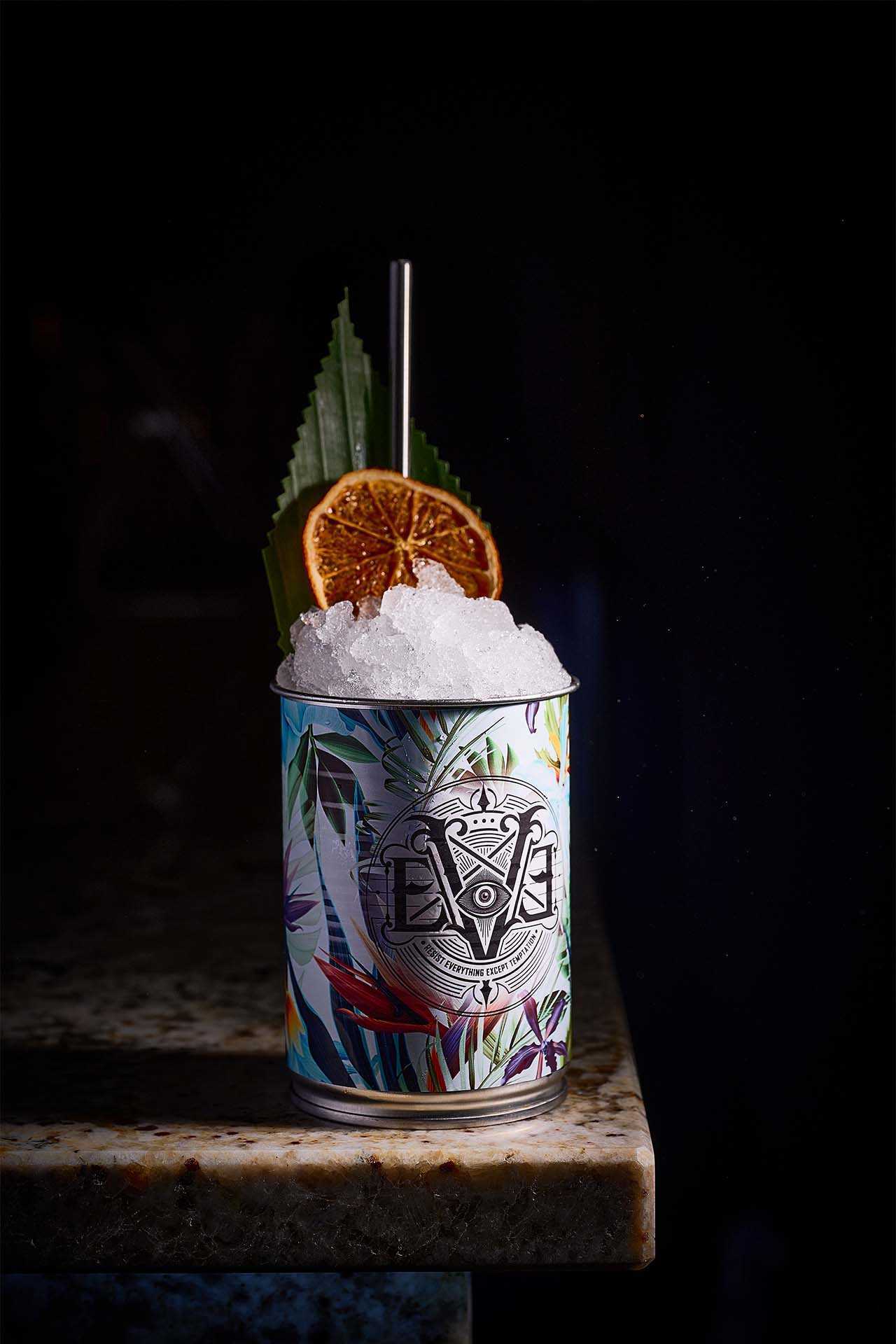 Another gift appears before us with our drinks: 'seaweed popcorn,' the barman declares. It's a strange flavour, and though I'm initially sceptical, I cannot deny the depth the seaweed provides that ordinary salted popcorn lacks. Don't knock it until you've tried it.
For round two, we choose Tea Punch (Bacardi ocho, metaxa, pedro ximenez, Eve's secret tea blend, lime, bitters) and Expression (Grey Goose vanilla vodka, Stout beer reduction, Mancino Kopi vermouth, cold brew coffee, white chocolate, umami foam), Eve Bar's take on the classic Espresso Martini.
We watch the bartender mix them with effortless dexterity, and they arrive before us moments later, Tea Punch in a delicate short glass with a giant monogrammed ice cube. It tastes like a savoury Mai Tai, and the tea punch is refreshing. Expression arrives in a long-stemmed Nick and Nora – it is deep and deliciously chocolatey.
What's the damage?
The cocktails peak at £19 with A Perfect Winter in Manhattan and Between Me & London, but the average price is closer to £16.
Although there's not much bang for your buck in terms of quantity, the quality of Eve Bar's cocktails is undeniable, both in the calibre of the ingredients and the expertise of their creation. If the prices don't tempt you, the sustainability will!
Anything else to note?
Eve Bar is Adam Handling's love child with five expert bartenders, so make the most of Frog – Eve's upstairs neighbour – and tuck into the tempting bar snacks on offer.
34 Southampton St, London WC2E 7HF; Eve Bar