A highly successful chef leaves the world of fine dining to start a pop-up kitchen inspired by his Gambian heritage? It sounds like a pitch you might hear at Netflix; indeed, a couple of tweaks and you have the plot of the 2014 film Chef, in which Jon Favreau's eponymous chef swaps his stylish yet soulless LA restaurant for the simple charms of a food truck.
(It's very enjoyable, provided you can sustain your disbelief at Favreau's ex-wife being played by Sofia Vergara and his love-interest is Scarlett Johansson. There's a scene where he cooks Johansson some pasta while she ogles him with unbridled lust. The film was written, co-produced, and directed by Jon Favreau.) 
Lawrence Gomez rose through the ranks at The Ivy before transitioning to oh-so-stylish Sexy Fish and then to Scott's. He's cooked for the likes of David Beckham, Prince William and Gordon Ramsey. And for the next four weekends, Gomez is bringing his African-fusion pop-up PAPA L's KITCHEN to The Gojk restaurant in Old Brompton Road. 
We attended the launch night and were lucky enough to sample all eight courses (plus the three mini-cocktails). Each one is somehow better than the last – and the opening salvo of sweet potato croquettes sets the bar high from the off. The king tiger prawns are made with a secret marinade that will 100% see you asking your waiter for bread / contemplate licking the plate, and the BBQ lamb cutlets are just gobsmackingly good – indeed, you may well smack your companion's gob and steal theirs. 
Tickets are a steal at £65pp, and as the restaurant is abiding by all social distancing measures, there won't be that many to go round. Don't sleep on this one. 
We spoke to Gomez about his culinary journey, setting up PAPA L's and the inspirations behind the menu. Have a read – and then book! (Or book now, come back. Your call.) 
What made you become a chef?
When I was younger, watching my mum cook and how everyone used to socialise around food – the whole process from the cooking through to the eating - there used to be a whole group of people all doing different things and doing all the food together."
I was always fascinated by how people would get all these different foods and create different dishes and they'd all do it together – I just found it fascinating.
In my family so many people liked to cook and get involved in the cooking so you'd just sit and watch what was going on. There were also so many people so you'd have to just sit and pay attention to what was going and then when you were ready you were allowed to get involved.
My mum did a lot of the cooking and I always liked the fact that she would make us watch what she was doing, that was very important, to watch and learn before we actually did something.
Most of the dishes that we eat in Gambia take a lot of time to cook, so from my Mum I really learnt about being patient when you cook. The rice that I make, the Benachin rice, is a five hour process from start to finish and I named that dish after my Mum because it's her recipe.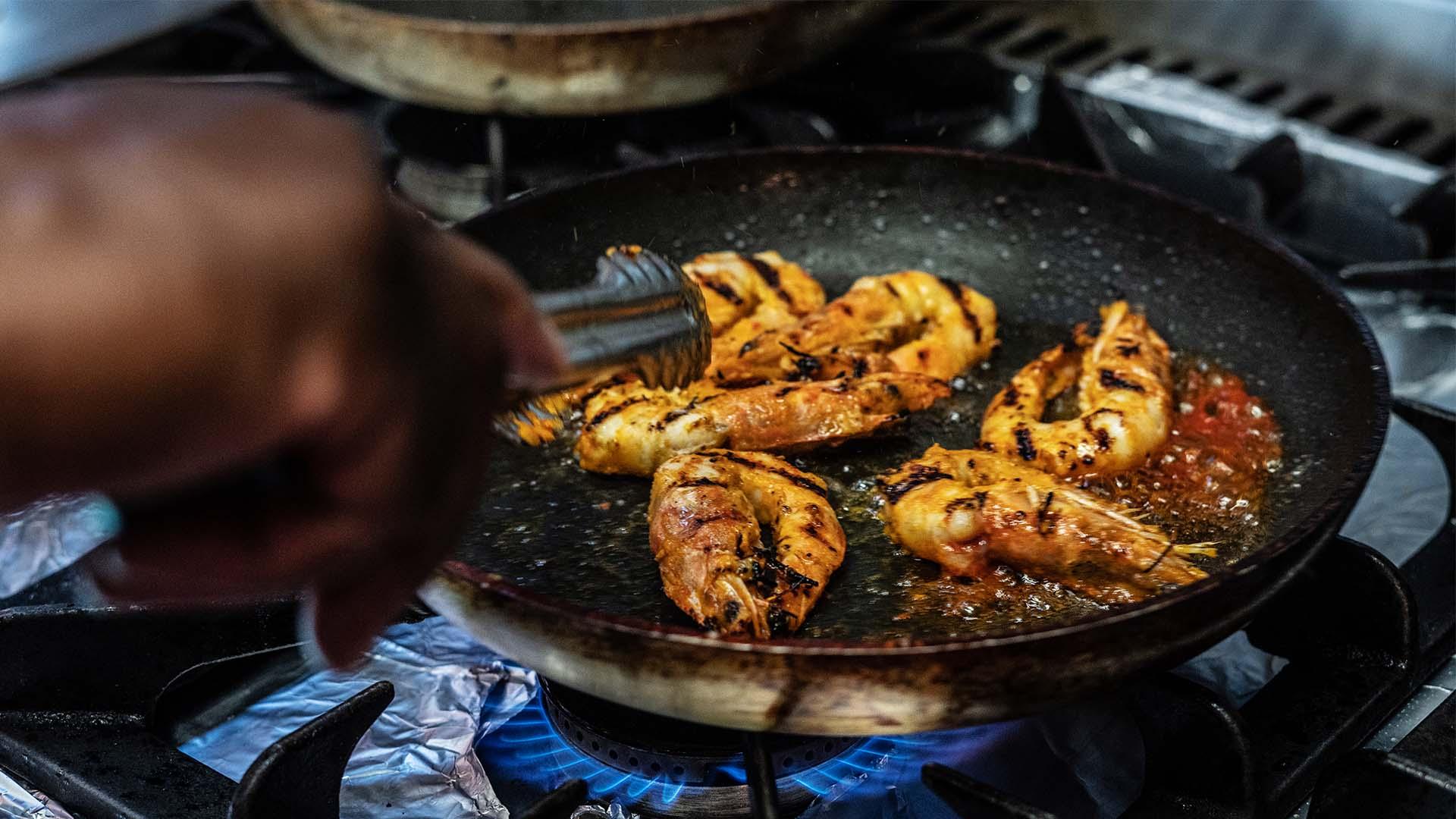 Take us through your journey to date – you've worked at some big names…
I always wanted to be in a kitchen, always. Before I got to the kitchen I was doing glass boy work then an opportunity to work in the kitchen came when I was about 21. When that opportunity came I just took it – it was at The Ivy as a kitchen hand. From there I became the staff chef so I was cooking for the chefs and the waiters like two meals a day and just learning and running around and talking to everyone and learning. It was not a slick job but because I was so passionate about food I just wanted to learn – I'm a keen learner and just did all types of jobs.
When I was at The Ivy I was adamant that I wanted was to get into the main kitchen and a colleague was running the veg section of the kitchen and then I was being introduced to people more senior to me and so I thought I need a strategy and so I developed one and got to know the right people and in the end it worked out well and I just rose through the ranks.
I went from kitchen hand, staff chef, commy, junior sous chef and then I became the chef for the private dining room. It was a long journey to get there and then I was there for 10 years. I learnt so much from the Ivy, most of my cooking, in terms of the discipline of the kitchen came from the Ivy so I pay a lot of respect to that restaurant in terms of it being the restaurant where I learnt my craft.
From there I had a year doing some private catering jobs but with two kids it got a bit much so when I was asked to go and help out at Sexy Fish by the executive head chef so I took that.
Then I started PAPA L's KITCHEN as a brand and started doing some pop ups with places like Waitrose and John Lewis - I did a tasting menu in collaboration with Waitrose. Then I started doing some private function for celebrities, footballers such as Patrice Evra. I went down to his apartment and, you know, we speak the same language and we love the same food. He was looking for a chef that does homemade cooking that he loves so I was recommended by someone that knew him; I went to his house and cooked for him and he loved it.
I did an event behind that famous blue door at Notting Hill in that famous movie and when I was there doing the event so many people were knocking on the door and when I came out there were just swarms of tourists there.
I did a job for Chelsea footballer Tiémoué Bakayoko and a few others, then just last year I was out in Saudi doing a job for the Royal Family over there. During my time I've cooked for so many celebrities, people like Prince Harry, David Beckham, Gordon Ramsey, Heston – a lot of people you know.
What inspired you to create PAPA L's KITCHEN?
I always wanted to introduce my culture to the food scene because I feel like it's a hidden gem – the food and the culture behind it. I make lots of different marinades and sauces, that's my signature style, so I used to make a lot of sauces and marinades and I thought why not use those as a base and turn this into something and create some great dishes.
From there I started to write menus and when then did a few pop ups before the whole Supper Club Scene started to go crazy so I started a while ago so I've been doing it for over 10 years and it's about bringing my roots, my heritage and my culture to the plate. In terms of African-fusion food and me offering African-fusion cuisine, if people don't know what I'm about – it's just mixing the learnings from my career with my heritage and trying to change people's perceptions in terms of the ingredients that are being used – it's subtle.
For example, living in Gambia by the coast we have access to fish and so I love to cook with fish and so I used some of the ingredients from back home and learnings from cooking dishes here and then I just put my little take on dishes to change them slightly and that's the African-fusion. 
Gomez on the tasting menu – a course-by-course breakdown
There's something quite romantic about a chef with your CV returning to his culinary roots...
I love introducing my culture to people who don't know anything about it so I'm trying to put Gambia on the map for its food. It's popular in terms of it being a tourist destination for people from the UK but what's missing for people is the food aspect. The thing about food and what I love about it is that it brings people together - especially in Gambia people use food to socialise and we do our best socialising over dinner.
I remember when I was a child, how we used it was that there was a big round bowl and we all used to be around the bowl and the Mums would feed the children and then the rest of us used to all just eat from the same big bowl and I remember feeling so happy then with every sharing and just having a really good time and that's what I'm trying to do with my food.
When I say African fusion, it's not just about the food, it's about the culture, the whole way of eating, people coming in to have great food, have a great time, lots of laughs and just being able to be yourself, be loud and have a good time.
It's very important to me that when someone comes through my door they just leave all their problems behind. PAPA L's KITCHEN is about more than just the food, it's about the whole experience and having a good time.
The whole dining experience I'm offering now is a culmination of my career and my life from growing up in Gambia and watching my mum cook, to working at The Ivy and Sexy Fish to being a DJ in Central London and Bank so the music and the fun aspect come from there. I'm trying to create an atmosphere where people are just having fun - that's a huge part of the Gambian culture too.
And you've done a gorgeous job with the decor – did you have any specific inspirations in mind when creating it?
Someone else did the decor!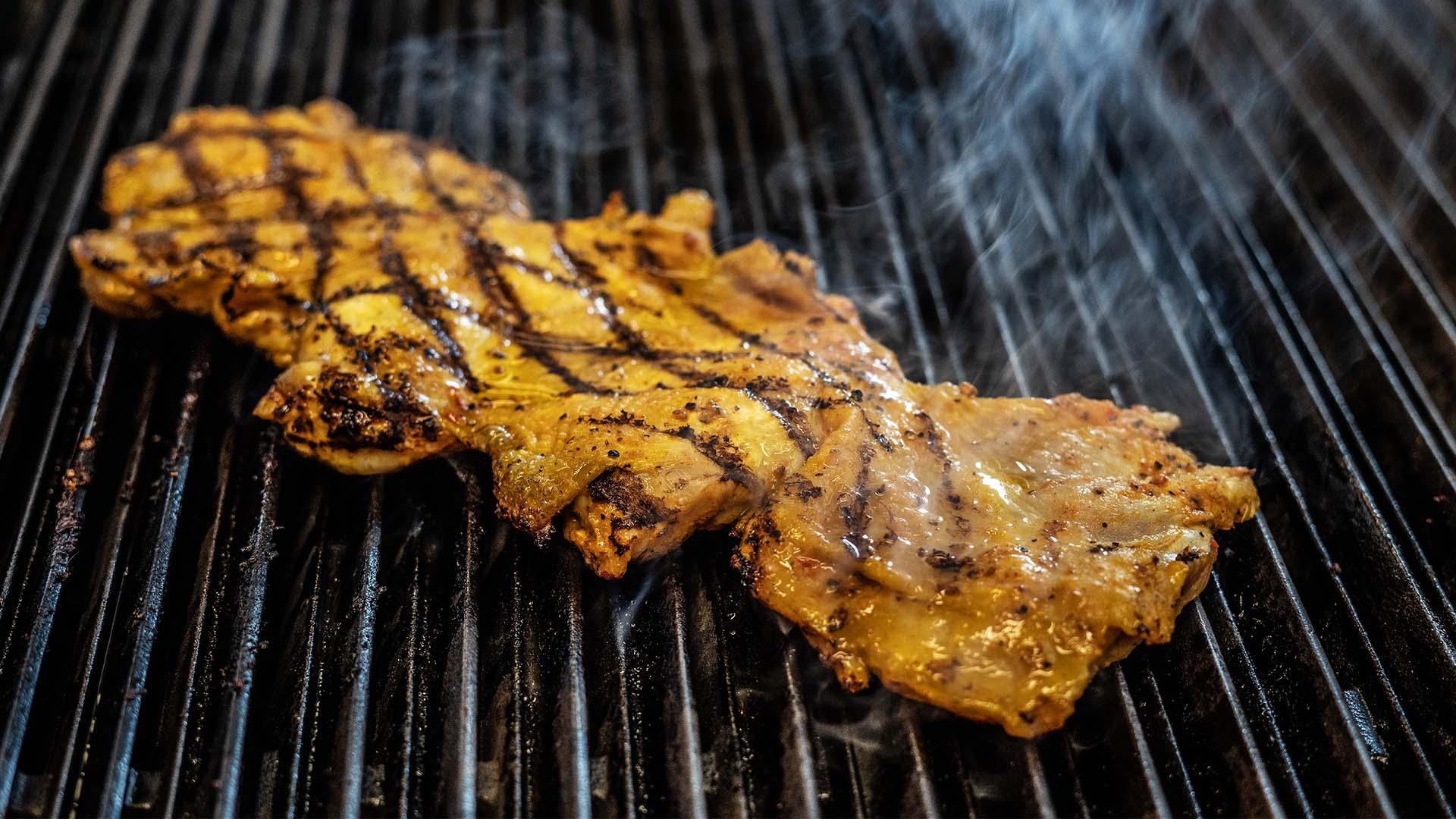 What happened with The Gojk?
I was working as the head chef for the private dining area at Scotts and I left there to come over to the Gojk as the head chef after I met the owner at the Masterpiece Arts Fair at Chelsea Barracks. So I came over here about a year and a half ago but unfortunately due to the pandemic and Covid we were forced to close down and after we were furloughed the tough decision was made and everyone was made redundant in July.
But I proposed to them to take over the space under PAPA L's KITCHEN and so I came up with my new eight-course summer tasting menu and reemployed the staff who were made redundant for my five-week pop up and so now the owner is my bar man because he's a trained mixologist and so I used to work for him but now he works for me.
One thing I promised once I came up with the idea was that I would reemployed the staff and I'm so glad I've managed to do that and I'd love for things to continue here and see PAPA L's KITCHEN go bigger and better.
So far the attraction has been amazing and it's only going to get better and my thing is that it's all about being consistent – I'm hard on myself and I'm financing everything myself and I'm pretty much a one-man band in terms of sorting out the logistics and the business side of things and managing the team and then getting in the kitchen.
What's your dream/end goal?
Right now I'm looking for investment so someone to look at my situation and see I've got a lot of things in place and ready to go but I need some help to finance what I want to do. It's a new idea, a new concept, no one has done this before and it's absolutely unique - from the food to the experience you won't get this, like this anywhere else from the African-fusion food to the experience - it's totally different.
My vision is the shake up the hospitality industry and bring people together to experience something completely different so I'm looking for investment to open my own restaurant and then from there I was to take it to the next level and open up PAPA L's KITCHEN is airports starting with countries in Africa and then moving on to the rest of the world - that's my goal.
Sum up what this means to you in one sentence...
"I'm very, very passionate about what I do. People ask me what is my secret ingredient and I tell them it's love – I do this so there's something for every single person to enjoy and in the end it's all about love."
PAPA L's KITCHEN will be hosted at The Gojk Restaurant and Lounge over five consecutive weekends from Friday 28 August. Get your tickets here