Simon Rogan needs little introduction as one of Britain's most celebrated chefs.
For those of you who are unfamiliar, he has achieved incredible success gaining two Michelin stars at his flagship Cumbrian restaurant, L'Enclume, which uses the finest local ingredients harvested from his own farm in Cartmel Valley. But the fun doesn't stop there: Rogan went on to open six other restaurants worldwide (in the Lakes, London and Hong Kong) that all champion the same farm to fork philosophy.
Now, the culinary team have put their heads together to create 'Simon Rogan at Home' – an array of gastronomic three-course menus available for home delivery. The weekly-changing options from the team behind L'Enclume and Rogan & Co are available nationwide, whilst Aulis – their vibrant Southern sister – is catering to the London crowd. 
It's perhaps no wonder that the dining experience has been recognised as the best value Michelin starred takeaway service in the UK.
Let's find out what's inside...
What do you get?
The kit arrives neatly packaged in four recyclable cardboard boxes all clearly labelled and measured out for two. The box is insulated with recycled wool liners and there's even a unique personalised QR code you can scan to watch their chefs prepare your meal!
Seeking plating inspiration, I fired up the video and was greeted by the friendly face of Executive Chef Tom Barnes, who walked me through each stage of the meal. To start there was a cold salad of smoked beetroot, piped whipped curds, crispy shallots and linseed.
The salty 'pop' of the curd was a delicious contrast to the sweet earthy beetroot, and let's not forget the accompanying chewy sourdough roll with rich, creamy Winter Tarn butter. The mark of a good restaurant should always be its bread!
The beef took a mere eight minutes in the oven and resulted in the most incredibly tender, melt-in-your-mouth slices
For the main: aged short rib of beef, creamed celeriac and bone marrow. After a quick glaze in the pan to caramelise it's sticky skin, the beef took a mere eight minutes in the oven and resulted in the most incredibly tender, melt-in-your-mouth slices. The celeriac topped with lovage stems worked as a delicate accompaniment and the finishing drizzle of garlic and chilli oil added that extra special zing.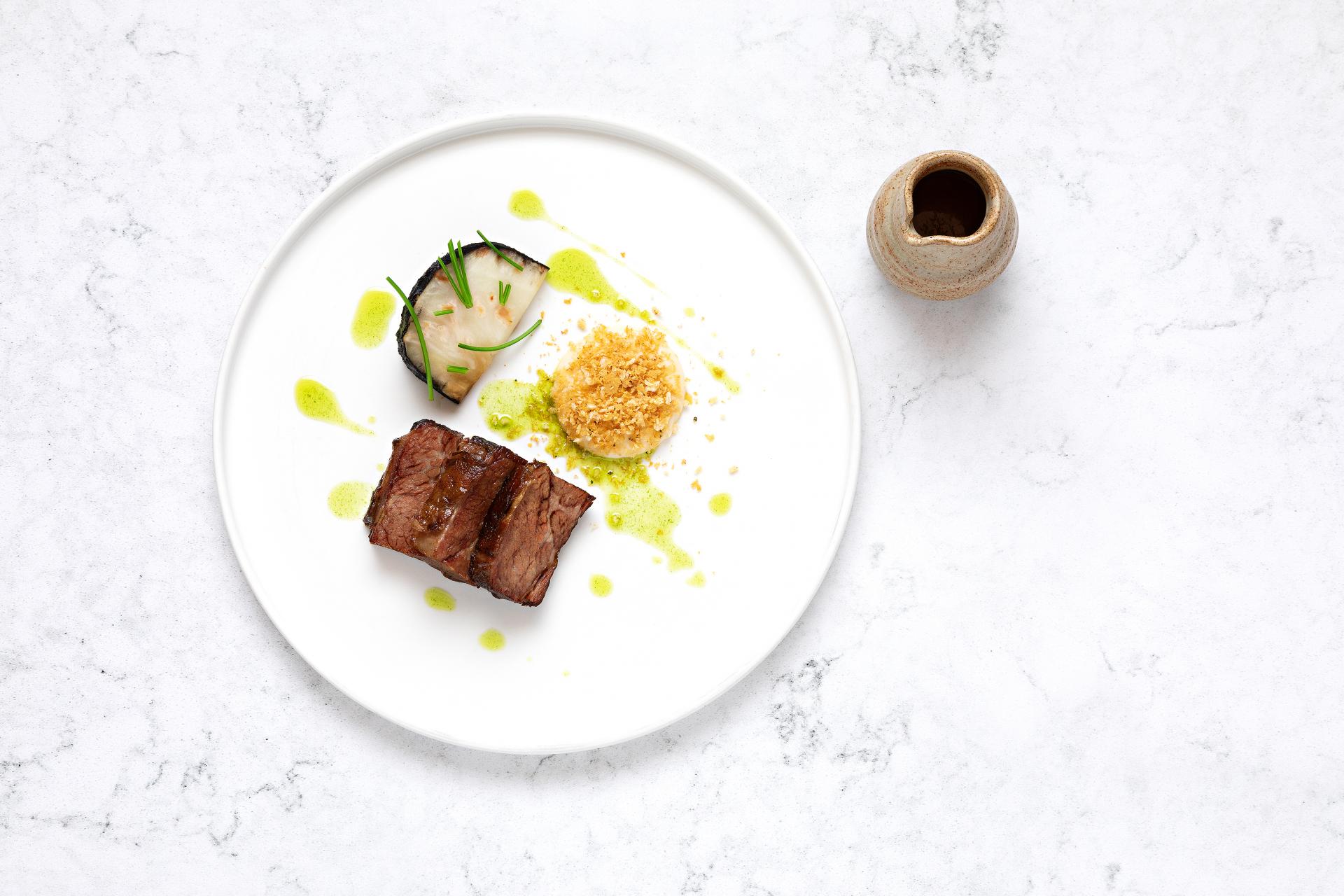 To finish: warm Muscovado sponge cake topped with poached Granny Smith apples, covered in salted caramel miso sauce and sprinkled with roasted hazelnuts. Mhmmmm. Incredibly light in texture yet intensely rich in flavour, this warm gooey pud was the perfect grand finale.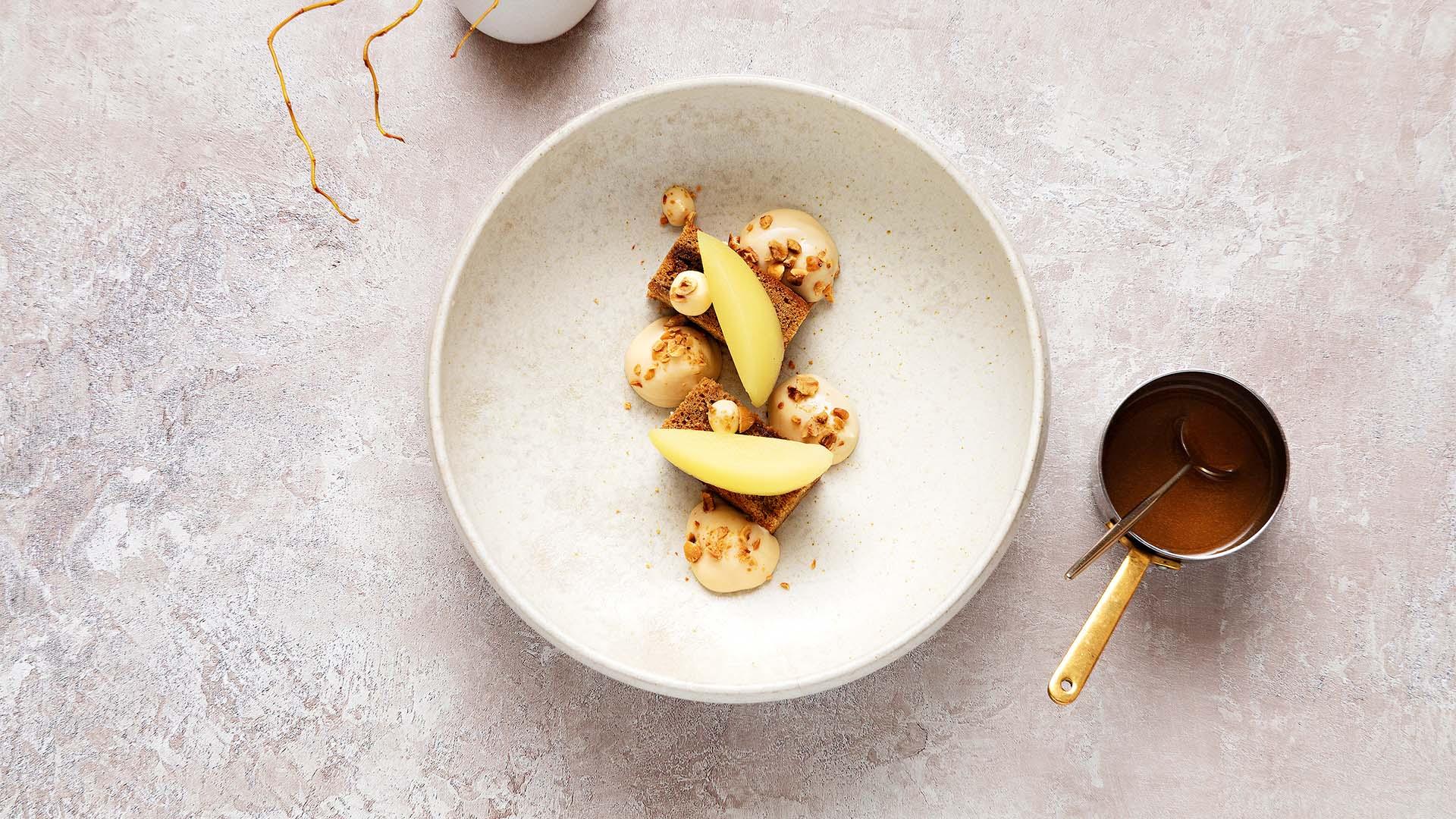 How hard is the preparation?
Very, very easy. Everything is clearly labelled, nothing takes longer than eight minutes and everything is more or less ready to pop straight in the oven or simmer on the stove.
It's fun playing chef for the evening, but beware, the plating up experience will either spark creativity or bring out your OCD. This is Michelin-starred cuisine after all and requires some tender loving care.
What's the availability?
Available for London and nationwide delivery. Delivery slots run from Friday through to Sunday, however numbers are limited each week so make sure you pre-order as far in advance as possible to avoid missing out.
There's also a free click-and-collect option if you're lucky enough to live close by.
What's the damage?
£45 per person + £10 delivery – exceptional value for money considering the quality of food on offer. This is Michelin food in a meal box. Not the dodgy pub around the corner.
Special occasion? They offer complimentary delivery on all orders over £200 which is the perfect excuse to rack up on their fantastic range of extras such as seasonal British cheese boards, and bespoke wine pairings curated by their exquisite sommelier team.
Or why not treat a loved one this Easter with their special Easter menu including English sparkling wine from Exton Park, handmade caramel-filled chocolate Easter eggs and a bespoke bouquet of flowers.
Final note?
Each dish was small, rich and utterly delicious. The portion sizes were spot on and encapsulated everything a Michelin meal box should – consistency, mastery of flavour and strong attention to detail.
While a meal kit will never replicate the feeling of being in a restaurant, I believe this particular kit has paved the way for a new era and will be around long after the pandemic has declined...
For more information on Simon Rogan at Home or to order, click here.