Tell us the inspiration behind One Fine Dine?
One Fine Dine is something I have been thinking about for a number of years now, inspired to some degree by the likes of Deliveroo and Uber Eats, which are great online concepts.
The takeaway market has absolutely exploded, but what's not been on the market is an elite, higher-end product. Our product is delivered cold (pre-cooked), and you put it together in very simple and quick steps - it's fun, the most luxurious 'kit' you can get.
We are taking two amazing worlds, one is high-end fine dining and the other is takeaway and we have created something in the middle. We have been the market leader in private jet catering for many years with One Fine Dine's sister company, On Air Dining, and from my point of view, if we can cater for aircrafts, we can cater for houses. We started picking up clients and sending foods to their chefs and that's how we started our launch.
Due to my background in the private chef world, it has always been a progression I wanted to make as I could see the uniqueness of what we offer, and felt the demand would be high. I guess in some respects, the pandemic gave me that push I needed to get it going. We went for it as a start-up, thinking it was now or never, knowing that lockdown was imminent.
I have full confidence in our product offering and knew it would work well at-home. Plus, we had the capability for high volumes, so it was kind of a no brainer.
It was the right time as the service has been so well received, and it has really taken off! The feedback we get is amazing, and we are now positioned with many Michelin-starred restaurants.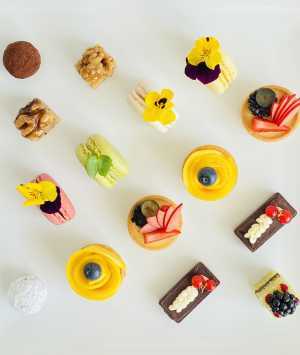 What's the secret behind creating a great meal kit?
The secret behind creating a great meal kit is it has to be fun and simple!
There has to be no more than six or seven components in each dish and all of those components have to balance in flavour, colour and texture. 
We take the stress out of a dinner party, family dinner, or romantic meal for two – our customers simply need to reheat (no more than 15mins), plate (with fun instructions provided) and serve. Simple.
Is there anything particularly tricky to get right?
Not for you! Our behind-the-scenes prep enables our customers to fully immerse themselves in the luxury experience, rather than having to spend hours following cooking instructions in the kitchen. It's different to creating a restaurant menu where you think about cooking and serving the dish immediately, in our world we use the cook chill process.
The clever part is that every component is cooked in a specific way and to the same point so that when it arrives in the home, everything is reheated for the same amount of time and comes out perfectly cooked. No time management is needed as we have already executed this in our own kitchens.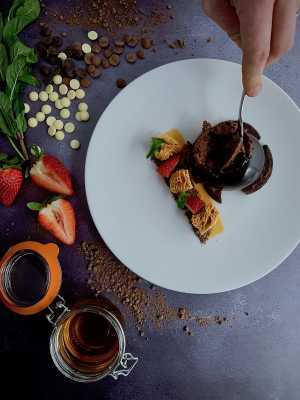 Do you have a favourite dish? Ours was the chicken supreme...
Well, I obviously think all the food we serve is great, but if I had to choose a favourite, from the starters is has to be our Scottish Balik Salmon with compressed apple and Oscietra caviar. The reason is that it has the best balance of flavours and the balik cut is my favourite.
From our mains it has it be our North Atlantic Miso Cod, it is just amazing and the flavours are incredible and when you serve this on a private jet the smell is just divine and everyone wants to know what it is!
And for dessert hands down it has to be our Tarte Tatin, that will always be my favourite!
Where can we find One Fine Dine once the world opens up? 
We will continue as we are, delivering nationwide. I believe we are Covid proof as our business model is geared up for this type of service – all the structure is already in place thanks to our many years in this sector.
In addition, we are about to launch an initiative providing our superstar chefs for hire in your own home.
I see this as a step forward, especially as many of us still like to entertain (be it in the comfort of our own home or in a luxury self-catering residence) but don't want all the pressure of cooking. Our chefs can come in and do it all for you, they'll even clean up!
Daniel Hulme is Founder and CEO of luxury at-home dining experience One Fine Dine