Ah Camden – a mecca for rock music, markets and late-night revelry. And tourists. Lots of tourists.
But don't be put off by the crowds as Camden serves up some of the best pubs that London has to offer.
There's vast diversity of choice – whatever your drinking needs, Camden will have the pub for you. These are boozers once frequented by the likes of Amy Winehouse, Oasis and even Charles Dickens.
For the best beer gardens, Sunday roasts and musician haunts, we've selected our favourite pubs in Camden. Bottoms up. 
Best Camden Pubs 
The Hawley Arms
Famously Amy Winehouse's favourite watering hole. Come here for music memorabilia and to sample the 'Rickstasy' – ostensibly Winehouse's drink of choice, made up of three parts vodka, and one part Southern Comfort, Baileys and banana liqueur. They also serve a banging roast and have a roof terrace.
2 Castlehaven Rd, London, NW1 8QU; The Hawley Arms
The Good Mixer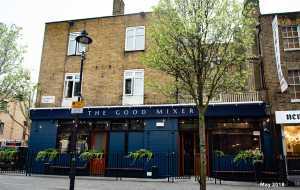 A historic indie haunt, this pub was famously the site of the start of the Blur vs Oasis feud. After closing its doors in 2018 to the dismay of many, the no-frills venue made a gallant return, and revellers can once again enjoy the cask ales, live bands and pool tables of this legendary boozer.
30 Inverness St, London NW1 7HJ; The Good Mixer
The Elephants Head
A proper Camden boozer. The yellow walls and chequered floor are all part of the charm here. The cosy interior makes for the ideal setting to make new friends as you perfect your bar hang, but the size of this Victorian pub won't stop you from dancing to the jukebox and weekly DJs. Prepare for a lock in.
224 Camden High St, London, NW1 8QR; The Elephants Head
The World's End
The pinnacle of Camden High Street, this iconic venue is the first thing you'll see when you emerge from Camden Town station. A heavy metal mecca, enjoy drinks while you line your stomach with barbecued meats and stone baked pizzas. And when you're sufficiently fed and watered, head down to The Underworld club to catch a gig. Just make sure you're wearing your biker boots.
174 Camden High St, London, NW1 0NE; The World's End
The Colonel Fawcett
A gastro pub with an epic Sunday roast that's perfect for whiling away a lazy Sunday afternoon. Away from the crowds of Camden Town, unleash your inner foodie with craft beers and an impressive list of gins. And make sure to swing by their fortnightly comedy night, it's sure to be a racket.
1 Randolph St, London NW1 0SS; The Colonel Fawcett
The Lock Tavern
This unpretentious boozer is a favourite of locals and tourists, and quite literally has it all. Enjoy drinks by the iconic Camden Lock, live your best London life on the roof terrace, or blow off steam on the dance floor. On the food and drink front, they've got you covered, with cocktails, burgers, pizzas and much more.
35 Chalk Farm Rd, London, NW1 8AJ; The Lock Tavern
The Dublin Castle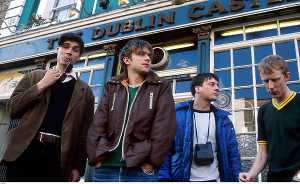 You won't find many musicians who haven't walked the sticky floors of this pillar of Camden nightlife. Originally a pub for working men, this family run joint became one of the most celebrated small music venues in the area after Madness played a residency here in the 70s. Come here for red leather sofas, live bands and cheap pints.
94 Parkway, London, NW1 7AN; The Dublin Castle
Camden Beer Hall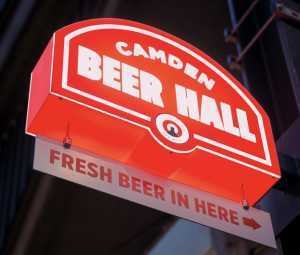 Craft beer fans rejoice! Ok this isn't strictly a pub, but if you want to feel like a true hipster this is the place for you. Sip on the delicious brews of Camden Town Brewery in this cool venue under an old railway arch. And if you fancy tasting the freshest of beers, take a tour of the brewery next door.
55-59 Wilkin Street Mews, London, NW5 3ED; Camden Beer Hall