Looking to switch things up a bit?
The folks at Riding House Cafe in Fitzrovia have launched Soul Ride, a delivery service of delicious, Caribbean comfort-food. Headed up by executive chef Henry Omereye, alongside Chef Martin Kanu, they've created 12 different themed meal boxes packed with a whole host of traditional Riding House dishes.
From brunches, suppers, cocktails and everything in between – Soul Ride's the perfect first-class ticket to the most decadent weekend in.
What's in the box?
The question is what's NOT in the box? The Weekender Box provides a little something of everything, and quite frankly, we're transported right back to one of our Grandma's famous summer BBQ's for the most extravagant bottomless buffet...
For the carnivores we're talking a 500g 32 day-aged pimento marinated Cote de Boeuf, a creamy mutton curry AND succulent jerk chicken burgers with applewood cheddar and spicy sriracha slaw.
Carbs include crispy chilli and garlic new potatoes, a pumpkin mushroom and mozzarella Macaroni cheese and salt cod fritters with an electrifying Bajan pepper sauce. Seriously, they're HOT.
If that's not enough, there's Snaffling Pig pork scratchings and beef jerky to pick at, and a smoked cajun pepper stew.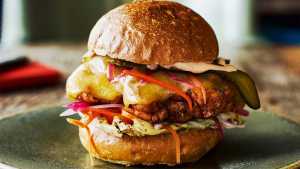 How hard is the preparation?
Strap in, this is a feast that requires all hands on deck. As you can see there's several dishes on the go, so timings and an element of coordination is key. In fact, we recommend a sous-chef if you still burn your beans on toast.
The preparation itself however, is far from difficult: each individual dish is clearly labelled, nothing takes longer than 30 minutes and everything is ready to pop straight in the oven or simmer over boiling water in it's vacuum-packed pouch – genius if you ask me.
Easy? Check. Delicious? Check.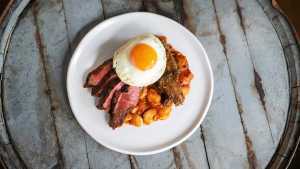 Standout dish?
Just when you think it's all over, there's the morning after the night before, and by that we mean pancakes. Caribbean pancakes.
At the risk of sounding like an M&S advert: these aren't just pancakes. No, these are quite literally some of the best, most fluffy stacks of buttermilk goodness known to man. You've got toasted marshmallows, coconut clotted cream, white chocolate chips, banana maple syrup and one hell of a sugar rush headed your way. We won't judge if you skip the three-tier tower and just pop them all in one – who has time to assemble pancakes anyway?
Enjoy alongside a creamy cappuccino made using their Estate dairy whole milk and freshly ground All-press coffee. They've even included the paper filters, and have thrown in two bottles of Bloody Marys if you're feeling particularly boujee.
We told you, they've thought of everything!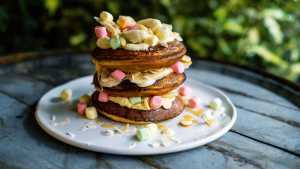 What's the damage? 
At £120 for two, the Soul Ride Weekender box is fantastic value for money. The portions are enormous, you've easily got three meals there and could stretch to feed four, plus leftovers.
What's the availability? 
All boxes are available for nationwide delivery from Thursday to Sunday. 
Anything else to note?
These boxes are a perfect lockdown treat to raise those weekend spirits. It's not too late to show your mum how much you love her this Sunday with one of their three ultimate Mother's Day feasting kits.
Or try the Roast Box (featuring a whole corn-fed pimento chicken) and add an exotic Caribbean twist to your Easter Lunch this year.
Now THAT sounds good for the soul.
For more info, see Riding House Cafe